Places to visit in haridwar
The Ganga Aarti ceremony is one of Haridwar's most popular tourist attractions. The ceremony takes place every evening at sunset and involves lighting candles and incense sticks, as well as offering prayers to the river goddess Ganga. Visitors can watch the ceremony from one of the many ghats (steps) leading down to the river or even participate in it themselves if they wish.
Haridwar places to visit
1. Har Ki Pauri, Haridwar
One of the most well-known sights in Haridwar is Har Ki Pauri – this is a holy river bank that can be seen from a divine temple. The idol of the Lord Shiva is located on the spot where people where said to first see the river coming out of the mountains when it starts to flow into the plains. It has been named Gangadwar – meaning 'the place where Ganga River leaves' – and witnessed by a large footprint claimed to be of Vishnu.
Har Ki Pauri, considered to be the most sacred ghat in the city, is where the mythological bird Garuda accidentally dropped Amrit (elixir) and it is believed that if you take a dip here your sins will be washed away.
Things to do in Haridwar
The Ganga Aarti haridwar famous for held at the ghat at dusk and dawn attracts devotees in big numbers.
Location : Kharkhari, Haridwar
Timings : 24X7 (Ganga Aarti: 5:30 am – 6:30 am and 6 pm – 7 pm)
2. Mansa Devi Temple, Haridwar
Another place to visit in Haridwar is the mansa devi temple on top of the Bilwa Parvat, which is located on the Shivalik Hills and is also known as the Bilwa Tirth. This Siddh Peeth is dedicated to Goddess Mansa, who is considered a form of Goddess Shakti. She is said to have been created from Lord Shiva's mind.
The temple of the goddess Mansa is one of the most popular temples in North India and it can be reached by trekking on the hill or by taking the ropeway. Haridwar has many other unmissable things to see.
Location : Bilwa Parvat, Haridwar
Timings : 5 am to 9 pm
Haridwar tourist places
Located in the state of Uttarakhand, Haridwar is one of the most popular tourist destinations in India. The city is situated on the banks of the River Ganges and is considered one of the country's holiest cities. Every year, millions of pilgrims visit Haridwar to take a dip in the river and wash away their sins.
3. Chandi Devi Temple, Haridwar
Chandi Devi Temple is dedicated to Goddess Durga and is visited by thousands of devotees to get their wishes fulfilled. The temple is situated atop the Shivalik Hills' Neel Parvat, which was the battleground where Lord Shiva killed demons Chand-Mund and later, Shumbh-Nishumbh. The idol's establishment was in the 8th century by Adi Shankaracharya.
You can walk to the temple in Haridwar or take the ropeway that offers a bird's-eye view of Haridwar. Near this temple, there is another popular site—Gaurishankar Mahadev Temple that is dedicated to Lord Shiva.
Location : Neel Parvat, Haridwar
Timings : 7 am to 7 pm
4. Kankhal, Haridwar
Kankhal, one of the five tirths dedicated to Lord Shiva in Haridwar, is a small colony that is home to the renowned Daksha Mahadev Temple and Maa Anandamayi Ashram. The former is dedicated to Lord Shiva and is visited by innumerable devotees, especially during the holy month of Sawan. The latter is a spiritual centre, built in honour of the Bengali mystic leader Maa Anandamayi.
Kankhal is home to the holy ghats of Kushavarta, which are one of the five pilgrimages in India. Patanjali Yoga Pith is one of the largest yoga centres globally and a prominent structure located on Kankhal Road. The Shivalinga of Paradeshwar is made from 151 kg of mercury and it is housed in Harihar Ashram.
Location : South Haridwar
Timings : 24X7
5. Maya Devi Temple, Haridwar
The Maya Devi Temple in Haridwar was founded on the site where Sati's heart and navel fell. The mythological literature says that the temple has been built on the site where Maya Devi is said to have been born with the help of Brahma's ten heads.
It is one of the oldest temples in the country that was built in the 11th century on Har Ki Pauri Ghat. This temple is visited by hundreds of devotees daily to seek a blessing and get their wishes granted. However, the footfall increases immensely during Navratri and Kumbh Mela.
Location : Birla Ghat, Haridwar
Timings : 7 am to 7 pm
6. Shantikunj, Haridwar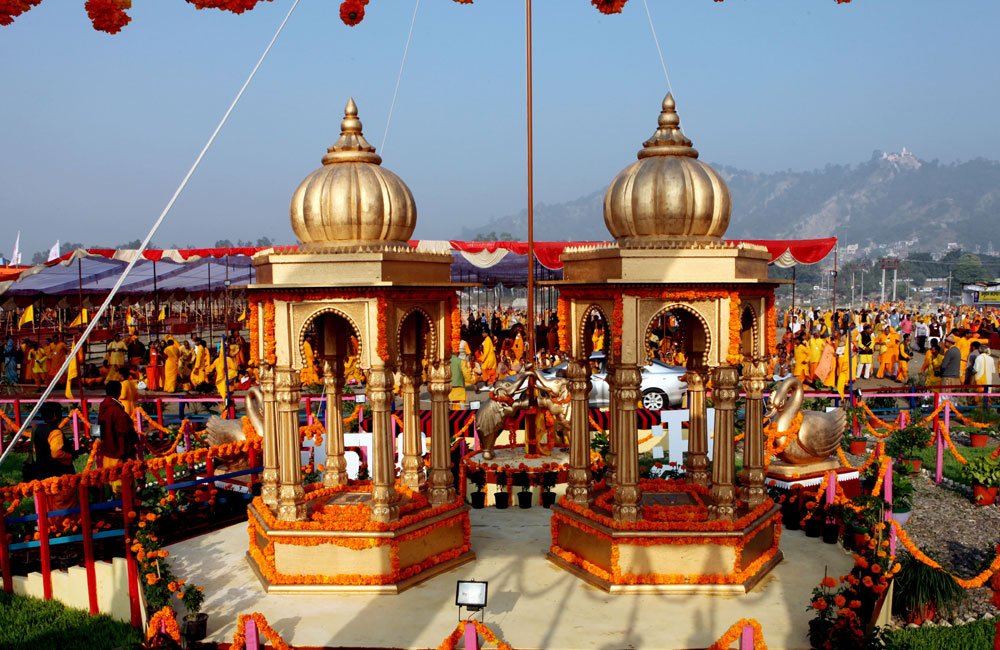 Thanks to its growing trends among followers in India and around the world, there are now many spiritual and moral enlightenment centers that have been established. Shantikunj which is located in Haridwar, India is the headquarters of All World Gayatri Pariwar. The AWGP was founded in 1971 and has a contribution of millions of people worldwide.
The Dalai Lama said this must-visit attraction was visited by a number of world-renowned personalities, including himself. You can stay here for free for up to two days, during which you need to take part in all their daily activities, including bhajans and aartis.
Location : Motichur, Haridwar
Timings : 24X7
7. Sapt Rishi Ashram, Haridwar
Sapt Rishi Ashram, located on the banks of the river, is one of Haridwar's popular tourist destinations. This place attracts Hindus looking for a place for meditation and yoga, as well as visitors from all over India who are seeking serenity. As an aid to meditation, the tranquil ambience of this ashram is unmatched in the region. In fact, it got its name after being visited by seven sages- sapt means seven and rishi means sage.
Seven acharyas – Kashyapa, Vashishta, Atri, Vishwamitra, Jamadagi, Bharadwaja and Gautam – meditated on the banks of river Ganga. They saw that their concentration was getting distracted by the sound of moving water. So Ganga divided into seven streams to minimise the noise so they could concentrate further.
Location : Motichur, Haridwar
Timings : 24X7
8. Bharat Mata Mandir, Haridwar
The Mother India Temple in Haridwar is a unique multi-floored temple that is dedicated to patriots and freedom fighters. The building stands 180 feet tall, 8 floors high, and was inaugurated by the late Prime Minister Indira Gandhi. The temple's true characteristic is celebrating the spirit of unity in diversity, which reflects the true essence of Indian nationhood.
Each of the eight floors has individual themes to represent significant personalities in India. The first floor is dedicated to Mother India, the second dedicated to Indian heroes, the third is dedicated to women, the fourth is devoted to saints, the fifth is given over to religious harmony and has a sixth floor specifically made for Goddess Shakti, seventh is devoted to Lord Vishnu and eighth floor is dedicated to Lord Shiva.
Location : Motichur, Haridwar
Timings : 7:30 am to 5 pm
9. Pawan Dham, Haridwar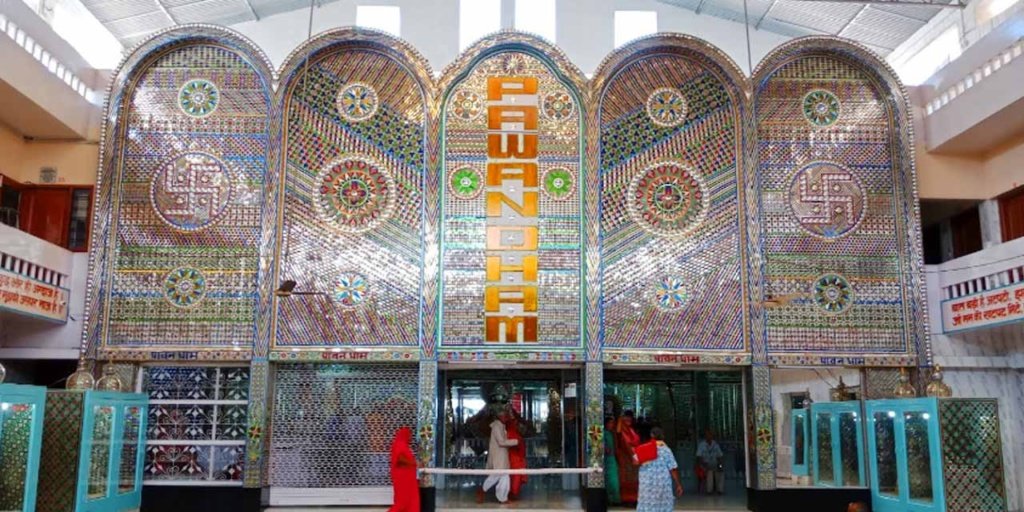 The Geeta Bhawan Trust Society of Moga manages Pawan Dham, an ancient Indian temple best-known for its lavish architecture, beautiful interiors, and intricately decorated idols. The main attraction is the beautiful Lord Krishna idol-a disciple of Arjun which is highly revered among worshippers. Owing to the intricate mirror and glasswork, many locals refer to Pawan Dham as the Glass Temple where pilgrims enjoy different levels of fame not only by Indians but also by foreign tourists visiting from all over India.
Location : Sapt Sarovar Road, Haridwar
Timings : 6 am to 8 pm
10. Bara Bazar, Haridwar
Although Haridwar does not boast of high-end malls, do not worry, you can find everything you need at the lively Bara Bazar market. The many shops that dot this bustling market sell religious paraphernalia, Ayurvedic medicines, wooden items, handicrafts, ornaments, etc. Rudraksha and peda are two of the most popular things bought by visitors like foreign travellers.
Besides markets where you can buy items for your home, or shops where you can shop for clothing or necessities there are also many restaurants in this city. You will find Indian meals like samosa, kachori-sabji, choley bhature, etc. Additionally, the local markets of Bara Bazar, Moti Bzar and Kankhal Bazaar provide a different market experience with their old stores and historic charm.
Location : Subhash Ghat, Haridwar
Timings : 9 am to 9 pm
Tell Us
What You Think
0
Like
0
Love
0
Haha
0
Wow
0
Sad
0
Angry