Thailand is a bucket list destination for millions around the globe. With plenty on offer like the urban city of Bangkok, epic tropical jungles, and lip-smacking street food. It is no wonder that Thailand packages are among the hottest deals online.
While millions throng the beautiful country of Thailand every year, only a few make the most of it. After all, only a handful are aware of the important facts that a traveller must know before booking a Thailand tour package from India. So, keeping that in mind, here is a list of 10 things to know before visiting Thailand:
1. Avoid Animal tourism
While up close and personal encounters have become the norm when it comes to tourist itineraries in Thailand. It is suggested you don't engage in activities like elephant trekking, visits to tiger temples, and monkey photo ops. These practices don't fall under ethical ways to interact with wildlife. In most of these scenarios, these voiceless animals are mistreated and their needs are neglected. So, we suggest you don't add to an already pressing issue and research more ethically sound ways to interact with the wildlife. We and the animals, both thank you for your efforts. Given how important it is to maintain the fragile balance of the ecosystem, not engaging in animal tourism is an important thing to know before visiting Thailand.
2. Large population of stray dogs
Believe it or not Bangkok, the capital city of Thailand is home to over 3,00,000 strays. While it is next to impossible to get an exact headcount of street dogs, we can assure you that you will have more than one encounter with these animals. Unfortunately, these pooches may suffer from issues like lesions, fleas, rashes, or much worse. While locals do their bit we implore you to take care of these lovable mutts as well whenever possible. Having said that, we also recommend that you always exercise caution when trying to interact with these strays.
3. Don't feed the monkeys
Thailand is full of monkey-filled beaches. These animals come off as clever, cute, and cool to experience up close. However, as cute as they may be, it is not advised that you feed them. There are multiple reasons behind this. First being – feeding monkeys makes them less reliant on their natural skills to forage for food in the wild. The second reason is that they form an association between people and food when tourists give them food. This can lead to an increase in the cases of monkeys pestering locals and tourists for food. It is also worth keeping in mind that these creatures can bite as well. This makes them extremely dangerous in case you haven't gotten rabies shots. So, err on the side of caution and don't feed monkeys on your trip. Safety is paramount on any trip so this point makes for an important thing to know before visiting Thailand.
4. Bargain responsibly
Bartering is a key and fun aspect of shopping in Thailand. There are few places in the world where your bargaining skills can reward as handsomely as they can in Thailand. Having said that, we would kindly like to remind you that there is a time and space ( and also limit ) for bargaining. Exercise your common sense and social etiquette to figure out when you are stretching your limits as to what is acceptable. So, do have fun in locales like Chatuchak Market but don't overdo or pester any shopkeepers.
5. Bug spray is important
Ever since the inception of tourism in Thailand, there have been unfortunate cases when tourists have had to cut their trips short courtesy of – nasty bugs. So, to make sure you are not an addition to this statistic, we suggest you swap out your perfumes or colognes for bug spray. We suggest you always carry a travel-sized spray bottle at all times. This will keep you safe and help you travel further. Good health is pivotal to any travel plan which makes it an important thing to know before visiting Thailand.
6. Beware of good deals
Like anywhere else in the world, if a deal sounds too good to be true, then it probably is. Be on the lookout for any potential scams as sadly, Thailand is not free of scheming con-artists. We recommend you do your homework prior to heading to the country to make sure you aren't ripped off of your hard-earned money. Some key ways to go about this are to learn the local language, invest in a map, and check out the timings of attractions you want to visit. Having warned our readers, we would also like to point out that the majority of the population of Thailand is friendly and helpful. So, like with other points we have mentioned above and below, don't forget to exercise caution and use your common sense.
7. Bring your toiletries
Toilet paper is not as common in Thailand as it is in other countries. So, while this might be chuckle-worthy now, we assure you this could prove to be a real issue on your travels. So, we suggest that you always keep a small container of toilet rolls with you. This way you can travel with peace knowing that your basic needs are taken care of.
8. Mai pen Rai
The phrase " Mai pen Rai " roughly translates to – " everything is okay " or " don't worry". While this might seem like an ordinary saying now, this simple phrase also reflects Thailand as a whole. You will find in your travels that the locals are easygoing and resilient in the face of troubles. We suggest you adopt this outlook while on your travels and roam about happy and free.
9. Choice of transport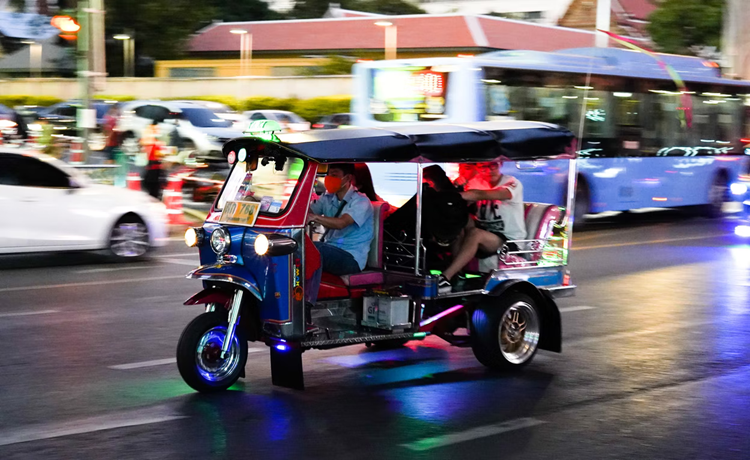 Your preferred mode of transport can greatly affect your travel experience. Tuk-tuks are fun and offer you a better view out but can get terrifying at times. Taxis on the other hand are comfortable and relatively safer. What you prioritize is up to you. We suggest you choose well as travel will form an integral part of your trip to Thailand.
10. Ride two-wheelers at your own risk
While it is not uncommon to see tourists zipping about on mopeds with safety gear. It is definitely neither recommended nor safe to do so. Thailand sure is a hairy place to drive. This fact can be backed up by the harrowing statistic that the country has one of the highest traffic fatalities records on the planet. There are few rules and plenty of vehicles to be found on the road. So, unless you are sure of your skills, it is best that you ask a local to do your driving for you.
We hope this article on the 10 things to know before visiting Thailand has given you some valuable information about your upcoming travel plans. If you are looking for the best deals in the market for travel packages, then Pickyourtrail is the one-stop solution to all your needs. We offer you the best deals on fully customisable travel packages that come bundled with excellent support via our expert travel guides. So, hop online and save big bucks at Pickyourtrail.
Tell Us
What You Think
0
Like
0
Love
0
Haha
0
Wow
0
Sad
0
Angry