Yellowstone is the world's first national park and at the time, Yellowstone was considered the most unique national park. It is also one of the most geologically volatile areas in North America and features more wild animals than just about any place in America.
This park is, in fact, one of the few places where rare creatures, such as the gray wolf and grizzly bears, are seen on a fairly regular basis. The top tourist attractions in Yellowstone National Park are:
1. West Thumb Geyser Basin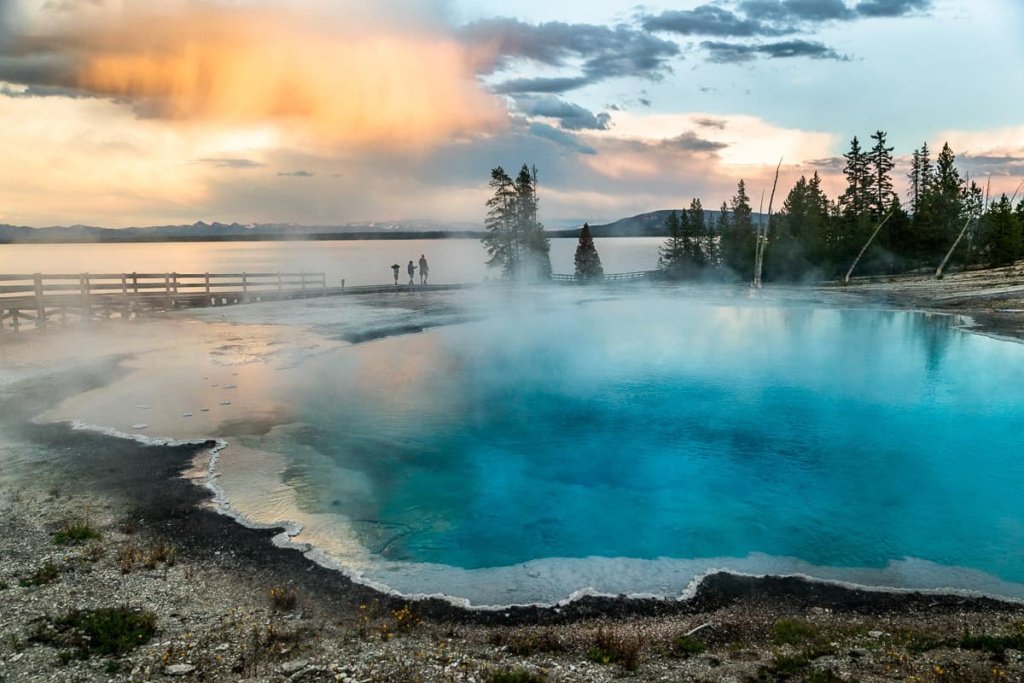 This is one of the smaller geyser basins in Yellowstone, but it does have a well-known geothermal feature: the Fishing Cone Geyser. Before 1911, anglers who caught fish in Yellowstone Lake would sometimes place their catch on hook into the boiling water of the cone and accidentally cook it alive. That practice was outlawed in 1911. West Thumb Basin also has other geysers and bubbling mud pots that includes its deepest pool, Abyss Pool. It gets its name because when the park was first sighted by an early expedition party, they thought it looked like a thumb. And this western bay looks like your big (thumb).
2. Yellowstone Lake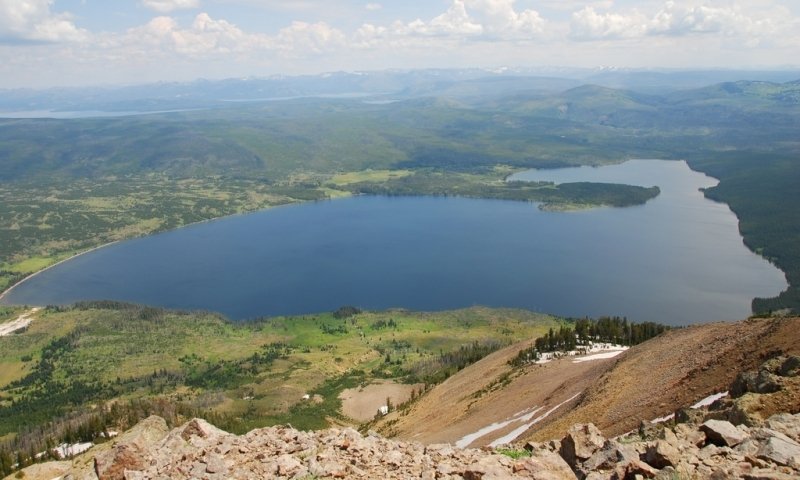 Yellowstone Lake is the largest freshwater lake that is above 7,000 feet (2,100m) in North America. This unusual lake is underground with geysers, hot springs and canyons of up to 390 feet (120 m) deep. At the surface, this body of water looks just like any other lake if you go no deeper than your feet. Fishing and boating are allowed on the lake which contains several different species of fish, including cutthroat trout and longnose suckers. Those interested in staying near the lake should consider booking accommodations at either the Lake Yellowstone Hotel or Lake Lodge Cabins.
3. Mount Washburn
This mountain was named for Henry D. Washburn, the leader of the Expeditions that explored Yellowstone Park in 1870. Mount Washburn, one of the most popular hiking destinations in Yellowstone National Park, is also considered a challenging hike due to its height and isolation. There are two trails to reach this lovely peak — one that starts at Dunraven Pass Trailhead and another that begins at Chittenden Road parking lot. Both are spectacular views of surrounding towns and mountains, though they can get crowded during peak season. Wild animals such as mountain goats and bears sometimes wander onto these trails when humans aren't looking.
4. Norris Geyser Basin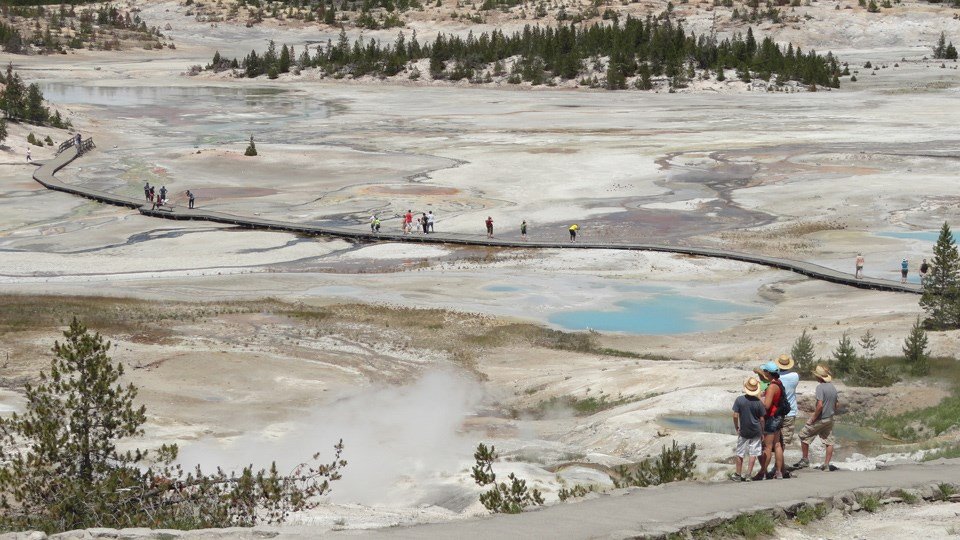 The Norris Geyser Basin is the oldest area in Yellowstone and is characterized by hot acid geysers, rare geological formations and strong active geothermal activity. The Porcelain Basin contains hundreds of labile features that are densely concentrated while the single spouts offered by some of the forested areas of the Back basin draw visitors near. One of these more impressive features was introduced in 1998 when Steamboat Geyser reached its potential height of 330 feet (100 meters). Unfortunately, it erupted unexpectedly and unpredictably, leaving no way to know exactly when it will erupt without signs such as ringing. Norris Geyser basin is a dynamic area where things change constantly. For example, the Echinus Geyser had become a regular geyser erupting about once every 35 minutes to 75 minutes for 38 years before an eruption on December 5, 1998 left its regularity uncertain.
5. Hayden Valley
Because the Hayden Valley area is centrally located, it's one of the most popular destinations for visitors to Yellowstone National Park. It's a common occurrence to spot buffalo roaming on the meadows here, deer, elk and moose in addition to bears. The trails in this valley offer visitors sights like nothing else. There are many turnouts on which to see this beautiful valley and its wildlife up close. The Hayden Valley Trail runs from Yellowstone Lake through Grand Canyon-like wilderness that follows the Yellowstone River and intersects with Mary Mountain Trail. Caution must be taken when hiking as bears often roam these areas.
6. Mammoth Hot Springs
At Mammoth Hot Springs in Yellowstone National Park, steaming hot water flows over travertine terraces. Some people have even said that it looks like a cave turned inside out. The area is divided into two sections, the Upper and Lower Terraces. Each section contains numerous hot springs and a variety of interesting looking formations. It is also a good spot to look for elk. They can often be seen hanging around the Mammoth Hot Spring visitor center. Though they appear to be calm and friendly, it is best to give them a wide berth during rutting season when males are particularly dangerous. Females with babies have also been known to charge visitors if they believe that they are getting too close to their young ones.
7. Midway Geyser Basin
Lying between the Upper and Lower Geyser Basins, Midway is one of the smallest geologic basins in Yellowstone. It also contains the Grand Prismatic Hot Spring, which is the most photographed feature in Yellowstone. The 120-foot (37-meter) deep thermal spring is famous for its surreal, vivid colors. The center of this major hot spring features a turquoise blue that would be stunning on its own but it's not alone – there's also fire-red, orange and yellow hues around it. This basin – which once had the world's tallest geyser that reached 300 feet – still has an active geothermal spring.
8. Lamar Valley
Yellowstone National Park is known for its diverse wildlife that can be seen in any season. Notably, the Lamar Valley in the northeastern corner of the park is home to large herds of buffalo, as well as a chance of seeing wolves and bears. Buffalo are most commonly seen from mid-April into mid-October. Wolves, coyotes, and bears often roam free during these seasons. The likelihood for spotting these creatures depends on the time of day you visit Yellowstone National Park and the season you reserve your tour within this area will likely experience much more wildlife than select sites in other areas within the park.
9. Grand Canyon of the Yellowstone
The Grand Canyon of Yellowstone, was carved out by the powerful Yellowstone River over thousands of years. This famous attraction includes two significant waterfalls — the Upper Falls and the Lower Falls. The Lower Falls are twice as tall as that of Niagara Falls — it plunges approximately 330 feet (90 meters) while the Upper Falls tumble 109 feet (33 meters). Several hot springs and steam vents can also be seen in the area. For those who would like to stay in this area, there are accommodations available in Canyon Village including hotel rooms and RV and tent sites.
10. Upper Geyser Basin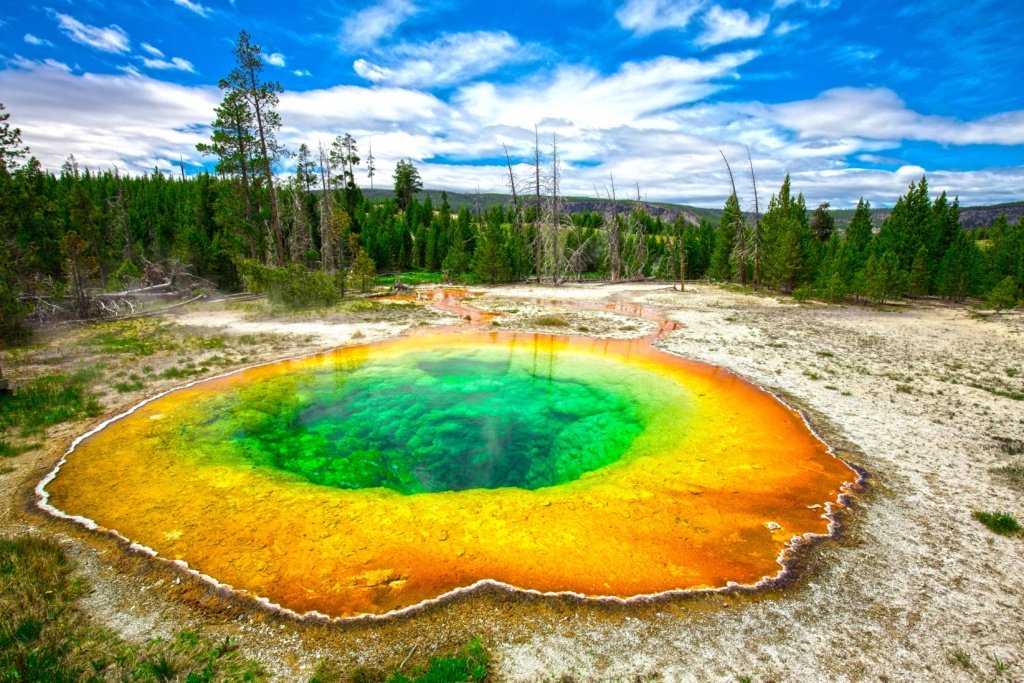 The Upper Geyser Basin is, arguably, the most popular attraction in Yellowstone. It is the largest geyser basin in the park and also contains the largest concentration of hot springs in the world. It is home to Yellowstone National Park's most famous geyser, Old Faithful. This geyser is very popular with visitors since the park can predict fairly accurately when it will erupt, and the intervals between eruptions are fairly short — between 60 to 110 minutes. Besides Old Faithful, there are more than 150 geysers in this basin, as well as hot springs and fumaroles. The park has built a nice path through the Upper Geyser Basin which makes it easy to view many fascinating geothermal features in the area.
Tell Us
What You Think
0
Like
0
Love
0
Haha
0
Wow
0
Sad
0
Angry