Dubai is the go-to destination for adrenaline junkies and shopaholics. The city is riveting alchemy of daring futuristic vision and tradition. It offers everything to tourists of all ages from sci-fi concepts like speedy Hyperloop trains, flying taxis, sizzling dance temples, fancy beach clubs, striking shisha lounges, upscale cocktail caverns to state-of-the-art operas, live concerts and ritzy malls. It is the tourist hub where microcosms of cultures from various countries across the world co-exist peacefully.
To have a memorable Dubai trip here are the ten best Dubai tours, safaris and tourist attractions that you should not miss.
Feel the Pulse of Dubai in the FunLegoland Themed Park
Have a ball of a time at Legoland.It is an ideal theme park for children aged between 2 years and 12 years. Have an experience of a lifetime with your family in the beautifully crafted Legoland that houses more than 40 shows, themedrides, attractions and building experiences. Children can enjoy an array of activities in the park such as diving deep into the sea, piloting a plane, learning how to drive, slaying dragons and much more.
Experience the Thrill of Riding through the Tranquil and Splendid Desert of Dubai
One of the prime tourist attractions of undeniably is the desert safari Dubai. Dubai tour is certainly incomplete without taking a drive into the heart of the desert. A 4-to-6-hour safari tour includes the following:
Gripping dune bashing session
Shisha smoking
Camel ride
Belly dance shows
BBQ dinners
Henna tattooing
Have an Unforgettable Experience Indulging in Dubai's Hair-Raising Skydiving Activity?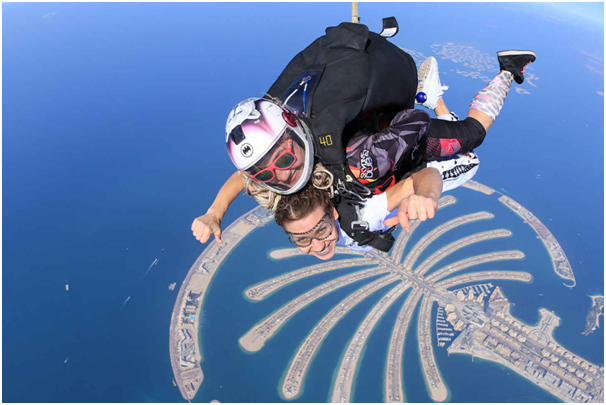 The parachute and free-fall experience are certainly one-of-a-kinds. You need not worry about the safety aspect as trained instructors would guide you through the entire procedure. Enjoy a magnificent view of the emirate by jumping from one of the two drop zones of Dubai. Either jump from the 'Palm Zone' located near the splendid Palm Jumeirah or from the desert campus that is situated 35 km. from the Margam City.
Enjoy a Mesmerizing Light, Music and Dancing Water Experience at the Dubai Fountain
Touted to be by far one of the best attractions of Dubai is the swaying Water fountain of Dubai. Strategically located near the Dubai Mall inside the iconic Burj Lake is the Dubai Fountain that throws out 22k water gallons that reach up to 140 m into the air. Watch the water jets sway and dance to the beat of thundering music tracks of Michael Jackson's Thriller, Sarah Brightman and Andrea Bocelli's Time to Say Goodbye and Korean band EXO's Power.
Explore an Exotic Underwater World through a 48-Metre-Long Tunnel
The Dubai Mall houses one of the magnificent aquariums of Dubai. You can find more than 140 aquatic species and the aquarium is home to over 33,000 sea creatures. Have a joyful experience taking a walk through the 48-meter-long tunnel built through an aquarium. A lot of fun activities are available with the aquarium tour such as mermaid makeovers, glass-bottom boat rides, swimming with the sharks etc.
Explore the Enigmatic and Magical Dubai City through a Guided Sightseeing Tour
The best way to enjoy the beauty and splendour of Dubai is by opting for guided Dubai tours. The must-see attractions of a guided city tour are as follows
Iconic landmarks of Burj Al Arab and Burj Khalifa
Visit Dubai's museum
Visit Gold and Spice Souks
A taxi ride through Dubai's Creek
Soak Up the Resplendence of Dubai from a Lavish Yacht
No better way to enjoy the grandeur of Dubai than cruising through the waters in a plush yacht. The Marina Luxury Yacht Tour of Dubai is one of the to-do family attractions that should be on your bucket list. Wallow in the lap of luxury enjoying the spectacular view of Dubai's skyline from your yacht. The tour includes breakfast, lunch and beverages for you to enjoy onboard.
Gripping Water Rides and Aquatic Adventures to Make Your Dubai Trip Memorable
Dubai's Aqua Adventure Waterpark is a key attraction for thrill-seekers. The enchanting waterpark has an array of activities to offer from lazy river rides to spine-chilling super steep lightning speed rides. The waterpark even houses an 'Atlantis-themed' aquarium that has about 65,000 marine creatures.
Relish an Enchanting Tour of the Desert on a Camel
A desert safari tour on a camel is a must to make fond memories of your Dubai trip to be cherished forever. From riding on a camel to a Bedouin-style lavish camp, falconry displays to interesting coffee and bread-making presentations and enrapturing Arabic dance, music and sumptuous four-course meals; enjoy everything such tours have to offer.
Get Mesmerized by the Floral Extravaganza in Dubai's Miracle Garden
Be entranced by the magnificence of a 72,000 sqm of an expansive floral park that is home to over 50 million blooming floral species. The garden is lined with structures and popular buildings transformed into an exotic floral display. Some of the key attractions of the Miracle Garden are a striking floating lady bedecked in flowers, street performers, parades and a fascinating Butterfly Garden that houses more than 15,000 butterflies.
Dubai has established itself as one of the most sought-after tourist destinations with its iconic themeparks, captivating safaris, swanky malls and eye-catching majestic monuments. Going through these must-see attractions you will be able to make an informed decision as to what to include in your Dubai trip to make memories of a lifetime.
Tell Us
What You Think
0
Like
0
Love
0
Haha
0
Wow
0
Sad
0
Angry