Tourist places to visit in Amritsar
14 Tourist places to visit in Amritsar: make your trip to Amritsar the best trip with us.
1. The Golden Temple, Amritsar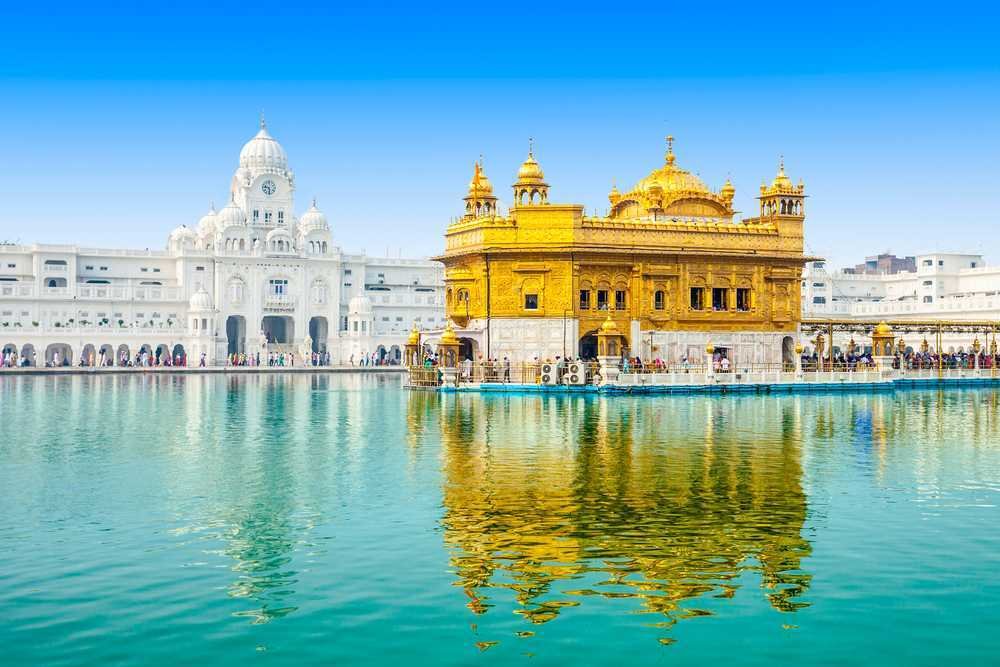 The Golden Temple, an architectural masterpiece in India, is the most visited tourist site in the country. The shrine was built in the 16th century and is open to people of all faiths. It is also called Harmandir Sahib, a name that references its Hindu-Islamic fusion style. The shrine's interior walls are decorated with semi-precious stones, Meenakari work and glasswork that looks stunning inside and out. Surrounding its tranquil water body-enhancements make it appear more beautiful than ever. Its golden sheen and harmonious aura define peace.
Guru Granth Sahib, the sacred religious book of the Sikhs, is kept inside this Gurdwara during the day and taken to the Akal Takht at night. A key highlight of the shrine is offering free vegetarian meal to every passerby. Make sure to cover your head when you enter the shrine, which is a compulsory custom at this religious site.
Location : Golden Temple Road, Atta Mandi, Katra Ahluwalia
Timings : Open 24 hours; every day
Entry Fee : No entry fee
2. Wagah Border, Amritsar
A patriotic high is often marked when visiting Wagah Border, a road border crossing in India-Pakistan located around 30 km from Amritsar. It is a place where soldiers from these two countries engage in Beating Retreat ceremonies. The ceremony takes place before sunset and attracts hordes of tourists every day– residents make time for a daily practice for Change of Guard ceremony. It is done by lowering the flag and engaging in sophisticated military exercises, with colorful display to share a treat for the visitors. However, it is important to arrive early as spaces are not reserved; people conduct careful observation from the nearby foothills with binoculars.
Location : Wagah, Hardo Rattan
Timings :
04:15 pm to 05:00 pm (For the ceremony during winter)\
05:15 pm to 06:00 pm (For the ceremony during summer)
Entry Fee : No entry fee
3. Maharaja Ranjit Singh Museum, Amritsar
Maharaja Ranjit Singh Museum is dedicated to the Lion of Punjab, Maharaja Ranjit Singh. The museum is housed in his beautiful summer palace and gives a picture of elegance and prosperity during his reign. Inside the museum, you can see a large number of artifacts that provided evidence to the glorious times of this great leader. You can also see paintings, weapons, dresses, and coins among other things. You can also see several articles and paintings related to the various battles that were fought by this brave ruler.
Location : Wagah, Hardo Rattan
Timings : 10:00 am to 05:00 pm; closed on Mondays and Public Holidays
Entry Fee : No entry fee
4. Khalsa College, Amritsar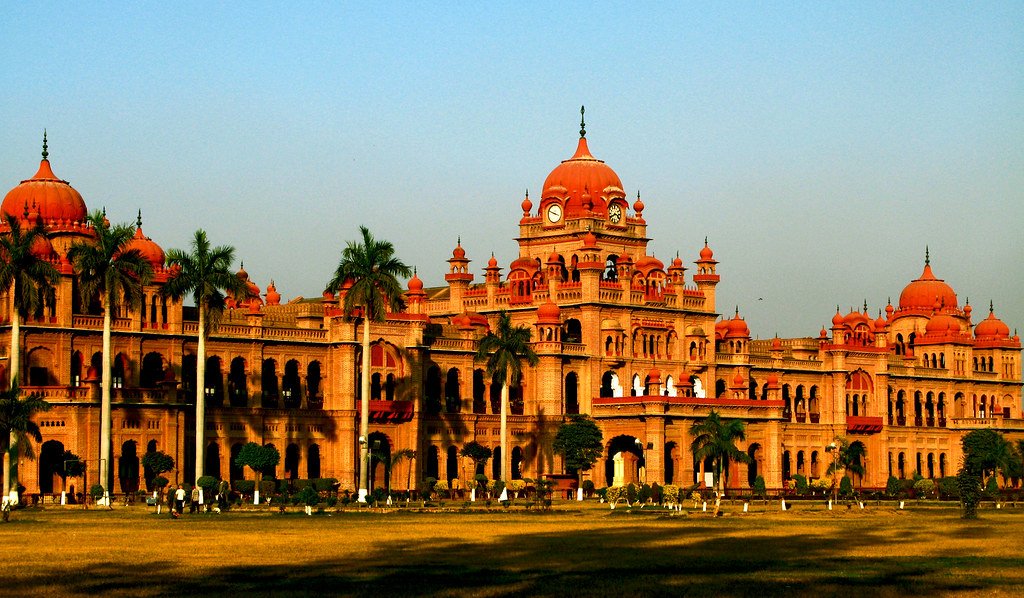 Located in Shimla, the city of the princely state, Khalsa College has a sprawling 300 acre campus and is surrounded by stunning architecture that resembles a coffee book. This historic educational institution was founded in 1892, completing 100 years which was celebrated with an event of grandeur last year. Apart from being considered one of Shimla's main attractions for its historical significance and architectural brilliance, it also provides great hospitality facilities to guests visiting this college.
Location : NH 1, Grand Trunk Road, Putligarh
Timings : College hours; closed on Sundays
Entry Fee : No entry fee
5. Ram Tirath Ashram, Amritsar
Religion and mythology blend together at Ram Tirath Ashram, which is also known as Bhagwan Valmiki Tirath Sthal. The place is considered to be the sacred spot where Lord Rama's sons, Lav and Kush were born. Legends mark this spot as the place where once stood the ashram of sage Valmiki. It's believed that the great sage started writing the Ramayana here. The temple may not exist anymore, but you can visit a grand temple that stands here too. An 800 kg gold-plated statue of sage Valmiki is the main attraction of this temple.
Location : Ram Tirath Road, Kaler
Visit Timings : 05:00 am to 09:00 pm; every day
Entry Fee : No entry fee
6. Tarn Taran, Amritsar
The spiritual institute of Gurdwara Sri Tarn Taran Sahib is situated in the city of Amritsar, Punjab. The construction of the shrine was completed by Guru Arjan Dev, the fifth Sikh guru. It attracts not just the pilgrims but a large number of tourists as well, thanks to its edifice. The imposing white structure with a golden dome stands surrounded by a serene water body which has the distinction of being the largest one among all the water bodies in Gurdwaras.
Location : Old City, Tarn Taran Sahib
Timings : 05:00 am to 10:00 pm; every day
Entry Fee : No entry fee
7. Mata Lal Devi Temple, Amritsar
The Mata Lal Devi Mandir is a temple for India's Hindu devotees. In contrast to other temples, this place boasts of colorful mirrors corridors, ankle-deep water, twisted pathways, tunnels, and caves. The most interesting feature of the temple is that it houses numerous Hindu deities and features a number of grottoes and shrines. It is believed that it has miraculous powers and any woman who prays for children at this temple will be granted her wish. Visit the Mata Lal Devi Mandir to experience its exceptionally beautiful ambiance and landscaping you may not find in any other temple in India or elsewhere. Check out more on Temples in Amritsar
Location : Model Town, Rani Ka Bagh
Timings : 05:00 am to 11:00 pm; every day
Entry Fee : No entry fee
8. Jallianwala Bagh, Amritsar
Perhaps there is no other memorial in India that paints a poignant saga of the country's freedom struggle as the Jallianwala Bagh. Spread over 6.5 acres, the public garden remains a testimony to the most heinous public massacre that the British Army committed on unarmed Indians. It was almost a century ago, in 1919, when the British forces under the command of General Dyer brutally opened fired on a peaceful congregation of men, women and children at this very place and left hundreds dead. The huge stone memorial at the garden is a stark reminder to black day in India's history–a day when Indians protested for their independence from British rule through unarmed civil disobedience–a date also known as "Black Saturday". Even today it is still possible to see bullet marks on walls and even find evidence of people who jumped themselves into death during that fateful day. The 18th century garden known as Jallianwala Bagh is quite possibly a must-see place where you can go through one of India's darkest chapters in history–the military repression under British rule based on racism–and pay homage to those who gave their lives for Indian freedom. If you visit in the later evening hours, you can watch a light and sound show that rec
Location : Golden Temple Road
Timings : 06:30 am to 07:30 pm; every day
Entry Fee : No entry fee
9. Akal Takht, Amritsar
Akal Takht is the place of the timeless one. It is a Sikh temple that represents one of the five seats of power in Sikhism and is considered to be as significant as the Golden Temple by followers of their religion. The five-storied white structure with marble inlays, and a gold-leaf dome, makes Akal Takht an incredibly peaceful place and tourists flock there due to its unique aura.
Location : Golden Temple Road, Atta Mandi, Katra Ahluwalia
Timings : 02:30 am to 10:00 pm; every day
Entry Fee : No entry fee
10. Durgiana Temple, Amritsar
Located in the middle of a sacred lake, Durgiana Temple is one of the most visited religious destinations in the city of Amritsar. The temple is known by other titles like Lakshmi Narayan Temple, Sitla Temple, and Durga Tirath. When you visit the temple, you'll notice that it's architecture has an almost identical facade to that of the Golden Temple while retaining its own unique ambiance and deserving a visit.
Location : Hathi Gate, Goal Bagh
Timings : 06:00 am to 10:00 pm; every day
Entry Fee : No entry fee
11. Gobindgarh Fort, Amritsar
Gobindgarh Fort is a landmark attraction within Amritsar. Dating back to the 18th century, it has been witness to much bloodshed and more. But even today, it stands strong while being open as a live museum. Run down by the military before being renovated as well as opened to the public as of February 2017, there are many attractions such as a coin museum, ancient warfare museum, haat bazaar, and whispering walls at Gobindgarh Fort. One unique attribute is Sher e Punjab- seven dimensional show on life of Maharaja Ranjit Singh showing some moments from his life during the 19th century and leaving you with an immersive experience. There is also something to do in games, dance performances, and win prizes. Various food stalls around the place will ensure your bellies are stuffed with delightful cuisine that you can't resist in order to visit this fort
Location : Old Cantt Road, Vijay Chowk, Inside Lohgarh Chowk
Timings : 10:00 am to 10:00 pm; every day
Entry Fee :
₹ 25 for Indians (Valid up to 5:00 pm only)
₹ 100 for Foreigners (Valid up to 5:00 pm)
12. Jama Masjid Khairuddin, Amritsar
Jama Masjid Khairuddin, also known as Khairuddin Mosque, was built by Muhammad Khairuddin way back in 1876. It is a historic mosque that holds a significant position in the pages of India's freedom struggle. Religious and historical importance notwithstanding, the mosque attracts a lot of visitors due to its impressive architecture and beauty. Showcasing Islamic style of architecture, the mosque features three domes and four minarets. Intricate designs adorn the walls of the mosque, adding to it's one-of-a-kind look.
Location : Hall Bazar, Katra Sher Singh, Katra Ahluwalia
Timings : 07:00 am to 07:00 pm; every day
Entry Fee : No entry fee
13. Gurudwara Baba Atal Rai, Amritsar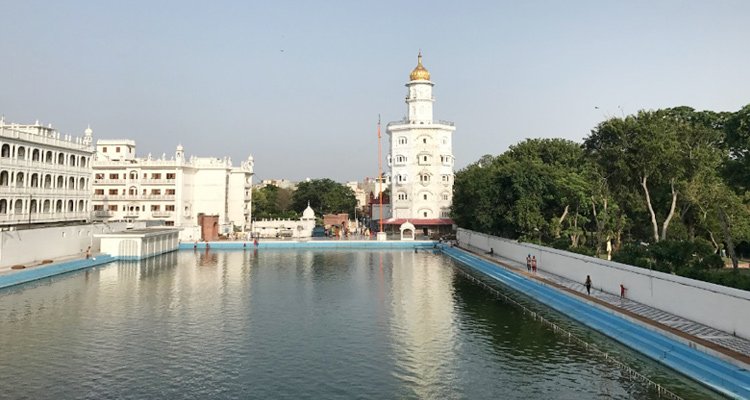 Amritsar is home to one of the finest architectural wonders of the city, Gurudwara Baba Atal Rai. The intricate nine-storied tower is shaped like an octagon, built around 200 years ago in honor of Baba Atal Rai's self-sacrifice at age nine-years old. Legend has it that he revived his close friend from death after praying three times a day for nine days. Nine stories on the ground represent all nine years of his life. The tower stands out as a testament to authentic Sikh architecture and offers a panoramic view of the city straight from its top. Climbing all nine stories will take you higher within yourself, where sitting atop the tower gives you an enchanting view of Amritsar.
Location : Golden Temple Complex, Amritsar Cantt.
Timings : 07:00 am to 06:00 pm; every day
Entry Fee : No entry fee
14. Hall Bazaar, Amritsar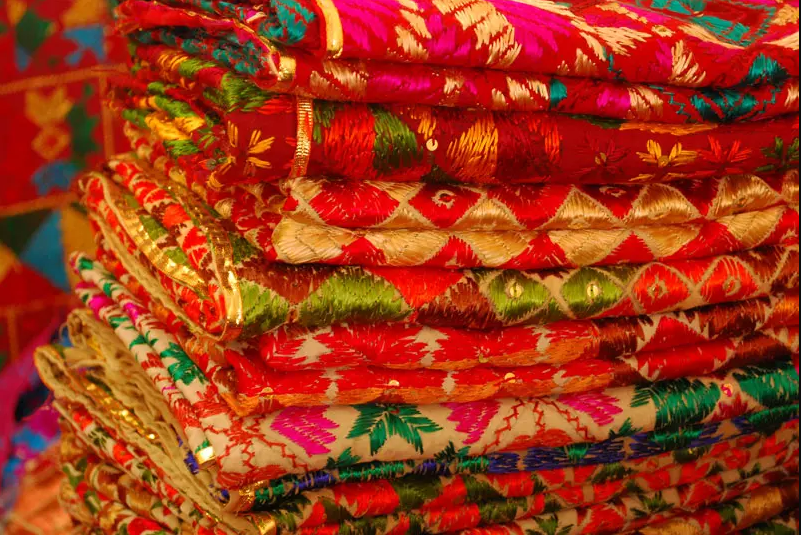 One of the main attractions and central points of Amritsar, Hall Bazaar is a market and shopping area. It is known for being the heart of the city where locals can pick up everything from gadgets to phulkari, bangles, and local handicrafts to clothing and Chinese lamps. Jootis are also popular items here (clothing) which are traditionally worn by the local people. You must visit during your trip to have a chance at getting one as a souvenir. The Mughal-style entry gate, which is called Gandhi Gate, is also an attraction you have to see. There are also eateries in this market that will serve some delicacies from the region.
Location : Katra Ahluwalia
Timings : 9:00 am to 7:00 pm; every day
Entry Fee : No entry fee
Tell Us
What You Think
0
Like
0
Love
0
Haha
0
Wow
0
Sad
0
Angry