Missoula, Montana place, is home to a unique blend of natural wonders and urban comforts, earning its nickname as Montana's "Garden City." Boasting a culture that celebrates both the natural wonders and the pioneer heritage of the region, Missoula is arguably one of the most well-rounded destinations in the country.
Between the nature trails, hot springs, adventure sports, art galleries, distilleries, live theater, and more, Missoula offers so much to do with a great balance between adventure and relaxation. If you are planning a leisurely getaway soon, here's a bucket list of things to do in Missoula to ensure an unforgettable experience.
For the Adrenaline-Seeker
Things To Do In Missoula
In the summer, Missoula is a great place to enjoy the outdoors. Hiking, fishing, and camping are all popular activities, and there's no shortage of beautiful places to explore. If you're looking for a little more excitement, you can also go whitewater rafting or zip-lining.
1. Hike at the Rattlesnake National Recreation & Wilderness area.
Image: https://unsplash.com/photos/95cGsH7Hj0c
The Rattlesnake National Recreation & Wilderness Area is one of Missoula's most popular outdoor destinations. It has a wide range of trails that are perfect for hiking, biking, snowshoeing, and more. You get to enjoy traversing through pine forests and meadows full of wildflowers. While the trails are great for hiking year-round, during the winter, snow can make some parts of the trail difficult to navigate. If you're up for it, hiking during the winter months is worth it for the views alone.
2. Enjoy whitewater rafting and kayaking.
Image: https://unsplash.com/photos/ByUSYLVoQ7M
Missoula is a great city to enjoy whitewater rafting and kayaking. The Clark Fork River offers some of the best whitewater in the world with rapids up to Class V. The nearby Blackfoot River features calm waters and easy rapids perfect for beginners. If you want something more challenging, try the Alberton Gorge, which has great scenery along with Class III-IV rapids. If you're looking for something even more challenging, head to the Selway River, where most of the rapids are Class IV+.
If you're new to this sport, no worries! There are plenty of outfitters who offer guided tours so they can teach you how to navigate the river currents safely while giving you tips on paddling techniques and safety gear recommendations.
3. Check out the Rocky Mountain Elk Foundation's Elk Country Visitor Center.
The Rocky Mountain Elk Foundation (RMEF) is dedicated to conserving elk and other wildlife through habitat preservation and education programs. This is a must-see for anyone who loves wildlife and wants to learn more about elk and other animals that call Montana home.

The visitor center has an extensive collection of world-record elk antler mounts that hunters across the country have donated. There are also interactive displays where visitors can learn about conservation efforts, such as habitat restoration projects or how hunters help with research that helps maintain healthy populations of wildlife species like elk.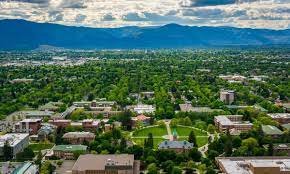 4. Disconnect from the rest of the world at Lolo National Forest.
With over 2,000,000 acres, Lolo National Forest has a lot to offer. The Continental Divide National Scenic Trail runs through the park, and it's one of the longest trails in America. This strenuous hike will take you through some of Montana's most stunning landscapes and mountain ranges. You can start at either end of the trail, but don't forget your water bottle! There are parts of this trail that are incredibly remote, so water is scarce and you won't be able to find any sources along the way.
5. Spend the day at Glacier National Park.
While technically not situated in Missoula, just like Yellowstone National Park, you'd be missing a lot if you don't take the few-hours drive up the crown jewel of Montana. The park covers an area of over 1 million acres and contains hundreds of lakes and rivers, as well as some of the most pristine wilderness areas in North America. Many visitors hike through the park on their way up toward Logan Pass or along Going-to-the-Sun Road, which provides incredible views of the surrounding mountainscape.
6. Slide down the Montana Snowbowl.
Image: https://unsplash.com/photos/zM2JCUofOec
Try taking a ride down the Montana Snowbowl. This is a great way to see the beautiful Missoula Valley, and it's also one way to get your adrenaline pumping. There are many types of activities available at the Snowbowl, including snowmobiling, skiing, snowboarding, and more. The mountain boasts different runs and two lifts that are accessible to all skill levels, but they specialize primarily in expert runs.
7. Visit Mobash Skatepark for some adrenaline kicks.
If you're looking for a place to kick back, relax and enjoy the outdoors, there are plenty of parks in Missoula to choose from. But if you're looking for something more active and adventurous, why not try out Mobash Skatepark? It offers something for everyone: skateboarders can practice their skills on a variety of ramps and obstacles, BMX riders can perform tricks on the super bowl-like ramp, and inline skaters can enjoy smooth concrete pathways without having to worry about traffic or potholes.
8. Soak your troubles away at Lolo Hot Springs.
About an hour and a half from Missoula, Lolo Hot Springs is one of Montana's most popular natural hot springs. You can soak in the outdoor pools or take a plunge in the indoor pool. There are also cabins available for rent if you want to spend the night. Nearby there are hiking trails, fishing spots, and plenty of other outdoor activities to keep you busy.
For the Laid-Back Tourist
9. Indulge in some delectable microbrews.
Image: https://unsplash.com/photos/2UsNF4Az-Ko
This town is home to some of the most delicious beer in the country, and a brewery tour is one of the top things to do in Missoula. You'll find everything from small, local brewpubs to some of the biggest names in craft beer. There are a number of local breweries that offer tours, tastings, and growler fills such as Missoula Brewing Co. and Imagination Nation Brewing Company.
If you're interested in learning more about the brewing process, stop by Big Sky Brewing for a tour where you'll get to see how they make their beer from start to finish. During your visit, be sure to try their flagship brews like Moose Drool Brown Ale and Hazy IPA or sample one of their many seasonal selections like Summer Honey Ale and Powder Hound Winter Ale.
10. Fancy some wine? Have a sampler at Alberton Orchards
Alberton Orchards is one of the more unique local wineries you'll ever visit. This gorgeous vineyard has over 1800 vines, and the property offers numerous agrotourism and outdoor activities. Steeped in the history and natural beauty of the Clark Fork River, Alberton Orchards makes for a full-day trip or an overnight stay—they have luxurious cabins on site.
11. Drop by Caras Park for special events and street food.
Caras Park is located downtown along the Clark Fork River. There are plenty of events happening throughout the year that offer a welcome change of scenery. You can catch concerts, watch plays, go to festivals, or even just hang out with friends while enjoying some delicious street food. The park is home to several annual events, including Out to Lunch, Missoula Marathon, Downtown ToNight, and GermanFest.
12. Drive through Garnet Ghost Town for a frozen-in-time experience.
Image: https://pixabay.com/photos/garnet-ghost-town-montana-abandoned-3943047/
If you're looking for a way to experience the past in Missoula, Montana, look no further than Garnet Ghost Town and its abandoned mines. You'll find yourself transported back in time as you drive through this small town, which has been preserved in its original state since the early 1900s.
The Garnet Ghost Town was once a booming mining town with over 2,000 residents, but today, it's an abandoned ghost town that offers a glimpse into early Montana history. The area is also home to many abandoned mines that are still intact and accessible by foot, so if you're feeling adventurous, you can even explore them.
13. Bask in art and history at Missoula's museums.
Start your exploration at the Missoula Art Museum. It houses more than 2,000 works of art from around the world, as well as a rotating collection of contemporary art from both local and national artists.
Then head over to Fort Missoula, another must-see for anyone interested in history or architecture. It was once a military installation but has since been transformed into a historic park that features guided tours of the grounds and buildings, including an old officers' quarters, barracks, storehouse, schoolhouse, and even a church.
14. Watch a show at the historic Wilma and Roxy Theaters.
Missoula has multiple options when it comes to movies and shows, but you won't just be sitting there as a passive observer. If you're looking for a real experience, this is where you want to be. Both the Wilma and Roxy Theaters offer something from live music performances to community events—and they do it all while never sacrificing quality or integrity. Wilma has been around since 1921 and is included in the National Register of Historic Places. Roxy, on the other hand, is another treasured landmark that opened its doors in 1937.
15. Explore the flavors of Montana at the Missoula Farmers Market
Located in downtown Missoula, this market serves up local produce and handmade goods from Montana artisans. From fresh fruits and veggies and piping hot pastries to handmade jewelry, you'll be sure to find something for everyone in your family.
16. Dine, drink, and shop at The Hip Strip.
A hub of local culture, the Hip Strip is where you'll find Missoula's best food, drinks, and shopping. The area is walkable and bike-friendly—perfect if you're looking for a fun way to tour some of Missoula's most popular bars, restaurants, and shops without having to worry about parking or navigating busy streets.
Missoula is well worth the visit.
With all that Missoula has to offer, it's clear to see why it has established itself as a top vacation destination among other cities in Montana.
If you're planning a trip to Missoula, no worries—whether you're looking for a quiet getaway in the woods, an action-packed vacation, or a trip down memory lane that's bursting with culture, we've got you covered. From outdoor sports and entertainment to must-try restaurants and local shops, our list of things to do in Missoula will have you coming back for more. So gather your sunscreen, pack your bag, and round up your friends—Missoula's calling.
Tell Us
What You Think
0
Like
0
Love
0
Haha
0
Wow
0
Sad
0
Angry