places to visit in Mussoorie
There are several places to visit in Mussoorie in Mussoorie, including Kempty Falls, Gun Hill, Company Garden, Lake Mist, and Camel's Back Road. The British built Mussoorie as a summer retreat in 1823. Thirty-five kilometers from Dehradun and 290 kilometers from Delhi, it is located in the Garhwal Himalayas.
1. Kempty Falls, Mussoorie
One of the most popular things to do in Mussoorie is a spot just outside of town called Kempty Falls. It is one of the Best places to visit in Mussoorie. The falls were developed by a British officer back in the 1830s and it has become one of the best picnic spots in town– especially since there's a restaurant nearby.
One can visit Kaena Falls, which plunge from a height of almost 1,364 metres. At the bottom of these falls is a pool forming as well as breathtaking views of the valley that surrounds it. The water in this pool is clean and gentle and can be enjoyed – splashing around, taking pictures, or eating Maggi with kadak chai.
Location : Ram Gaon, Tehri Garhwal District
Timings : 10 AM – 6 PM
Entry Fee : Free (Extra charges for using the ropeway, starting at INR 120)
2. Lal Tibba, Mussoorie
Lal Tibba gives fantastic views of Mussoorie and the surrounding mountain ranges. It is a short 6km hike up the hill, so if you want to feel great upon arrival at your destination, bringing along your hiking boots is a must. From here, the name literally translates to red hill, owing to the colour of the sky available during both sunrise and sunset.
The view of peaks like Bandarpunch, Kedarnath, and Badrinath is breathtaking towards the sunset as you peer through telescopes installed at Lal Tibba. From here, you will be able to enjoy every beautiful moment with minimal effort
Location : Bazar Road, Landour, Mussoorie
Timings : 6 AM – 6 PM
Entry Fee : INR 50
3. Gun Hill Point, Mussoorie
Gun Hill Point is one of the Best places to visit in Mussoorie, located at a distance of 1.7 miles from the Mall Road. To reach this viewpoint, visitors will need to hike for about 20 minutes and climb up a zig-zagged trail that leads from Piki Nullah to the point. From this view, they'll be able to see some of the other mountains in Dalhousie District: Bunderpunch, Srikantha and Gangotri.
Location : Mall Road, Landour, Mussoorie
Timings : 10 AM – 6 PM
Entry Fee : Free
4. Company Garden, Mussoorie
Located around three kilometers from Mall Road in Mussoorie, the Company Garden at the Company Gardens is a perfect spot for family time with your friends and loved ones. The garden was designed by Dr. H Fackner and is maintained by the Garden Welfare Association of Mussoorie.
If you are up for boating, check out the artificial lake. You'll find a beautiful fountain, beautiful greenery, colourful birds and different varieties of flowers by taking a walk around the garden.
Location : Bazar Road, Landour, Mussoorie
Timings : 9 AM – 8 PM
Entry Fee : INR 25
5. Cloud's End, Mussoorie
If you are looking for solitude while visiting Mussoorie, Cloud's End is the perfect spot. This wooded location is located 6 km from the Library Road and marks the end of a triumphant walk to reach it. You can reach this scenic bend by trekking along the Hathipaon Road from the Happy Valley area.
This place has the most stunning views throughout the day and is a great place to take videos like Insta-worthy shots. Not only that, but photographers love this place since its surreal setting could provide background for your next social media post/blog post.
Location : Hathipaon area, Mussoorie
Timings : N/A
Entry Fee : INR 50
6. Jharipani Falls, Mussoorie
Situated in the quaint village of Jharipani, about 7 km from the city centre of Mussoorie, is the stunning Jharipani Falls. Its charm lies in its secluded location that is not marred by touristy crowds yet. You can spend hours soaking in the beauty of the falls, clicking good pictures or simply appreciating the views of the scenery around the waterfall including those of the Shivalik range.
The site is also surrounded by colorful flowers where you will find rare varieties. After a certain point, you will have to head out on an easy hike which is only 1.5 miles. this can be the Best places to visit in Mussoorie.
Location : Dehradun-Mussoorie Road
Timings : Open all day
Entry Fee : Free
7. Mussoorie Lake, Mussoorie
Visitors of Mussoorie are excited by the sight of this man-made lake that is one of the most well-known and beautiful sites in the city. Guiding visitors around, you can try water zorbing and zip lining as activities on this site. Oh, and now you can also do paragliding just a short distance away from the shore of Mussoorie Lake.
Here you will find a variety of small tourist shops, restaurants and even a horror house opposite the lake that are perfect for refreshment after enjoyable time by the water.
Location : Dhobi Ghat, Mussoorie
Timings : 8 AM – 7 PM
Entry Fee : INR 15 (Extra charge for other activities)
8. Sir George Everest's House, Mussoorie
Located 6 km from Gandhi Chowk in Mussoorie, Sir George Everest's House dates back to the year 1832. Better known as The Park Estate, this place once served as the home, laboratory and observatory of Sir George Everest. From measuring the highest mountains to scaling the distances between the mountains of the North, Sir Everest has done it all from this place.
Take a trip to the observatory to get some insight into his life and work. The summit of Heritage building is breathtakingly beautiful even when it's covered in mist. When history doesn't interest you, the view does.
Location : Khanij Nagar
Timings : N/A
Entry Fee : N/A
9. Camel's Back Road, Mussoorie
Camel's Back Road is a 3 km stretch road that leads to the scenic views of Mussoorie's natural environment. This drive is most pleasant in the morning and evening hours because camel-like bushes create a backdrop for green valleys, which provide a chance to observe nature from some distance away.
Location : The Mall Road
Timings : All day long
Entry Fee : N/A
10. Library Bazaar, Mussoorie
If you like to do your shopping from small and cosy stores, then head to Library Bazaar in the center of the hill station one of the places to visit in Mussoorie. There is a variety of shops for handmade fabrics, silver jewellery, local sweets and delicacies, as well as cafés giving out freshly brewed coffee and tea.
Location : The Mall Road
Timings : All day long
Entry Fee : N/A
11. Lake Mist, Mussoorie
One of the sights to see in Mussoorie is the Lake Mist. Though, it's a rather smaller lake, with a boat point. You can hire out boats that are affordable, and they're located on the way to Kempty Falls as well. It usually gets overcrowded during the weekends
Location : Kempty Fall Road
Timings : All day long
Entry Fee : N/A
12. Snow Adventure Zone, Mussoorie
If you like adrenaline rushes and nature, a government-approved adventure park called Snow Adventure Zone is the perfect spot for you. There are activities such as zip-lining, valley crossing and other activities to keep you on your toes.
Location : Buranskhanda
Timings : 9:30 AM to 7:00 PM
Entry Fee : Entry is free. Activities are chargeable
13. The Mall Road, Mussoorie
If you're visiting Mussoorie, the Mall Road is a must-see place. Besides being an epic traveller destination, it's a grand public destination that's likely to be crammed with tourists eager for a souvenir or to take a picture in front of the famous eateries and cafes.
Location : The Mall Road
Timings : All day long
Entry Fee : N/A
14. Bhatta Falls, Mussoorie
With a lush green environment, Bhatta Falls is a serene and peaceful picnic spot. There are even some waterfalls nearby, so bring your own food and drinks. You should also keep the area clean since there is no trash can as of yet.
Location : Bhatta Village
Timings : 8:30 AM to 8:00 PM
Entry Fee : N/A
15. Jwala Devi Temple, Mussoorie
Dedicated to goddess Durga, the Jwala Devi temple is situated on top of the Benog Hill, an area famed for its breathtaking views. The trek from Cloud's End to the temple is a moderate 2-km one and will reward you with a brief but powerful worship session. The small temple is ancient and the sights around it are stunning.
Location : Benog Hills
Timings : 5:00 AM to 12:00 PM, 4:00 PM to 8:00 PM
Entry Fee : N/A
16. Benog Wildlife Sanctuary, Mussoorie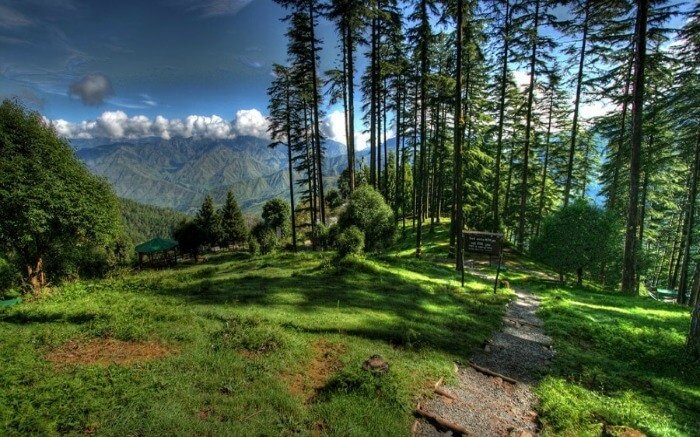 The Benog Wildlife Sanctuary is located about 11 kilometers from the Mall Road, and is one of the most visited places when it comes to natural and scenic spots. The sanctuary is filled with many different species of exotic wildlife including cedar and pine trees.
Location : Mussoorie Range, Benog
Timings : 7:00 AM to 5:00 PM
Entry Fee : N/A
17. Christ Church, Mussoorie
Regarded as one of the first churches built in the Himalayan Ranges, this serene religious site is located near Central Square in Ladakh. Built in Gothic architectural style with rows of pews, it is packed on weekends.
Location : Camel's Back Road
Timings : 7:00 AM to 6:30 PM
Entry Fee : N/A
18. Nag Tibba Peak, Mussoorie
The Nag Tibba Peak is Mussoorie, which is 10,000 feet in height and is the tallest peak in Uttarakhand. The Nag Tibba Trek is one of the most difficult treks because it challenges your endurance while still being within sight.
Location : Garhwal Himalaya
Timings : All through the day
Entry Fee : N/A
19. Robber's Cave, Mussoorie
This natural little hideout is a less-explored famous place in Mussoorie. The large stones create the perfect backdrop for this narrow creek, where you can waddle about the stream and reach the waterfall at one end.
Location : Gucchupani, Malsi
Timings : 7:00 AM to 7:30 PM
Entry Fee : ₹25 per adult
20. Kellogg Memorial Church, Mussoorie
Built on the site of a Presbyterian church that dates back to 1903, this school is the perfect backdrop for images of a picturesque hill station. It only takes about five and a half kilometers to get here from the bus stand, making it one of the most accessible options in this part of India.
Location : Landour
Timings : 10:00 AM to 1:00 PM
Entry Fee : N/A
Tell Us
What You Think
0
Like
0
Love
0
Haha
0
Wow
0
Sad
0
Angry