India is a country full off temples and holly places Rishikesh is one of them only, with its beautiful temples to other exiting places it has become one of the most popular tourist attraction of India. And we are here with the most popular and 20 Best places to visit in Rishikesh.
1. Laxman Jhula, Rishikesh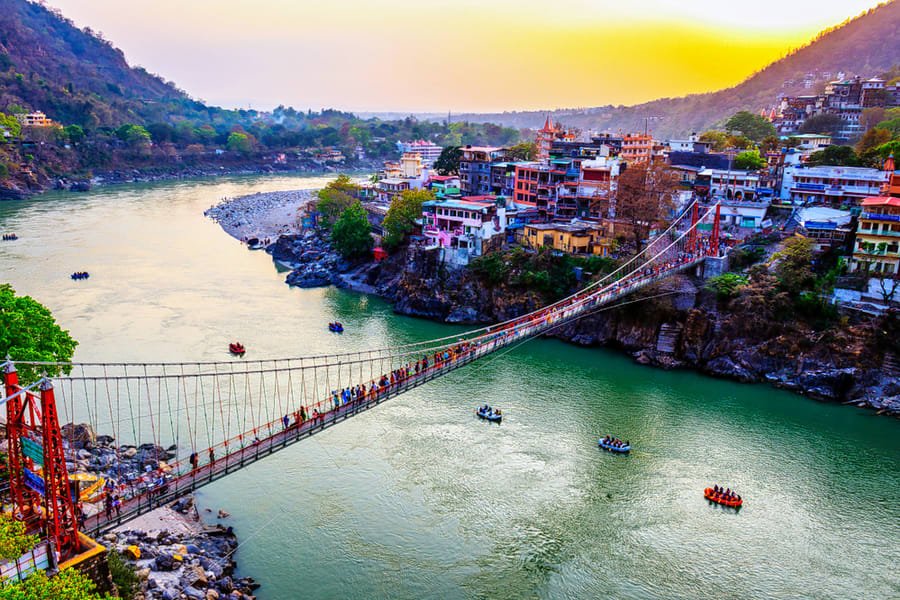 One of the main tourist attractions in Rishikesh, India is the Laxman Jhula bridge which is 450 feet long and 70 feet tall. It was built during 1939, so it is possible that this area was where Lord Laxman constructed a jute rope to cross across the Ganga River.
If you enjoy shopping and sightseeing, two of Delhi's favorite pastimes, then visiting Laxman Temple and Tera Manzil Mandir will be well worth your time.
With many incredible views all around you, it is worth making a stop at the bridge in order to have a moment of reflection. Nothing feels more surreal than this.
2. Ram Jhula, Rishikesh
Downstream from Laxman Jhula is the Ram Jhula. It's almost similar in construction and shape to its older sibling, this suspension bridge was built in 1980, a little later than Laxman Jhula.
The Ganga River and the Himalayas are easy to view from this bridge, making it easy to imagine the area looking stunning while in Rishikesh.
The bridge is accessed on one end by Swarg Ashram and the other end by Sivananda. This bridge offers a view of valleys and temples from within an amazing 450 foot walk.
3. Tera Manzil Mandir, Rishikesh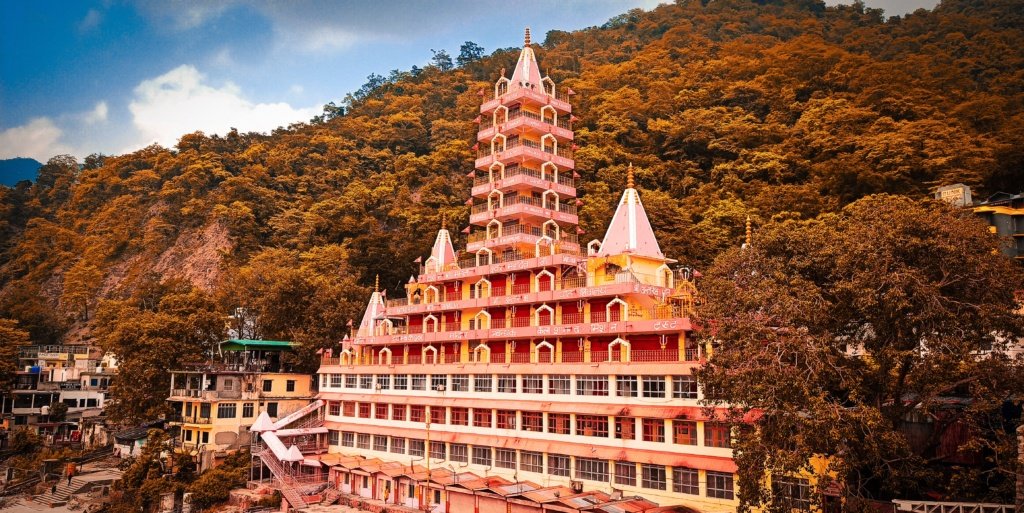 This temple is one of the most renowned in Rishikesh. It is found on the banks of the River Ganga where it can be seen easily even at a distance. The temple's colorful facade gives it a unique appearance compared to other temples nearby.
Location : Laxman Jhula
Timings : 6 AM – 7 PM
4. Shri Bharat Mandir, Rishikesh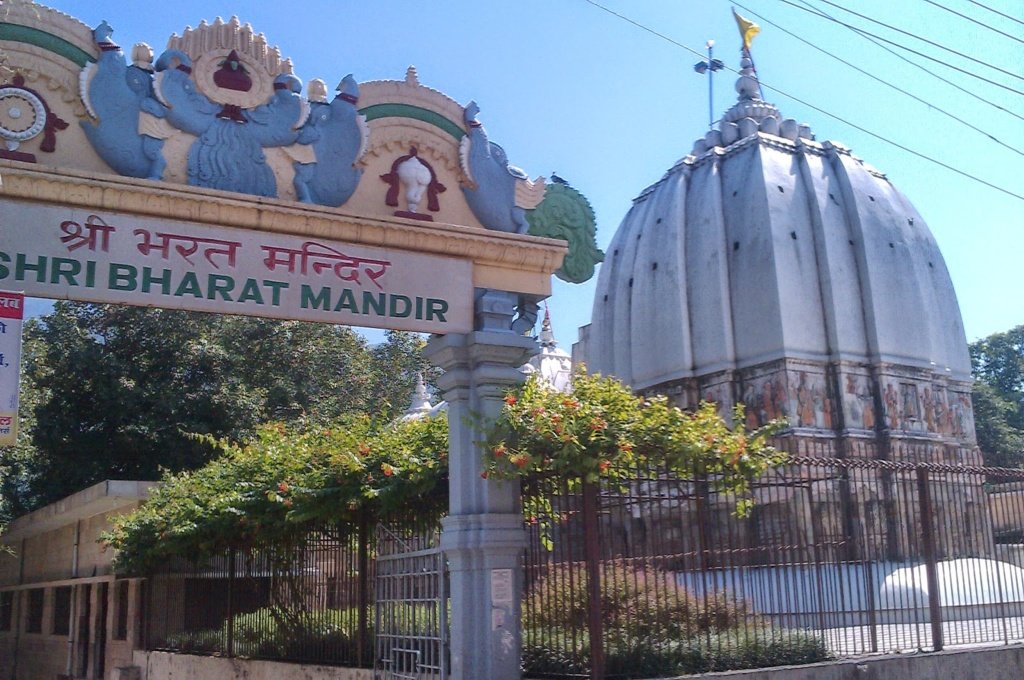 One of the most sacred temples in the city of Varanasi, Shri Bharat Mandir is dedicated to Lord Hrishikesh Narayan. The temple has stories behind it that have been passed down through countless generations. For instance, according to a mythological story, the Pandavas–who were on their way to heaven–stayed in this temple and performed rituals. It is also said that one certain point when Lord Buddha visited the temple, it became a monastery until they were able to convert it back into a complex again.
Location : Ghat Road, Mayakund
Timing : 5 AM – 12 PM; 4 PM – 9 PM; All Days
5. Triveni Ghat, Rishikesh
The Ghat is one of the most famous ghats in Rishikesh and makes for a beautiful place to watch the evening Aarti. The sanctity of the Ghat comes from the legend that it sees the confluence of three major rivers – Ganga, Yamuna, and Saraswati.
The water here is considered holy and those who go for a dip in the river, near where the ghat is, harbor all the sins of their past. Ramayana mentions this place, along with Mahabharata.
The Aarti marks the start of an important Hindu ritual. Mantras, incense and a cool breeze all contribute to this peaceful setting that is a great way to unwind from an active day.
6. The Beatles Ashram, Rishikesh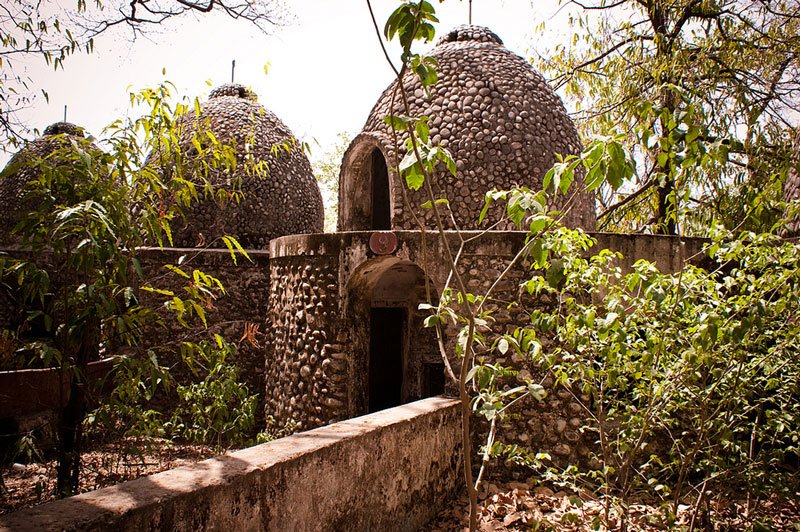 Lying at a distance of around 18 km from the city, the Beatles Ashram is among the most important places to visit in Rishikesh. The Beatles visited ashram do transcendental meditation, changing how Indian spirituality appeared to future generations.
The time that the Beatles spent at the ashram is often spoken of as one of their most productive periods, where they wrote plenty of songs. If you're a Beatles fan, you have to visit the ashram and have an experience in transforming yourself with time. The ruins are wrecked but still, the place looks so beautiful with the calmness lingering within. Just spend some hours inside the ashram meditating.
Location : Swarg Ashram
Timings : Open on all days till sunset
7. Shivpuri, Rishikesh
River rafting is an experience that should not be missed if visiting Rishikesh. The best place to find out more about this activity is Shivpuri. With equipment and arrangements for all levels, you will be able to try it out. Whether you want a short 9-km or the long 21-km river rafting expedition, you will find everything you need at Shivpuri.
If you want to do it all and stay overnight, we recommend booking a 1N/2D camping package. In addition to the afternoon of rafting, you also have the option to stay in tents near a bonfire after your day-long excursion down the river.
8. Neelkanth Mahadev Temple, Rishikesh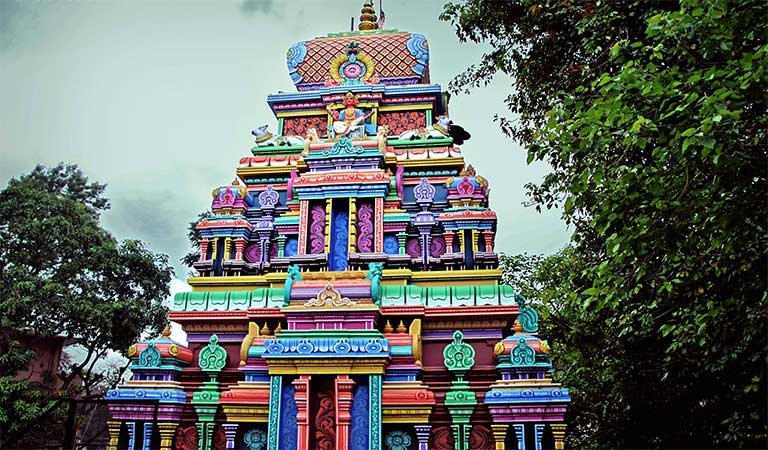 The Temple of Kedarnath is located in the state of Uttarakhand in India. It is considered a religiously significant site, as it is believed that the temple was built at the same place where Lord Shiva drank the venom 'Halahala' after churning the ocean to obtain ambrosia.
Not only this, the temple also has a freshwater spring where devotees take a holy dip. The water is treated in such a way so that it can be purified.
Location : Kotdwar – Pauri Road
Timings : 6 AM – 7 PM
9. Jumpin Heights, Rishikesh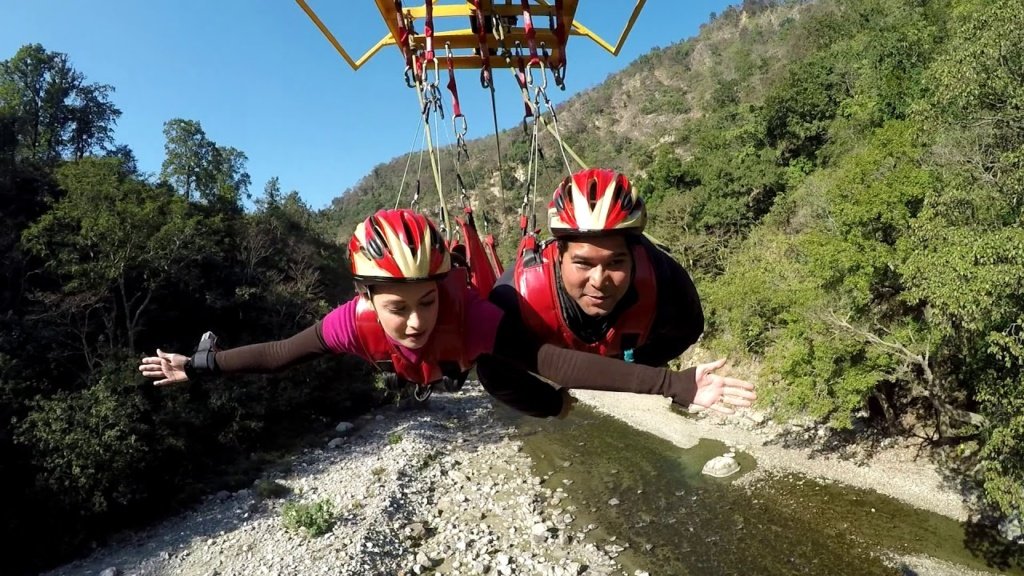 Jumpin Heights is the best place to try bungee jumping in Rishikesh, India. The Himalayan region is well-known for its adventurers and the jump from 18 meters high into the water that surrounds the bridge is one of their most exhilarating activities.
Bungee jumping and flying fox are among the activities offered at this adventure sports point. You can even record your reactions in the form of a video. This site also offers professional instructors, safety gear, and facilities like the one you will find in a real-life bungee jumping site.
Entry Fees : INR 100, Extra charges for bungee jumping and flying fox.
Location : District Pauri Garhwal, Mohan Chatti, 30 km from Rishikesh
Timing : 9:30 AM – 4 PM, All Days
10. Parmarth Niketan, Rishikesh
If you are an ardent Yoga follower and looking for a place to visit in Rishikesh, Parmarth Niketan is among the top places. Established in 1942, this ashram has grown into one of the biggest spiritual places in the country with its centre at Haridwar and summer retreats in Rishikesh.
11. Byasi, Rishikesh
If you are an adventurous traveler, then Byasi is the place for you. There are many activities to do here such as camping, rafting, and boating. In addition, there are plenty of restaurants and homestays.
12. Muni ki Reti, Rishikesh
In Rishikesh, a Hindu religious town on the banks of the Ganges River in Uttarakhand, India, this place is chosen for its many temples and ashrams. It is only 6 km from the main city center. There are fewer tourist attractions to compete with it because pilgrimage is not really a big draw here.
13. Kaudiyala, Rishikesh
For those interested in adventure and tourism, Kaudiyala is one of the best tourist locations, located 40 km away from the city center. There are various activities to enjoy along the Ganga River in this spot, which has turned into an area for adventure and camping.
Location : Badrinath Road
14. Ragunath Temple, Rishikesh
One of Rishikesh's important temples, Raghunath Temple is dedicated to Lord Ram and his wife Goddess Sita. Many important religious ceremonies occur in this revered temple.
Location : Near Triveni Ghat
15. Rishikund, Rishikesh
Rishikund is called the 'pond for rishis' and is located near the Ragunath Temple. The pond reflects the entrance tower of the Raghunath Temple, and is a very relaxing place to spend some time in. The pond is said to have been blessed by the River Goddess Yamuna.
16. Lakshman Temple, Rishikesh
According to local tradition, Lord Vishnu meditated here on his journey from Jwalamukhi (the hair of Shiva) to know the better half of himself and Lakshmi. The temple is known for its ancient carvings, sculptures, and paintings and is a very popular place in Rishikesh.
Location : Near Lakshman Jhula
Timings : 6:00 AM to 6:00 PM
17. Vashistha Cave, Rishikesh
The site of the ascetic saint, Vashistha, is located in Rishikesh, India. It's a popular tourist destination and something most people visit while they are in the city. Here you can while away time on the grounds and meditate inside the cave.
Location : Badrinath Road
Timings : 9:00 AM to 12:00 PM, 3:00 PM to 6:00 PM
18. Kunjapuri Devi Temple, Rishikesh
Arguably one of the most visited shrines, the Kunjapuri Devi Temple is found at the top of a hill. There are nearly 80 steps to ascend to these sacred spots, so coincide the visit on a weekend, when it is much more congested.
Location : Hindolakhal Rd
Timings : 5:00 AM to 6:00 PM
19. Sivananda Ashram, Rishikesh
Sivananda Ashram, located about three miles north of Rishikesh, is a very popular yoga center in the city. The ashram's deep connection with famous personalities during its time includes teachings of Yoga conducted by the gurus.
Location : Shivananda Nagar
20. Omkarananda Ashram, Rishikesh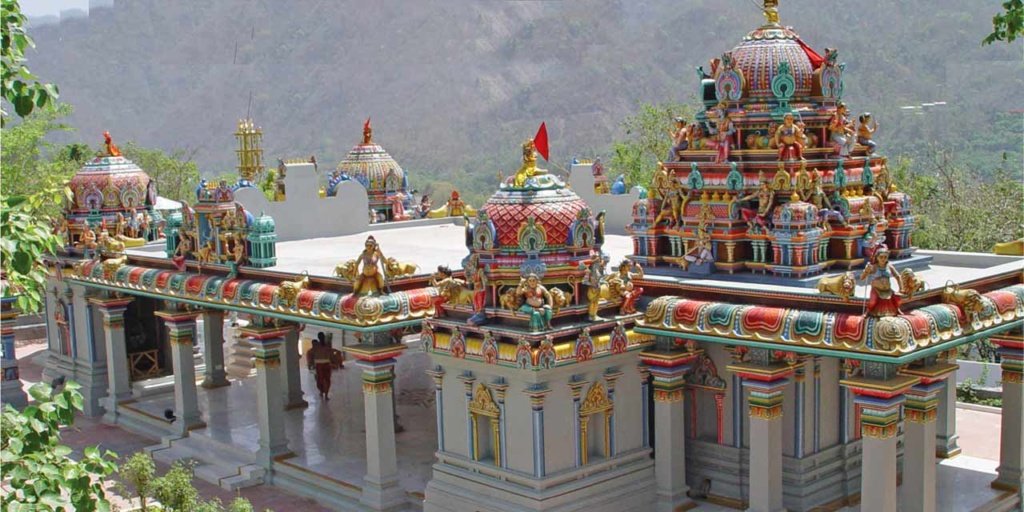 Omkarananda Ashram can be found on the banks of River Ganga and has been around for more than 50 years. The spiritual experience offered by this ashram is rare and significant.
Location : Swami Omkarananda Saraswathi Road, Ganga Vatika
Tell Us
What You Think
0
Like
0
Love
0
Haha
0
Wow
0
Sad
0
Angry