places to visit in Varanasi
Here are some most beautiful temples, Museums, and 20 Best places to visit in Varanasi.
1. New Vishwanath Temple, Varanasi
Located inside Banaras Hindu University, this temple has tourists eagerly waiting in line on a daily basis. The Birla family that has been a hugely successful group of entrepreneurs in India commissioned the construction, causing locals to call it Birla Temple. A great thing about this temple is that it isn't just one building, but actually seven separate temples that together make one big religious complex. The legendary old Vishwanath temple is a direct inspiration for the design of this temple. Every wall of it is covered in Lord Krishna's utterings from when he recited the Bhagwad Gita. One of the most iconic temples in Varanasi, it is a must-see on any trip!
Timings : 2:30 AM to 11:00 PM
Temple Schedule :

Mangal Aarti: 2:30 AM
Bhog Aarti: 11:30 AM to 12:00 pm
Sapta Rishi Aarti: 7:00 PM to 8:00 PM (darshan not allowed)
Shringar/Bhog Aarti: 9:00 PM (only outside darshan allowed)
Shayana Aarti: 10:30 PM
2. Kashi Vishwanath Temple, Varanasi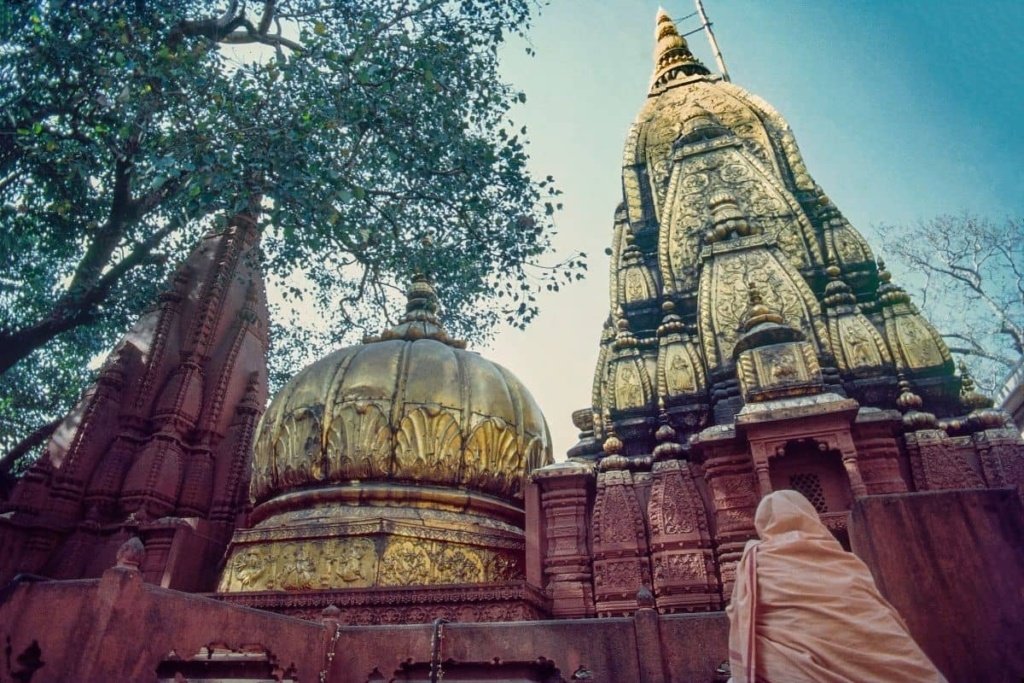 There are numerous prominent temples in Varanasi, but among them the Kashi Vishwanath Temple is the foremost. It is over 3,500 years old, yet it still manages to maintain its historic significance. There are many events and information that happened at this temple that people can be overwhelmed when they visit it. One of 12 Jyotirlingas, it is a temple dedicated to Lord Shiva, who symbolizes the pursuit of knowledge. Its spires and domes are covered in gold, a tradition from Punjab that began with Maharaja Ranjit Singh's reign. The Shivalinga within this temple gives off an aura powerful enough to purify your soul and start life on a path of knowledge and wisdom.
Timings : 2:30 AM to 11:00 PM
Temple Schedule :

Mangal Aarti: 2:30 AM
Bhog Aarti: 11:30 AM to 12:00 pm
Sapta Rishi Aarti: 7:00 PM to 8:00 PM (darshan not allowed)
Shringar/Bhog Aarti: 9:00 PM (only outside darshan allowed)
Shayana Aarti: 10:30 PM
3. Durga Temple, Varanasi
This temple is dedicated to the Goddess Durga, widely worshipped in India. The deity present here emerged out of nothingness and was not made by any man. Another badge of feminism for this temple is that it was actually commissioned by a woman.The Maharani of Bengal ordered its construction and it was according to her wishes that it was constructed in the style of architecture called Nagara. But, the most interesting thing about this temple is perhaps the fact that it is visited by several monkeys every day. In fact, there are so many monkeys here that it often goes by the name "Monkey Temple." So beware of those mischievous apes when visiting here!
Timings : 5:00 AM- 9:00 PM
4. Bharat Mata Temple, Varanasi
The country itself is depicted in the form of its supporters: mountains, plains, and ocean. India is famous for having millions of temples and a nationalist spirit but this temple is the one dedicated to the country itself. The Kashi Vishwavidyapeeth campus was built for a school by Mahatma Gandhi. It was supposed to stand as a light to show hope for those fighting against colonial forces in the world. The architectural statue features characteristically non-human features like mountains, plains, and waves instead of deities that look like humans.
Timings : 7:00 AM to 5:30 PM
5. Alamgir Mosque, Varanasi
The Alamgir Mosque is a historical landmark in Varanasi and is believed to be one of the city's earliest notable Islamic architecture. Hardly any place of worship survived from previous periods, but this mosque was originally built by emperor Aurangzeb specifically for Muslims who were living here on purpose. Partially due to its amazing architectural detailing and some Hindu influence, the mosque has been recognized as one of the most rich cultural spots in Varanasi.
Timings : 7:00 AM- 7:00 PM
6. Dashashwamedh Ghat, Varanasi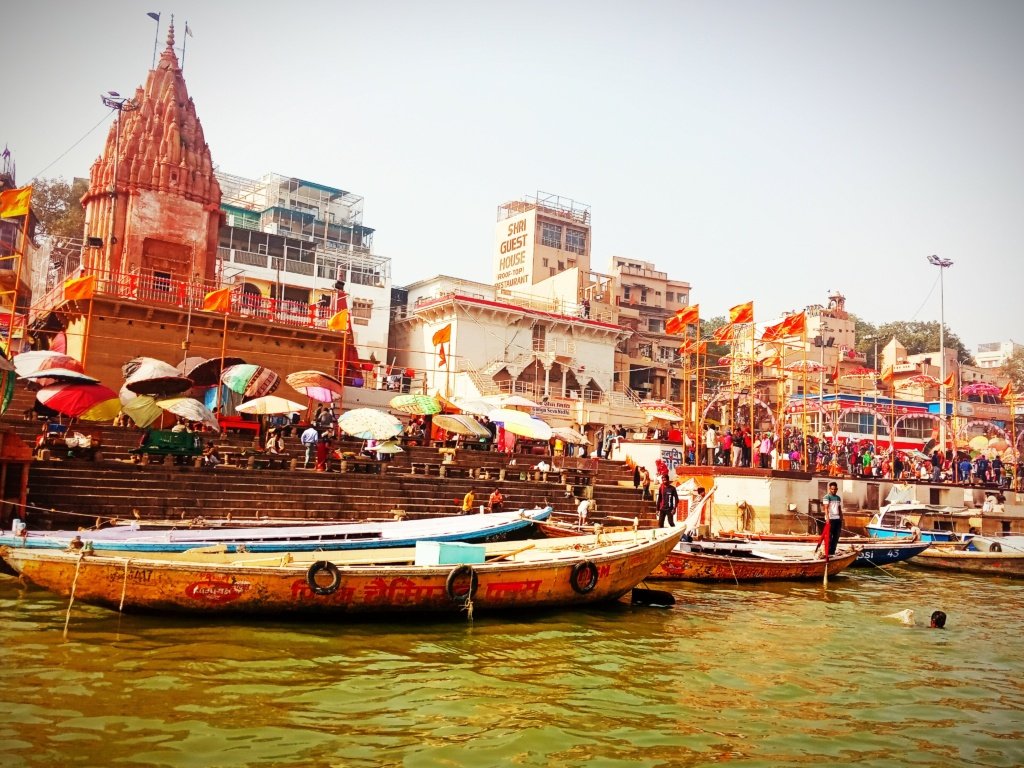 Varanasi is a city known for religious significance and spiritualism, and it is only fitting that the oldest ghat in the city is also one of its most iconic sites. A place with such religious significance will often be busy due to large groups coming here to bathe or perform ceremonies using straightened sticks, known as 'diya's' and also because so many people visit this site every day from all over the world.
Aarti Timings : 7:00 PM to 7:45 PM (summers); 6:00 PM to 6:45 PM (winters)
7. Manikarnika Ghat, Varanasi
The ghat in Varanasi known as Kamal Ghat is a significant place among Hindus, not just because it's where the ashes of people who die gets placed but also because it is believed that Devi Parvati's ear ornament fell at this spot when Shiva took her to earth. Although the atmosphere around the Ghat isn't very cheerful most days, you can still find yourself allured by its historical significance and visit if you're in Varanasi. This literal translation for a ghat is 'to stop up an outlet; to restrict anything flowing or issuing from a fountain.'
Timings : Open throughout the day
8. Assi Ghat, Varanasi
Asi Ghat is known as the place where the legendary poet, Tulsidas passed away. The southernmost ghat in the region, it is among the most popular with tourists. On an average day about 300 people visit it per hour, but during festival days that number can be as high as 2500 people. When here, you can go on a leisurely boat ride on the river or even a hot air balloon excursion! Devotees bathe here before conducting rituals as the water of the river is said to purify their soul so they can do their task better.
Timings : Open throughout the day
9. Manmandir Ghat, Varanasi
Raja Man Singh commissioned the Dashashwamedh ghat around 1600s by building a large stone balcony on the northern corner of the ghat for him to sit and enjoying its serenity. The lower foot traffic on this ghat means it is a perfect spot to spend an entire day or observation the Ganga's peaceful flow. Another reason to come to this ghat is its closeness to several prominent temples, so you can visit numerous places in one go. Some of the closest temples are Someshwar Temple, Rameshwar Temple and Sthuladanta Vinayaka
Timings : Open throughout the day.
10. Gyan Vapi Well, Varanasi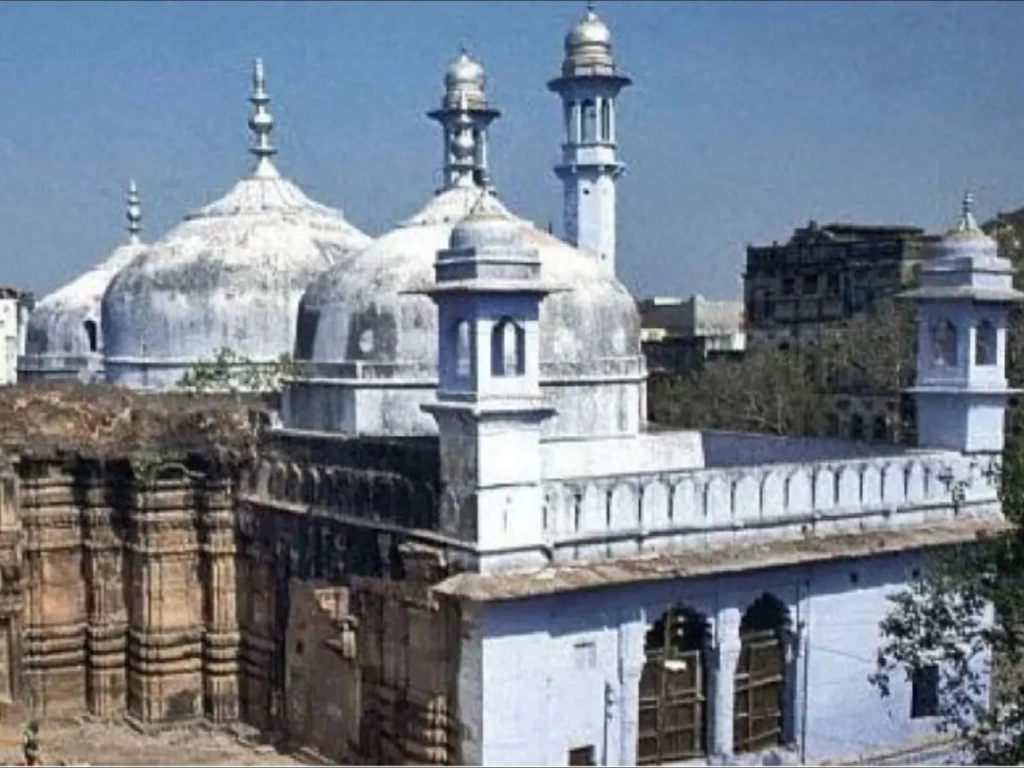 Kashi Vishwanath Temple is one of the most well-known temple in the old city – it was first built in 1149 AD. Kashi stands for "Lord of the Universe" and Vishwanath means "the Lord of All." The Jain belief that Shiva, an aspect of their God, resides at the top of Mount Kailash–Mount Meru is also often seen as residing at the base of Mount Kashi. In 2008, it was noted that a large mandir had been found near the well; this mandir dated back to 1680 AD. This bhumi or ground has been with locals since medieval times and according to local mythology, this bhumi is considered holy because they believe there are three ancient Shiva temples underground which have since been plundered.
Timings : Open throughout the day.
11. Ramnagar Fort, Varanasi
Located across the Ganga River from Tulsi Ghat, it was built out of sandstone in AD 1750 on the orders of Raja Balwant Singh, the king of Banaras at that time. He and his descendants have lived in that fort for centuries now. In 1971, the position of an official king was abolished by the government but still, Pelu Bhiru Singh is commonly referred to as the Maharaja of Varanasi. Even though it was built by Hindu kings, it is a testament to the diversity of an area that it was built in the Mughal architectural style. It houses Veda Vyasa Temple – King's living quarters and a museum dedicated to regional history.
Timings : 10:00 AM to 5:00 PM
Entry Fee : ₹ 20
12. Sankat Mochan Hanuman Temple, Varanasi
Located near the Assi River, this beautiful temple was built by Pandit Madan Mohan Malviya, a well-known freedom fighter. The temple is decorated with shrines of both Lord Ram and Hanuman. Be weary of the monkeys in the area though.
Location : Bhogabeer Colony
Timings : 8:00 AM to 7:00 PM
13. Tulsi Manasa Temple, Varanasi
It is dedicated to Lord Rama, and it is among the most visited places in Varanasi. Legend says that Sage Tulsidas wrote the popular Ramcharitmanas in this very place.
Location : Sankat Mochan Rd
Timings : 5:30 AM to 12:00 PM, 4:00 PM to 9:00 PM
14. Tibetan Temple, Varanasi
Varanesi is well known for the Hindu temples and ashrams, which are iconic tourist attractions. Next to these marvels, the Tibetan Temple with its authentic architecture can be found. It offers a peaceful inner sanctum as well as a prayer wheel adorned with Thangka paintings
15. Nepali Temple, Varanasi
Built sometime in the 19th century, Varanasi's temple to Lord Shiva is unique in its design, as it has a look similar to Pashupatinath Temple in Kathmandu.
Location : Near Lalita Ghat
Timings : Open 24 hours
16. Batuk Bhairav Mandir, Varanasi
The Batuk Bhairavu Mandir is where you will find the Aghoris who have given themselves over to worship. They considered Shiva, the Lord of all demons, as their highest object of worship in the form of a Shiva Linga here. The Akhand Deep is a part of this temple which never dies and has continued to burn down through the ages.
Location : Gurubagh, Bhelupur
Timings : 5:00 AM to 1:30 PM, 4:30 PM to 9:30 PM
17. Banaras Hindu University, Varanasi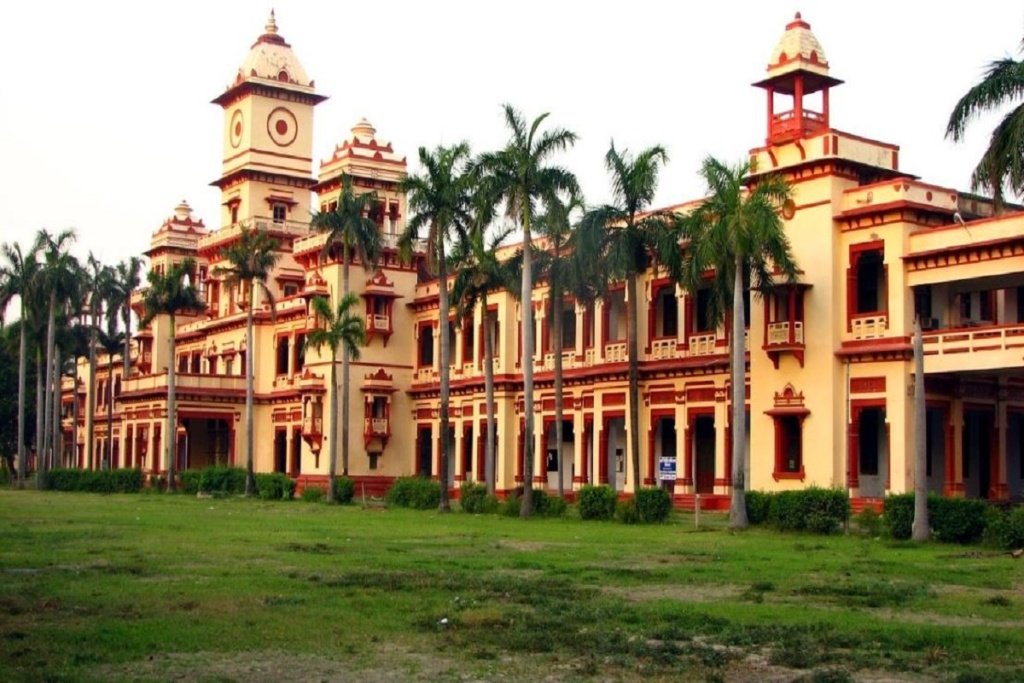 The Banaras Hindu University has about 30,000 students which falls on a list of the biggest residential institutions. The impressive buildings and beautiful lawns will make you fall in love with this iconic educational institution.
18. Bharat Kala Bhavan Museum, Varanasi
This museum on display in Varanasi, and is quite popular for its miniature manuscripts and paintings. If you are a history enthusiast, then you should not miss out on visiting this famous place.
Location : Semi Circle Road, Varanasi
Timings : Monday to Saturday 10:30 AM to 4:30 PM
19. Vishwanath Street, Varanasi
You can buy antiques and idols of the gods and goddesses you may be looking to visit. You can also get clothes, photos, and souvenirs while you are in Varanasi on Vishwanath Gali.
20. St. Mary's Church, Varanasi
The St. Mary's Church is one of the oldest buildings in the city and was built over 200 years ago. The church is also decked out during Christian holidays and is often busy on weekends.
Tell Us
What You Think
0
Like
0
Love
0
Haha
0
Wow
0
Sad
0
Angry