1. North Avenue Beach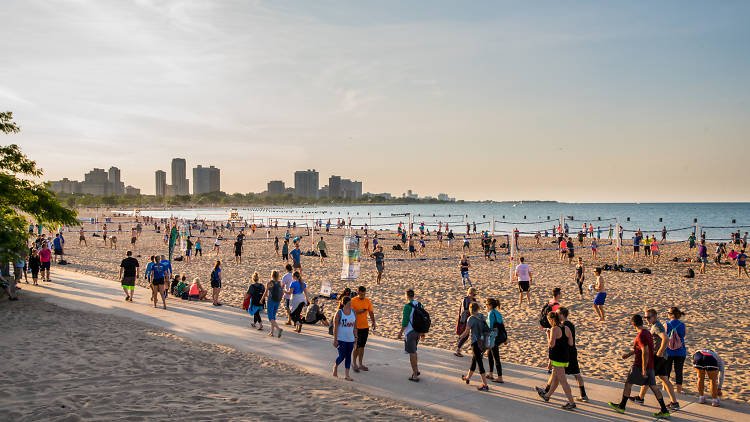 The North Avenue beach is considered to be Chicago's most frequented by sunbathers and swimmers, and is one of the many amenities available nearby. Its golden sand is located in Lincoln Park and near the center of the city.
Dotted by piers that keep the sand in place and create a scalloped shoreline to enjoy, North Avenue Beach has over 40 acres of playing grounds and includes a running path, a bike path, and V-shaped concrete lines. This beach also receives numerous events annually such as festivals, art fairs, and sporting events.
2 . Robie House
Located southeast of downtown, the Robie House is an exquisite example of fine American architecture that has been preserved as a National Historic Site. The national park allows visitors to tour all around the house which showcases some captivating interior design.
The Prairie-style building was built in 1909 and is one of the best examples of Frank Lloyd Wright's architectural work. The sharp corners and horizontal lines on the building perfectly complement its furnishings, period pieces and colored art-glass windows that lie within.
3. The 606
The Bloomington Line railroad once left to run for the rest of Chicago, but now forms one of the most popular trails in Chicago. The 606 stroll has a linear park and trail network that stretches four kilometers. It's very pleasant and scenic. There are many parks spliced into the network that help connect various parts of the northwest side of Chicago together.
After undergoing decades of neglect and being littered with weeds, a century-old railway line was finally converted into a greenway in 2015. Instead, it features pretty flowerbeds, trees, and shrubs lined by commanding views to be enjoyed out over the city as you go.
4. Chicago Water Tower
Designed by architect William Boyington, the 47-meter (154-foot) tall Chicago Water Tower stands as a symbol of the city's long history. It was once important to Chicago's water system. In 1871, it came on during a fire that spread quickly and destroyed the entire city.
One of the few structures surviving the infamous Great Chicago Fire, the iconic Chicago Water Tower houses the City Gallery, where local artists display their works.
5. Maggie Daley Park
Another scenic spot to spend some time is the magnificent Maggie Daley Park which lies within the Loop and is connected to Millennium Park by a pedestrian bridge. With picnic areas, playgrounds, and lush green spaces, it is a very family-friendly place to visit with even climbing walls and a mini-golf course on offer.
The Maggie Daley Park was rebuilt with six new play areas and reopened in 2015. It has a central attraction, the Watering Hole, which sits next to the boats of the harbor and the twisting walkways of the Enchanted Forest.
6. Chicago Theatre
In the downtown of Chicago, a short walk from the park, is the iconic Chicago Theater. It puts on everything: concerts, plays, magic shows, stand-up comedy, speeches and sporting events. The famous building is illuminated with six floors that also creates an opulent venue to attend an event.
Built in France during 1921, the Palace of Versailles boasts a breath-taking neo-baroque interior. Its grand lobby and galleries are based on the Palace of Versailles and it's cavernous auditorium is just as impressive as the glittering crystal chandeliers that light up the marvelous murals and gilded decorations that adorn its walls and ceilings.
7. Lincoln Park Zoo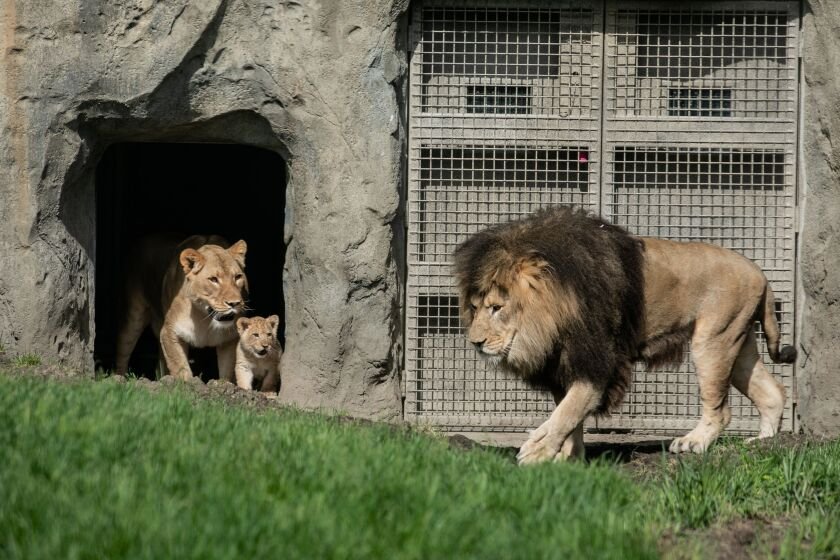 The Lincoln Park Zoo is just a short drive outside of the center, and has many expansive exhibits that have evolved as new animals came to light. With a focus in different areas around the world, this is a perfect place to introduce yourself to a different aspect of Earth's biodiversity.
This is one of the oldest zoos in North America and it was founded in 1868. It currently has around 1,100 animals, hosting polar bears and penguins. The Kovler Lion House is also a popular attraction, with people often coming to see lions perform stunts.
8. Museum of Science and Industry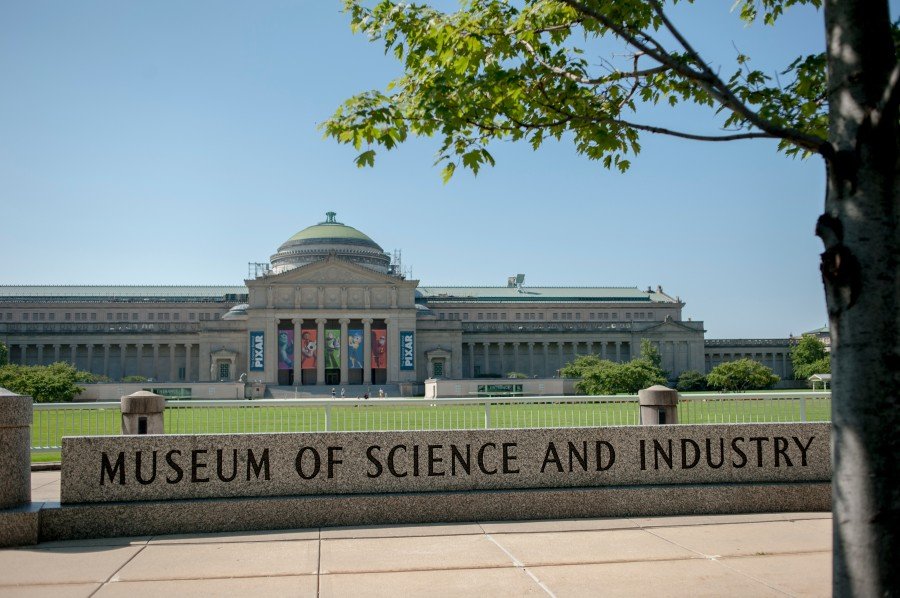 The Museum of Science and Industry can take you on an adventure for days and weeks. After the museum, explore its exhibits, which include everything from trains and planes to a captured German submarine. Guests can spend hours in the full-size replica of a coal mine or explore the world with one of their many interactive exhibits.
Opened in 1933, the vast collection is housed in the former Palace of Fine Arts which was built to host the 1893 World Expo. While some halls look at anatomy or genetics, others focus on industry and transport. With mock tornados, experiments, or any other science hall to explore the amazing museum is definitely not to be missed.
9. Wrigley Field
If you're looking for a fun, memorable experience, then you can't beat watching your favorite Cubs play at the ancient Wrigley Field. The second oldest park in MLB, giving it age just behind Fenway Park in Boston, it's located on Chicago's north side, about fifteen minutes from downtown.
Built in 1914, Wrigley Field has a history marked by tradition and atmosphere. With ivy-covered outfield walls that have stood the test of time, the ball park is famous for numerous traditions such as its hand-turned scoreboard and iconic entrance. Besides watching an exciting baseball game and tours to teach you about team and field's history, you can also play Segway tours.
10. Lakefront Trail
The Lakefront Trail stretches thirty kilometers across the aquatic blue of Lake Michigan, connecting Chicago's massive lakeside parks to its beaches and tourist attractions. In addition to offering beautiful views, the paved path also offers interesting angles on both the lake and a city's skyline.
11. Shedd Aquarium
Located in the same lakeshore Museum Campus as the Field Museum, the John G. Shedd Aquarium is home to roughly 1,500 species of sea life and a variety of other animals like birds and insects. The aquarium has 32,500 fish, and a variety of other marine mammals and birds that draw more than two million visitors to each year.
The exhibits are organized in themed areas including the "Caribbean Reef" and the award-winning "Amazon Rising." The Oceanarium, which features dolphins and beluga whales among others, is one of the aquarium's most popular exhibits.
12. Field Museum of Natural History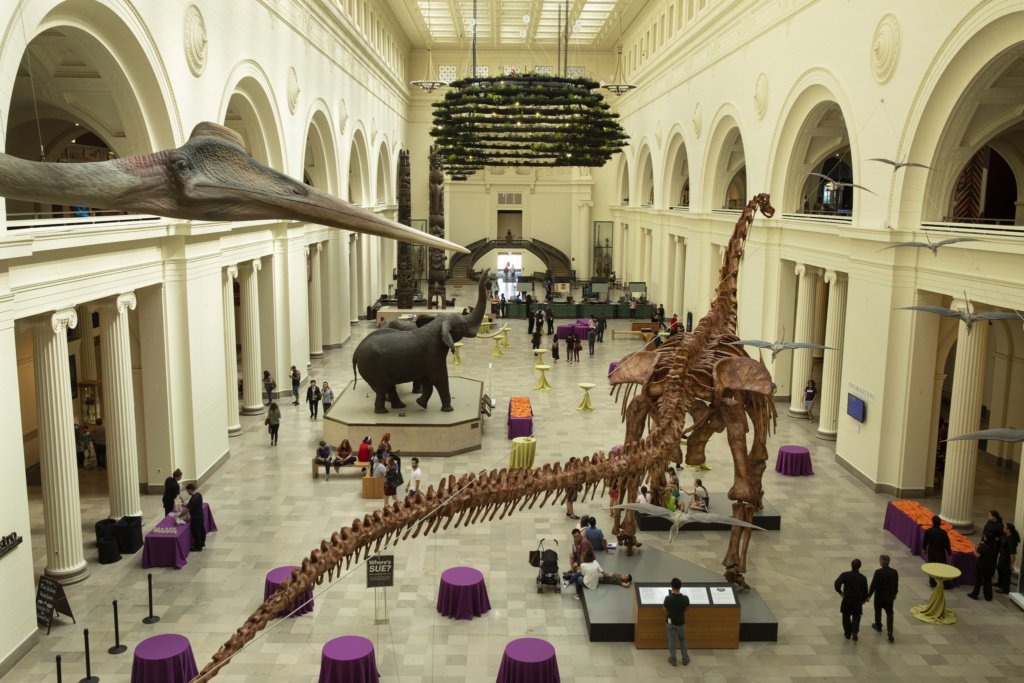 The Field Museum owes its existence to the World's Fair that was held in Chicago in 1893. It originally served as a way to showcase exhibits from the Fair and soon evolved into a collection of natural history artifacts and exhibitions.
The Field Museum of Natural History is located in the heart of downtown Chicago and serves 2.5 million visitors annually. Exhibits range from a taxidermy collection of large animals to an extensive Native American collection. The most popular exhibit at the museum is a 12-meter-long T. rex skeleton that draws thousands of visitors every year, but they wouldn't consider visiting Chicago without viewing Sue the T. rex skeleton known as "the most famous fossil on the planet".
13. Buckingham Fountain
Located in Grant Park, the Beaux Arts-style Buckingham Fountain was designed by architect Edward Bennett after the Latona Fountain at Versailles. The font is famous for its grand size and for the height of its spray, which can reach as high as 15 stories.
The fountain's four water-spouting sea horse statues are said to represent the four states that surround Lake Michigan, while the fountain's pool symbolizes the lake itself. The fountain was given to the city by Kate Buckingham, a patroness of the arts who inherited her family's massive fortune at age 32.
Chicago's Trust fund, bequeathed by the Chicago Grand Old Woman of Buckingham Fountain, is a famous Chicago landmark with its continuous operation. The fountain is featured in TV shows like Married with Children and Crime Story.
14. 360 Chicago Observation Deck
In search of a different way to enjoy restricted views, guests can now experience the 360 Chicago Observation Deck. This unique attraction is perched on the 94th floor in what was once known as the John Hancock Center and boasts an unbeatable view of the city's skyline and Michigan Lake.
Aside from experiencing breath-taking panoramas which reach up to 90 kilometers on a clear day, visitors can also enjoy a drink in the skyscraper's bar as if the stupendous sunsets weren't enough. Brave visitors can also try TILT – a thrilling ride that tilts you so you can observe views of the city's streets from 300 meters below.
15. Chicago River
A feature that exemplifies the maturity of Chicago is the navigation system passed through the city. In 1900, the city completed an incredible engineering project: rerouting the Chicago River. Through the installation of several locks within a canal system, the water was directed to flow out towards the Mississippi River instead of Lake Michigan.
One of the most famous features in down-town is the mile long Riverwalk. Created by Frederick Law Olmsted, it is a lush green space for people to stroll and take in the sights of all that downtown has to offer. One of the ways visitors experience this urban space is by doing a boat tour. If you're here for business, consult with local businesses about business or cultural activities that help establish presence and make contact.
16. Millennium Park
The long-awaited Millennium Park had not only been plagued with delays and cost-overs at the outset, but it had also fallen behind schedule by a wide margin. However, when the park actually opened to tourists, the biggest surprise of all came when it turned out to be quite nice!
Inside Wrigley Field, there are ample green spaces that provide plenty of grass and perfect for playing sports. Whether it's a baseball game or watching a concert, visitors will be able to take pictures in front of Chicago's newest must-see attraction, the Bean (also known as Cloud Gate) in Millennium Park. Hockey fans will enjoy ice skating on the rink at night, and during the summer, food is served on top of it.
17. Art Institute of Chicago
Because it is one of the oldest and largest art museums in the United States, or, "the world-renowned Art Institute of Chicago," many guests rave about this museum. It is housed in a beautiful Beaux-Arts building that was built for the 1893 World Exposition and its galleries can be found in the ginormous Grant Park.
It is the largest art museum in the world, with a collection that spans masterpieces by artists such as Magritte and Monet, to Renoir, Rembrandt, and Picasso. Known for its Impressionist paintings and Post-Impressionist works, it also has artefacts from Africa and Asia. Two of itsmost famous American works are Grant Wood's American Gothic and Edward Hopper's Nighthawks.
18. Sears Tower
Although some critics argue that the former world's tallest building, renamed the Willis Tower in 2009, has lost some of its swagger since it has lost its status as the world's tallest building, many Chicago residents would say that the Sears Tower remains one of the most popular tourist destinations.
Completed in 1973, the 108-story structure has some of the fastest elevators in the world. Expect an elevator that spits you out at a speed of 1,600 feet per minute. A 70-second ride takes visitors to the 103rd-floor Skydeck where they can feel the building sway beneath them on a windy day. At the top, visitors get stunning vistas of Lake Michigan and glimpses of those states beyond.
19. Navy Pier
Another of Chicago's must-visit attractions is the iconic Navy Pier, which juts into Lake Michigan and has a variety of entertainment for kids and adults alike. The pier is lined with carnival rides, gardens, and offers up endless varieties of food and shopping options.
When wandering along the pier, you'll encounter historical and cultural sites such as theatres, museums, public plazas, performance spaces and festivals over the course of the year. You can also enjoy a sightseeing cruise or mini-golf on site too.
20. Magnificent Mile
One of the best districts to shop in the world, this is where Oak Street meets Chicago River as well as 5 multi-story malls. Magnificent Mile District has it all and takes up something like 12 miles. It has department stores, luxury retailers, and boutique street designer outlets along Michigan Avenue.
The downtown area is home to a variety of unique boutiques and designer shops as well as countless restaurants and luxury hotels. The downtown area has been commonly referred to by its nickname, the 'Mag Mile,' since before the formal naming of the area by real estate magnate Arthur Robloff.
The "Mag Mile," as its sometimes called, provides access to many of the numerous landmarks and tourist attractions in Chicago, including the Museum of Contemporary Art, the Wrigley building and the Chicago Water Tower.
Tell Us
What You Think
0
Like
0
Love
0
Haha
1
Wow
0
Sad
0
Angry