1. Statue of Liberty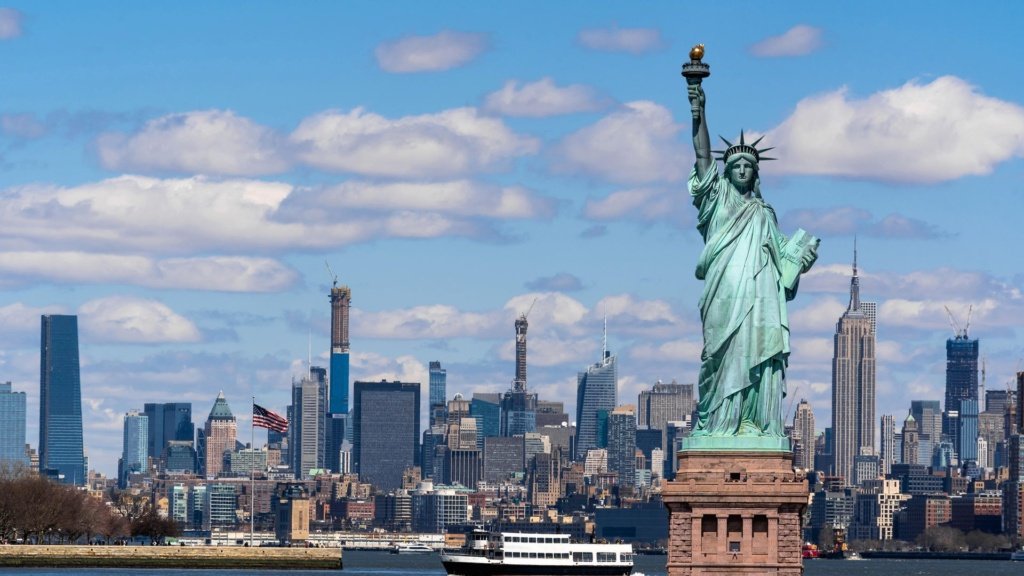 The Statue of Liberty in New York remains one of the favorite attractions for any first-time traveler to the city. It was France's gift to America, and it is located on top of every first-time visitor's list when visiting New York. The Statue of Liberty represents freedom and remains to be one of the most popular attractions in America.
The Statue of Liberty is one of the world's largest statues, standing just under 152 feet tall from the base to the torch, and weighing approximately 450,000 pounds.
The Statue of Liberty has a wonderful view from Battery Park. If you want to see her up close, take a short boat ride and visit Liberty Island. You can choose to walk around the base and admire the statue herself. The crown is currently closed off, but if you have plans, please contact them at their website.
At the Statue of Liberty, you can explore the Ellis Island Immigration Museum. This museum is located in the historic immigration processing station where a lot of immigrants were processed before entering the United States.
Memorials display the process, experiences, and stories from immigrants who came through Ellis Island. You can even search the computer database to learn about immigrants that came through here.
Tickets for the Statue of Liberty and Ellis Island tour sell out, so arrive early. This tour allows reserved access to board the ferry, and includes access to the Museum at Ellis Island.
Tickets can be difficult to find, but are easy to purchase from a hawker (a person who sells tickets on the ferry). You have to be careful, as some people may try to sell you tickets at a higher price.
2. Central Park
A walk or skate through Central Park is one of the best things to do in New York. It sprawls across 600 acres and is 1½ miles wide and 2.5 miles long, making it perfect for large groups. This expansive park showcases the beautiful city center, providing a perfect setting for hosting immense events.
Central Park is a beautiful place to visit in New York City with many attractions you cannot afford not to explore. From farms to zoo, Central Park is a great way to get out of the hustle and bustle of the city. Most importantly, this park has met some of its best features like the Strawberry Fields and The Belvedere Castle for visitors on their own.
For quality, price, and location, The Pearl Hotel is our favorite value Manhattan hotel. A little closer to Times Square and the Theatre District is Room Mate Grace, a new boutique hotel with a pool, gym, and sauna. For affordable rates, this is the perfect place for travelers who aren't looking for 5 star luxury.
3. Rockefeller Center & Top of the Rock Observation Deck
There are tons of New York attractions, but the highlight is surely Rockefeller Center with its 70 stories and exquisite architecture. It has been home to NBC-TV and other media since 1938, and its early in 1930, Art Deco skyscraper allows you to view the city from its famed observation deck, Top of the Rock.
Three floors of observation decks sit the Top of the Rock on 100th street, located between the 67th and 70th streets. You can buy a ticket to Top of the Rock, or view it free depending on your plans. You can also use any unused voucher at any time during its lifespan as long as it's valid.
Skating on the outdoor skating rink at the base of the Brooklyn Bridge is often a fun activity for families and couples in New York City during their winter stay. The rink typically opens in October through April.
After Thanksgiving, a huge Christmas tree is erected in front of the skating rink, lighting up the complex for the holiday season. This makes New York City a top destination for Christmas lights enthusiasts during December.
In addition to being a location for photographers, the International Building also has a bronze statue of Atlas where they can make their photographs.
4. Metropolitan Museum of Art
The Metropolitan Museum of Art is one of the most famous museums in the United States, and features paintings created by a wide variety of artists. The Met has an extensive collection of over 2 million pieces of art, spanning 5,000 years.
Highlighting all of American decorative art, the arms and armor collection represents one of many various collections that can be found in The Met Fifth Avenue. Other collections include Egyptian art, music and photography.
Imagine a better way to visit the Metropolitan Museum of Art by using an empty tour before it opens to the general public. The VIP: Empty Met Tour is an opportunity to view one of the world's most famous museums with just a few people.
The Metropolitan Museum of Art's branch located in Fort Tryon Park, New York is unbelievably popular. The museum, which houses a fantastic structure built around medieval cloisters, chapels and halls, is focused on medieval European art and architecture.
Address: 1000 5th Avenue, New York, NY
5. Broadway and the Theater District
One of the top things to do in New York City, Broadway shows are considered the pinnacle of American theater. Shows here feature the latest and best performing arts and everything from high-energy musicals to Shakespearean plays.
Broadway refers to the area in and around Broadway theater, which includes many theatres in the Theater District, as well as the street of Broadway. It's not just for top ticketed shows– tickets can be purchased in advance if you intend to come see a show at a theatre on Broadway.
History records that many people, who were aspiring actors themselves in search of opportunities to perform, would populate Shubert Alley by entering the alley at the intersection with West 44th Street and then walking east. While most of the buildings surrounding the streetscape were more than 100 years old and had hosted theatre performances for decades before Shubert was folded, they all have one thing in common: they are taverns.
A Broadway hit, A Chorus Line played at The Shubert for 6,137 shows. Oklahoma played at the St. James playhouse and debuted in 1941 where it won a Pulitzer Prize. Famous places like Sardi's, which is often where famous actors first meet, and the Music Box Theater where Irving Berlin staged The Music Box Revue in 1921 are also on this list.
6. Empire State Building
The Empire State Building is one of New York's most famous landmark buildings and key tourist attractions. The 381-meter-tall, 102-storey building was the tallest in the world until the 1 World Trade Center tower rose higher, 41 years later. The building had quickly become a landmark and a symbol for NYC as soon as it opened in 1931.
There are actually two observation decks atop the Empire State Building, offering spectacular views of New Jersey, Pennsylvania, Connecticut and Massachusetts. On clear days, you can see up to 80 miles.
The 86th Floor Observatory (1,050 feet) is the highest open-air observation deck in New York City, and what most people are expecting to find when they go up the Empire State Building. If it feels familiar, that is because this area has been featured in countless movies and TV shows.
Reachable by high-speed, automatic elevators, the Library has both a glass-enclosed outdoor area and the 102nd Floor Top Deck with spectacular views. Whether you are on the 16th floor or 1,250 feet above ground level, the view is incredible.
At the New York City attraction, the line to go up is always long, moves slowly, and during peak times, it can be ridiculous; therefore leading to a frustrating experience. Be aware that you can easily burn up half your day just trying this one attraction.
It's worth buying the Empire State Building ticket – Observatory and Skip the Line: Flexible ticket that lets you save for days when the weather is bad. This ticket, good for up to a year, can be used again anytime, so if you don't have time to go up on a particular day, you can still make use of it later on.
7. 9/11 Memorial and Museum
Once home to New York City's tallest building, the Twin Towers of the World Trade Center were destroyed on September 11, 2001 when a group suicide pilots crashed two separate planes hijacked and flown into them. Built to measure out to 110 stories tall each tower also held an acre-sized pool of water at its base marking their place in history.
The National September 11 Memorial in Lower Manhattan was created to honor the nearly 3,000 people killed as a result of attacks on September 11, 2001, and also the six people who were killed in the earlier World Trade Center bombing in February, 1993.
In the middle of a forest is an artificial pool of water surrounded by trees and ferns. Pool water falls from the side and flows into an apparently bottomless square. These are the largest manmade waterfalls in North America, and around them are bronze panels with the names of those killed in the New York City attacks.
The 9/11 Memorial Museum is a building made of glass with rooms containing artifacts and photos, telling the story of 9/11 as well as the impacts.
The World Trade Center was one of the biggest and most prolific buildings in New York City, which was destroyed in 2001. The memorial and museum has been built on the site where it used to be. They are located in Greenwich Street, which is near Wall Street.
But don't forget to visit Westfield World Trade Center on the opposite side of Greenwich Street. Its spaceship-like appearance is worth a quick look, with its white fins and tall blue glass skin at street level. Inside, you'll find high-end retailers and cafes.
In New York, one of the most popular activities is to visit the 9/11 Museum. Visitors must purchase their tickets online or at the windows beforehand to avoid disappointment. The discounted family rates include up to five people so families traveling together will save money on tickets.
When you book your tour, there will be a time slot option. Monday is the only day that entry is free from 3:30 to 5pm, and tickets are limited to four per person. To book your entrance, you must retrieve tickets from 7 am on the day of your visit.
8. High Line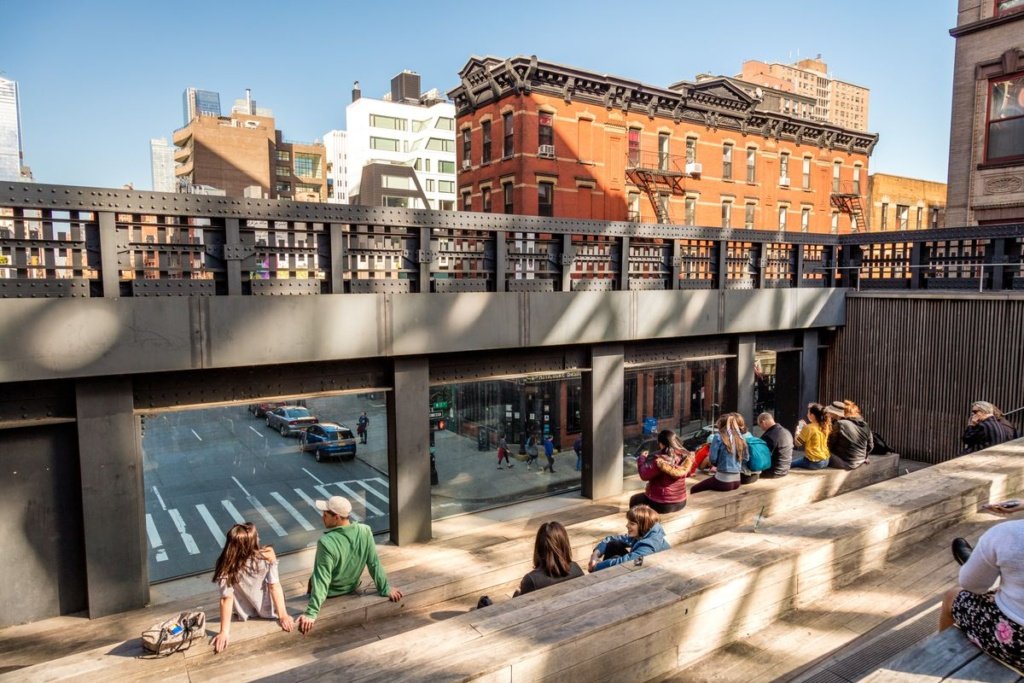 A unique linear public park, the High Line was originally used as a former railway line in New York City. This village trail has been cultivated with native plant species and different shades of green trees lining its curvy red-tiled paths that provide beautiful views of the city.
This oasis of greenery runs from Gansevoort Street in the south (just south of West 13th Street) to West 34th Street in the north, running parallel to 10th Avenue for most of its route. You can access this park at various points along its path, some of which offer stairways only and other points with elevators.
The High Line is not at street-level, so you can see a whole new perspective of the city's architecture and enjoy cool views over the streets. The art installations along the way provide some peace and quiet, with benches and seating available. Just near the south end is a sitting area with bleachers, offering plenty of rest for weary pedestrians who want to avoid the busy sidewalks on weekends.
The High Line features some of the best scenery in New York, including an awe-inspiring structure built at 31st Street called "The Vessel."
If you visit the High Line near the Chelsea Market, you'll find interesting places to visit along the way. The Meatpacking District runs through this section of the High Line, just steps away from many trendy restaurants and fine dining options. The southernmost access point is adjacent to the Whitney Museum of American Art, which is also worth visiting if you're interested in art. If you hop off at 16th Street (which has elevators), taking a short walk is all it takes to get to Chelsea Market, a former Nabisco factory that has been converted into many unique kitchen businesses and restaurants.
9. American Museum of Natural History
The American Museum of Natural History is a family friendly museum that exhibits all types of natural wonders including science and animal exhibits. With permanently displayed halls and the diverse variety of displays, there's something for everyone to enjoy.
The museum features interactive exhibits aimed to maximize the experience for visitors. There's a fine exhibit on sharks, including models of these fascinating creatures that people can touch. Another interesting display is the base gemstone, a 22-carat Okavango Blue Diamond.
It's always nice with a visit to the Butterfly Conservatory. It's a beautiful place where you can see over 500 butterflies flying in a warm, humid space.
Address: 200 Central Park West, New York, New York
10. Times Square
Times Square is a bustling and exciting place to be, especially at the center of New York City's celebrations on New Year's Eve. The square, lined with brilliant billboards and screens, is often filled from dusk to dawn with people out celebrating the holiday.
Times Square is busy and perpetually crowded and has its own unique appeal. Taking a break from walking, sitting, or working on your laptop at one end of the square provides a fantastic vantage point to observe the hustle and bustle.
Times Square was renamed from Longacre Square in 1904 after a tower was constructed for the New York Times, who first posted its headlines on the rotating sign in 1928.
If you've been longing to participate in active past times, the Madame Tussaud's Wax Museum is perfect. The eerily life-like wax figurines feature NYC icons and Broadway shows, so you can visit them with your friends or your partner. The building's glass dome accentuates Times Square views and is an added bonus.
Address: Broadway and 7th Avenue, New York, New York
11. Brooklyn Bridge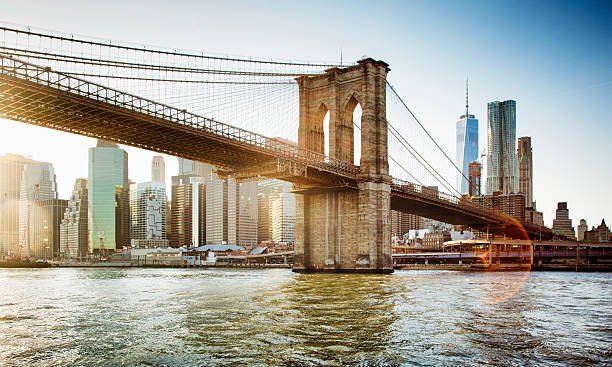 The Brooklyn Bridge is one of the most recognizable landmarks in New York City, and has
inspired generations of poets, songwriters, and painters. The historic bridge was completed by the city in 1883 and was the world's first steel suspension bridge.
One of the best ways to experience and experience viewing this icon is to take an hour and walk across the Brooklyn Bridge. A wood plank walkway, only open to pedestrians and cyclists, runs above the lanes of traffic. If you are not up for walking the whole distance, at least go as far as the first pillar and you can see one of the granite towers up close.
This bridge is a good place to get a beautiful sight of the Manhattan Cityscape. However, given its location further back from the water's edge, walking or biking over can be challenging on busy days. Be sure that you have adequate space for you and your bike when entering the area.
12. Fifth Avenue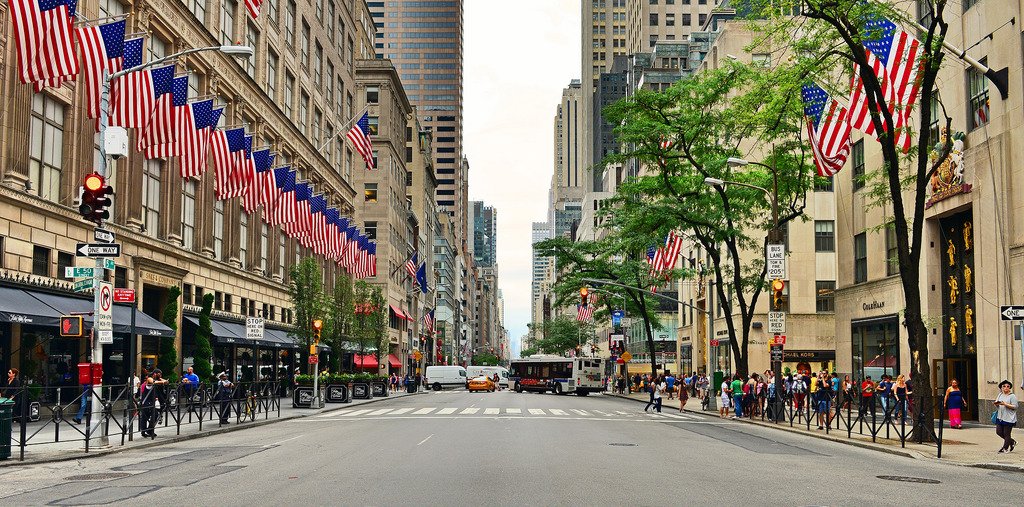 One renowned shopping area in America, Fifth Avenue is New York City's first choice for top designers and luxury stores. Cartier, Tiffany, Bergdorf Goodman and the famous Apple Store on Fifth Avenue are just some of the many notable places along this upscale avenue.
Whether you're looking to shop, admire the architecture and do some people-watching, or simply have a relaxing walk through the city, Fifth Avenue is the best place to go. Fifth Avenue's ideal area is from approximately Central Park to 40th Street, with a handful of features in between.
13. Grand Central Terminal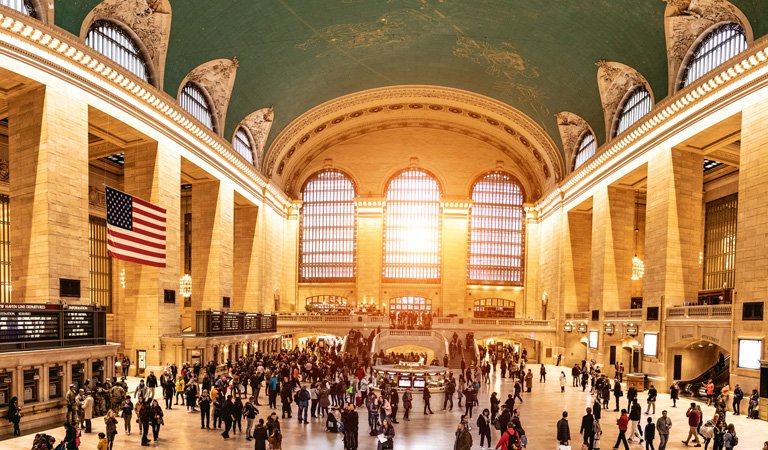 Grand Central Terminal is a Beauxarts building, and it's well worth taking the time to visit this famous landmark. The building first opened in 1913 as a terminal for the subway and train stations; with its classical design, you can visualize its long history of being transporting people.
Outside, 42nd Street spans the lower part of the concourse and the statues on top are a highlight. Inside, look for The Grand Staircase, which overlooks the concourse. The beautifully restored ceiling is here and you'll find retail and restaurant shops in abundance.
14. Lincoln Center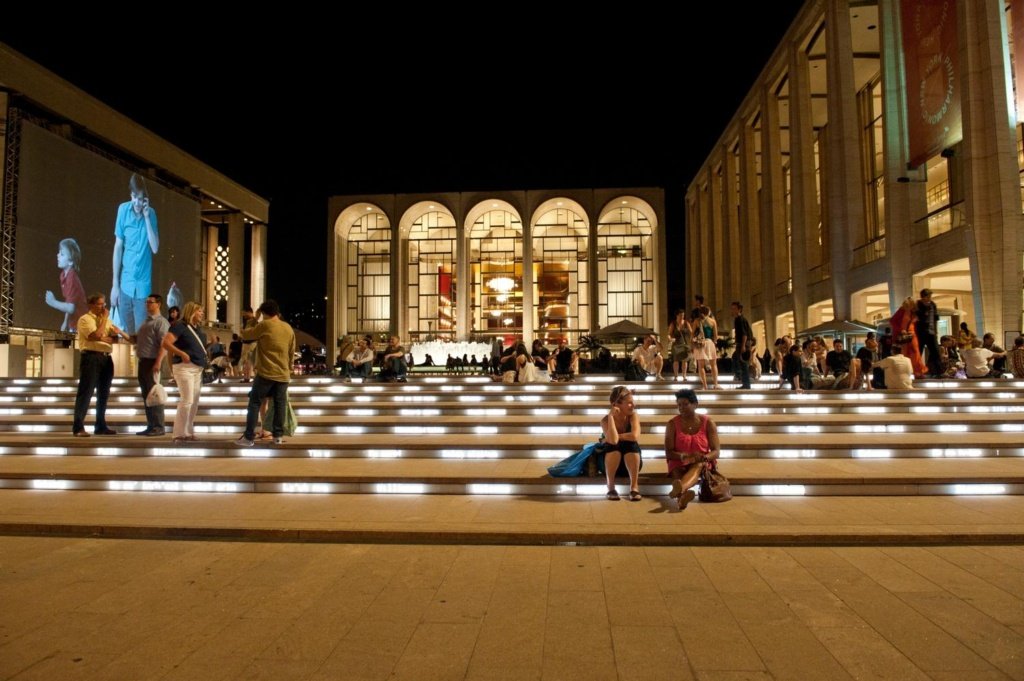 If you plan on taking in anything like ballet, symphony, or opera it's likely that your plans will involve an evening at the Lincoln Center. Musicians, dancers, and performers of all kinds dream of gracing one of the 30 indoor and outdoor stages spread throughout the center.
Lincoln Center is home to the New York City Ballet, the New York Philharmonic, the Metropolitan Opera, Juilliard School of Music and Lincoln Center Theater. With so many fantastic cultural happenings happening at Lincoln Center, it's almost guaranteed that you'll see a show while you're in town.
The Film Center's movie playhouse gives visitors an easy to access experience for the latest digital movie screenings.
Location: 70 Lincoln Center Plaza, New York, New York
15. One World Observatory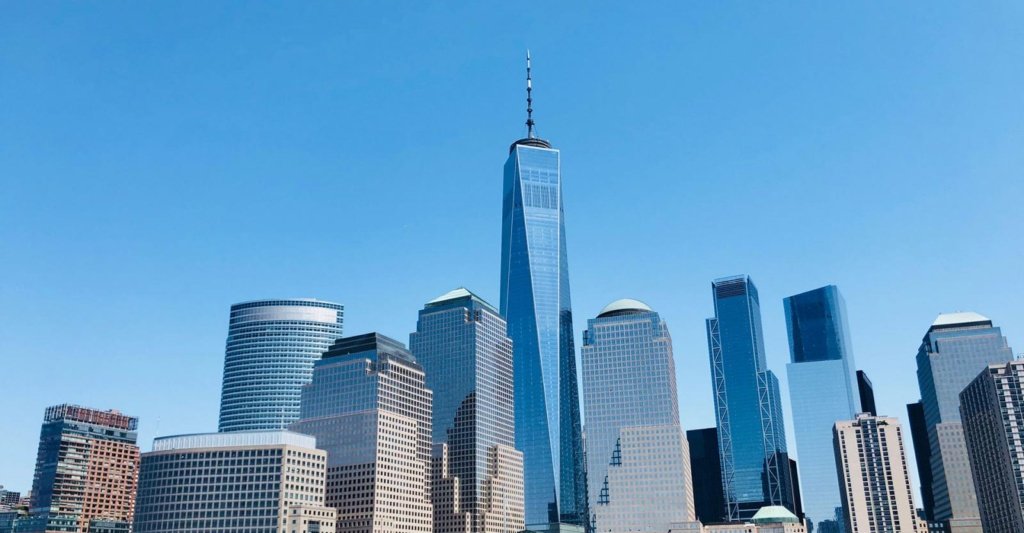 One World Trade Center, with One World Observatory on top, offers unobstructed views of New York at the 100th, 101st and 102nd floors. Built into a museum-like atmosphere is an elevator, which takes you to extraordinary heights. As you ascend, the panels present how New York has transformed from its beginning as a rural landscape all the way to the modern metropolis we see today.
This unique glass building is visible from all over Manhattan, with its sharp angles giving it a distinctive appearance. Viewing the building straight on indicates that it is pyramidal.
You can skip the line if you want to buy a NYC One World Observatory Skip-the-Line Ticket, but note that you still need to go through security.
Address: One World Trade Center, 285 Fulton Street, New York, New York
16. The Frick Collection
When it comes to ambience, the Frick Collection, housed in a mansion dating back to the early 1900s, is top of the list. Henry Clay Frick donated this collection to display his art and had the mansion built.
Monty Hall was well-known for hosting the popular game show Let's Make A Deal, in which contestants traded goods or money for prizes. The artwork hall displays and showcases a wide range of masterpieces from many famous artists.
The collections are not laid out according to a set period, artist, or country, but in a more random fashion designed to let you explore. The rooms surround a beautiful covered Garden Court with tropical plants and a central pond.
Address: 1 East 70th Street, New York, New York
17. New York Public Library
The New York Public Library's main branch has been the site of many movies and TV shows over the years. Designed in the Beaux Arts Style, the library has impressed guests with its roomy public rooms.
Known colloquially as the main branch, the proper name is actually the Stephen A. Schwarzman building and it opened in 1911 to immediate acclaim. An enormous library, the Main Reading Room alone stretches two city blocks and the Periodicals Room holds 10,000 current magazines. The collection at this location is vast, to say the least.
Location: Fifth Avenue at 42nd Street, New York, New York
18. Wall Street
Wall Street is a broad street that stretches eight city blocks from Broadway to South Street in New York City. The world-renown street is home to some of the most important exchanges in the world, including the New York Stock Exchange, the NASDAQ, and the New York Mercantile Exchange.
The most popular areas of the Financial Districts are Trinity Church and Federal Hall, which is the site of a popular photograph for visitors. Nearby is the bronze sculpture Causing Fear on Bowling Green, in front of Broadway.
19. Radio City Music Hall
Radio City Music Hall is an entertainment venue on the east side of Rockefeller Center in New York, has been a landmark since 1932, and hosts musical extravaganzas and movies. It is affiliated with the well known dance company, the Rockettes.
The Rockefellers financed and built the theater during the 1930s and it hosted major events, including the Grammy Awards and Tony Awards. The widely recognized marquee of the venue is hard to miss since it curves around the building and stretches down a block.
Address: 1260 6th Avenue, New York, New York
20. St. Patrick's Cathedral
St. Patrick's Cathedral is one of the city's most impressive Gothic Revival landmarks, with its 30 feet tall glass windows, massive bronze doors, 330 feet long spires, and the Great Organ. With millions of visitors annually, St Patricks is a major destination for believers and tourists alike.
The building was erected in 1879 and has been carefully restored and maintained throughout its existence including a $200-million renovation that was completed in 2016.
Location: 5th Avenue, between 50th and 51st Streets, New York, New York
21. Carnegie Hall
Carnegie Hall opened in 1891 as New York's first great concert hall. From Tchaikovsky to Bernstein, the halls have been filled with famous musicians. It is said to have some of the best acoustics in the world.
One of the best ways to get an in-depth vision on Ramstein Airbase is to take a guided tour. The tours give you a thorough look at all the different areas of the base, provide insight into how it was built, and they talk about some of the artists who have performed there. These tours end up at the Rose Museum, which gives a comprehensive look at artworks across all cultures.
Address: 881 7th Ave, New York, New York
22. Bryant Park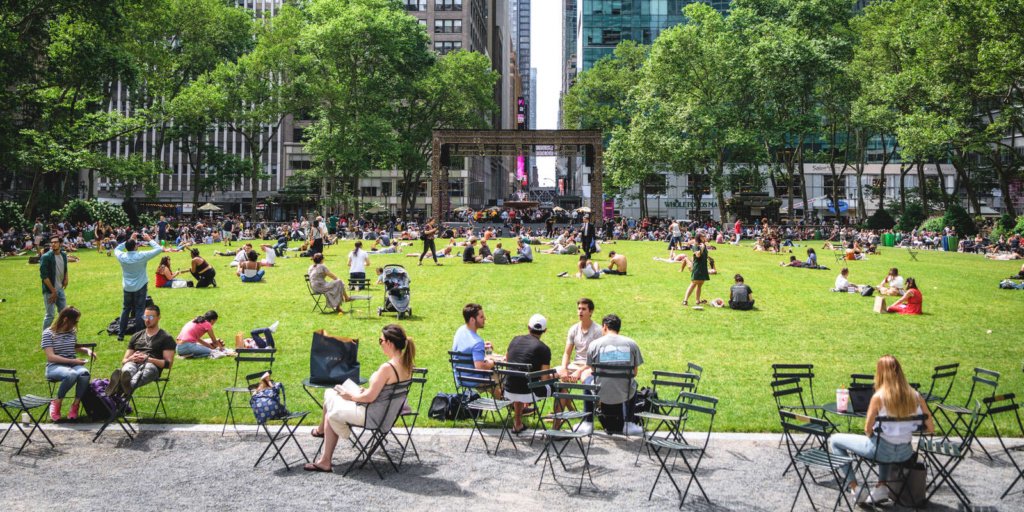 On a warm day like this, it is hard to beat the pleasure of relaxing at Bryant Park. There are plenty of monuments and gardens to keep your eyes busy on the grounds and Le Carrousel, a popular ride. The arcade area allows you to play chess, checkers, or backgammon for a small fee.
Bryant Park has always conflicted with business owners and citizens, but eventually, the park became an urban oasis because of citizens' collective efforts. The park is now the site of leisure activities like sports and games, as some simply walk through it to escape from their stresses.
During the winter, Bryant park transforms into an outdoor skating rink. This small rink is free to use, unlike the one at Central Park. Bring your skates or buy a pair at the concession stand. You can do all that you want to and if you'd like, you can join in on some artistic skating performances by the Ice Theater of New York at 12:40pm.
The Bryant Park is adjacent to the New York Public Library
Location: Between W 40th Street and W 42nd Street, at 6th Ave, New York, New York
Tell Us
What You Think
0
Like
0
Love
0
Haha
0
Wow
0
Sad
0
Angry