1. Walk the Freedom Trail
Boston is one of the most historically rich cities in the world, with 16 of Boston's top landmarks and attractions located right around the Freedom Trail. The Freedom Trail is easy to follow since it consists of red brick bumps on the sidewalks and footprints on road crossings. You can begin by reading brochures on this walking tour from Boston Common Visitor Center before seeing sights such as the State House.
You will walk to Old Granary Burying Ground (where Paul Revere, Samuel Adams, and John Hancock are buried), King's Chapel Burying Ground (Boston's oldest cemetery with the graves of Governor John Winthrop and two Mayflower passengers), and the Old State House which is Boston's oldest public building.
The Freedom Trail continues through Boston's North End and past the Paul Revere House and Old North Church before reaching Charlestown. The 54-gun frigate USS Constitution sits across from the 220-foot Bunker Hill Monument.
2. See a Game or Take a Tour of Fenway Park
Fenway Park is one of the most fabled sports complexes in the country. It's home of the Boston Red Sox and even if you're not a sports fan you'll have fun touring it. The park opened on April 20, 1912.
One of its most recognizable features is the Green Monster, the 37-foot green wall in left field, and it still maintains some of the remnants of old time baseball. In addition to maintaining its own identity, it also has the lowest seating capacity of all MLB stadiums with only 33,871 seats (making tickets tough to get).
Address: 4 Yawkey Way, Boston, Massachusetts
3. Faneuil Hall
The "cradle of liberty," Faneuil Hall was built in 1740-42 by Huguenot merchant Peter Faneuil, who wanted the construction to be open to the public. (Faneuil Hall was initially built as a market hall.)
The ground floor of this building is still occupied by market stalls, but the upper floors are home to paintings, historical weapons and uniforms, and the council chamber of parliament that used to be the meeting location for a revolutionary and later, an abolitionist. The 4th floor of the building is home to Ancient and Honorable Artillery Museum, which displays weaponry from significant battles in history.
The adjacent Faneuil Hall Marketplace includes three long halls dating from the early 19th century. In the markets, you can find a lively assortment of shops, restaurants, and exhibitions.
The market is a favorite place for people to eat in Boston. There are performers and buskers performing, mostly in front of the stalls. And with so many food stands and vendors, you always have plenty to choose from regardless of if it is good weather or not.
Address: Faneuil Hall Square, Boston, Massachusetts
4. Boston Common and Public Garden: Ride the Swan Boats
At the center of Boston is Boston Common, America's oldest park and the beginning of the Freedom Trail. In this large green space are various monuments, such as the Central Burying Ground from 1756. The Frog Pond can be rented for skating between November and mid-March, enjoy the spring blossoms and fall foliage coloring in the pond. When summertime comes, those who want to cool off will jump into a pool in the Frog Pond.
Charles Street is right next to the Public Garden, America's oldest botanical garden, which has Victorian-style monuments and statues like George Washington's horse statue and the three ducks from Robert McCloskey's book. To have an unforgettable experience at Boston, ride around the lake on a boat called a Swan Boat. It first came out in the 1870s.
Address: Public Garden, Boston, Massachusetts
5. Museum of Fine Arts Boston
One of the leading art museums in the United States, the Boston Museum of Fine Arts has superior work from Impressionists, ancient Egypt, Asian and Persian collections, and ancient Greece and Middle East.
With its latest "Crowning Achievement", the museum has added an entirely new wing to house collections of American paintings and furniture dating from pre-Columbian arts to the Art Deco and Modernist eras.
Highlights elsewhere include a 12th-century lacquered-wood sculpture of a Buddhist Bodhisattva, Korean painted screens, the ivory and gold statue of the Minoan Snake Goddess from 1500 BC, and a statue of the Egyptian pharaoh Mycerinus and his queen from 2548-2530 BC.
Address: 465 Huntington Avenue, Boston, Massachusetts
6. Isabella Stewart Gardner Museum
Set in a historic building modeled after a 15th-century Venetian palace, the Isabella Stewart Gardner Museum displays its collections around a four-story central courtyard filled with fountains and flowering plants.
The museum houses a 2,500-piece collection of Mrs. Gardner's personal taste in art and serves as one of her many varied skills. The personal quirks that Mrs. Gardner herself displays furthers the mere beauty of the museum.
Behind the Palazzo, a 70,000-square-foot glass-clad building designed by Italian architect Renzo Piano creates new viewpoints for the original palazzo and stunning spaces for music and visual arts that let visitors see exceptional contemporary works and artists. Piecing in with the original museum does not cause conflict or competition; rather, understanding the two buildings' difference lets you fully experience each one.
With panoramic views of the building, the palace, and gardens, tourists can see through transparent walls. After seeing the museum campus, visitors can take a stroll around some of the gardens. Roses are in bloom at Fens until October.
Address: 280 The Fenway, Boston, Massachusetts
7. USS Constitution and Bunker Hill (Boston National Historic Park)
Nicknamed Old Ironsides, USS Constitution is the oldest commissioned ship in the United States Navy and still manages to be operated by Navy personnel. The ship is open to visitors who can go below-deck and hear about the ship's construction and history of activity at sea.
Visitors to the USS Constitution Museum are given a glimpse into life aboard a naval vessel from two centuries ago. Another ship you can tour here is Cassin Young, a World War II destroyer, and its interactive exhibits give more context about life onboard during that era.
Charlestown Navy Yard is part of the Boston National Historical Park and is within walking distance to Bunker Hill Monument and Museum. Anyone riding a bike can ride down Massachusetts Avenue, which ties in with New England Avenue and they are able to cross over Bunker Hill Street near the monument. The 221-foot-tall granite monument marks the hilltop site of the earthen fort built by New England soldiers before the Battle of Bunker Hill, one of the first pitched battles of the American Revolution.
Address: Building 22, Charlestown Navy Yard, Charlestown, Massachusetts
8. Museum of Science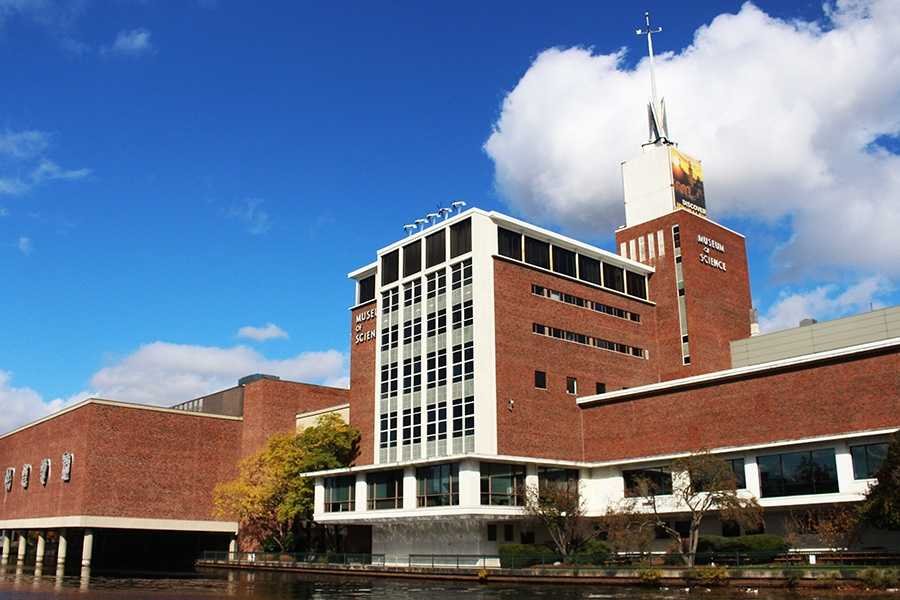 The science museum encourages learning through understanding of science and technology through hands-on exploration. The science museum is not just for children but for everyone, with more than 700 exhibits that explore physics, biology, chemistry, ecology, zoology, astronomy, computers and more.
Highlights is a 65-million-year-old fossil discovered in the Dakota Badlands. You can take a walking tour and also attend programs including electricity domes, continuing programs, the Butterfly Garden with free-flying butterflies, a conservatory for exotic plants, the ComputerPlace to work on a robot and explore information being stored in your computer. The planetarium presents daily laser and star shows.
Address: Science Park, Boston, Massachusetts
9. Harvard Square and Harvard Art Museums
Harvard University, founded in 1636, is the oldest institution of higher learning in the United States and is widely considered one of the world's leading academic centers. Visit their Harvard Information Center to take a spirited and entertaining free walking tour of their campus guided by a student who will share history and Harvard lore. Or, you can download an audio tour from their website!
With shops, coffeehouses, and ice cream parlors laden in the area, Harvard Yard offers visitors more places to find a snack than anywhere else in the United States.
Attending the Harvard Art Museums, students are able to see world-class art with even more value. The Renzo Piano-designed home houses three collections: Fogg, Busch Reisinger and Bauhaus, each with their own legacy of significant American artwork. Nearly every university can't boast such a deep collection of the best regional and international artwork.
Another important feature of the museums are the world's best collections of Chinese jade, as well as Chinese bronzes, Japanese prints, Indian art, and Greco-Roman antiquities such as vases and sculptures.
Address: 32 Quincy Street, Cambridge, Massachusetts
10. Old North Church and Boston's North End
In Boston, known for its lively Italian community, the North End neighborhood dates back to the American Revolution. Paul Revere bought a home there in 1770, which is on the Freedom Trail, and which he originally lived in while he made his famous ride. The Paul Revere House is the only patriot's home that can be toured and is officially open to visitors today.
When British troops arrived at Lexington, Paul Revere had sixty lanterns hung from the church tower to warn the patriotic crowd about their presence. The gorgeous white interior still retains its historic box pews.
The North End is known for its rich Italian history and scenic views. There is a lot to do here, including restaurants, cafes, bakeries, artisanal shops, and imported food. The aromas at the shops leading up to the waterfront are unique because of their historic significance and local flavors.
In Boston, North Bennet Street School is a comprehensive craft school where classes ranging from bookbinding to violin making are taught. The gallery shop has a wide variety of one-of-a-kind crafts that make exceptional gifts.
11. Boston Tea Party Ships & Museum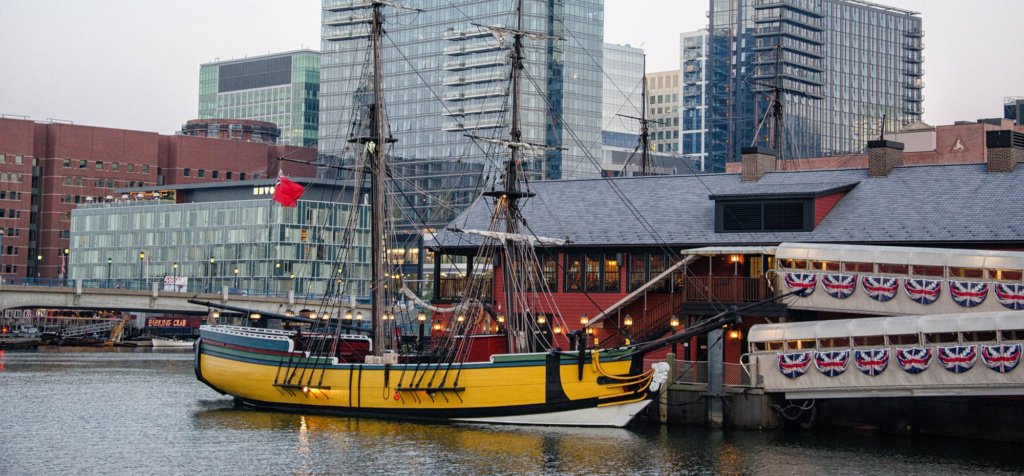 On the night of December 16, 1773, an angry group of Bostonians stormed ships from England and dumped tea into the harbor at this site. For those interested in taking a tour and taking part in the reenactment, there are replicas of them from where the Sons of Liberty dumped their tea overboard. These are available for visitors to see.
Costumed interpreters help visitors explore that historic night as they go through interactive exhibits, films and multi-sensory experiences. You might also get to dump tea into the harbor–after all, you'll see the only known tea chest from that ill-fated cargo at the museum. The stories of shipboard life and American history will captivate kids, prompting this activity to be one of Boston's most popular tourist things to do.
Address: 306 Congress Street, Boston, Massachusetts
12. New England Aquarium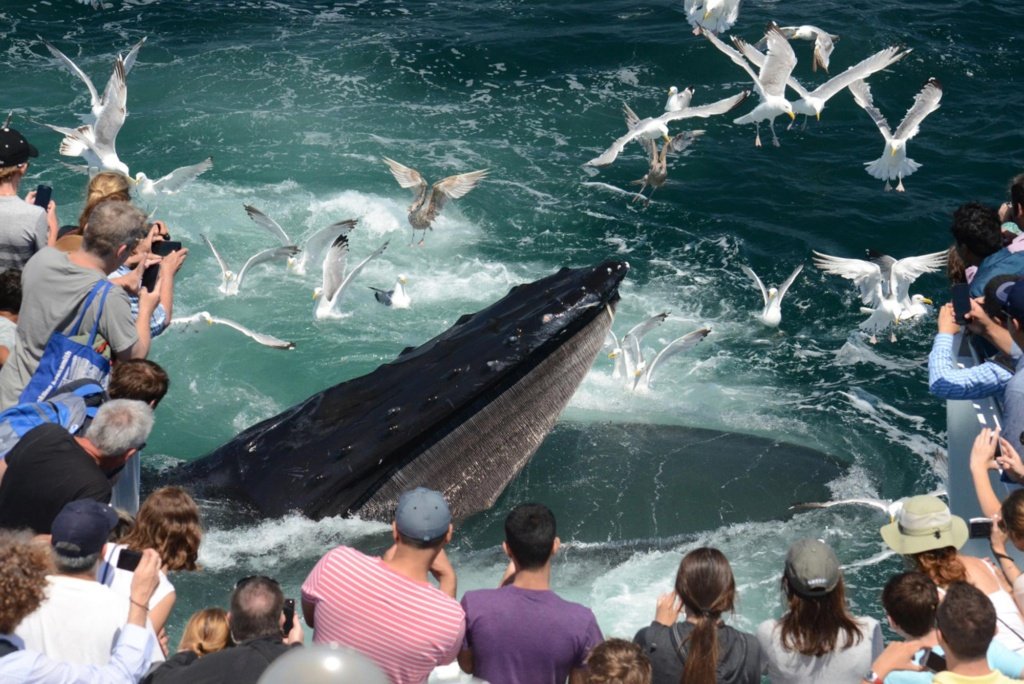 The New England Aquarium features over 20,000 fish and animals from all across the globe, representing 550 different species. The aquarium has a Caribbean reef that houses sharks, turtles and other wildlife. (You can touch them!) There is also a touch tank that features starfish and crabs among other small invertebrates.
On the outside of the aquarium, visitors can watch harbor seals play in their enclosed habitat. The New England Aquarium also sponsors educational programs and whale-watching tours outside of Boston Harbor and the adjacent IMAX Theater shows video shorts on nature subjects.
Address: Central Wharf, Boston, Massachusetts
13. Harvard Museums and the Glass Flowers
For most people, the highlight of the flower and plant observation room is its many glass models of 830 different species. Some insects are included on some of the flowers and plants, making them all so lifelike that you would have a hard time believing they were made out of glass.
The Blaschka orchids are unique, and have never been replicated by humans. Created between 1887 and 1936 by Leopold and Rudolf Blaschka, they are part of Harvard's massive research collection manages under one roof in the Peabody Museum of Archeology and Ethnology, the Mineralogical Museum, the Museum of Comparative Zoology, and the Botanical Museum.
Particularly strong in native American exhibits, the Peabody Museum shows artifacts and art interpreted as a part of a living culture, even when that culture has vanished. You can admire some of the finest examples of Native American arts from many periods and tribes and watch how these changed as Europeans provided a new market for their goods.
Those looking to experience what a museum is like in the 1800s will love the Pacific Islands balcony, which gives visitors memories of stepping back into the past. The Museum of Comparative Zoology, a world-renowned science museum founded by Louis Agassiz in 1859, has an extensive collection of fossils and minerals. Visitors can also see an impressive display of rough gemstones, along with a meteorite that fell to Earth from space during the 1800s.
Address: 26 Oxford Street, Cambridge, Massachusetts
14. Newbury Street & Back Bay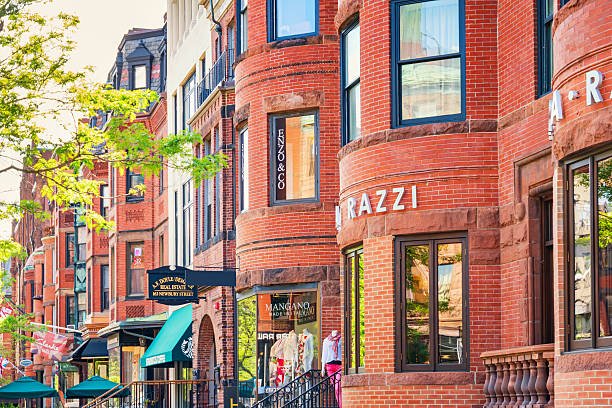 Boston's colorful, luxurious 19th century Back Bay neighborhood is located on the East of the city in an area that was once underwater before it was leveled and filled in, surrounded by public parks and waterways. The grid of streets with buildings housing brownstone and brick homes has a great view of downtown Boston as it faces Storrow Drive and the Charles River Esplanade.
Newbury Street is the heart of this community. It has a European feeling with many small and trendy shops and restaurants. This is one of Boston's most picturesque streets which captures your attention as soon as you come upon it due to its ornamental terra-cotta and brickwork architecture.
15. Boston Public Library and Copley Square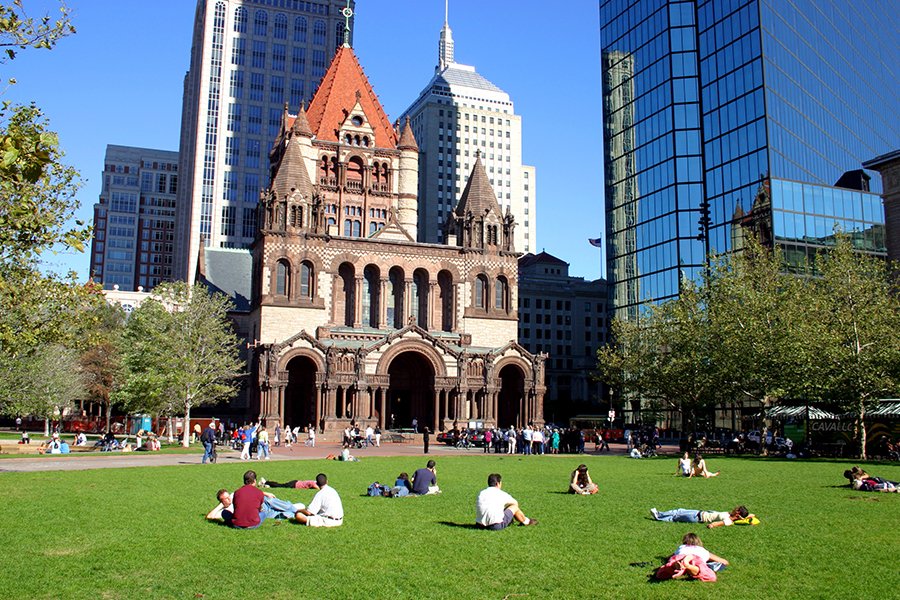 The Back Bay is a commercial and historical district in Boston. It is bordered by Charles River on the south, State Street on the west, Beacon Street on the north, and Dartmouth Street on the east. It's surrounded by old buildings as well as skyscrapers. The Boston Public Library was founded in 1848 and Charles Follen McKim designed their present-day building in 1895.
One of the best things you can do anytime in Boston is to visit the Isabella Stewart Gardner Museum. The museum, designed by architect Ralph Adams Cram, has murals and statues by John Singer Sargent, as well as a garden designed by legendary American designer Gertrude Jekyll and Augustus Saint-Gaudens' work.
Trinity Church, a red sandstone building designed by architect Henry Hobson Richardson, can be seen across the grassy lawn. The murals, frescoes, painted decorations inside and much of the fine stained glass are by John La Farge and Edward Burne-Jones.
On the third side of this square are three beautiful buildings: The Fairmont Copley Plaza, an iconic Boston hotel; the glass-walled skyscraper on the corner; and, lying between these two sights, you can see part of the finish line of the Boston Marathon, which will begin in a few hours.
The Prudential Center stands three miles northeast of Boston, a 32-acre complex of apartments, shops, restaurants, and an observation deck at its 50th floor. There you can take in 360-degree views of Boston within minutes.
Address: 700 Boylston Street, At Copley Square, Boston, Massachusetts
16. Boston Harbor and Whale Watching Cruises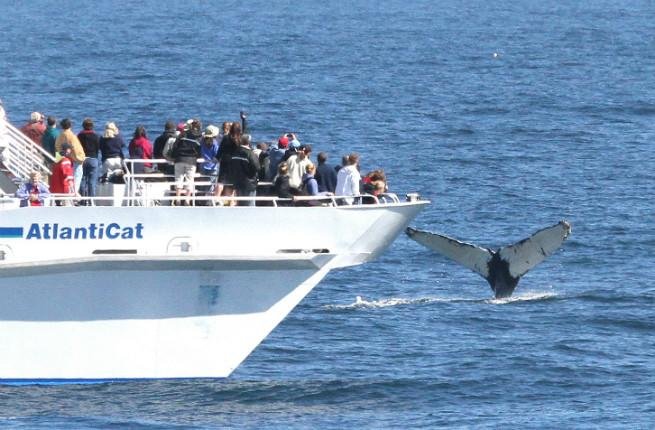 While exploring Boston Harbor, you can cruise to Castle Island, and then east to the Boston Light on Little Brewster Island and back to Charlestown Naval Yard before returning to Rowes Wharf.
Experience the sights of Boston on a starlight or full moon cruise. The skyline's colors are more beautiful from the water, giving you an opportunity to enjoy brunch, dinner, or lunch while looking out over the city.
You can go outside Boston Harbor to see whales, including humpback and fin whales, along with dolphins and porpoises in the wild. You can tour in three hours taking naturalist-led tours. These tours guarantee whale sightings on every trip.
17. John F. Kennedy Presidential Library and Museum
Dedicated to the 35th U.S. President, the museum is the official national memorial to John F. Kennedy, designed by noted architect I.M. Pei and opened in 1979. The museum stands on the shore of New York City, features three theaters and a myriad of personal memorabilia and historical exhibits that document the life of JFK and his presidency.
Exhibits cover the presidential campaign trail, the Oval Office, First Lady Jacqueline Bouvier Kennedy, and the Kennedy family. This interactive experience includes the free and family-friendly Highlights tours and the Hands-on Cart programs that include an in-depth look at PT 109 and a closer look at race for space.
Address: Columbia Point, Boston
18. Beacon Hill and the Black Heritage Trail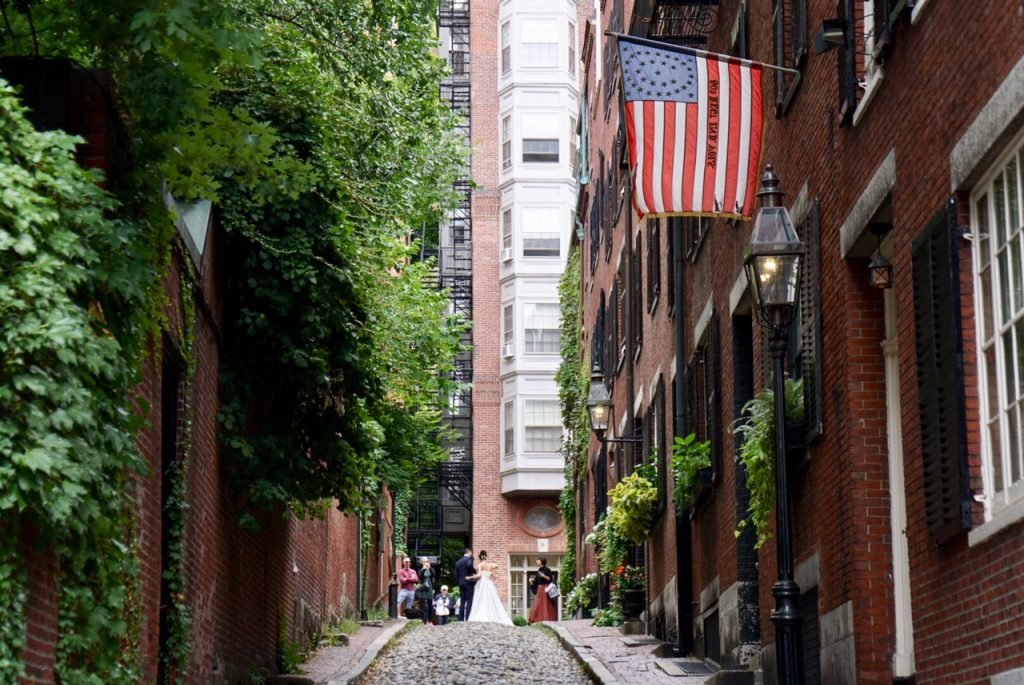 Beacon Hill offers a beautifully quaint lifestyle with a convenient central location. It's the highly favored neighborhood of Boston's north side. Its Federal and Greek Revival-style homes are encased by its trees, while Louisburg Square is the home to some of Beacon Hill's highest-priced real estate. On top of that, author Louisa May Alcott lived here from 1880 to 1888.
The Nichols House Museum, by architect Charles Bulfinch and a local Bostonian, is a Federal style home that demonstrates how upper class citizens in Beacon Hill lived. The house is replete with collections of ornate decorative goods and furniture from the 16th through to the 19th centuries. The street that leads off Beacon Hill, Charles Street, is lined by upscale boutiques, shops and restaurants that are popular with visitors to the neighborhood. At the western end of Beacon Hill, you have The Bull and Finch Bar & Grill which was established in 1969–Cheers was filmed on location outside of this bar.
Beacon Hill is a historical area of the west side of Boston that has been home to African Americans since the 1800s. National Park Service Rangers offer free guided tours of the Black Heritage Trail from April through November and you can follow the trail on a self-guided tour year round.
Boston is home to the oldest African Meeting House in the US, which gives a picture of African American life during 19th century. It was founded by a group of Black Americans and later rebuilt as it looked in 1854 after being desecrated. The Boston African American National Historic Site includes 15 pre-Civil War homes, businesses, schools, and churches that give a picture of Boston's 19th-century African American community.
The 1834 Abiel Smith School was the first public grammar school in Boston, MA, primarily serving African American youth. These museums provide artifacts, films, art and sculpture that tells the story of black America in Boston and New England.
19. Boston HarborWalk and Christopher Columbus Waterfront Park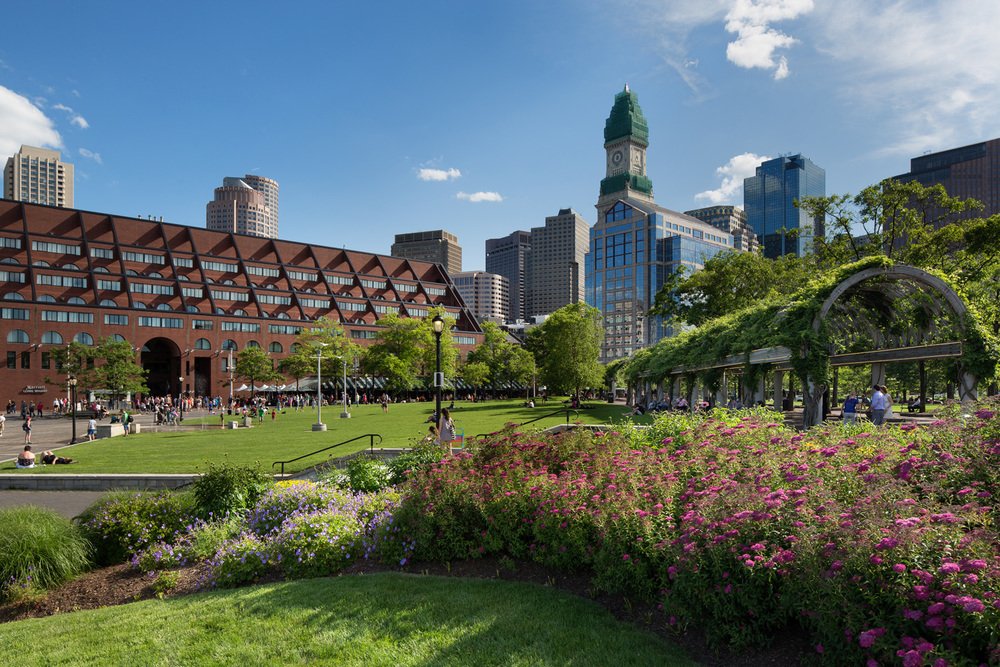 The Boston waterfront, which was once a colonial port and had come to a period of decline in the mid-20th century, has then seen life after being revived as a part of a collective plan in the mid-1970s.
For example, HarborWalk in Boston's waterfront public park system was built to provide access to residential and commercial space and has a beautiful waterfront walkway which includes parks, public art, benches, cafés and signage. With its proximity to Boston, it is also accessible by water taxis or ferries. As well as navigating ports of call along the way, there is a shuttle boat that goes to the Charlestown Navy Yard.
You can visit the North End, South Boston, and the rest of the city from Charlestown to the Seaport District because it's a conveniently located line that has many stops. It goes from North End to Commercial Wharf, India Wharf, Long Wharf, and Rowes Wharf before making its way to the Institute of Contemporary Art in the Seaport District.
20. Rose Fitzgerald Kennedy Greenway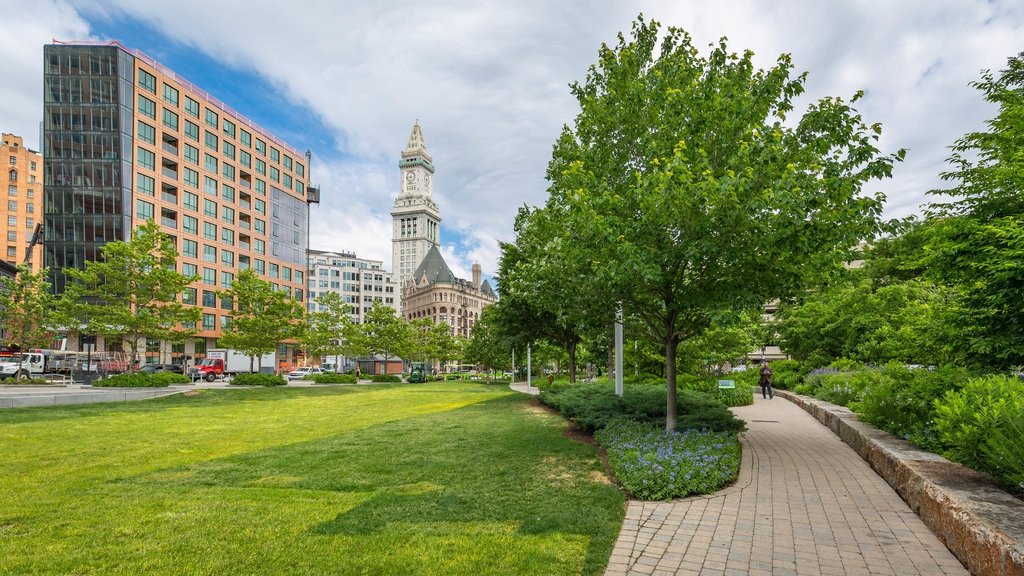 Boston is home to a multitude of green spaces, including the Rose Fitzgerald Kennedy Greenway that fills in the swath of downtown Boston left bare by the removal of the elevated Central Artery.
Faneuil Hall Market and several other diverse neighborhoods are just steps from Rhode Island's largest green space, North End Park. Surrounding 1.5 miles of parks and gardens, the financial district is only a few steps to the North End.
Public art, gardens, benches, a farmer's market, food trucks, and playgrounds are responsible for making the park lively. Additionally, an imaginative carousel of whimsical animals will entertain children as they ride on rabbits, a butterfly, turtle, lobster or a grasshopper.
21. Boston Pops and Boston Symphony Orchestra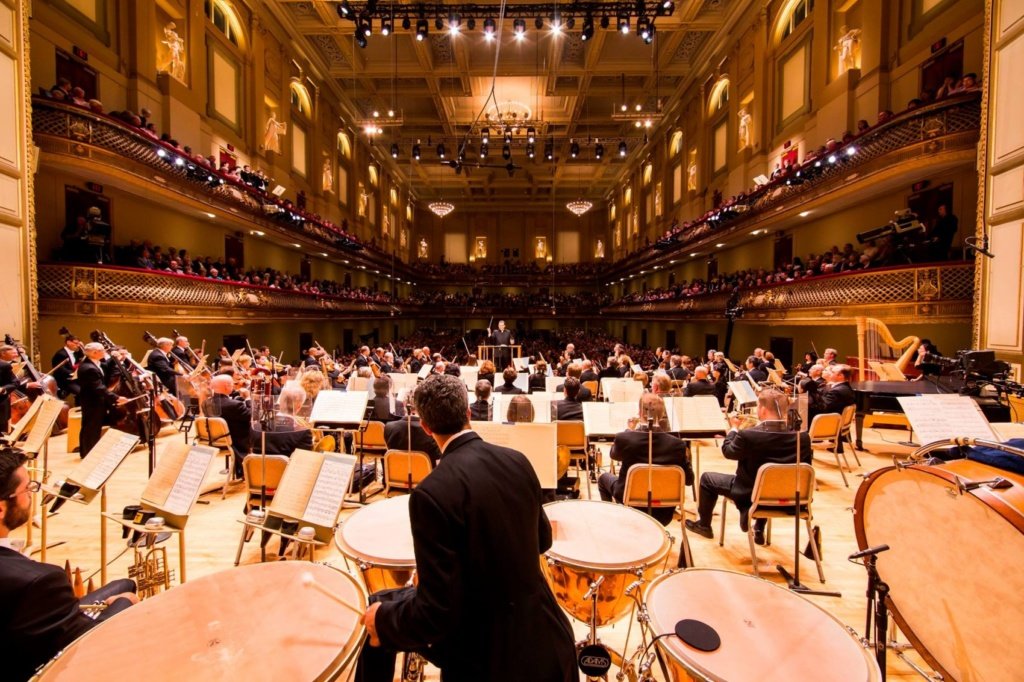 Boston Symphony Orchestra was established in 1881. Since then, it has given more than 1,000 concerts to thousands of beloved audiences. The Boston Symphony Orchestra's conductors have included such people as Pierre Monteux, Serge Koussevitzky, Charles Munch, Seiji Ozawa, and James Levine.
With its regular symphony season, the hall gives an international standard for performances of light music with the Boston Pops Orchestra. For many visitors, the highlight of a trip is a Pops concert either at Symphony Hall or at the Hatch Memorial Shell that has become a Boston landmark.
The Boston Symphony Orchestra produces concerts and other events. It is especially famous for performing the 1812 Overture on July 4th every year. View access to the lawn, Back Bay, and Beacon Hill through telescopes and behind-the-scenes of Symphony Hall are visitors' top priorities.
Address: 301 Massachusetts Avenue, Boston, Massachusetts
22. Arnold Arboretum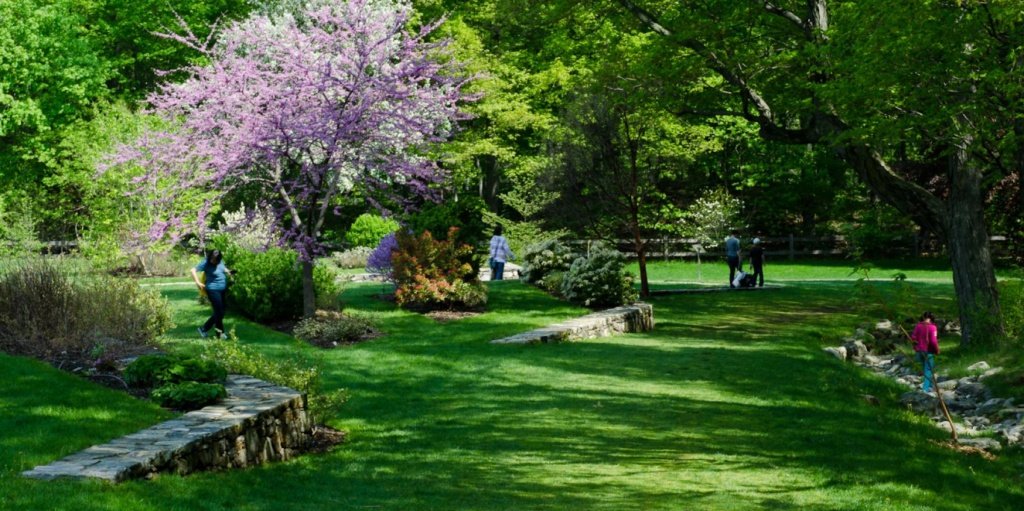 The Arnold Arboretum is a place of beauty, especially in the fall and spring. It's a "museum of trees," many of which burst into reds, yellows, or other colors in the autumn, when they are dressed with blaze-orange foliage or pink blossoms. But in every season it's stunning–a testament to all the changes its multi-layered forest can offer during any time of year.
The Arboretum, a National Historic Landmark, was designed by landscape architect Frederick Law Olmstead and is maintained by Harvard University for teaching purposes. It features a wide range of trees, shrubs, vines, and perennial flowering plants as well as the Bonsai & Penjing Collection (which has exceptional collections of lilacs, azaleas, and rhododendrons).
There is a special spot known as the Explorers Garden on the grounds, which is where two of the world's largest Franklin trees can be found. Field trips start out with a quarter-mile introduction to this unique environment for all abilities and continue with a 90-minute Keeper's Tour.
Address: 125 Arborway, Boston, Massachusetts
23. Massachusetts Institute of Technology
The MIT campus, 150 acres of modern and postmodern architecture, is a living museum of architectural design from noted architects including Alvar Aalto, Eduardo Catalano, I. M. Pei, Frank Gehry and Eero Saarinen.
There are many sculptures and art installations on campus. On the self-guided walking tour, you can see them with an interactive map. You could also see exhibits of works by artists such as Pablo Picasso, Henry Moore, Alexander Calder, Jacques Lipchitz, and Auguste Rodin. There are models from ships in the Hart Nautical Gallery and contemporary art in the Compton Gallery.
Address: 77 Massachusetts Avenue, Cambridge, Massachusetts
Tell Us
What You Think
0
Like
0
Love
0
Haha
1
Wow
0
Sad
0
Angry