1. The Ridge, Shimla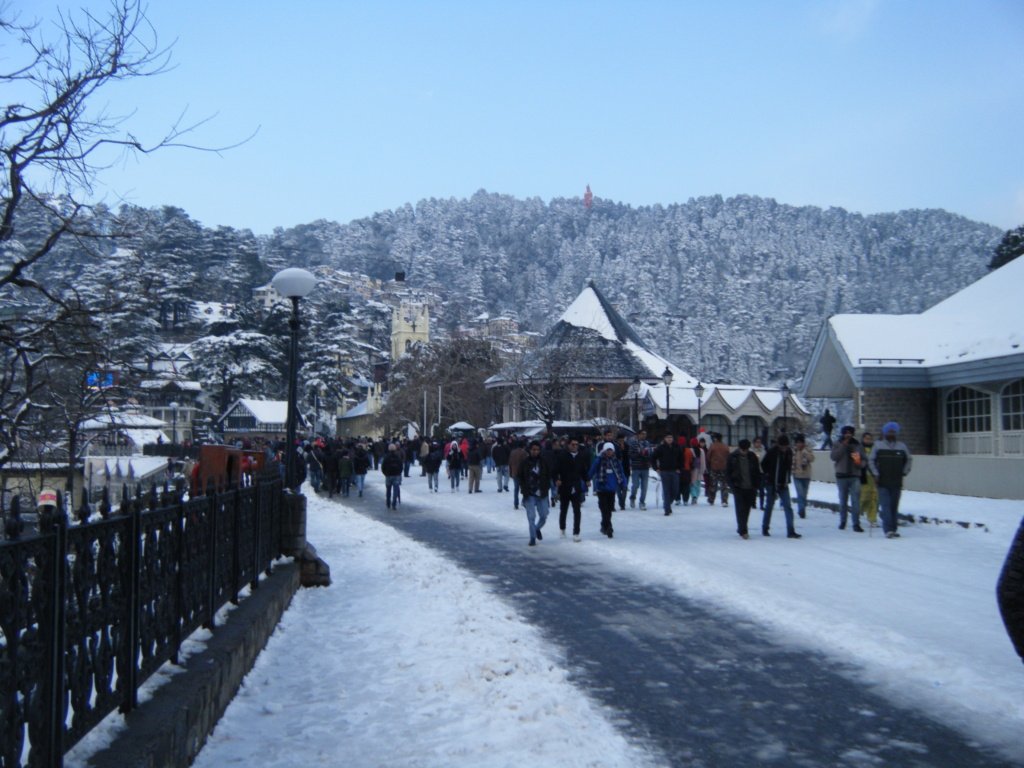 The Ridge constitutes the heart of the city in terms of location and tourist attractions. It is a wide-open street that runs along the Mall Road from east to west, connecting it to Scandal Point. What makes it such a popular places to visit in Shimla is that it offers gorgeous views of the snow-capped mountain ranges that rise against the blue sky. It is dotted with old British establishments that beckon visitors with feel-good shopping or binge-eating. Lined with boutiques, pubs, restaurants, cafes and stores, it serves as the social hub in the region. It is said to be among one of the most photographed parts of Shimla where natural beauty meets Gothic structures.
Timings : 8:00 am to 6:00 pm; every day
2. Jakhoo Hill and Temple, Shimla
The Jakhoo Hill is one from the tallest places to visit in Shimla and is covered in trees that are covered in snow. The Jakhoo Hill offers scenic views of the snowy Shivalik range as well as Sanjauli, the sister town to Shimla, which stands at a height of 8000 ft. Above sea level. Branded by legends and mysteries, the Jakhoo Hill has attracted devotees and tourists alike since ancient times. It has been said that during Hanuman's journey to bring the Sanjeevani Booti for Lakshman's revival during the war of Lanka, he rested for a while on top of the temple itself.
Timings : 7:00 am to 8:00 pm; every day
3. Mall Road, Shimla
More and more couples choose the Mall Road in Shimla as a great places to visit in Shimla when they come to see the site of unique urban desi life. There are a multitude of gems available here at the Mall, charmingly brightening the day in this touristy town. Whether, you're shopping necklaces or books all you need is some time and money, you'll find something that will suit your tastes at the Mall in Shimla. If you want to explore other things in and around there are a lot of places to visit in Shimla. You can also enjoy exploring or hearth worshiping for example, but stay on a walkway since vehicles cannot go there so it's one thing worth doing when night falls on Shimla.
Timings : 9:00 am to 9:00 pm; every day
4. Kalka-Shimla Railwa, Shimla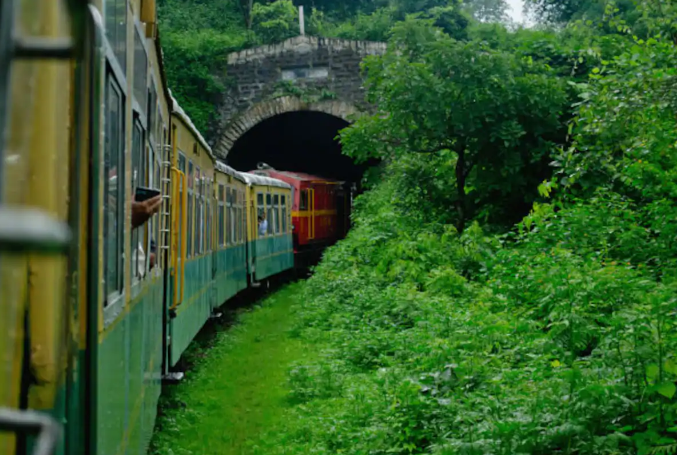 Riding the Kalka-Shimla train is a highlight of Shimla tourism and it's for a good reason. Built in 1898, this narrow gauge railway has recently been added to the mountain railways of India's World Heritage Site by UNESCO. Passing through the scenic and mountainous route from the Shivalik Range foothills at Kalka (Haryana), to Shimla, the train ride offers spectacular views of the surrounding hills and villages. On its way, it stops at many scenic destinations like Solan, Dharampur, Summer Hill, Salogra, Taradevi, and Barog among others. With 864 bridges over water bodies and 919 curves on its way to Shimla where 102 tunnels await riders as they come into town. Riding on this train journey itself doesn't count as a 'place' to visit in the region but missing it means missing out on some of the splendid sights and one of the best places to visit in Shimla that Shimla has to offer.
Timings and charges : Check the official website for train timings and fare
5. Kufri, Shimla
Trekking in Kufri will take about 40 minutes from the center of Shimla. This area is on a hill, at an elevation of 8607 ft., so you can see spruce trees and other snowy peaks. Kufri is famous for hosting adventure sports such as skiing and skating. December is the month when snow is most likely to fall here, which means that it's one of the best places to visit in Shimla during winter in Shimla.
6. Christ Church, Shimla
A prominent landmark in Shimla, Christ Church is the second oldest church in northern India and boasts of exceptionally beautiful architecture. It was built as an example of Gothic style architecture, which means it is one of the most impressive buildings in the area the best places to visit in Shimla. Located on a ridge overlooking town, the construction has escaped colonization's list of landmarks and remains a modern time-saving option for guests looking to explore nearby areas. The church houses stained glass windows, brass bells, and especially dramatic towers that capture visitors' attention at twilight. With its architecture complete with ornate clockwork turrets, the grandeur of this historic site never fails to impress national or international travelers looking for a day trip from Delhi or another major city.
Timings : 8:00 am to 6:00 pm; every day
7. Green Valley, Shimla
Green Valley is in western Himachal Pradesh, and it is a place of natural splendor. With snow-covered mountains and lush forests of pine and deodar, the valley glistens with life. The serene landscape is surrounded by many tourist sites in Shimla like the Mall Road, Satya Niketan, etc which makes this a wonderful destination for honeymooners or anyone who wants to escape the crowds. The valley also appears in movies like Dilwale Dulhania Le Jayenge with some scenes being shot here. A visit to Green Valley during summer can be rewarding with its incredible beauty providing relief from the heat.
8. Indian Institute of Advanced Study
Once you have made your way to Shimla, tracing the path of independence and the decision to create Pakistan in 1947 is no easy feat. One of the best places to visit in Shimla is the Indian Institute of Advanced Study. The building was built under Lord Dufferin as part of his Viceregal Lodge and was one of the first locations to be electrified in India. This meant that electricity was available before it became widespread in other parts of Shimla. The building has been through a few revolutions since, serving as a summer retreat for Indian presidents and finally becoming an advanced study center for research. The grand Victorian-style architecture draws attention due to its beauty, which can be seen from outside or from inside on display at Rashtrapati Niwas.
Timings :

Tuesday to Sunday: 9:00 am to 5:00 pm (1st July to 30th April)
Tuesday to Sunday: 9:00 am to 7:00 pm (1st May to 30th June)
Closed on Mondays

Entry fee :

₹ 40 per person for Indians
₹ 85 per person for foreigners
₹ 20 per person for Garden Visit
Free entry for government school students in groups with their teachers
9. Kali Bari Temple, Shimla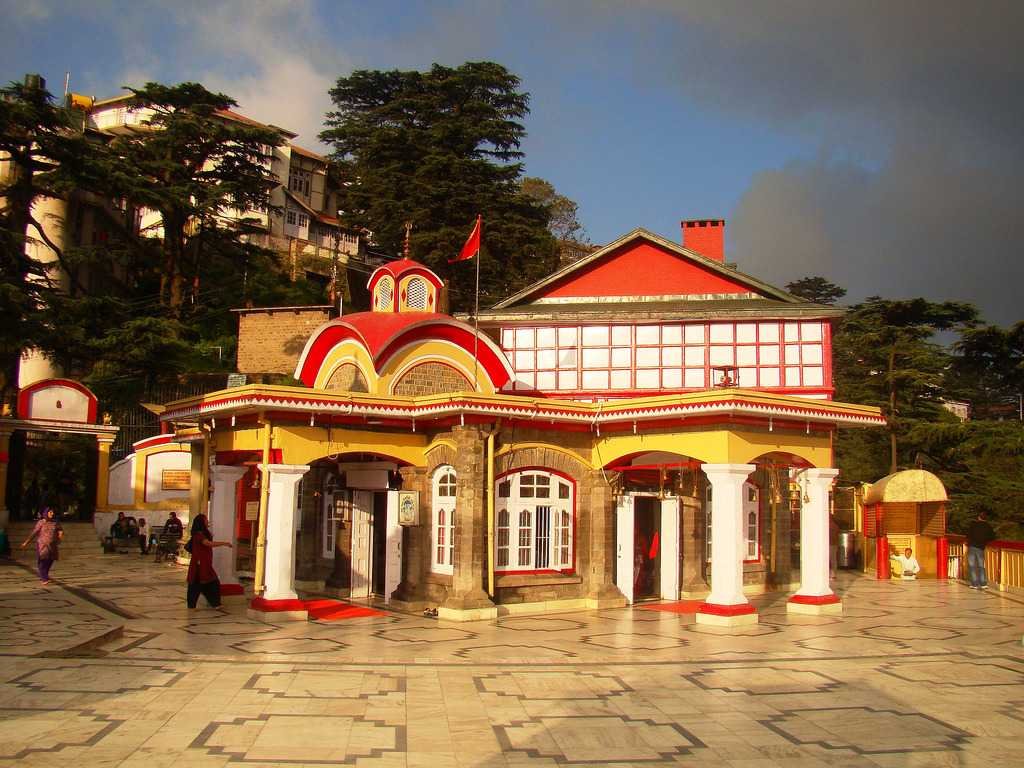 Places to visit in Shimla, Some temples are known for their religious or historic significance while others draw in visitors due to their architectural beauty. But there are some temples that score high on both counts. In Shimla, the Kali Bari Temple is one such place! Believed to have been built in 1845, the temple boasts of architectural beauty as well as religious significance in equal measures, located very close to Mall Road close to all major tourist attractions. As the name indicates, the temple is dedicated to Goddess Kali and houses a captivating idol of the deity (Kali). Located very close to central Shimla town, it is an ideal spot to spend some serene moments connecting with your inner self. An interesting thing to note is that Goddess Kali is known here as Goddess Shyamala, and it said that Shimla derived its name from Goddess Shyamala.
Timings : 6:00 am to 7:00 pm; every day
10. Himachal State Museum, Shimla
In Himachal Pradesh, there are many museums which depict various aspects of the culture and heritage of the state. One museum that you might find interesting is the Himachal State Museum. Founded in 1936, it has a variety of miniature paintings, stone carvings and sculptures from the area, as well as coins and weapons reflecting an array of cultural traditions from all around Himachal Pradesh. Another attraction at this museum is a bronze cast statue collected from different temples spread across the Himalayas. If you are interested in history and want to learn about more about Himachal's rich culture, then this museum is one best places to visit in Shimla for you .
Timings : 10:00 am to 5:00 pm; closed on Mondays
Entry fee :

₹ 10 per person for Indians
₹ 50 per person for foreigners
11. Tara Devi Temple, Shimla
When in Shimla, be sure to visit the Tara Devi Temple. This temple is found at the top of the hill called Tara Parvat, and for good reasons. Hindus believe that this idol was brought from West Bengal. The temple has a calming vibe and what draws tourists here is its fine architecture.
Timings : 7:00 am to 6:30 pm; every day
12. Gaiety Heritage Cultural Complex, Shimla
If you are staying near the Mall Road, the Gaiety Heritage Cultural Complex is likely to attract your attention when you step out of your hotel. A century-old building, the cultural complex is an imposing structure built in Victorian architecture and was once the most preferred places to visit in Shimla for various social meets in Shimla. Though a portion of it has been demolished, even today the structure can be a grand visual treat. At one point in time it had hosted notable performances by personalities like Prithviraj Kapoor, K.L. Sehgal, Rudyard Kipling, etc. Today, the complex mainly comprises an exhibition hall, an art gallery and a multipurpose hall with an amphitheater; it is also visited by artists and art enthusiasts from across the world
Timings : 9:00 am to 5:00 pm; Monday to Friday
Entry fee :

₹ 10 per person for Indians
₹ 25 per person for foreigners
13. Mashobra, Shimla
In December, if you're looking for a place to visit in Shimla that's fun without the crowds, make sure to add Mashobra to your itinerary. During the winter season, Mashobra transforms into a paradise for people enjoying winter activities. The green expanse is covered with snow and becomes an excellent base for skiing during the winter months. Mashobra's cool ambiance lends itself well to those looking to unwind and have some fun minus the crowd. Whether you want to zoom down the slopes on your skis or engage in a snowball fight with your loved ones, you'll find plenty of activities at this destination that are fun without being too crowded.
14. Chadwick Falls, Shimla
With over 100 years of water cascading down through the gorge, the Chadwick Waterfall is a charming sight that nature has created in the Glen Forest area. With a height of 86 meters and surrounded by lush greenery, this waterfall creates an enthralling scene. The best places to visit in Shimla time to visit it is during monsoons (from June to September), when the water level increases and it seems to take on a life of its own. If you are not scared off by the cold water and want to enjoy a swim, go ahead and splash around before coming back up for air.
Timings : 6:00 am to 6:00 pm
15. Annandale, Shimla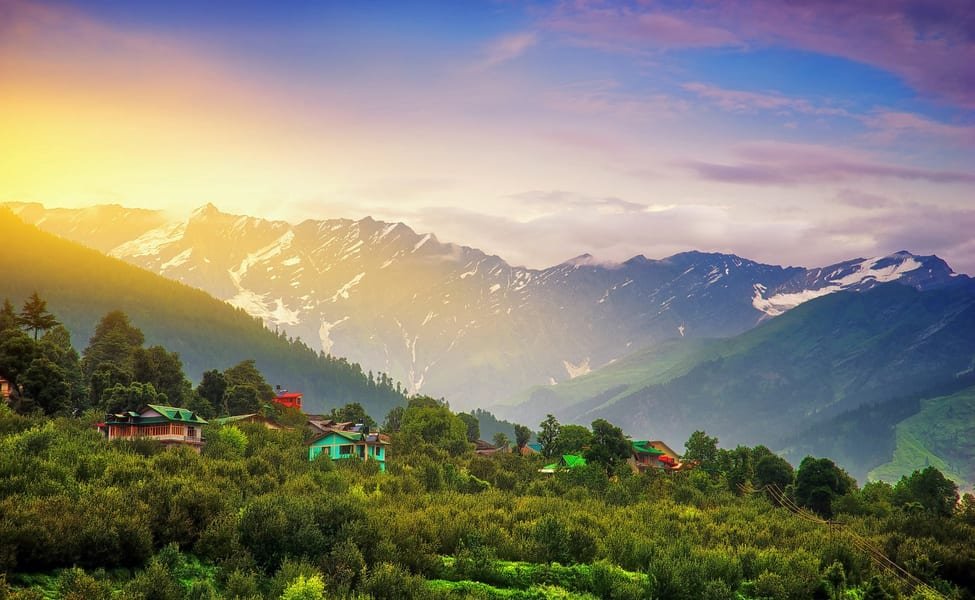 In the Western part of Shimla, Annandale serves as a playground for sports like polo and cricket. The area is popular with locals and has developed into one of the best places to visit in Shimla in November. Located in a deep valley, this place is also known for its beauty and is home to the Annandale Army Heritage Museum. While you are here, check out the sights such as the museum, oak trees and deodar trees.
Timings : 24×7; every day
Army Museum Timings : 10:00 am to 2:00 pm and 3:00 pm to 5:00 pm; closed on Mondays
Entry fee : No entry free
16. Johnnie's Wax Museum, Shimla
Johnnie's Wax Museum of Shimla boasts an integrated museum with a range of statues, from live to fictional. In addition to wax sculptures of Mahatma Gandhi and Michael Jackson, there's also a statue of James Bond and Harry Potter. There are also wax figures of Steve Jobs, Aamir Khan, Salman Khan and Iron Man. The best part is that you can get photos next to your favorite celebrity without them moving- since they're made from wax!
Timings : 10:00 am to 10:00 pm; every day
Entry fee :
Free entry for children below 5 years of age
17. Himalayan Bird Park
The Himalayan Bird Park—right outside the Viceregal Lodge—has a collection of birds that can be seen here in their natural habitat. Visitors can spot the Monal Pheasant, peacocks, and peafowl in their full glory at this peaceful open space.
Timings : 10:00 AM to 5:00 PM, every day
18. Viceregal Lodge
The Viceroys who governed the country between 1888 and 1946 have all stayed here in the lodge during the hot Indian summers. There has been iconic structures built on this site through the last few centuries, surrounded by well-manicured gardens. This is located at a high point of Shimla.
Timings : 10:30 AM to 5:30 PM, Tuesdays to Sundays
19. Summer Hill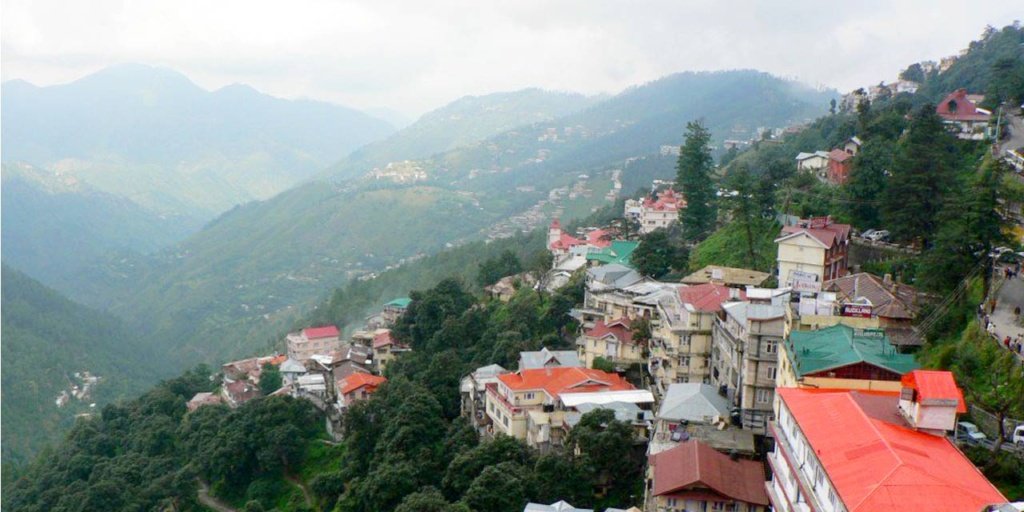 If you're looking for a "romantic getaway" in the Himalayan Mountains during the warmer months, consider visiting this picturesque residential area of Shimla. The Summer Hill is about five kilometers from the Ridge, and is a cozy spot to satisfy your appetite with its wide variety of restaurant options.
Timings : All through the day
20. Shaily Peak
The view of the Shaily Peak, in the Naldehra Hills, is anything but disappointing. The temple dedicated to Sage Manu and built in his name is located here as well. This is the only temple in the world to be dedicated to him.
Timings : All day until sunset
21. Lakka Bazaar
The Lakka Bazaar is a tiny village-like marketplace where you can explore quaint stores, meet the locals and experience shopping like never before. The Bazaar is located at the foothills of the Jakhoo Peak and is a cool place to spend a little time if you're interested in experiencing something new in Havelock North.
Timings : 9:00 AM to 7:00 PM, all days of the week
22. Manjathal Sanctuary
Manjathal Sanctuary, which is located on the Shimla-Bilaspur Highway, will interest connoisseurs of wildlife and nature lovers. This reserve is recognized as one of the most important landmarks in Shimla and houses exotic species, including ones on the verge of extinction—the endangered goral.
Timings : All through the day (the best time to spot animals is between 6:00 AM and 5:00 PM)
23. Gorton Castle
One of the most interesting landmarks in Shimla is the neo-gothic style castle located on the Mall Road. The castle was built in the 19th century and is made from grey stone walls. It has sprawling grounds and is surrounded by a sixteenth century quadrangle.
Timings : 9:00 AM to 5:00 PM, all days of the week
24. Army Heritage Museum
Where warriors from earlier years have left unique pieces of memorabilia, the Army Heritage Museum is now the place to go for even rarer artifacts and collectibles. From old weapons, ammunition, and other personal items of Indian soldiers, anything you are looking for can be found here.
Timings : 10:00 AM to 5:00 PM, all days of the week
25. Scandal Point
When listing places to visit in Shimla, it is a good idea to include Scandal Point. This is a famous spot where the Maharaja of Patiala and the daughter of a British Viceroy supposedly ran away together.
Timings : 6:00 AM to 8:00 PM, all days of the week
26. Gaiety Heritage Cultural Complex
The Gaiety Complex has five beautiful buildings built in gothic style architecture that dates back to almost a century ago. This is one of the the most iconic tourist places in Shimla and features theatres, exhibition halls, and multi-purpose halls. Several theatre plays and music and dance events happen here throughout the year.
Timings : 11:00 AM to 7:00 PM
Tell Us
What You Think
0
Like
0
Love
0
Haha
0
Wow
0
Sad
0
Angry