1.  Sabarmati Ashram, Ahmedabad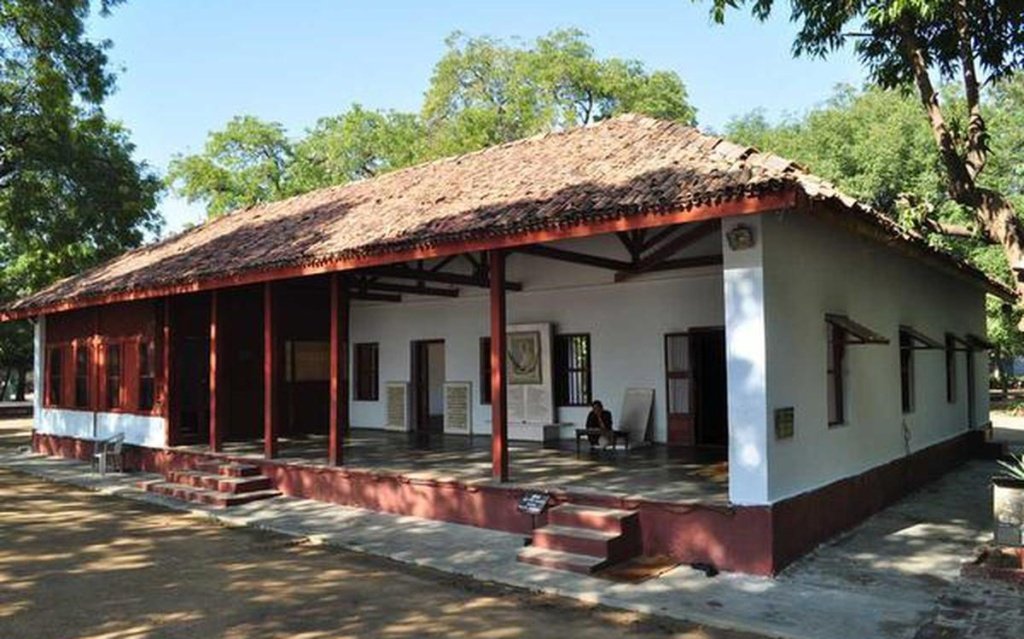 The first thing people think of when they hear the word Ahmedabad is Mahatma Gandhi and Sabarmati Ashram. Once home to Mahatma and being the center for Indian Freedom struggle, it is located on the banks of River Sabarmati. This place gives visitors an insight on life and struggles of Mahatma Gandhi.
This complex and sophisticated site reveals a lot of the personal artifacts Gandhi left behind, including plastic glasses and slippers. This site is also filled with art, a library of 35,000 books in English, Hindi, and Gujarati. As you might expect, Sabarmati holds an art gallery and literature museum that can only be found here. The landmark Dandi March started here as well.
Location: Ashram Road, Ahmedabad
Special mention: Magan Niwas, Upasana Mandir, Udyog Mandir, Hriday Kunj, and Nandini
Opening hours: 8.30 AM to 6.30 PM
Entry Fees: Free
2. Bhadra Fort, Ahmedabad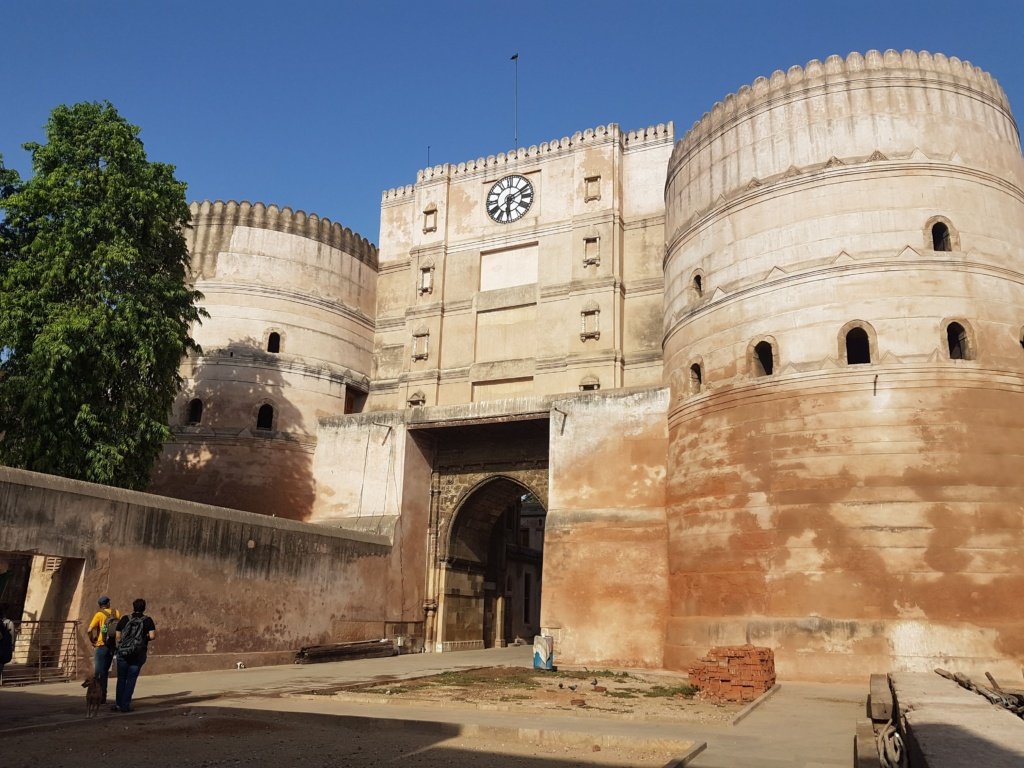 The founders of the city of Ahmedabad, Sultan Ahmad Shah, built Bhadra Fort around 1411. Bhadra Fort is now a popular tourist attraction in the city and holds many stories. It houses a temple called, Bhadra Kali Temple, which gave the fort its name. Legends tell that Goddess Lakshmi once entered this fort to shower her blessing on Sultan Ahmad Shah as he built the fort. The beautiful fortress has a grand courtyard with lush green lawns and several palaces
Location: Court Road, Ahmedabad
Special mention: Teen Darwaza, Clock Tower, Royal Square, Azam Khan Sarai
Opening hours: 9 AM to 5 PM
Entry Fee: Free
3. Jama Masjid, Ahmedabad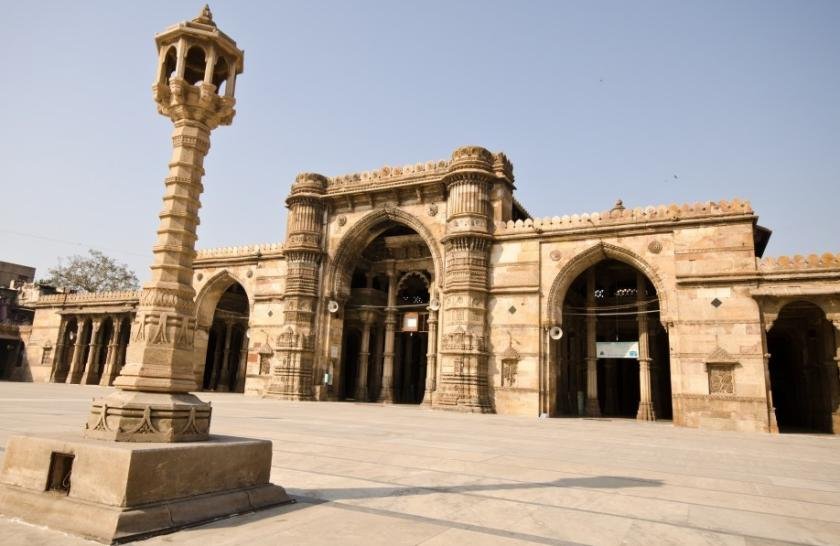 One amazing architectural destination building by Sultan Ahmed Shah is Jama Masjid, Ahmedabad. The fort was developed in the year 1423 and served as a place for Muslims to gather during Friday prayers in Ahmedabad. Located right next to Bhadra Fort, this holy mosque blends Hinduism and Islamic architectural styles with its impressive yellow sandstone and two-hundred-and-sixty pillars on its large dome. Its architecture combines Hindu and Islamic styles, and it's said that the bright yellow sand stone mosque is part of some demolished Hindu temples.
Location: Manek Chowk, Ahmedabad
Special mention: Its wide courtyard sunlight-filtering latticework
Opening hours: 6 AM to 8 PM. (closed during Namaz)
Entry Fee: Free
4. Sarkhej Roza, Ahmedabad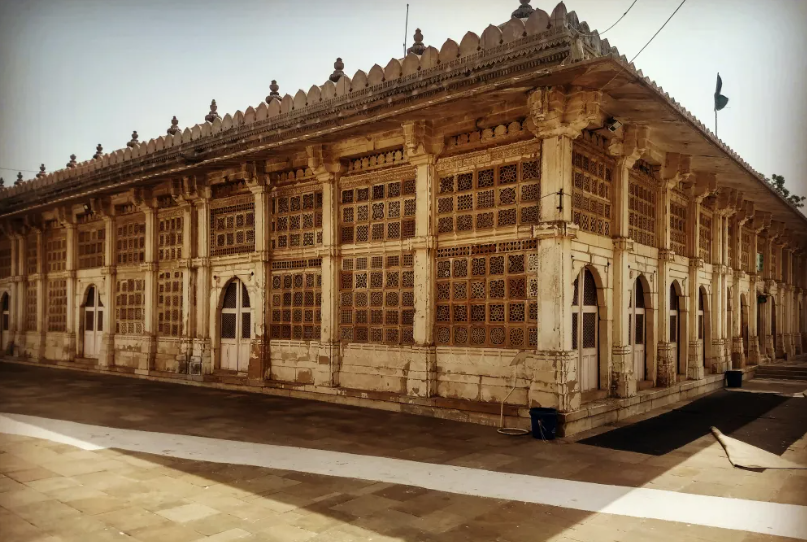 The Tomb of Sadiq is a beautiful example of an Islamic monument, amidst surrounded by exquisite Hindu architecture. It features latticework and intricate carvings. Wrapping around an artificial body of water called Sarkhej Lake, this monument is one of the major architectural wonders in the city. The brackets and pillars are Islamic but most of the ornamental motifs are from Hinduism.
Location: Sarkhej Makarba Road, Ahmedabad
Special Mention: Sheikh Ahmed Khattu Ganj Bakhsh's Tomb and Baradari
Opening hours: 9 AM to 6 PM
Entry Fee: Free
5. Shah-e-Alam's Roza, Ahmedabad
Ahmedabad has many tombs that are renowned in the world. One such tomb which any tourist should visit is Shah-e-Alam's Roza, also known as Rasulabad Dargah or Shah Alam no Rojo. This mausoleum draws visitors from far and wide for its historic significance. The dome of the tomb once displayed gold and precious stones, adding to its grandeur. The tomb complex has a smaller mausoleum with twenty-four domes, which holds the graves of Shah Alam's family members. The flooring inside the monument is done with an elegant pattern of black and white marble with beautiful lines cutting through it that give it a masterfully crafted look. The door frames, two stone pillars on both sides of the entrance are also made from white marble which is famous for its superior quality.
Location: Shah Alam Road, Ahmedabad
Special Mention: Perforated stone windows and pierced stone wall
Opening Hours: Morning to Evening
Entry Fee: Free
6. Rani no Hajiro, Ahmendabad
The heritage of Ahmed Shah, the 17th century king of Gujarat and architect of a modern mainstream Muslim state in India, is still alive today at this site. This splendid Jain temple attracts people for its calm beauty and with the addition of buntings put up by the squatters around it. The graves here are unlike other tombs. They're carved from rich mother-of-pearl and display a stunning interweaving of Jain, Hindu and Islamic artistic influences.
Location: Manek Chowk, Ahmedabad
Special mention: The road leading to the tomb is lined with shops selling souvenirs
Opening hours: 6 AM to 6 PM
Entry: Free
7. Vastrapur Lake, Ahmendabad
One of the best places in Ahmedabad is this man-made Vastrapur Lake. It is a soothing experience spending leisurely hours on its shores admiring all the greenery around it. The open-air theater here hosts many cultural shows round the year to give you a glimpse into Gujarat's colorful traditions. Read also – lakes in Ahmedabad
Location: Vastrapur, Ahmedabad
Special Mention: Jogging track and grassy shores
Opening hours: 8 AM to 10 PM
Entry: Free
8. Kankaria Lake, Ahmedabad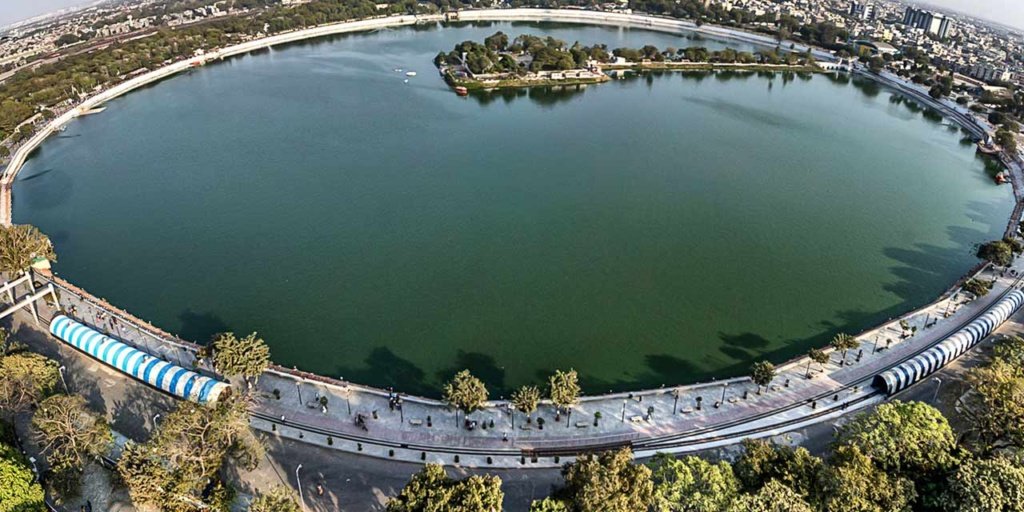 In Ahmedabad, the largest lake in Kankaria is not only a beautiful sight but also remains a popular destination visit. Built during the 15th Century by Sultans Muhammad Shah and Ahmad Shah II, it had an in-built water purification system because that was where most rulers would go for baths. An entertainment area has now been developed by the lake with zoo, kids city, toy trains, a water park with loads of rides, food stalls and much more. You can have a day picnic at this place and end your day with a stroll along the lakefront after having traditional Gujarati food.
Location: Kankaria, Ahmedabad
Special mention: Children's park, musical fountain, Jogging track, mini-golf, balloon rides, archery, Segway, mirror maze
Opening hours: 9 AM to 10 (visitors); 4 AM to 8 AM (joggers)
Entry Fee: ₹ 25 for Adults, ₹ 10 for children and free entry for joggers
9. Kankaria Zoo, Ahmendabad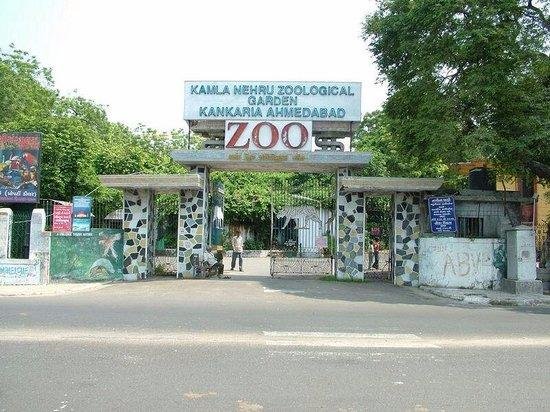 If you enjoy animals, the Kankaria Zoo has something for you. At the zoo, you will find an array of plants and a variety of animal life from birds to mammals to reptiles. The zoo was opened in 1951 and is always a popular destination for families with young children who have never seen many wild creatures before. One unique feature of the zoo that sets it apart is its Nocturnal Zone which features calm animal exhibits that were designed to mimic how they would behave typically in their natural environment. The Nocturnal zone has nocturnal-soothing lighting and sound barriers that keep animals safe while visitors outside can hear all of the noise through speakers
Location: Kankaria, Ahmedabad
Special mention: Butterfly Park, and Rasala Nature Park
Opening hours:
March to October – 9 AM to 6.15 PM
November to February – 9 AM to 5 PM
Entry fee: Free for children up to 3 years; ₹ 5 for educational tours; ₹ 10 for children between 3-12 years; ₹ 20 for adults
10. ISKCON Temple, Ahmendabad
ISKCON temple is known for its classic, traditional Indian architecture blended with a Western style. The campus holds the temple and manicured gardens, with beautiful fountains scattered throughout. ISKCON Temple is primarily dedicated to Lord Krishna and Radha, but it also offers idols of other Hindu deities.
Location: Satellite Road, Sarkhej, Ahmedabad
Special mention: Meditation in the prayer room and morning and evening aartis
Opening hours: 4.30 AM to 1 PM and 4 PM to 9 PM
Entry: Free
11. Hutheesing Jain Temple, Ahmedabad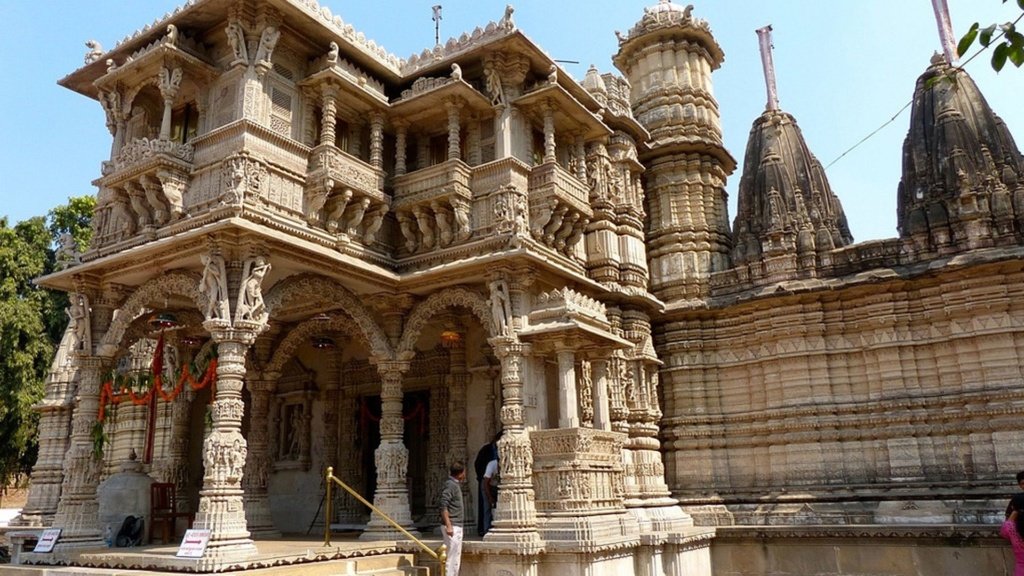 Built around 1850, by a Jain Merchant named Hutheesing Kesarsing, this temple adds to the rich cultural heritage of Ahmedabad. Made from marble and carved with extreme finesse, this exceptional work of art pays reverence to Dharmanath, who was the fifteenth Jain Tirthankara. The temple courtyard paved with marble has 52 cubicles that serve as sanctums for the various Tirthankaras.
Location: Bardolpura, Ahmedabad
Special mention: A massive courtyard and a mandapa with a large ridged dome that has twelve grandiose pillars
Opening hours: 9 AM to 5.30 PM
12. Swaminarayan Temple, Ahmedabad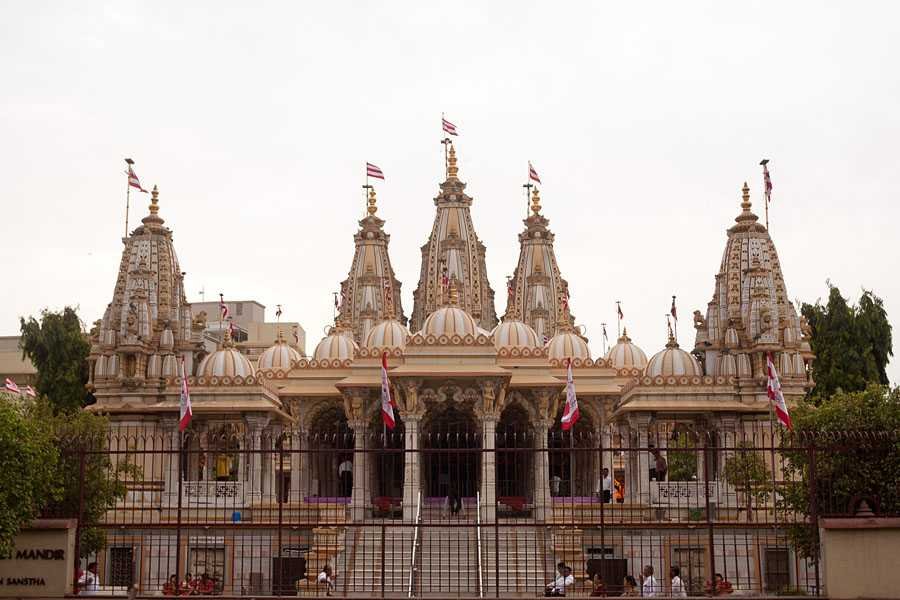 Swaminarayan Temple in Ahmedabad is a marvel of architectural beauty and master craftsmanship. The white exterior of the structure always awe visitors, who also admire its fine art and quality craftsmanship. There are nine tombs at Swaminarayan to honor Lord Narnarayan, with idols of Krishna Bhagwan along with further devotional icons like Radhakrishna and Darmadev-Bhakti Mata sprinkled all over the temple. The food served here, in terms of the cooking style, is a wholesome vegan option that is hygienically prepared.
Location: Swaminarayan Mandir Road, Kalupur, Ahmedabad,
Special mention: Nar Narayan Temple, Akshar Bhavan, Women Temple, Light and Sound Show
Opening hours: 6 AM to 7 PM
Entry fee: Free
13. The Pols, Ahmedabad
Though it may be called a pol, it is much more than just politics. These are tightly packed rows and blocks of houses, with each house having one or two secret entrances or exits that only the owner would know about. The Pols have derived their name from Sanskrit word Pratoli, which means a gate. Similar to secret passages in books, going inside the houses through one of these secret doorways would be quite a thrilling experience. With urbanisation taking over most cities now, these pols now house many small businesses in different categories. Most pols used to have a temple at the center and a platform in the courtyard for feeding birds. The architectural style of pols is often a mix of several elements with some having a Peshwa symbol on its entrance and another sporting an example of Persian-style grapevine carving on its facade.
Location: Multiple, Ahmedabad
Special mention: Intricately carved wooden facades and frescoes
14. Sidi Saiyyed Mosque, Ahmedabad
One of Ahmedabad's most iconic landmarks, the Sidi Saiyyed Mosque, stands in the centre of the city and has a beauty that knows no bounds. The intricate latticework on its sandstone yellow tower is visited by tourists from around the world and also watched by locals for its expert craftsmanship. The impressive detail seen on it make-up the logo for Indian Institute of Management (IIM), a school founded in Ahmedabad which is strongly linked to it in both name and function.
Location: Gheekanta, Ahmedabad
Special Mention: The twin jaalis that look like a delicate, intertwined framework of tree branches
Timings: 7 AM to 6 PM
Entry Fee: Free
15. Auto World Vintage Car Museum, Ahmedabad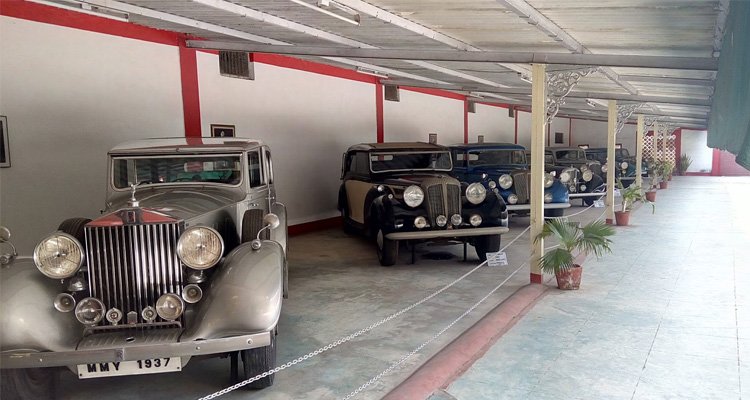 The history and evolutionary journey of automobiles can be experienced at this museum. From horse-drawn carriages to spectacular convertibles, vintage cars, and a collection of beautiful buggies, the museum is a visual delight for tourists. Cars are displayed at the museum representing brands like Rolls-Royce, Buick-Cadillac, Daimler, Bentley, Chryslers, and Mercedes.
Location: Kathwada, Ahmedabad
Special Mention: Exquisite limousines, sports cars, and boat-tailed wooden speedsters
Timings: 8 AM to 9 PM
Entry Fee: ₹ 50
16. Calico Museum of Textiles, Ahmedabad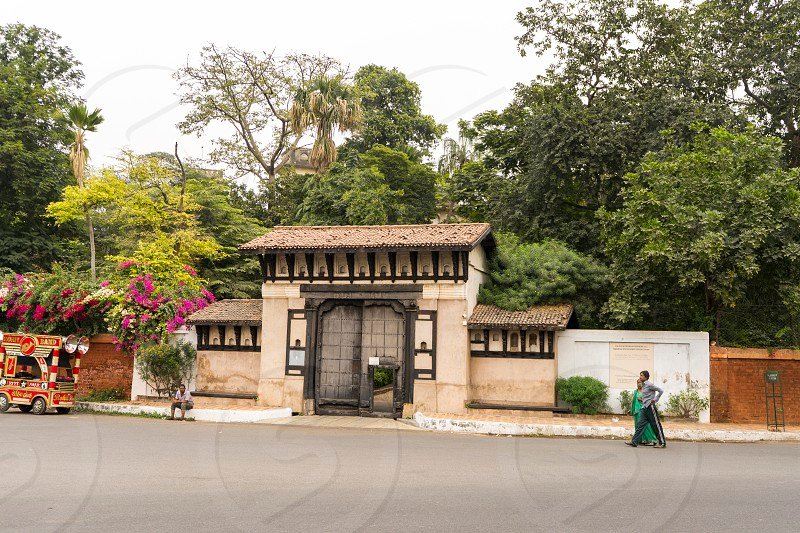 One of the oldest museums in Ahmedabad, it not only offers tours for tourists but also lets them see rare textiles, fabrics, and artefacts from all over the country. It is a reminder that India has its own customs and styles of vernacular clothing. A pashmina from Kashmir finds a place next to a tie-and-dye from Gujarat, giving visitors a glimpse of the lifestyle and culture that are visible in India.
Location: Shahibag, Ahmedabad
Special Mention: Pichwai hangings, tribal art collection, and Indian miniature paintings
Timings: 10.30 AM to 1 PM (Wednesdays closed)
Entry Fee: Free (prior registration mandatory)
17. Gujarat Science City, Ahmedabad
This science city presents scientific information in an interesting, entertaining manner to people of all ages. It is a public project launched by the Gujarat government to develop interest in science. Demonstrations that spark your imagination, activity corners where you can interact with virtual reality, and easy-to-understand demonstrations make the city one of the best things to visit for kids and students visiting Ahmedabad.
Location: SG Highway, Ahmedabad
Special Mention: 3D IMAX theatre, Energy Park, musical fountain, simulator, Hall of Space, Elecrodrome, Auda Garden
Timings: 10.30 AM to 7.30 PM
Entry Fee: ₹ 20 (adults); ₹ 10 (children) and ₹ 5 (school group)
18. Jhulta Minar, Ahmedabad
The Shaking Minarets are a must see for those interested in architecture or history. Traditionally, these three-storied constructions were part of the Sidi Bashir Mosque, but now they can be found north of Ahmedabad Junction. The stonework is filled with intricate carvings to give them a sense of history and importance.
Location: Laxmi Bazar, Ahmedabad
Special Mention: Striking architecture
Opening Hours: 5.30 AM to 9 PM
Entry Fee: Free
19. Gandhinagar, Ahmedabad
Gandhinagar, the capital of Gujarat, should be a travel destination for anyone visiting Ahmedabad. A lot of temples like the Hanuman temple and the Brahmani Temple lend an air of holiness. There is a lot to do in the city like visiting Sarita Udyan and Children's Park. Indroda Dinosaur and Fossil Park is where you want to spend most of your time during your visit. With more than 70 artfully laid out acres, visitors will enjoy various recreational activities such as a botanical garden and an amphitheatre.
Location: 26 km from Ahmedabad
Special mention: Trimandir, Fun World, Rani Roopmati's Mosque, Mahudi Jain Temple, and Sant Sarovar Dam
20. Akshardham Temple, Ahmedabad
This swaminarayan temple has the honour of being the most beautiful of India. Almost six million devotees from all around Gujarat flock to this temple every year for a chance to pay homage to Lord Swaminarayan. The structure is made up of one lakh tonnes of pink sandstone and is without risk of further steel usage. Inside, there are 1.2-tonne gold-plated idols that hold Abhay mudra with Swaminarayan's right hand raised high, always reminding those who enter the temple to seek enlightenment and your inner peace, not just in temples, but all forms of life as well. Furthering this perspective, Mystic India takes you through a child yogi's path of enlightenment while teaching you how yoga can transform your life.
Location: 26 km from Ahmedabad
Special mention: the Seven-foot high golden idol of Lord Swaminarayan
Opening hours: 9:15 AM to 5:15 PM. Mondays closed.
Entry fee: Free
21. Adalaj Step Well, Ahmedabad
Step wells are seen frequently in Gujarat, as they were the primary water source of the area before modern plumbing rendered it useless. The love of the people for color and ornamentation is reflected in these step wells too. They are intricately carved and decorated to just like the other architectural wonders in the area. Adalaj step well is the most famous of all of them in the city. It was constructed by Rudabai, who was a chieftain of one of the prominent cities By 1499, each floor of this step well has been intricately carved and features galleries that overlooks its depth at octagonal well. Hindu mythology is being vividly showcased through carvings on pillars on each level. The shafts feature elaborate floriography and geometric interlacing that's been done with figures that create a beautiful look . The pavilions have diffused lighting at night on their ceilings for an especially fascinating look at this step well. The step well speaks highly about their fine craftsmanship and architectural brilliance employed in designing it.
Location: 30 km from Ahmedabad
Special mention: The annual Water Festival in Adalaj-Ni-Vav, which is organized every year in November. The weeklong festival celebrates The World Heritage Week.
Opening hours: 5 AM to 7 PM
Entry fee: Free
22. Nalsarovar Bird Sanctuary, Ahmedabad
This sanctuary, which is considered to be one of the largest bird sanctuaries in the country by stretching over fifty kilometers, is home to a variety of exotic aviary species. With Nal lake and marshes in the region, many migratory birds with honed migration preferences are seen here. Flamingos and spoonbills are other popular aviary species that you might plan for if your itinerary allows for a visit.
Location: 60 km from Ahmedabad
Special mention: Sarus Crane and his famous dance that has him gracefully bowing down with his wings outstretched
Opening hours: 5 AM to 7 PM
Entry fee: ₹60 for entry and ₹100 for a camera. Boating charges are ₹220 per person and ₹1320 for an individual boat
23. East River Drive, Ahmedabad
East River Drive, Ahmedabad
The east end of the city, although it has a continuous artery such as Ashram Road, lacks north-south access. East River Drive made it possible to travel the uninterrupted distance from the airport in the north to Ambedkar Bridge at the south.
On the east side of the river, SRFD streets have a 30 meters wide right of way. All SRFD streets have dedicated pedestrian paths, cycle tracks, and 6 meter (20 foot) wide roadways with parking bays. Access lanes on one or both sides of these roads provide entrances to the existing development and when required, the proposed riverfront development. Infrastructure services run below the access lanes and underground stormwater lines run below the central verge.
24. West River Drive, Ahmedabad
The streets in the western part of the city run north-south and mix with other roads as needed to create contingencies and reinforce the street structure. There is an important east-west artery, Ashram Road, used for car traffic, and it is connected by SRFD street that allows for alternative road use.
The SRFD streets on the west bank are 25m wide and have dedicated pedestrian paths, parking bays, and carriageways at 6m wide. Access lanes provide entry to properties that exist within the development, while stormwater infiltration lines run below the central verge.
25. Riverfront Market, Ahmedabad
Ravivari, the informal Sunday Market that has been held under Ellis Bridge has been provided with a new home near Gaekwad Haveli, right next to its previous location. It has been designed as an open air market with a functional arrangement of platforms and zones and will accommodate vendors on Sundays, seasonal markets during the week. The Saturday market has also been provided with seating areas at the ground floor for visitors, public washrooms, plazas, vehicular access and parking facilities.
It has been made open to the public, following a formal inauguration by the Chief Minister of Gujarat- Shri Narendra Modi on 03 February 2014.
Have More Details About the Purpose of this Project
26. Riverfront Flower Park, Ahmedabad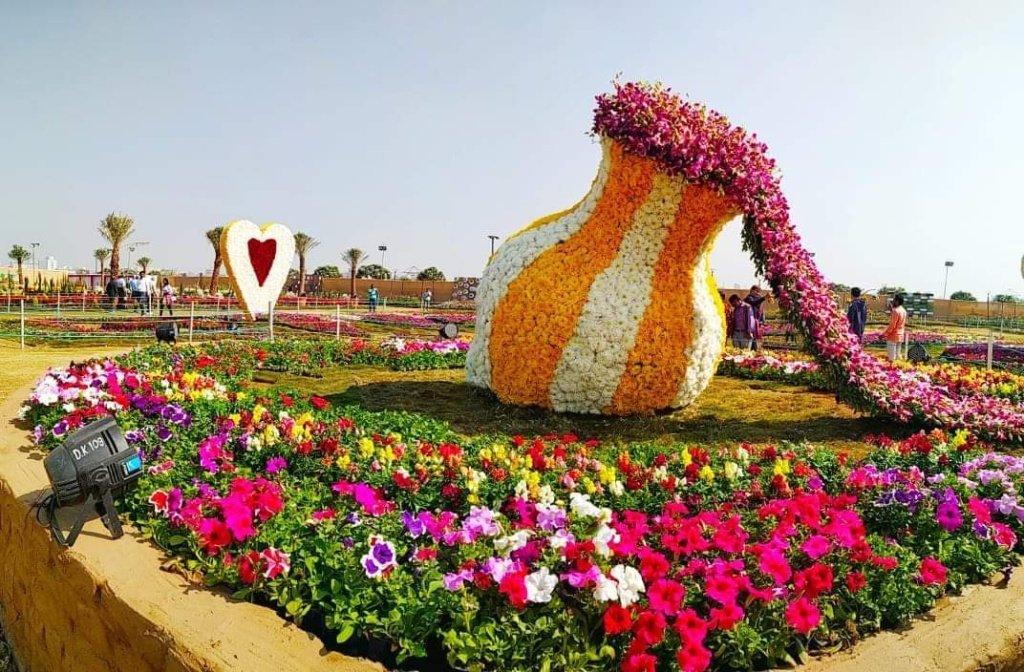 To experience the joy, happiness, and beauty of nature, Flower Park offers a variety of flowers for people to relax. There are more than 72 different types of flowers in the park, including different leaf colors, fragrances, and themes. This 3.85 acre park above Ellisbridge has many individual gardens with a large valley of flowers so that visitors can see as many flowers as they desire.
Timing : 9:00 AM to 9:00 PM
27. Riverfront Biodiversity Park, Ahmedabad
The 9-hectare Biodiversity Park will serve as an ideal alternative habitat for migratory and resident bird species. The park is located right at the edge of Vasna Barrage and near to Ambedkar Bridge. It has more than 5,000 trees, making it a space that gives citizens a place to relax away from the humdrum of city life.
Timing : 7:00 AM to 5:00 PM
28. Riverfront Children Park, Ahmedabad
To promote holistic well-being of children through playing, Riverfront Children Park is the perfect location near Dafnala. The park has a huge play area with slides and swings, playground climbers, seesaw. There is also a musical fountain for kids to enjoy their time swinging like crazy. Additionally, this Music Fountain releases stress in adults and helps them have an enjoyable time.
Timing : 9:00 AM to 9:00 PM
Tell Us
What You Think
0
Like
0
Love
0
Haha
1
Wow
0
Sad
0
Angry