1. Allen Forest Zoo, Kanpur
Allen Forest Zoo is the largest of its kind in North India and a great place to visit with your family. The zoo is home to chimpanzees, leopards, rhinos, and tigers and some of the most popular animals within it are the botanical garden housing many species, as well as moments by the lake. The zoo's aquarium has a train running past it that kids love while keeping you informed on what's happening everywhere else because there's so much scenary to take in. Laying back on one of the many open arcs of land looking at the cascading leaves or taking a swig from that soothing cup of tea – this zoo has everything for everybody: nature enthusiasts and animal lovers alike will thoroughly enjoy what it has to offer.
Timings : 8:00 am to 5:30 pm; closed on Mondays
Entry Fee :
Adults – ₹ 30 (ordinary days); ₹ 40 (holidays and Sundays); ₹ 50 (train ride)
Kids – ₹ 15 (ordinary days); ₹ 20 (holidays and Sundays); ₹ 25 (train ride)
Foreign nationals (adults) – ₹ 150 (on all days)
Foreign nationals (kids) – ₹ 75 (on all days)
2. JK Temple, Kanpur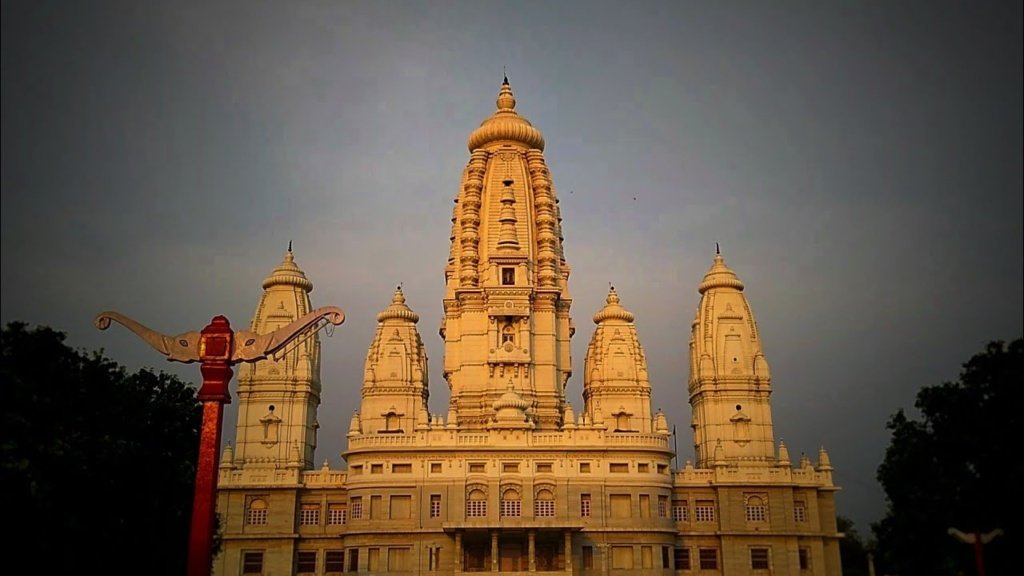 The Shri Radhakrishna temple, which is thought to be built around 520 AD, stands as an elegant example of the old vernacular style of temple architecture. It features five shrines in separate towers and houses idols of different deities such as Lord Radhakrishna and God Shiva. The main shrine can accommodate 5500 devotees at a time while the temple complex also boasts a central hall with a roof that can hold 2000 people standing.
Timings : 5:00 am to 12:00 pm and 4:00 pm to 10:00 pm; every day
Aarti Timings : 7:00 pm; every day
Entry Fee : Free
3. Moti Jheel, Kanpur
For those looking for peaceful moments, Moti Jheel is the best option in Kanpur. This rectangular lake cum reservoir was built during the times of British to provide water to the city. Later, a recreational space with a park for children and a landscaped garden was added to it. Today, Moti Jheel counts among top 10 places to see in Kanpur, especially when traveling with kids and family.
Timings : 5:00 am to 9:00 pm; every day
Entry Fee : Free
4. Z Square Mall, Kanpur
The Z Square Mall is a vibrant, air-conditioned leisure and shopping center which offers many fun young local and international flavors of dining and shopping. It has an open space design and a children's play area to help keep the entire family entertained, so you can relax after a successful outing. Some of the eating options include American fast food, Chinese dishes, and the best of North India cuisine. Cafés also provide a place to recharge your phone batteries or hold intimate conversations with friends. The INOX multiplex is another top attraction at the Z Square Mall where you can catch some huge blockbuster Hollywood-Bollywood movies.
Location : Mall Road, Bada Chauraha
Store Timings : 11:00 am to 9:30 pm (weekdays); 11:00 am to 10:00 pm (weekends)
5. Bithoor, Kanpur
There are many attractions in Bitharyanchala, located about a two-hour northeast of Kanpur city. The Brahmavart and Patthar Ghats are where many take their holy dips while other landmarks of Bithoor include the Valmiki Ashram where Sita Devi believed to have stayed during her exile. The Sudhanshu Ji Maharaj Ashram (also known as Sidhhidam Ashram) is an oasis for weary souls and those who seek a quiet, spiritual place. One of the major attractions here is a replica of Mount Kailash where Lord Shiva and Parvati are believed to reside. Bithoor was also where one of the main rebels of the 1857 revolution, Nana Sahib, was born.
Distance from Kanpur : 24 km. (approx.)
6. Japani Garden, Kanpur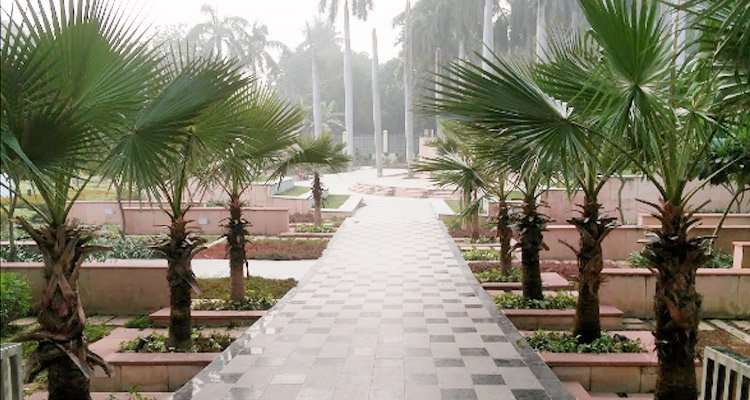 The Japani Garden is a famous spot in Kanpur and provides an Oriental aesthetic at the time of day when people are most happy. The garden is located near the iconic Moti Jheel, making these two destinations ideal for a single trip and families typically converge here on Sundays. Given this, it would be a great spot to keep watching interesting people during a slow night, or perhaps reading that book you picked up on Saturday afternoon.
Timings : 8:00 am to 6:00 pm; every day
7. Ganga Barrage (Lav Kush Barrage), Kanpur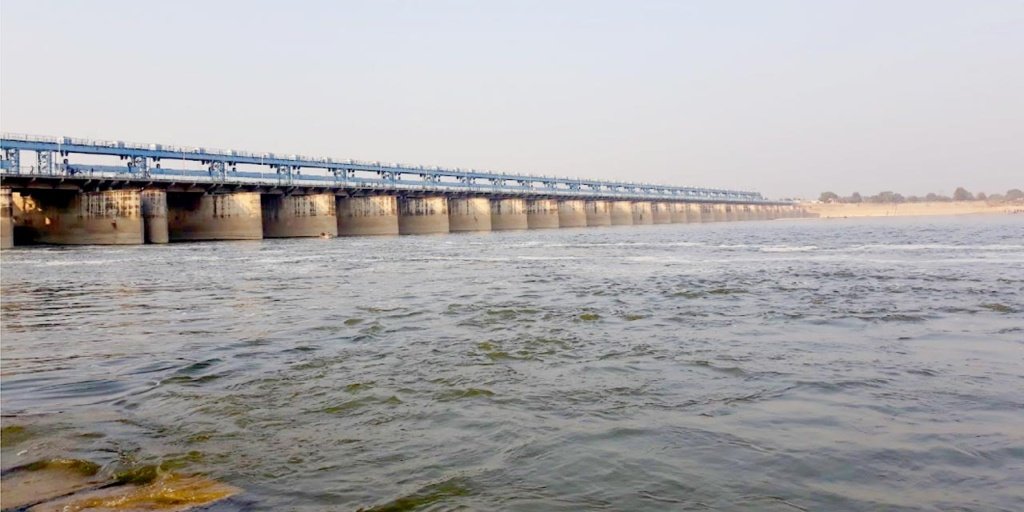 The Ganga Barrage, a waterway that spans the majestic Ganges, is an iconic part of the city. Its importance is functional rather than cultural. It is now a major logistical lifeline but you can also go there for some majestic views of the river. There are numerous tea shops and eateries nearby, so you can munch on snacks throughout your stay and have a quintessential Kanpur evening by the waters of the holy Ganga.
Timings : 24×7
Entry Fee : Free
8. Kanpur Memorial Church, Kanpur
Constructed in 1875, the Kanpur Memorial Church is dedicated to the British civilians who were killed during the siege of Kanpur. Enamoring visitors from afar, the striking Gothic-style architecture of the structure transcends over its surrounding landscapes as it towers over them. The bricks used in this construction are a throwback to architectural styles that were popular for Europe in the 19th Century. Other highlights here include the memorial garden next to the church, Gothic-style screen and detailed sculpture of an angel.
Timings : 9:00 am to 6:00 pm; every day
Entry Fee : Free
9. Jajmau, Kanpur
Jajmau is a busy neighborhood in Kanpur and it has a reputation for being the hub of the famous leather industry. It is also the site of many ancient archaeological finds, some of which are more than 1,000 years old. Buy shoes and leather goods at the leather markets, or visit some of the old mosques that dot the town. The Siddhnath Ghat performs religious ceremonies for Hindus, located beside the Ganges River.
10. Kamla Retreat, Kanpur
The Kamla Retreat is a private mansion owned by the Singhania family, located in Kanpur. Guests can roam around the grounds and enjoy the serenity of this verdant oasis, which provide many benefits for people looking to turn over a new leaf and experience peace. Highlights of visiting here include a pool area where guests can enjoy splashing around while relaxing in shaded areas or workshops led by professional historians and scholars curated throughout the property. There are croquet sets available for guests who wish to exercise their bodies outdoors as well.
Location : HBIT East Campus, Nawabganj
Timings : 24×7
Entry Fee : Restricted entry; contact the manager of the Kamla Retreat for entry fee details.
11. Nana Rao Park, Kanpur
Located in the center of the city near major commercial point, Nana Rao Park is a popular rendezvous for both locals and tourists. The park was built in honor of India's freedom from British rule with locations honoring those commemorated for the 1857 Rebellion. Today, the lawns and flowers serve as romantic spots for people to enjoy some breath-taking scenery. History enthusiasts will recognize some of the people immortalized in monuments here – Rani Lakshmi Bai, Tatya Tope, etc. Some of them are preserved just like Maharaja Umaid Singh who became to be known as 'The King Who Gave Green Back' after he donated green corridors across Kanpur.
Location :  Mall Road
Timings : 5:00 am to 8:00 pm; every day
Entry Fee : ₹ 20 per person
12. Phool Bagh and Kanpur Museum, Kanpur
Phool Bagh, or the English Gardens, is one of the most popular parks in Kanpur. Located in Old British Kanpur, it has served as the site of public gatherings and political rallies for more than 100 years. It was originally built by British colonizers during the nineteenth century to serve both as a garden and a recreational areas for British administration. The most important landmark in the area is Kanpur Sanghralaya – an important historic museum situated on its grounds – which has been serving to educate locals since it opened in 1865.
Location : Mall Road
Park Timings : 7:00 am to 7:00 pm; every day
Entry Fee : ₹ 10 per person
13. Jain Glass Temple, Kanpur
The Jain Glass Temple located in Kanpur is a modern landmark and spiritual center that must be seen if you are in town. It's the right building at day-break, or at sunset to see it shimmer in its best light. The temple follows the traditional Hindu architecture style with ornate pillars, high painted ceilings, extravagant fixtures and a beautiful domed central tower. The whole place is embellished with glass and mirrors including vividly colored murals on glass panels, giving it an incomparable brilliance of finish. There's also a huge marble platform on which the statues of the 24 Thirthankaras are enshrined.
Location : General Ganj
Timings : 6:00 am to 11:00 am and 4:30 pm to 5:30 pm; every day 
Entry Fee : Free
14. ISKCON Temple, Kanpur
With a labyrinth of white marble, the ISKCON or International Society for Krishna Consciousness celebrates peace and devotion. You can wander about the spacious interiors and spend some time in quiet meditation at its ashram. There is also an eating space inside the temple that serves wholesome vegetarian food. The temple complex houses many idols of Hindu deities sculpted from marble and have musical fountains and a beautiful pond. You can also shop for souvenirs at the well-stocked gift shop at the temple to take home memories of your Kanpur trip.
Location : Mainavati Marg, Bithoor Road
Timings : 4:30 am to 8:30 pm (mid-day break is between 1:00 pm to 4:00 pm); every day
Entry Fee : Free
15. Blue World Theme Park, Kanpur
The Blue World Theme Park in Kanpur is an ultimate escape from the hot summer sun and is a must-visit destination. There are several water slides and they all end with a wonderful cool splash in the well-maintained pools. The park also has dry rides and some of the key attractions here include the Chair Lift, the Free Fall, and of course, the Blue World Roller Coaster. The kids and family zones are where you can relax and dabble in some pleasant rides. The Blue World has specific themed areas with Chinese, Roman, Egypt, Jungle, and European inspired attractions. The food court here will ensure that you are always close to your favorite snacks after all the adrenaline rush.
Location : Bithoor Road
Timings : 10:30 am to 7:30 pm; every day
Tickets :
Water Park / Amusement Park- ₹ 600 for adults (weekdays); ₹ 700 for adults (weekends); ₹ 300 for kids (weekdays); ₹ 350 for kids (weekends)
Water Park + Amusement Park- ₹ 750 for adults (weekdays); ₹ 850 for adults (weekends); ₹ 400 for kids (weekdays); ₹ 450 for kids (weekends)
* Locker and costume charges are extra.
16. Green Park Stadium, Kanpur
The area known as Green Park has been an important indicator of match-ups. It hosted Shahid "Shoaiby" Afridi's jaw-dropping century and Azharuddin captained India's 150th victory against Sri Lanka just a few of the many highlights from this stadium's illustrious life. Cricket fans will love visiting.
Location : Near Civil Lane
17. Sadar Bazaar, Kanpur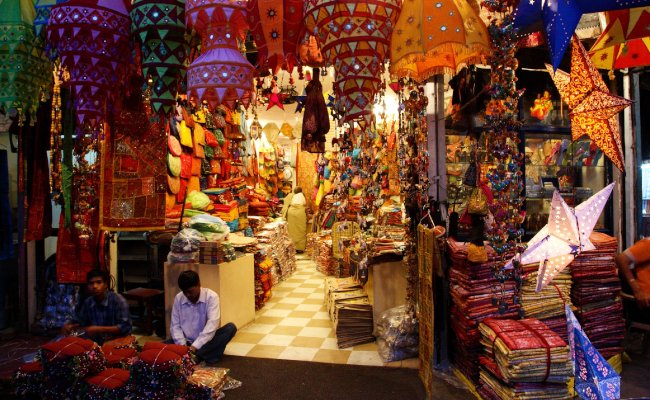 If you are interested in getting the pulse of what is happening in Kanpur, or if you want to find local resources for your trip, then a visit to the busy Sadar Bazaar is recommended. These places draw many locals and tourists because of their large collections of time-saving products like apparels and home decor items. There are also many street vendors that serve authentic Kanpurian dishes such as laddoos and gol-gappas while malls nearby add entertainment.
Tell Us
What You Think
0
Like
0
Love
0
Haha
0
Wow
0
Sad
0
Angry