1. Victoria Memorial, Kolkata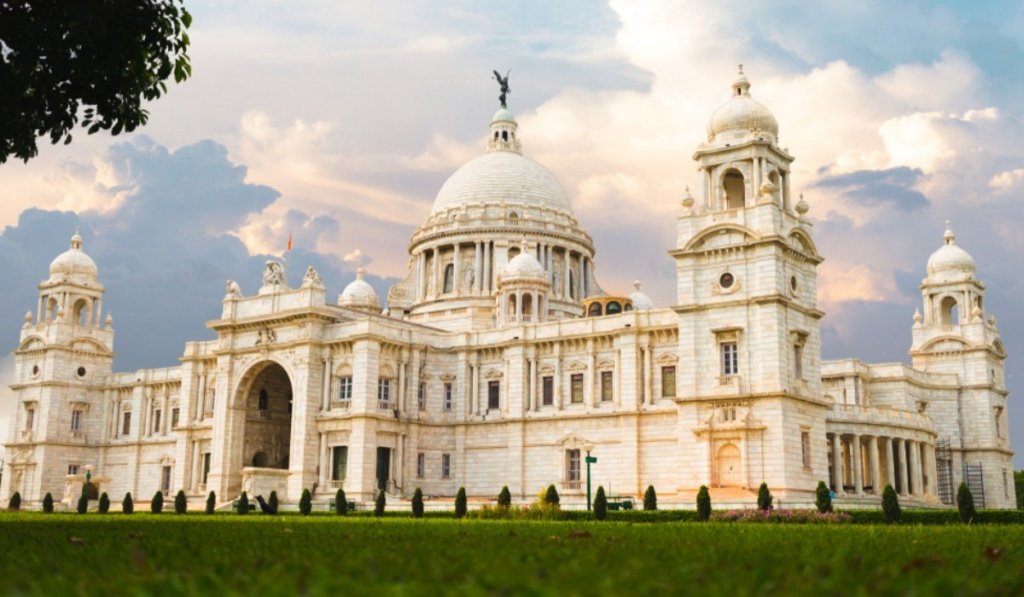 India's history is displayed at the Victoria Memorial in Kolkata, named after Queen Victoria. The complex contains a museum and is perfect for history buffs. You can take in India's past through light and sound shows throughout the day and by visiting India's freedom struggle through paintings, artifacts, sculptures and books. At least 3-4 hours should be spent to gain an understanding of our country's past.
Timing : Museum – 10:00 am to 05:00 pm; closed on Mondays and National Holidays Gardens – 05:30 am to 06:15 pm; every day
Entry Fee : Museum – ₹20 for Indians; ₹500 for foreign nationals Gardens – ₹10 per person
2. Howrah Bridge, Kolkata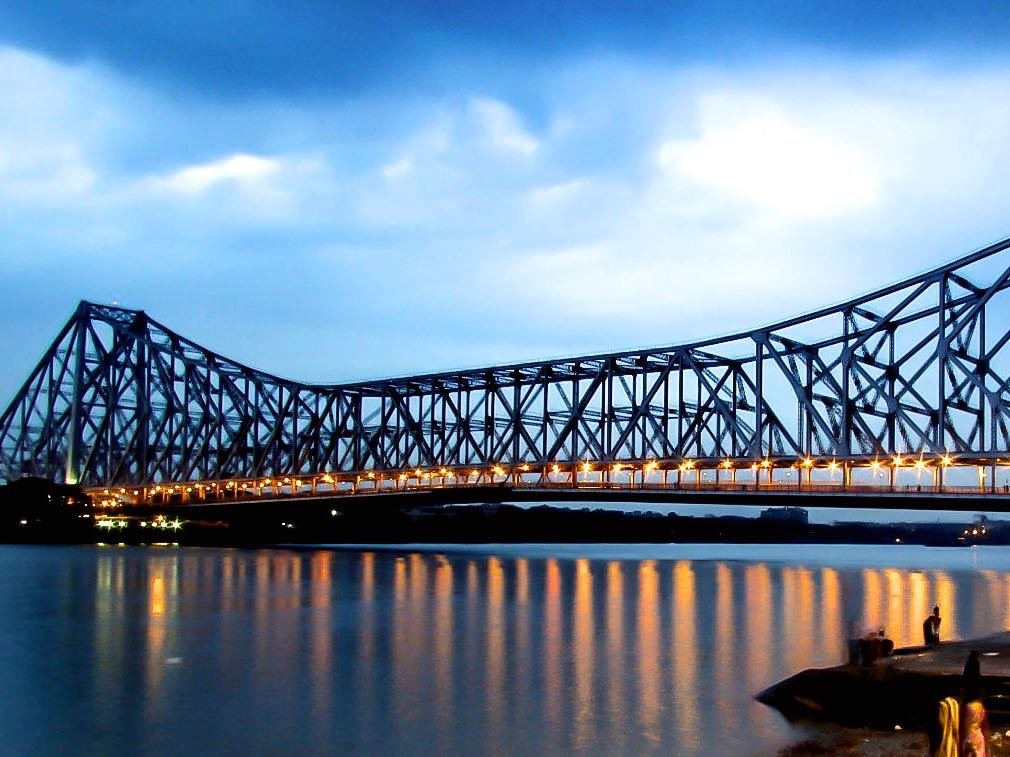 The Howrah Bridge, located in the city of Kolkata in India, is an unofficial emblem of the city. It's a place that people visit for some peace and quiet on the ocean, dawn or dusk. Sitting here in silence or observing the fishermen at work it is a good way to spend your time.
Trivia : Did you know that the bridge has been renamed after Rabindranath Tagore and is now called Rabindra Setu.
3. Park Street, Kolkata
If you are a fan of posting pictures of your Sunday brunches, head on over to Park Street. With these top notch Instagrammable cafes and restaurants, you're bound to find some amazing shots. Park Street has become a central hub for people who want to unwind after they do their brunch shopping.
Trivia : Park Street is also home to India's first independent nightclub.
4. New Market, Kolkata
Built by the British in 1874, New Market is the place where all the shopaholics go to get the best of clothes, jewelry and other items. One of the places to visit in Kolkata for youngsters, New Market has around 2000 stalls and has a maze of labyrinthine pathways. If you can bargain and have a good eye for items– but don't forget to bring your manners– this would be perfect for you.
Pro Tip : If you cannot shop in crowded spaces, avoid the place during the weekends. Check Malls in Kolkata
5. Dakshineswar Kali Temple, Kolkata
One of the oldest, and most important temples on Earth, the Bhavataran temple receives thousands of visitors from all over the world. If you have ever been touched by wonder at the beauty of an ancient symbol, this is your chance! Get ready to be immersed in its eternal grace.
This is the temple that Rani Rashmoni founded to commemorate her husband and the fabulous wealth she inherited from his estate. Originally envisaged in a dream, it took much longer than expected to build because she believed during the construction phase of a temple one should not serve for money but for God only.
6. Kumortuli, Kolkata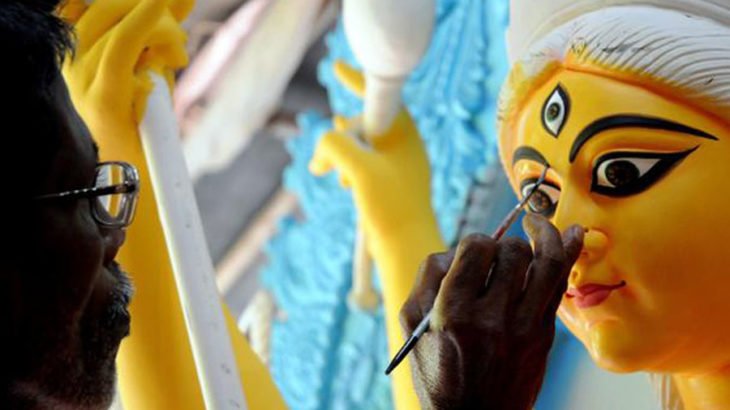 Durga Puja is a continuous 10-day festival that takes place in Kolkata. In addition to the majestic pandals, there is a feast of delicious food served during the festival's final day. This is one festival you definitely want to be part of, but if you are more creative than someone who just likes to attend, we recommend going to Kumortuli and Witnessing how Durga idols are made.
A potter's community which is around 300 years old, the place buzzes with visitors in the weeks leading up to the annual festival. Over 150 families live and work there and dedicate themselves to creating all of the beautiful idols for the event. You can walk around and talk to potters and see how they craft these beautiful ornaments.
7. Babu Ghat, Kolkata
If you want to visit a quieter and more scenic place in Kolkata, consider visiting Babu Ghat which is a picturesque location with an amazing view of the iconic Howrah Bridge. This place has become popular with photographers due to its stunning views and becomes too crowded to visit later.
Location : Strand Road, BBD Bagh
8. College Street, Kolkata
College Street is one of the premier shopping destinations in Kolkata, similar to Daryaganj in Delhi. The only major difference is that College Street stays open all week.
Don't forget to bundle up, wear comfortable shoes, and bring a sweater with you to find secondhand items at College Street.
9. South Park Cemetery, Kolkata
One of the most haunted places in India, this place is equal parts beautiful and equal parts eerie. Established in 1767, the cemetery was founded by the British and is a relic of their architectural style. During the day, take a walk through and you will find many impressive areas.
That is true, during the day the place is closed, but on nights like this you are not permitted to enter.
10. Old Chinatown, Kolkata
The only Chinese city in all of India, this place is a haven for people who want to taste the delicacies of this Asian country. The place evolved after Chinese traders who came to work on the ports settled here. While some stalls may have lost their authenticity, there are still some that serve authentic Chinese appetizers like pork sausage, prawn crackers, momos and fish ball soup.
Timings : 10 am – 8:30 pm
11. Indian Museum, Kolkata
The Indian Museum is one of the oldest museums in the world. It's date of foundation goes back to 1814 when it was established in Calcutta. Among its 35 galleries, there are a number of historical artifacts, like Mughal paintings, skeletons, fossils, mummies and more. It's also the largest of any museum in that region.
Location : Park Street, Kolkata
Timings : Tuesday-Sunday 10:00 AM to 5:00 PM
Entry Fee : ₹10 for Indians, ₹150 for foreigners
12. M.P. Birla Planetarium, Kolkata
In the list of places to visit in Kolkata, one cannot ignore the majestic Birla Planetarium, which was opened in 1963 by Pandit Jawaharlal Nehru. The planetarium has exhibition corners, several galleries, a library, and a very impressive theatre room with high-end projector screens. It is great to introduce astronomy to children.
Location : Jawaharlal Nehru Road, Kolkata
Timings : 12:30 PM to 6:30 PM
Entry Fee : ₹100 per head
13. Alipore Zoo, Kolkata
The Alipore Zoo is a major tourist attraction in Kolkata, especially if you are travelling with children. The Alipore Zoo houses some amazing animal species, birds and reptiles. You can spot the one-horned rhinoceros, white tigers, zebras, the Swinhoe's Pheasant, and many migratory birds there.
Location : Alipore Road, Kolkata
Timings : 9:00 AM to 4:30 PM
Entry Fee : <5 years old – ₹10, >5 years old – ₹30 a
14. Town Hall, Kolkata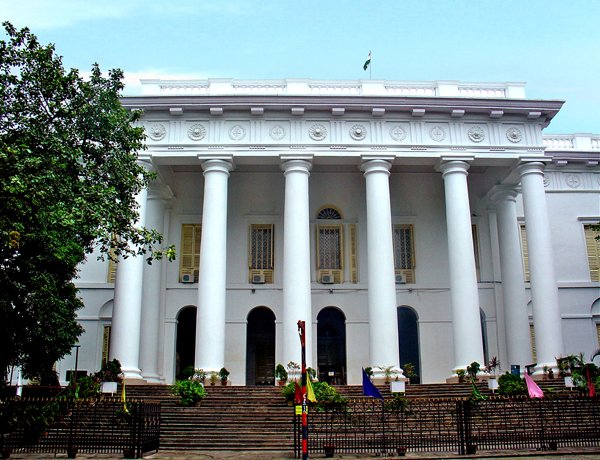 You wouldn't want to miss the Roman Doric architecture with its grandeur and storied British history. This is a beautiful building perfectly showcasing the royals, the establishment, and British culture. The wonderfully maintained building is 30-feet tall, so don't forget your neck in good health!
Location : B.B.D Bagh, Kolkata
Timings : 9:00 AM to 5:00 PM
Entry Fee : ₹10 per head
15. Eden Gardens, Kolkata
If you are a cricket fan, there is no way you can miss seeing the Eden Garden Stadium in Kolkata. This stadium is recognized as one of the best places to see matches and has hosted many world-class games. These memories grew for fans when they stepped into the Eden Garden Stadium for a game. The Eden Garden Stadium holds 66,349 people at a time–making it second only to Melbourne Cricket Ground as the largest cricket stadium in the world.
Location : B.B.D Bagh, Kolkata
Timings : 5:30 AM to 11:30 PM
16. Jawaharlal Nehru Road, Kolkata
If you want to experience Kolkata at its best, pay a visit to the Chowringhee Road. Located in Central Kolkata, this is a location that locals and tourists love. The street lined with small and big shopping complexes and stores is great for strolling in the evenings.
Pro Tip : Do not hesitate to bargain here!
17. Jorasanko Thakur Bari, Kolkata
Those with a love of poetry should visit this home of Rabindranath Tagore. This is the ancestral home of late Tagore and it has three separate galleries filled with paintings, personal items, and books by the Tagore family. The house is surrounded by a lush garden providing peace in the middle of the city.
Location : Rabindra Bharati University campus, Jorasanko, Kolkata
Timings : Tuesdays to Sundays from 10:30 AM to 4:30 PM
18. Marble Palace Mansion, Kolkata
Located in North Kolkata, the Marble Palace Mansion was built in the year 1835. This property houses beautiful architecture and paintings as well as a zoo filled with rare and exotic species of birds and animals. You can visit the property to see its unique architecture or museum to see beautiful paintings.
19. Princep Ghat, Kolkata
Prince Phat Ghat is a perfect place to spend your evenings. With the surrounding grounds lit up at night and country-style house on the bank of the river, this place provides an ideal location for enjoying a leisurely and relaxed evening. Princephat Ghat is found in a strategic spot and is located under the second Hooghly Bridge.
Best time to visit : After 6:00 PM
20. Birla Mandir, Kolkata
Kolkata offers some of the most beautiful places in India to visit, and one such location is the Birla Mandir. Made from marble stone, this place was commissioned by the Birla family who invested 26 years into its construction.
Location : Chowdhury Avenue, Ballygunge, Kolkata
Timings : 5:30 AM to 11:00 AM and 4:30 PM to 9:00 PM
21. Science City, Kolkata
The Science City is one of the top tourist destinations in Kolkata and has been popularized recently. This government-run center contains one of the largest attractions in India – The Aquatic World, Jurassic World, and the Time Machine. Students love to visit and learn about its popular exhibits.
Location : East Topsia, Kolkata
Timings : 9:00 AM to 8:00 PM
Entry Fee : ₹60
22. Fort William, Kolkata
Fort William was constructed in 1696, and it has served a variety of purposes. The fort is owned by the Indian army right now but you can still visit it for free. You can take pictures of the amazing architecture and enjoy the grounds that make this historical site worth a visit.
23. Kalighat Kali Temple, Kolkata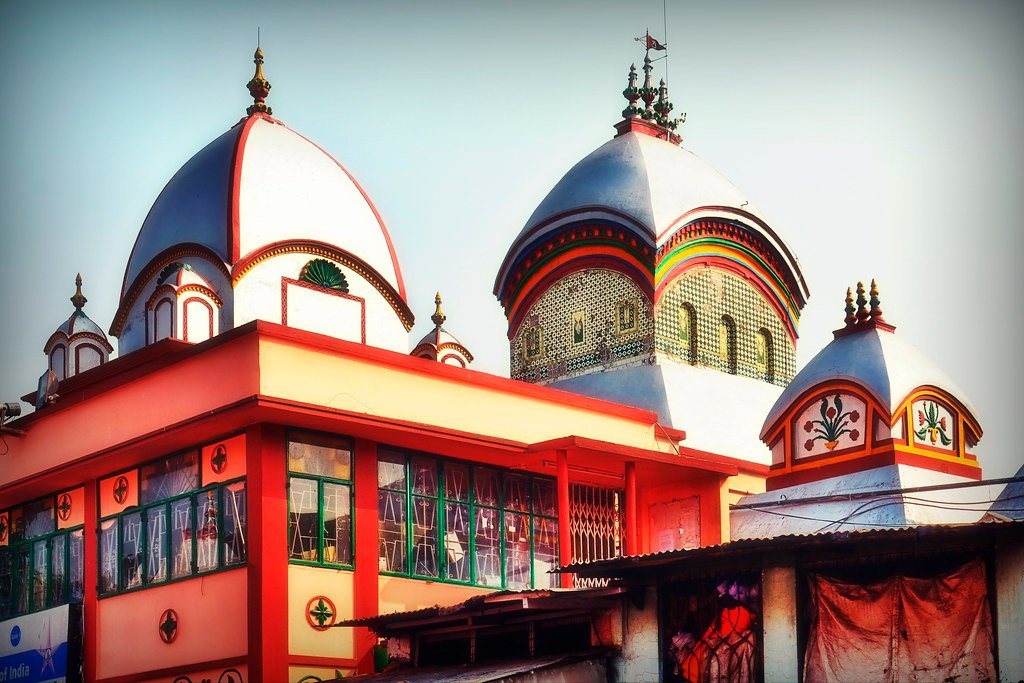 The original name of the city Calcutta originated from the term 'Kalighat'. Kalighat is one of the oldest neighbourhoods of Kolkata and a part of this city surrounded by busy streets. The temple located in this bustling part is famous for devotees to go and gain merit by worshiping Kali goddess.
24. St. Paul's Cathedral, Kolkata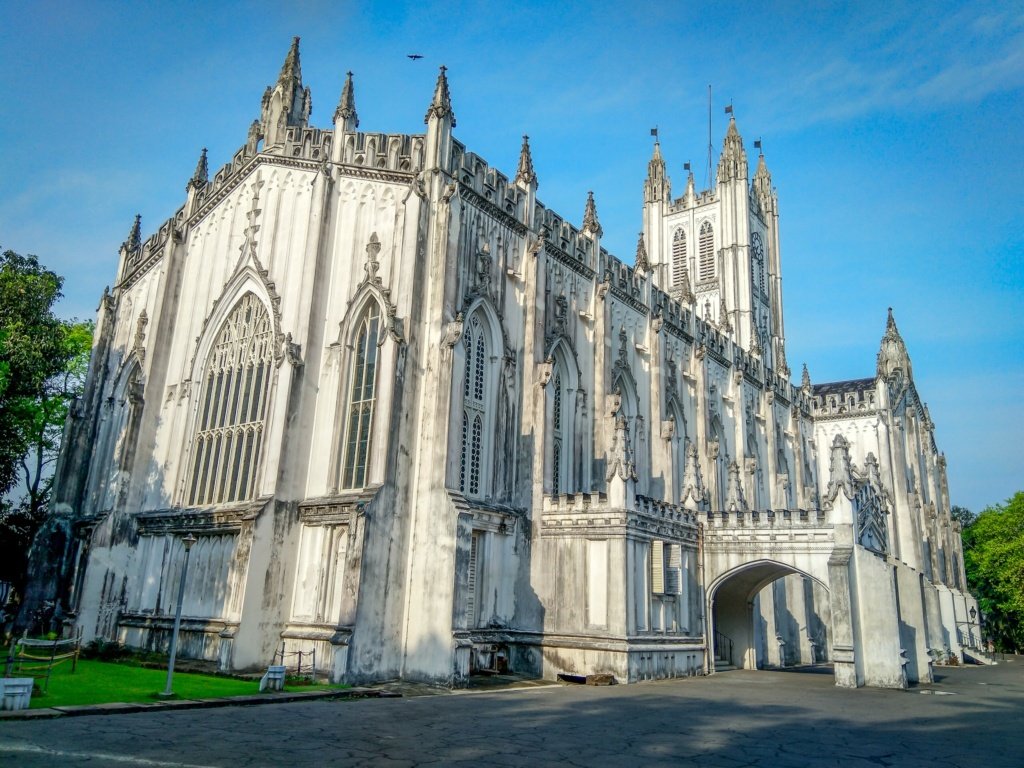 This is one of the first cathedrals built by the Britishers in India. Located in the heart of the city, St. Paul's Cathedral is built in an indo-gothic style and is an impressive structure you should not miss visiting. The cathedral complex is serene and calm, leaving you feeling relaxed.
Entry timings : 9:00 AM to 12:00 PM, 3:00 PM to 6:00 PM
25. Belur Math, Kolkata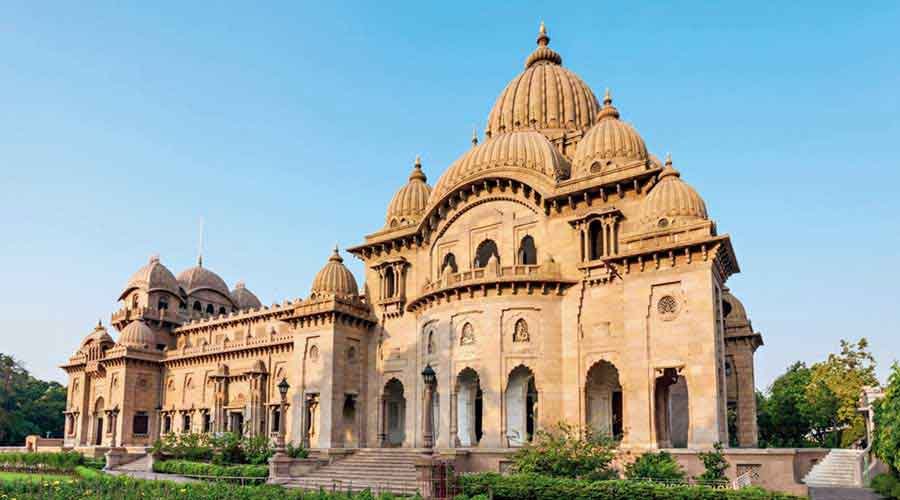 The Belur Math is located on the banks of the Hooghly River, and it was once the headquarters of the Ramakrishna Mission. This is a peaceful location to get away from everyday stress. You can view Swami Vivekananda's living quarters in his safe haven, while also visiting a spiritual shrine.
Location : Howrah District, West Bengal
26. Mother House, Kolkata
The Mother Teresa's Tomb, often called the Mother House, is a small building that houses the tomb. There are several photos, personal belongings, and articles displayed here. If you're visiting Rippon Street, definitely visit this beautiful building.
Timings : 8:00 AM to 12:00 PM, 3:00 PM to 6:00 PM
27. Rabindra Sarovar, Kolkata
Here is a artificial lake located in South Kolkata. This is a common ecreational spot for most locals. The perfect time to visit the lake is early mornings or after 5:00 PM. You can spot migratory birds here during the season. The pathway is filled with a park, beautiful gardens, and an auditorium.
Pro tip : Take a long stroll around the lake and gorge on lip-smacking street food outside the lake complex.
28. New Town Eco Park, Kolkata
This is the largest park in the country. The park covers over 480 acres and has an island in the middle. It's divided into three themed gardens and open spaces, recreational spots, and ecological zones, making it one of the best tourist attractions in Kolkata.
29. Nicco Park, Kolkata
Are you interested in spending your day in a park full of rides and games? Nicco Amusement Park is the place for you! Located in Bidhannagar, Kolkata, this park features hundreds of attractions and activities, ranging from human-sized roller coasters to tiny cars and small baby swings. If you want to stay all day, this is the place to be.
Timings : 10:00 AM to 5:00 AM
Entry Fees : ₹300 per head
30. Nakhoda Masjid, Kolkata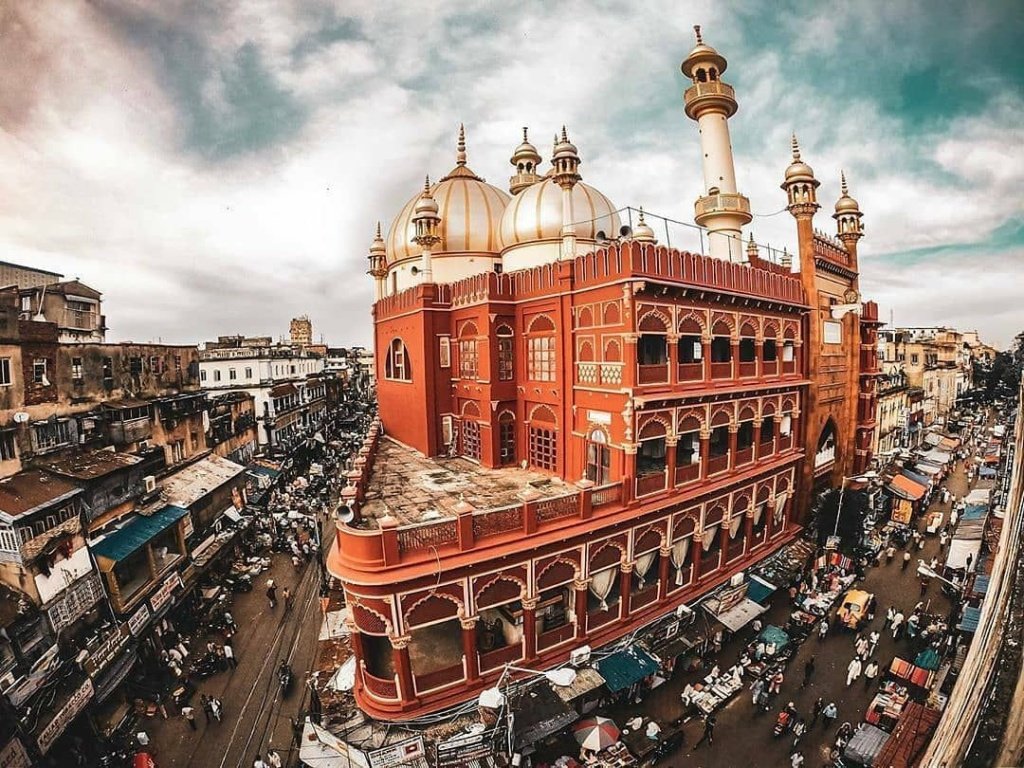 The Nakhoda Masjid in Kolkata is often a popular spot for locals and tourists. Its tall minarets and dome attract more people to this place of worship than just about any other location in the city. The prayer hall can hold up to 10,000 people at a time, making it the largest of its kind in Kolkata.
Location : Rabindra Sarani, Chowringhee North, Bow Barracks
31. Birla Industrial and Technological Museum, Kolkata
Established in 1959, Birla Industrial & Technological Museum (BITM) is the first science museum in the country. The museum via various interactive programmes and exhibitions is actively engaged in promoting science among the masses especially the youth and children. Its popular shows include Sky Observation, Fun Science, 3D Film, Surprising Chemistry and Mathematics Demonstration.
Timings : 10 am to 6:00 pm
Entry Fee : INR 30
32. Pareshnath Jain Temple, Kolkata
Parshwanath Temple or Kolkata Jain Temple is of significant religious, architectural, and spiritual importance to India as a whole. In 1867, Rai Badridas Bahadoor Mookim built this beautiful temple complex of intricate marble and gorgeous stained glass. For centuries, 500,000 pilgrims have visited each year to meditate here while immersed in the peacefulness of this place.
Timings : 6 am to 10 am & 5 pm to 8 pm
33. Millennium Park, Kolkata
Kolkata's Millennium Park has a variety of attractions for people of all ages. The park is located along the Hooghly River and features beautiful lights, botanical greenery and several rides. Not to mention sitting around its lakes are perfect for long walks or boating. But what fascinates most about this popular middle-class suburb is its Indian food court that serves a wide variety of cuisines.
Timings : 10 am to 6:30 pm
Entry Fee : INR 10
34. ISKCON Temple, Kolkata
The ISKCON Kolkata is the first ISKCON center in the country, established in 1972 by the Acharya A.C. Bhaktivedanta Swami Prabhupada. Also alias Sri Sri Radha Govind Mandir, institutions popularize Lord Krishna's teachings based on the Sanskratha Bhagvad Geeta and Vedas. Do visit with a meal prepared entirely with vegan cuisine prepared by volunteer devotees when you're visiting this particular site.
Timings : 4:30 am to 1:00 pm and 4:00 pm – 8:30 pm
Tell Us
What You Think
0
Like
0
Love
0
Haha
0
Wow
0
Sad
0
Angry