1. Hadimba Temple, Manali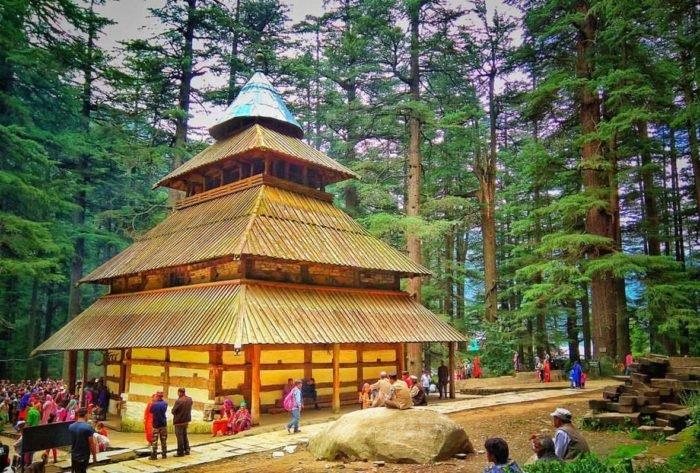 This ancient shrine was built by Maharaja Bahadur Singh who completed it in 1553. The name Hidimba Devi Temple suggests that the temple is dedicated to Hidimba Devi, wife of Bheema. The architecture is wooden and very distinct from most Hindu temples you will come across in India. There's another shrine dedicated to Hidimba Devi's son Ghatotkacha in the premises. Surrounded by trees, snow-capped mountains and a picturesque view, Hidimba Devi Temple is one of the best places to visit in Manali.
Location : Old Manali
Timings : 8:00 am to 6:00 pm; every day
2. Solang Valley, Manali
An 8400 foot high Alpine valley adjacent to Manali, Solang Nala is a great place to try skiing or snowmobiling. Zorbing and paragliding are also enjoyed here by visitors during warmer seasons. For those looking for blue skies, cable cars are operated from December through March and offer a wonderful view of the mountains.
Location : Burwa, Manali
Distance from Manali : 14 km (approx.)
3. Jogini Waterfalls, Manali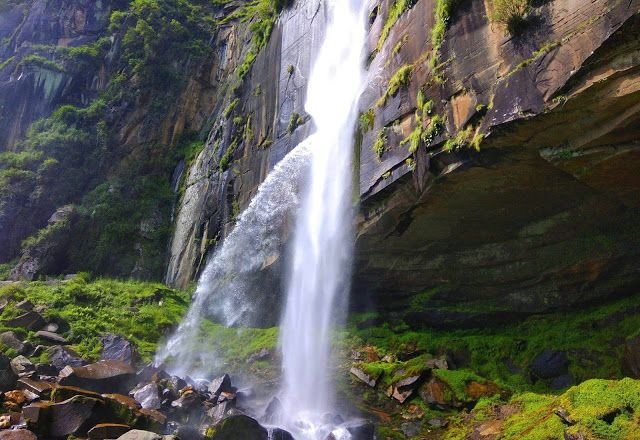 A short, yet exhilarating trek from the main town of Manali to Jogini Falls. The trail takes you close to the Beas River, up the snow-capped peaks of Rohtang, and provides a glimpse into some of the natural spots of Manali in Northern India. You will also see many old shrines at the bottom of the cascades as well. An early morning or evening start is recommended so you can maximize your time here at one of the top trekking spots in Manali.
Location : Vashisht Village, Manali
Timings : 24×7
4. Manu Temple, Manali
The Manu Temple is dedicated to an old sage after which it has been named. The pagoda-style architecture of the shrine stands out amidst the deep vales and mountain peaks that make for a scenic postcard-worthy backdrop. Hiking to reach the temple is a little bit of work, but you will see amazing views at the summit and find spiritual satisfaction from visiting once you are there.
Location : Old Manali
Timings : 6:00 am to 5:00 pm; every day
5. The Manali Gompa, Manali
The Gadhan Thekchhokling Gompa is said to be a pilgrimage site for tourists looking for spiritual healing as it has been constructed in the pristine setting of Manali, India. Frequented by many renowned spiritual celebrities, such as Buddhists, Tibetans and yoga lovers – the monastery is home to beautiful murals depicting Buddhist stories in vivid colors and architecturally impressive roofs that are fashioned on those found in the Pagoda style. For avid souvenir shoppers or those who want to add a little bit of Indian culture to their lives, you must visit this complex in Manali.
Location: Old Manali Road, Manali
Timings: 6:00 am to 6:00 pm; closed on Sundays
6. Bhrigu Lake, Manali
An alpine meadow with trees and a serene body of water is just what you need to think about when putting together your trek. The mountain range as well as the beautiful views, will be there to uplift your morale. Bhrigu lake is one of the most popular destinations in Manali, and the acclimatization necessary for visitors makes it a great spot for trekking.
Location: Kullu District, Manali
Distance from Manali: 19 km (approx.)
7. Hampta Pass, Manali
Counted as one of the easy to medium difficulty Himalayan treks, the Hampta Pass trek allows you to enjoy mesmerizing views of the Kullu Valley and Lahaul Valley. The Chandratal Lake located along the route is another key attraction of the trek. The pass is located on the Pir Panjal Range at an elevation of over 4,000 metres and the route includes fascinating river crossings. There are many groups in Manali that conduct Hampta Trekking tours and their charges vary based on itinerary and days.
Distance from Manali : 15 km (approx.)
8. Nehru Kund, Manali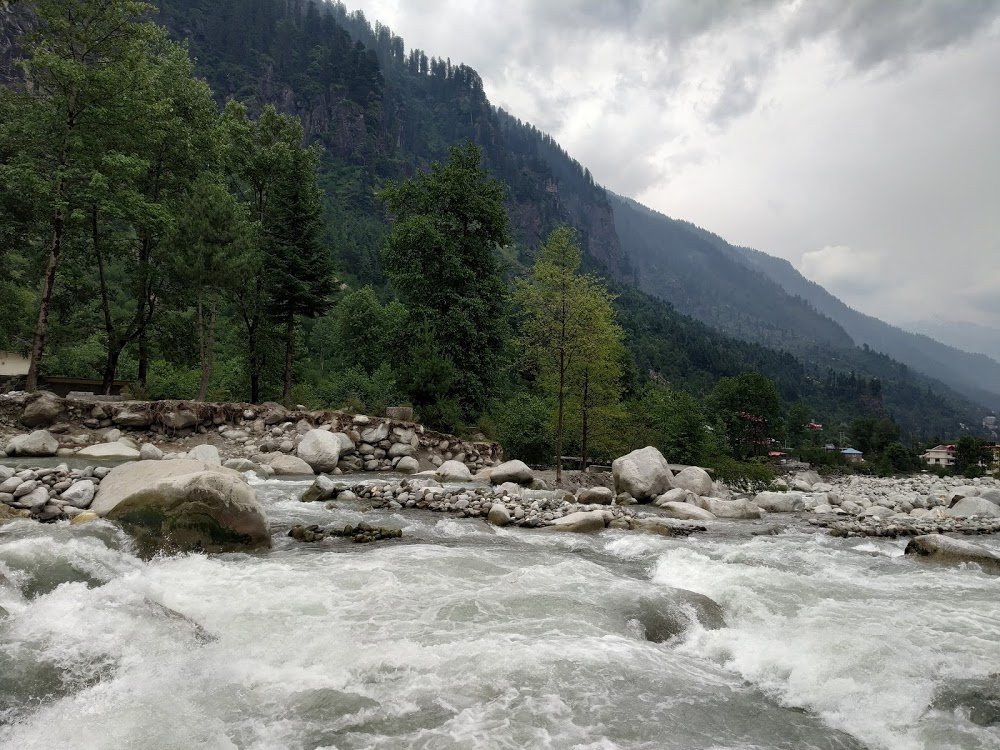 Nehru Kund is a good place to visit in summers because Nehru, India's first Prime Minister, often visited it during his time in Manali. The springs are named so because Nehru would share the water he drank with other people and there are great views of the Himalayan landscape that makes for a good stop on your journey to the Rohtar Pass. It's also ideal for photographers and nature lovers.
Location : Vashisht, Manali
Timings : 7:00 am to 7:00 pm; every day
9. Arjun Gufa (Arjun Cave), Manali
Arjun Cave is ranked as the third-most visited place in Himachal Pradesh. Located close to the gushing currents of the Beas River, it is associated with a legendary story from the Hindu epic Mahabharata. As per the legend, Arjun, one of the Pandava brothers, meditated here. One of the best places near Manali for a basket picnic, Arjun Cave offers stunning views of the hills and valleys surrounding it. You can also visit Kunt Bhayo Lake and Kunti Mata Temple nearby.
Location : Near Prini Village, Manali
Distance from Manali : 21 km (approx.)
10. Van Vihar, Manali
If you want to relax with some nature in the setting of Manali, a short walk through Van Vihar Park is worth it. One of the most popular attractions in Manali, Van Vihar is a public park that has plenty of lushness and deodar trees. You can even hop on a boat and explore around the man-made lake here. Bird watchers will be able to find local species among the many trees at any time of day in this park.
Location : Dhungri Village, Manali
Timings : 8:00 am to 7:00 pm (summer); 8:00 am to 5:00 pm (winter)
Entry Fee : ₹ 5 per person; ₹ 30 for 15 minutes of boating
11. Himalayan Nyingmapa Buddhist Temple, Manali
The tranquil atmosphere of the Nyingmapa Buddhist Temple in Manali is the perfect place for a break from your busy life. The temple sits in a picturesque corner of the busy town, with its pagoda-style architecture, vibrant tones and inspiring artworks all adding up to create an otherworldly wonderland. When visiting here don't forget to spin the prayer wheels while giving another visit to the Sakyamuni idol and wall paintings. Rated among one of the best monasteries in Manali, Nyingmapa is where you can connect with yourself spiritually.
Location : Near Manali Mall Road, Manali
Timings : 6:00 am to 7:00 pm; every day
Entry Fee : No entry fee; photography is charged at ₹ 20
12. Vashisht Hot Water Springs and Temple, Manali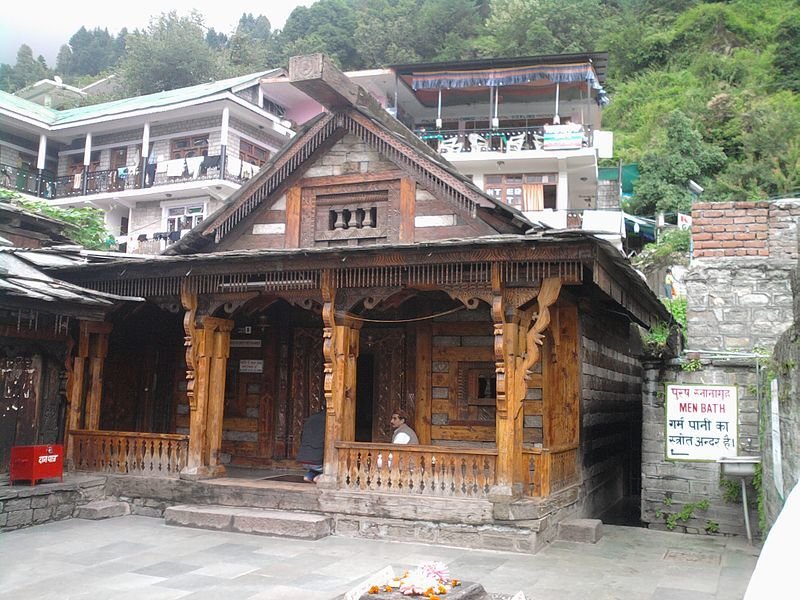 A spiritual village in the Himalayas with a history of more than 4000 years, Vashisht temple is one of the most well known places in Manali. The temple's interiors feature wooden carvings and antique figures, with many symbols and paintings through-out. It is also home to unmistakable hot springs that are believed to be healing. In Manali, you can also experience shopping as well as see why woolen goods are such a big hit here.
Location : Vashisht Village, Manali
Timings (Temple) : 7:00 am to 9:00 pm; every day
13. Museum of Himachal Culture and Folk Art, Manali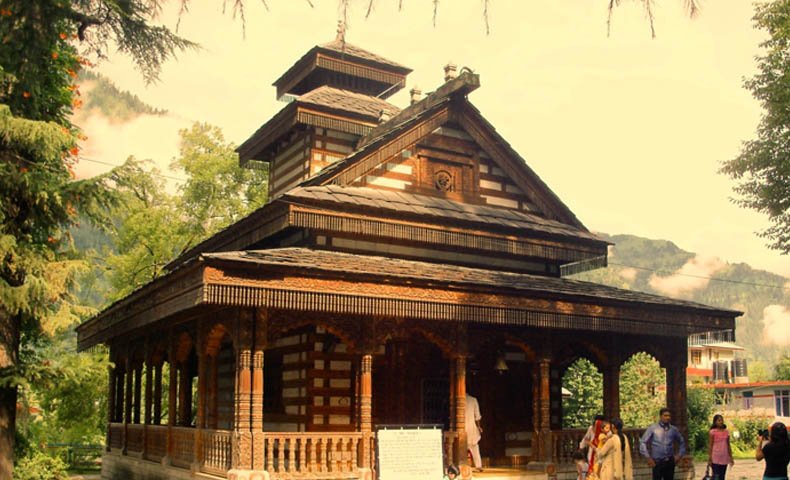 A stop at the Museum of Himachal Culture and Folk Art displays some of its rich cultural history and traditions. The museum also has a rotating collection that can include ancient house models and masks for dances, traditional garments, and musical instruments. Established in 1998, this small yet culturally rich place is a great way to introduce oneself to the diverse history and traditions of Himachal Pradesh.
Location: Utopia Complex, Hadimba Temple Road, Manali
Timings: 9:00 am to 7:00 pm (April to November); 10:00 am to 6:00 pm (December to March)
Entry Fee : ₹ 10 per person
14. Kothi, Manali
Located on the iconic Spiti highway, just as you leave Mount Kothi you turn left at an altitude of 2500 meters and drive down to Kothi. The village is renowned for its beautiful mountain setting and majestic views of snow-capped peaks and glaciers. You can also see amazing sights of the Beas River that flows through this region. Just ask about camping in Kothi. There is also a temple dedicated to Goddess Shuwang Chandika that resides here in this Indian hamlet.
Distance from Manali : 14 km (approx.)
15. Beas River, Manali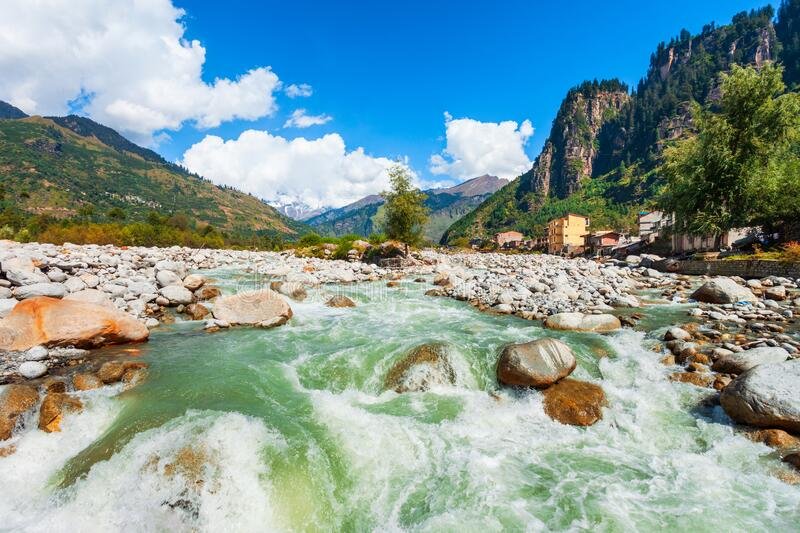 The Beas River is a well-known landmark of the area, which can be visited on most areas of your trip through Manali. You'll find this river in Vashisht village and various other beautiful places highly appreciate the views from its source to the valley below with its clear blue water. The Beas River features a variety of water sports like kayaking and rafting where you can enjoy exciting rapids in Pridi.
16. Great Himalayan National Park, Manali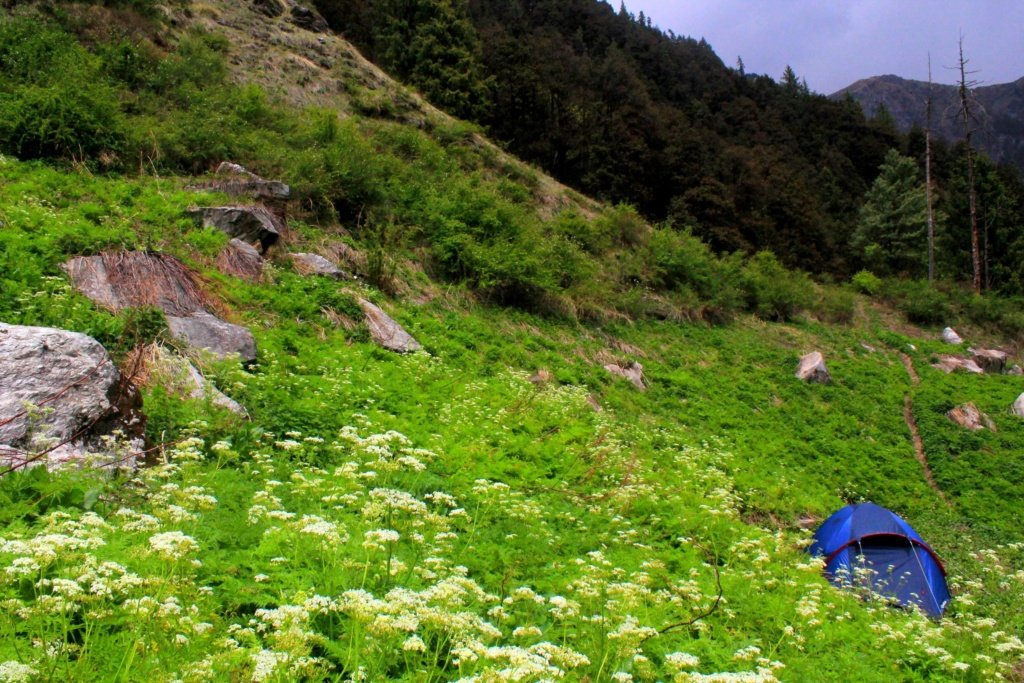 Touted as one of the best places to visit in Manali and its surrounding regions, the Great Himalayan National Park is a UNESCO World Heritage site. The park is home to many rare species, including over 1000 plants, 209 bird species, and 31 mammal species. There are also populations of the Himalayan tahr and brown bears here. Photographers will relish capturing the wildflowers and glacial valleys that dot the entire terrain within the park. As permits need to be obtained in advance for entry into the park, expect only modest accommodation options available onsite.
Distance from Manali : 49 km (approx.)
Timings : 10:00 am to 5:30 pm; every day
Entry Fee : ₹ 50 for Indians; ₹ 200 for foreigners
17. Gulaba, Manali
Winter travelers visiting Gulaba should go to nearby villages and experience the distinct culture of the place. They will not be disappointed if they add Gulaba to their list. A favorite haunt for hikers, Gulaba has some of the best hiking routes in Himachal Pradesh. Many consider it a good spot for camping and stargazing because of low light pollution and high altitude.
Distance from Manali : 20 km (approx.)
18. Old Manali, Manali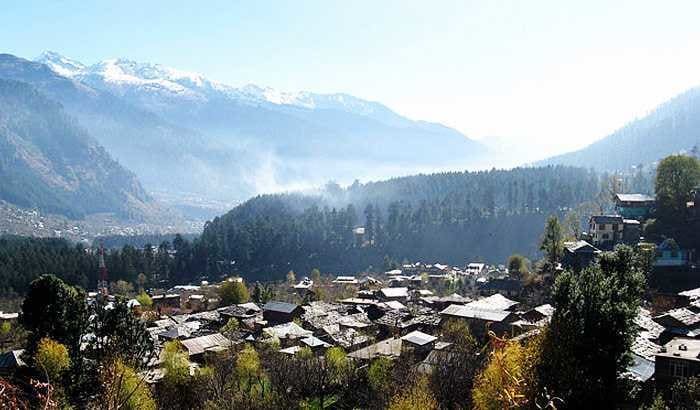 One of the unique things about Manali is that you can visit to see how it looked in the past, when it had a slower pace and before the influx of tourists. The Old Manali has some amazing views because of its forests and orchards. It's a photographer's paradise because of the bridge over the high-current Manaslu River. Manali was featured in many pop culture scenes, as many have visited Cafe 1947, Born Free, Evergreen, and Sunshine Cafe. Additionally, there are lots of shops in which you can buy dream catchers, boho chic clothing, shrugs, and woolens.
19. Rahala Falls, Manali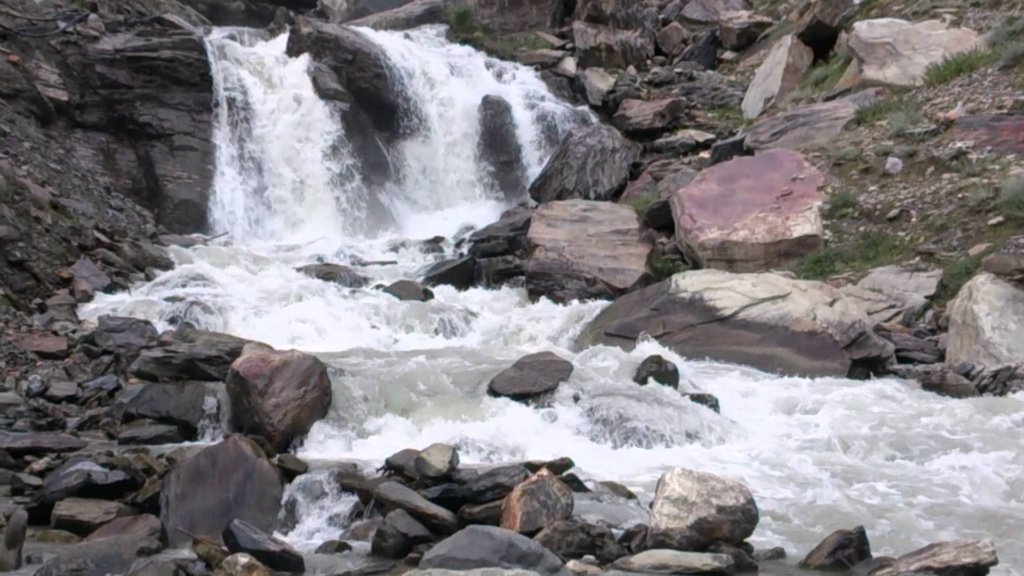 When the monsoon and post-monsoons hit, Rahala Falls are powerful beyond description. They are cold, fresh and drenching those who venture near them in the water. There are many picnic areas near the waterfalls and if you're looking for a great time with your loved ones, you can find it there. Hiking trails around the falls are beautiful to see as well; exploring through the trees is a must when exploring what this region has to offer.
Location : Leh Manali Highway
Timings : 6:00 am to 5:00 pm; every day
Entry Fee : No entry fee
Distance from Manali : 29 km (approx.)
20. Jagatsukh, Manali
Jagatsukh is an idyllic village situated in the mountains, famous for its temples. The snow-capped mountain peaks and lush green forests make it a sight to behold. This is one of the major villages in Kullu region and a good place to enjoy Jagatsukh's architecture and also trek into Deo Tibba Mountains from here. The Devi Sharbali temple located in Jagatsukh is one of many interesting tourist destinations in Manali region.
Distance from Manali : 12 km (approx.)
21. Naggar Castle, Manali
Situated on the Beas River in Kullu District, Naggar Castle is a 15th century old building from where Raja Sidh Singh of Kullu once ruled. It is now a heritage hotel run by Himachal Pradesh Tourism Development Corporation. The wooden structure of the building is an amazing architectural piece and offers stunning views of the surrounding cities and forests.
Location : Naggar Town, Manali
Timings : 7:00 am to 10:00 pm (winter timings may differ)
Entry Fee : ₹ 15 per person
Distance from Manali : 21 km (approx.)
22. Rohtang Pass, Manali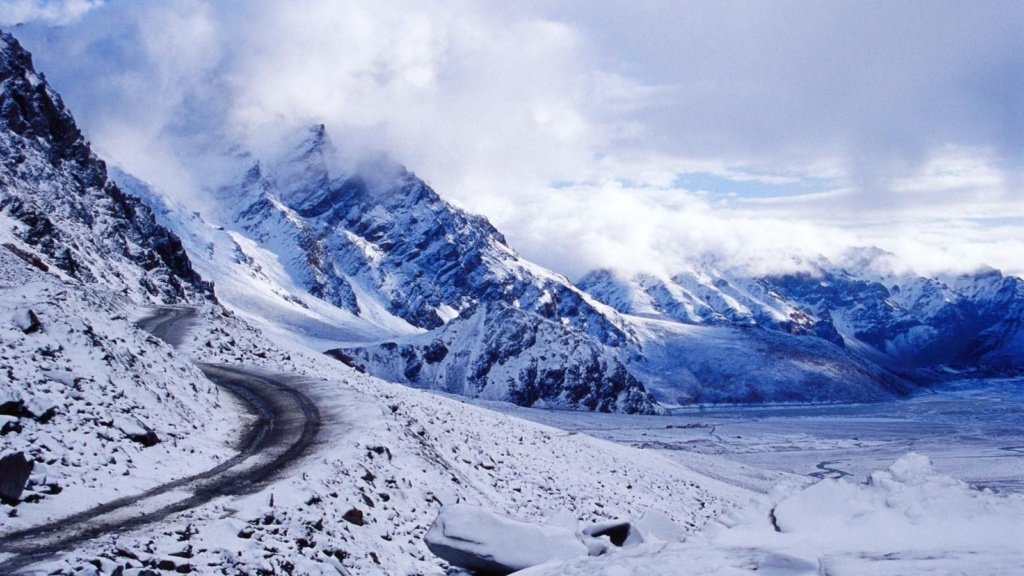 Investing a day of your Manali itinerary to visit Rohtang Pass will be worth it. Located at an elevation of 4000 meters above sea level, the high mountain pass on the Pir Panjal Range is visited by nature lovers, artists and photographers for generations. Also featuring popular adventure activities like mountain biking and skiing, Rohtang Pass has been featured in many Bollywood movies, including Jab We Met.
Location : Leh – Manali Highway
Timings : 24×7
Distance from Manali : 51 km. (approx.)
23. Katrain, Manali
Katrain offers a rustic locality with trout in abundance. The village offers the quintessence of what locals would consider as hike-friendly. Nowhere else can you experience pristine terrain surrounded by the tangle of snow capped peaks. Apart from trout in the water, try out local delicacies that are pure, wholesome and filling.
Distance from Manali : 25 km (approx.)
24. Gauri Shankar Temple, Manali
The Gauri Temple is known for its distinctive Shikhara style of architecture and numerous carvings on the stone walls. The temple was established in the 12th century, with believed to be the last structure of Gurjara-Pratihara traditions and is dedicated to Lord Shiva. As you stroll amongst the lush natural features of Manali, this holy temple will be one of your more important stops.
Location : Naggar Castle Road
Timings : 8:00 am to 7:00 pm; every day
Distance from Manali : 22 km (approx.)
25. Manali Sanctuary, Manali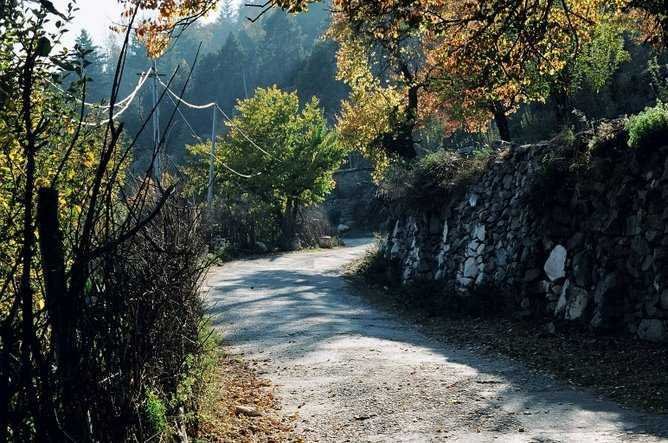 The Manali Sanctuary is located about 2 km outside of town and offers an unparalleled wilderness experience. This sanctuary covers a total of 31.8 square kilometers and is home to many endangered animals, including the ibex which comes down during the summer. Maple, walnut, and deodar groves add visual allure to this sanctuary that only attracts adventure seekers in the autumn months when the leaves create a tapestry of colors. There are trekking and camping facilities at the sanctuary for those interested in hiking or camping in the mountains.
Timings : 9:00 am to 6:00 pm; every day
Entry Fee : ₹ 10 per person
26. Nicholas Roerich Art gallery and Museum, Manali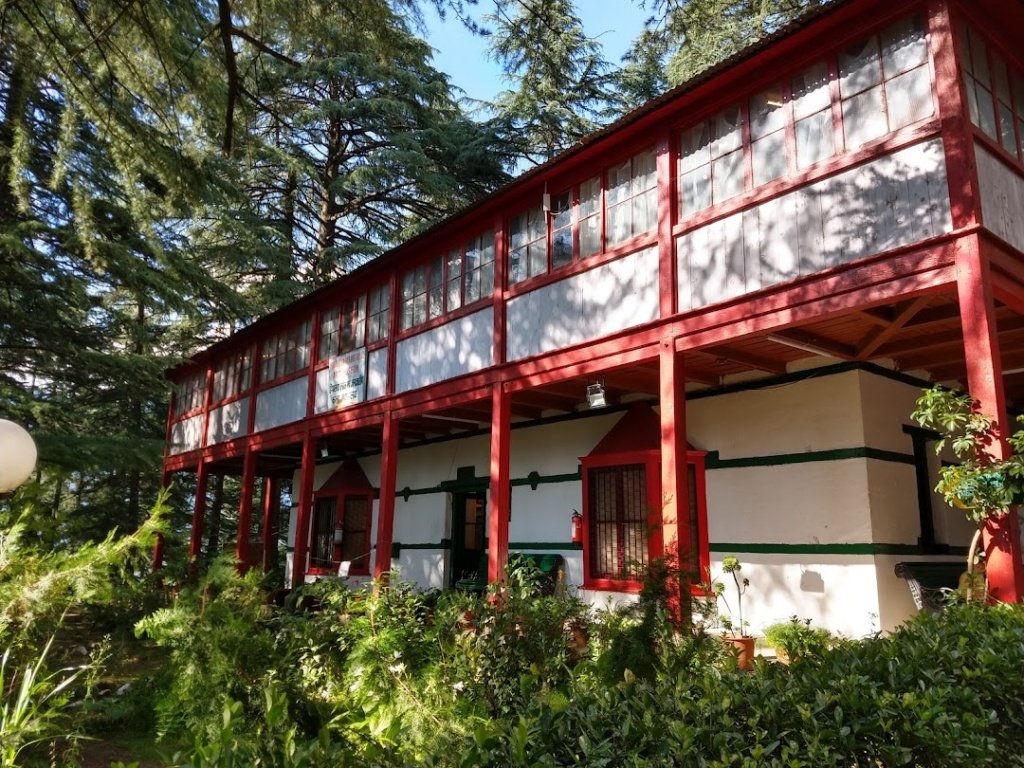 Named after a famous Russian artist who spent decades in Himachal Pradesh after fleeing the revolution, the Nicholas Roerich Art Gallery and Museum celebrates his artistic tributes. Artifacts displayed here include rare photographs of the artist, landscape paintings, and portraits of traditional Indian images. The museum, which was founded in 1962, is housed in the building originally built as his residence.
Location : Naggar Village
Timings : 9:00 am to 5:00 pm; closed on Mondays
Entry Fee : ₹ 30 per person
Distance from Manali : 21 km (approx.)
27. Chandrakhani Pass, Manali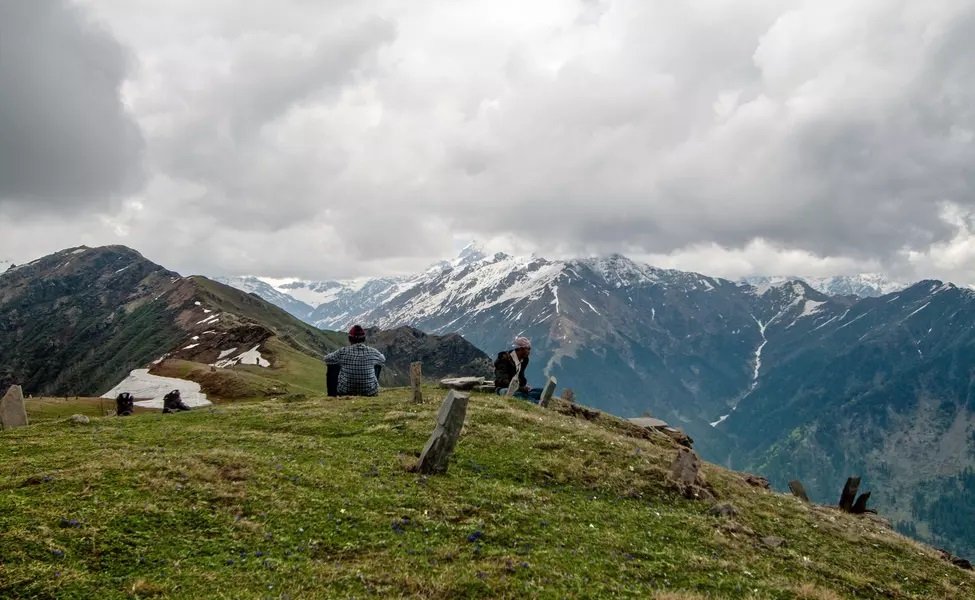 The picturesque beauty of Himachal Pradesh is best captured in a trek through the Chandrakhani Pass where you can visit famous village of Malana, which has locally produced and popular cannabis. The views from the pass are boundless and it is a favorite spot for photographers who can see the tribal districts that surround it, as well as the Deo Tibba, Parvati range, and Pir Panjal mountain ranges.
Distance from Manali : 21 km (approx.)
Tell Us
What You Think
0
Like
0
Love
0
Haha
0
Wow
0
Sad
0
Angry