1. Dutch Garden: Beautiful Ruins
Dutch Garden in Surat is an important tourist attraction, located in Nanpura of Surat. The garden has a beautiful nature-oriented environment where tourists can also explore the rich history. It was designed in a European style and gives a glimpse of western culture. The garden includes two large spaces where locals and tourists can enjoy activities: the flowing Tapi River on the side makes it quite beautiful and ideal for morning walks. Dutch Garden is also known for its historical significance. Before independence, many English and Dutch travellers had come to Surat for trade by settling business there before independence, which is why it's called Dutch Garden currently.
Location : Dutch garden road, Nanpura, Surat
Entry Fees : None
Timings : 8:00 AM– 12:00 PM and 3:00 PM – 11:00 PM
2. Dumas Beach: Scenic Views
One of the most famous travel hot spots in India is this beach, which is located along the Arabian Sea just 21 km southwest of the city of Surat. People come to enjoy the beautiful views and the calming atmosphere while they relax on its white sand and black sand beaches. There are many fun activities available here like sunbathing, playing volleyball, and collecting seashells. Best part is that only black sand meets your feet when you visit this place near Gujarat.
Location : Konkan coast, Arabian sea
Entry Fees : None
Timings : 6:00 AM to 7:00 PM
3. Sardar Patel Museum: Relive History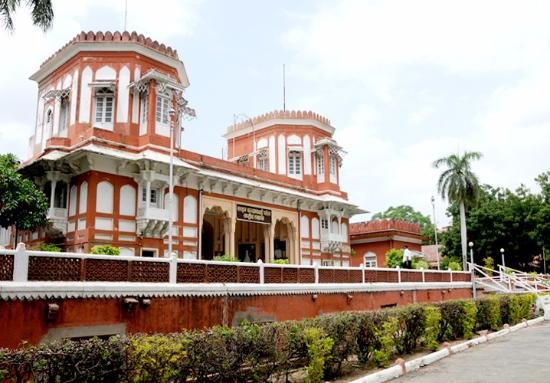 The Sardar Patel Museum has great historical significance and is located in the Shahibaug area of Surat. It was built in 1978 by Shri Babubhai Jasbhai Patel to commemorate the life of Sardar Vallabhbhai Patel. The building was originally meant to commemorate the life of Rav Jahan, who constructed the Taj Mahal, but it was occupied by the British after independence and they established a house for themselves. Later on, when India gained its independence, this building became part of Govt. Raj Bhavan. Thereafter, it transformed into a national memorial dedicated to Sardar Vallabhbhai Patel and it's now known for its 3D sound, lightings and lasers show that narrates Vedic period, Mughal period and British rule in India alongside other times throughout history.
Location : Shahibaug area, Surat
Entry Fees : RS-20 (adults), RS-10 (children)
Timings : 9.30 AM to 5.00 PM
4. Dandi Beach: Vivid Memories
Dandi Beach is another great destination in Surat. It is probably one of the most popular places because of its history. The movement that started here was called "Salt Satyagraha," which was led by Mahatma Gandhi in the 1920s. In modern times, Dandi Beach has become a popular tourist destination where people enjoy the pleasing atmosphere of Surat and Indus River. Near the beach there are many tranquil places to sit down and rest from all kinds of activity with plenty of time for sunset and sunrise. It's also a good place to host an outdoor picnic at any time, as well as play some activities like building sandcastles or reading books.
Location : Dandi beach, Dandi, Gujarat
Entry Fees : None
Timings : Sunrise to sunset
5. Sarthana Nature Park: Experience Wildlife
The parks in Surat are most popular for their national parks and beaches, but Sarthana Nature Park is one that stands out. It is located in Sarthana Village, which is situated in Anand Nagar, Surat. It was built in 1984, occupying an area of 81 acres. In the park, you can find a great variety of wildlife like deer and white peafowl and different trees like Casuarina and mango trees. Along the Tapi River, it offers the perfect view of serenity. You can also see different flora and fauna with all abundance at this park; they were established to create awareness and conserve wildlife animals
Location : Sarthana Jakat Naka, Surat
Entry Fees : For Indian: INR 15 per person; For foreigner: INR 50 per person
Timings : 10.00 AM to 6.30 PM
6. Tithal Beach: Romantic Moments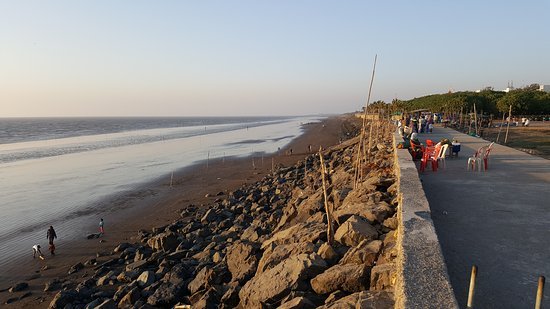 Another destination that you can add to your itinerary. It is located on the coastline of the Arabian Sea near Valsad. The black sand on the beach attracts many visitors each year, and when combined with a sunrise and sunset, this locale becomes all the more attractive. Spending some quality time with friends and family will make your vacation memorable. Many people don't know that this beach has a unique feature for people who are differently-abled: multiple activities like water rides, speed boats, jet skis, camel ride and horse riding can be enjoyed here. This beach is also ideal for picnic lovers as several shops nearby offer local cuisine options like bhajiya, dabeli or bhel chaat. At this beach there are two popular festivals celebrated each year: Tithal Beach Festival and International Kite Festival.
Location : Valsad district, Surat
Entry Fees : None
Timings : Sunrise to sunset
7. Swaminarayan Temple: Holy Shrine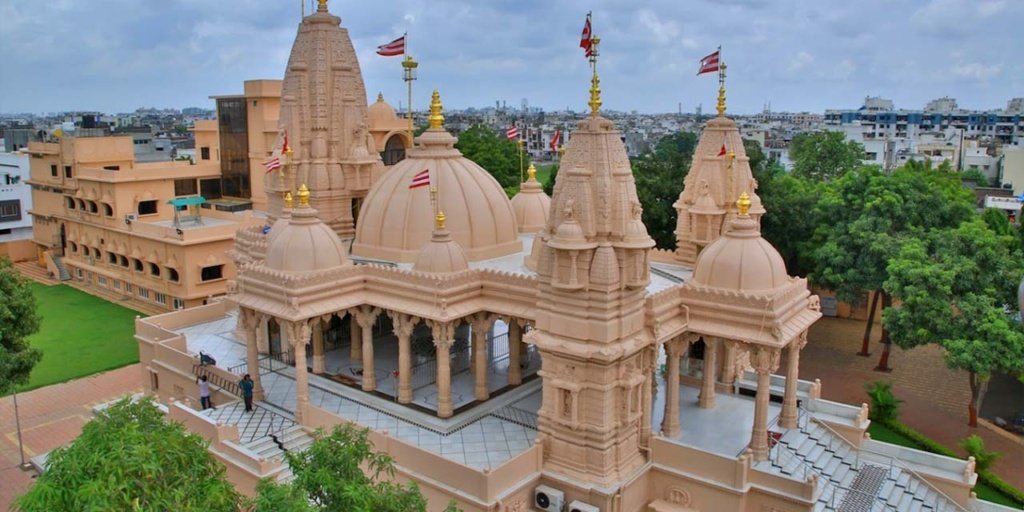 Swaminarayan Temple of Surat is one of the most popular pilgrimage destinations in India which is situated on the banks of the Tapti river and was constructed in 1996 with pink stones. There are 3 different shrines within this temple – Harikrishna Maharaj, Radha-Krishna Dev, Lord Swaminarayan, Gopalanand Swami, Guntitanand Swami, and Ghanshyam Maharaj shrine. Millions of pilgrims visit this spiritual place to fulfill their wishes and hopes. The temple hosts several events such as Jal Jilaniutsav (a festival), Panchratri Gyanyagya (a ritual marking the change of seasons), and Gurupurnima (temple festival).
Location : On the banks of Tapti River
Entry Fees : None
Timings : 10:00 AM to 5.00 PM
8. Amazia Water Park: Ignite Excitement
Amazia Water Park is a unique place in Surat where you can listen to new music, enjoy rides, and spend the day in a sheer adventure. Here, you can do different activities that are thrilling and fun such as King Cobra ride, Kamikaze ride, and Tribal Twist.
Location : Canal Road Parvat Patiya, Shubhash Nagar, Surat
Entry Fees : INR 800 for children, INR1000 for adults and INR 800 for senior citizens
Timings : 10.00 AM to 6.00 PM
9. Science Centre: Knowledge And Fun
With a healthy economy and captivating destinations, the Science Centre in Surat has helped and is still helping Surat to promote its explosive growth in many fields. Visitors can explore the secrets of the cosmos, outer space, the Earth's polar regions, and more through interactive live demonstrations. The Science Centre houses art galleries that give participants a new perspective on science; Fun Science Gallery is one such example. A planetarium will be able to mesmerize guests with its extraordinary visuals of celestial bodies across the sky. Engaging murals and sculptures also exist here for those especially interested in this field of knowledge.
Location : city light road, Maheshwari Cir, Surat
Entry Fees : for children INR 40 and INR 60 for the adults
Timing : 9:30am – 4:30pm
10. Vansda National Park: Natural Affair
The wildlife park that lies between the Sahyadri ranges in an area of about 24 square kilometers has never been cut down throughout history. Although there is easy access, the dense canopies provide protection from light. One can drive their vehicle to explore this natural region. Navsari district of Gujarat is where it's located. It's a one-hour ride from Vansda town and 100 minutes away from Navsari city. The park is hooked on nature lovers, birds and animals alike. River Ambika flows through this park and the Gira Fall gives it further character. Visitors can choose to walk or cycle through two interesting routes in the park.
Location : Vansda, Dangs, Surat
Entry Fees : Indian –INR 20 and Non-Indian – USD 5
Timings : 9:00 am – 5:00 pm
11. Hajira Village: Calming Scenery
Hajira Village is one of the most picturesque towns in Gujarat, situated near to Arabian Sea, and has one of the famous destinations in Surat. The shallow waters attract many people to this destination making it a destination worth visiting. The destination also houses a collection of hot spring making it one of the must visit places. Araburi beach is famous among locals as well as tourists for the mesmerizing view of the sunset and sunrise. This is one of the best places to visit in Surat, if you are looking for some respite from the noise and everyday life.
Location : Surat, Gujarat
Entry Fees : None
Timings : Any Time
12. Jagdishchandra Bose Aquarium: Exotic Marine Life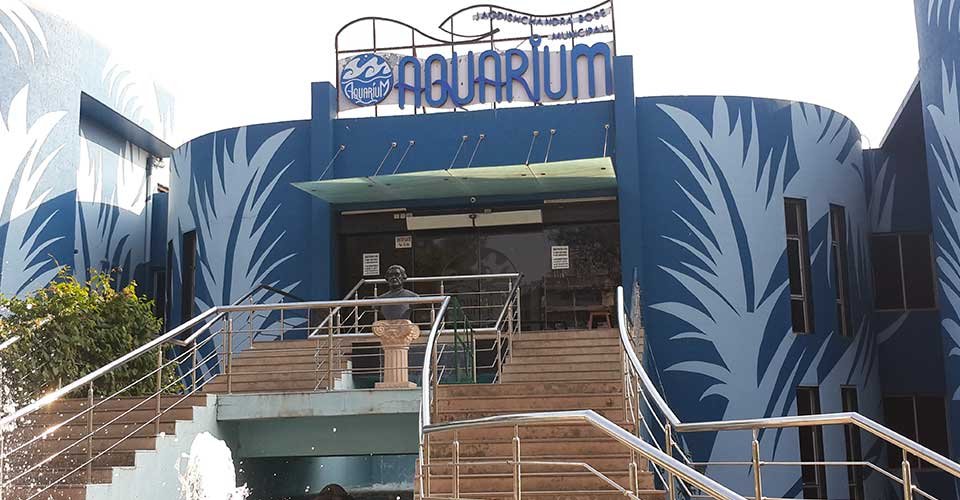 Located in Gujarat, Jagdishchandra Bose Aquarium is the first multidisciplinary aquarium in India, which is amongst the must-visit tourist places in Surat. The aquarium itself is nothing less than a marvel and is truly captivating. A double storeyed shark tank will surely leave you spellbound and awe-inspiring with their giant size and 100+ species. If a fierce tiger shark, jellyfish pool, or dolphin tunnel is what your heart desires, then do go here to make the most of your trip to Gujarat.
Location : Pal, Hajira Road, Gujarat
Entry Fees : Children (3-17 Years): INR 20; Adults (18-65 Years): INR 50; Senior Citizen (Above 65 Years): INR 30
Timings : March to October: 10 AM to 6.30 PM; November to February: 10 AM to 5.45 PM
13. Suvali Beach: Exclusivity Inspired
Surat is Gujarat's third-largest city, and with all its congestion, is just not a place where people want to visit. One of the reasons that helps make Suvali Beach one of the most coveted places in the area is that it's secluded. The sand on this beach has a black tint to it and there are very few people coming here to enjoy sunsets and sunrise, making it an unspoiled natural beauty for tourists and locals alike. This beach attracts fewer visitors than other beaches nearby such as Siliya Beach, allowing for a much more serene experience with solitude.
Location : Hajira, Gujarat
Entry Fees : No Fees
Timings : Any Time
14. Snow Park: Unending Fun
Located in the popular Rahulraj Mall in the city of Surat, the Snow Park is an adventure snow themed amusement park that offers visitors a chance to experience nature in Gujarat. The park has various games and activities such as artificial snowfall, sledging cars, snow statues, and DJ Booth. It is a favorite amongst adults and children alike.
Location : Rahulraj Mall, Surat, Gujarat
Entry Fees : INR 400 to INR 600 (including weekends)
Timings : 12 PM to 10.30 PM
15. Sneh Rashmi Botanical Garden: Beauty Exemplified
If you are looking to spend some time in lap of nature, away from the monotonous urban lifestyle, Sneh Rashmi Botanical Garden is the perfect place to indulge in some peaceful time. This botanical garden is home to a variety of exotic species of flora which paints a picture that you can spend hours admiring to. The garden is also a famous picnic spot owing to a small pond located here, and activities such as hot air balloon ride, toy train rides, and more that are offered here.
Location : Jahangirabad, Surat, Gujarat
Entry Fees : Free entry for Children (5 years and less), Senior Citizens (64 years and more), and Handicapped people. Children (5-12 years): INR 5; Adults (12-64 Years): INR 10
Timings : 10 AM to 10 PM (Closed on Monday)
16. Ambaji Temple: Seek Blessings Of Goddess
Surat is a place in the state of Gujarat and it is well-known for its religious tourism. Tens of millions of people visit the temple dedicated to goddess during various yearly events. It is one of the most popular places where visitors come to seek their prayers or blessings from the Goddess.
Location : Ambaji Rd, Havadiya Chakla, Gopipura, Surat, Gujarat 395003
Entry Fees : NA
Timings : 07:00 am to 11:30 am, 12:30 pm to 04:30 pm and 06:30 pm to 09:00 pm
17. Surat Fort: Capture The Marvelous Beauty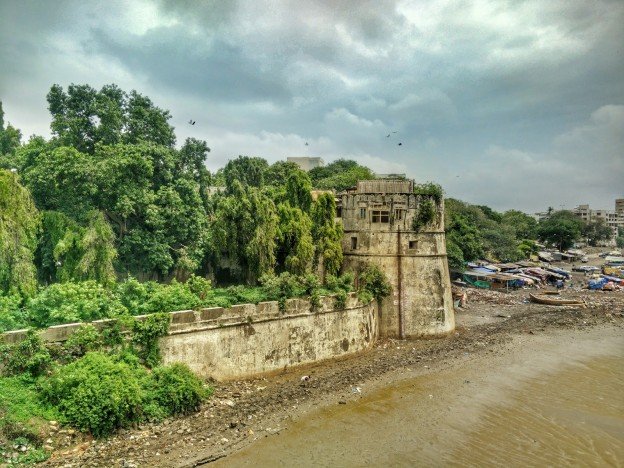 Even though Surat Fort was built in 16th century by the Ahmedabad King Sultan Mahmood-III, you can still see its splendor today. It is one of the top places to visit in Surat and it is splendid example of sturdy construction. The beautiful ancient monument is waiting for you on your next trip to spend some time there.
Location : Rang Upvan Rd, Chowk Bazar, Varasa, Surat, Gujarat, 395003, India
Entry Fees : INR 20 (3 to 16 years), INR 40 (17 to 60 years) and INR 20 (above 60 years)
Timings : 10 AM to 6 PM (Monday closed)
18. Modi Resorts And Amusement Parks: A Perfect Picnic Spot
If you are looking for a day out of the city or want to relax on your vacation, Modi Resorts & Amusement Parks is one of the best options available in Surat. It's great for swimming and has plenty of water rides, a sky-high waterfall, a pool and even an incredibly high diving platform!
Location : Ambaji Rd, Havadiya Chakla, Gopipura, Surat, Gujarat 395003
Entry Fees : INR 999 for age of 8 years and above and INR 699 for child below 8 years
Timings : 10 AM to 5 PM
19. Jawaharlal Nehru Garden: Popular Destination For Picnic Goers
Jawaharlal Nehru Garden or Choppati is one of the top tourist places in Surat. It is the oldest and largest garden in the city and has a beautiful musical fountain. If you wish to enjoy some fresh air, get a feel for the culture and lifestyle of the people in Surat, this garden is the perfect destination.
Location : Surat – Dumas Rd, Chopati, Police Line, Athwa Gate, Surat, Gujarat, 395007, India
Entry Fees : NA
Timings : 6 AM to 1 PM and 4 PM to 10 PM
20. Blues Adventure: Recreational And Adventure Park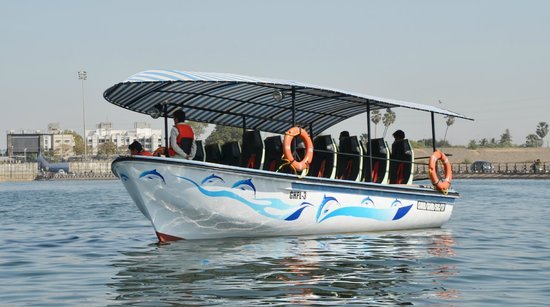 Blues Adventure is an amusement park specializing in different water based activities like speed boating, banana boat rides and bumper boats. The well-maintained park has courteous staff, good food and everything great to make your visit unforgettable. It's the perfect place to visit in Surat for a fun day with family and friends.
Location : Singanpore side of Wier-cum-Causeway,Beside Premanand Garden, Surat, Gujarat 395004
Entry Fees : Packages starting INR 699 per person
Timings : 10 AM to 10 PM
21. Chintamani Jain Temple: Well-Maintained And Peaceful Temple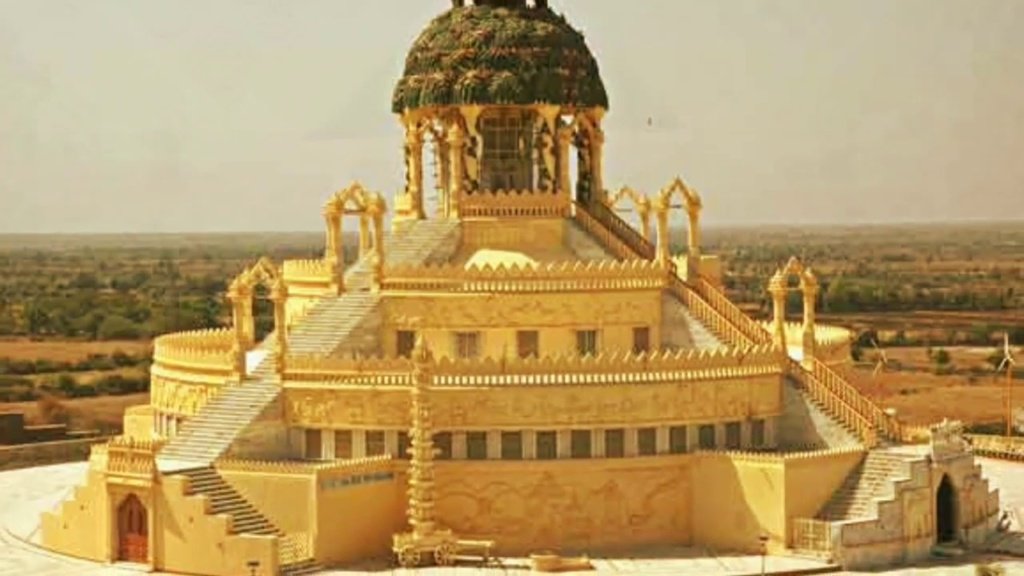 The Jain Temple of Chintamani is one of the oldest in Surat, built in 1699 AD. The temple highlights are old paintings depicting the journey of a Jain preacher and his three followers who decided to bring langar to the people in a village; King Kumarpala is also depicted. The temple has an interesting historic feel to it due to its creative pieces.
Location : Madhumati Colony, Navsari, Surat, Gujarat, 396445, India
Entry Fees : Nil
Timings : 6 AM to 6 PM
22. Sri Shirdi Sai Baba Temple: Feel The Spiritual Vibe
Sri Shirdi Sai Baba Temple in Surat is one of the oldest shrines and a must visit for Sai Baba's followers. It is a blessing for all devotees to make it without going to Shirdi. The spiritual feeling of being in the temple makes it a delight to be there. A special gathering with dancing and music is hosted every Thursday at the temple.
Location : Opp. Airport, Dumas Rd, Gaviyer, Surat, Gujarat 395007
Entry Fees : Nil
Timings : 6 AM to 9 PM
23. Neverland Water Park: A Perfect Entertainment Hub
Located in the heart of the city, Neverland Water Park is one of the top water parks in Surat. With an amazing variety of rides and slides, plus a big swimming pool and many places to eat at, it is a perfect entertainment hub. The park is ideal for all sorts of thrilling activities with rides that go wild!
Location : Bhavik Apartment, Turning Point, Ghod Dod Road, Surat-395007
Entry Fees : Adult: INR 750 and Child: INR 550
Timings : 10 AM to 6 PM
24. Dabhari Beach: Mesmerizing Sunrise And Sunset Views
The hidden tourist place in Surat, Dabhari Beach is popular for its mesmerizing sunrise and sunset views. It is an ideal place to stroll along the beach shore, or play sports like cricket. Be sure to visit this seaside park for a quick break from the busy city life of Surat.
Location : Surat, Gujarat 395005
Entry Fees : None
Timings : Open 24 hours
Things to do : Have a picnic, play different sports, relax
25. Rang Upvan: Oldest Outdoor Amphitheater
Rang Upvan is one of the oldest outdoor amphitheater in Surat. It is one of the best places to visit if you want to explore Surat's rich culture. The theater has been hosting different events, concerts, annual day functions, yoga sessions and various dramas since times immemorial. So, if you want to experience the best of Surat, don't forget this place on your itinerary.
Location : Nanpura
Entry Fees : None
Timings : 9 AM to 7 PM
Things to do : Watch different events/ concerts
26. ISKCON Temple: Seek Lord Krishna's Blessings
Now, with ISKCON Temple's Google HotSpot it can be one of the most popular places to visit in Surat Gujarat. The temple is best visited during weekend and devotees come in large numbers to pay their respect to Lord Krishna. There is a small room where there are yoga and meditation classes for those seeking peace, a time away from the hectic routine.
Location : Rander Road
Entry Fees : None
Timings : 7 AM to 8 PM
Things to do : Seek blessings from Lord Krishna
27. Mughal Sarai: Admire The Islamic Art
The Mughal Sarai in Surat attracts tourists to its architectural beauty, which is one of the most famous attractions in northern Gujarat. It was originally an inn; now locals use it for office space and some of their offices are open to the general public for viewing. Those interested in Islamic arts will appreciate the work on display within the arches at this popular site.
Location : Surat City Centre
Entry Fees : NA
Timings : 24 hours
Things to do : Witness the rich Islamic art on Mughal Sarai
28. Tomb of Khudawand Khan: Islamic Architectural Style
There is an architectural tomb located near Chakla Bazaar. It was constructed in Islamic architecture style and receives visitors from all over the world seeking to explore history. Once you are done exploring the site, you can buy things at Chakla Bazaar.
Location : Sayedpura, Surat, Gujarat 395003
Entry Fees : None
Timings : 24 hours
Things to do : Notice the amazing architectural style
Tell Us
What You Think
0
Like
0
Love
0
Haha
0
Wow
0
Sad
0
Angry