Introduction to Singapore
Singapore, the Lion City, is a melting pot of cultures and a paradise for foodies. This tiny island nation has something to offer everyone, from towering skyscrapers to tranquil parks. If you're planning your first trip to Singapore, you may be wondering where to start. Discover what this vibrant city-state offers beyond Marina Bay Sands by checking out our list of 10 must-do activities!
If you're planning a trip to Singapore, here are the top activities you must do! Southeast Asia's Singapore is a small island nation.
Visit the Marina Bay Sands
One of Singapore's most iconic landmarks is the Marina Bay Sands. The luxury resort features a rooftop infinity pool, world-class shopping, and a variety of dining options. The city skyline can be seen from Ce La Vi, a famous rooftop bar.
Explore Chinatown
Singapore's Chinatown is one of its most vibrant neighborhoods. From traditional Chinese temples to delicious street food, this vibrant district has plenty to see and do. Be sure to try to haggle at one of the many markets or stroll through the historic streets.
Shop til you drop at Orchard Road
Orchard Road is Singapore's premier shopping district, home to dozens of high-end retailers and department stores. Check out Lucky Plaza or Tanglin Shopping Centre if you want a bargain. Orchard Road has several nightlife spots, so you can shop during the day and party at night!
Singapore Zoo
Featuring more than 2,800 animals, the Singapore Zoo is one of the city's most popular attractions. Visitors can see various animals, including lions, tigers, elephants, and giraffes.
Jurong Bird Park
Located in western Singapore, Jurong Bird Park is home to over 5,000 birds from over 400 species. The park is especially well-known for its collection of Southeast Asian birds.
Chinatown
Singapore's Chinatown is a vibrant neighborhood with a rich history and culture that is a must-see for first-time visitors. Visitors can wander the narrow streets, browse the shops, and try delicious Chinese food.
Little India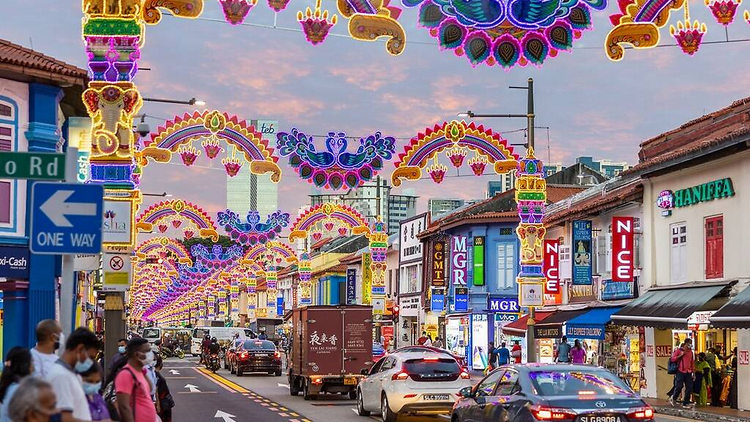 You can experience Indian culture and cuisine in Little India, another culturally significant neighborhood in Singapore. Be sure to visit Mustafa Centre, a 24-hour shopping mall popular with locals and tourists.
Gardens by the Bay
Gardens by the Bay is an impressive nature park spanning 101 hectares (250 acres) and a relatively new addition to the cityscape. The park features tree-like structures illuminated at night and gardens and ponds.
Marina Bay Sands
One of Singapore's most iconic landmarks, Marina Bay Sands, is a luxury hotel with a rooftop infinity pool with stunning city skyline views. Visitors can also enjoy shopping.
Take a Tour of Little India and Arab Street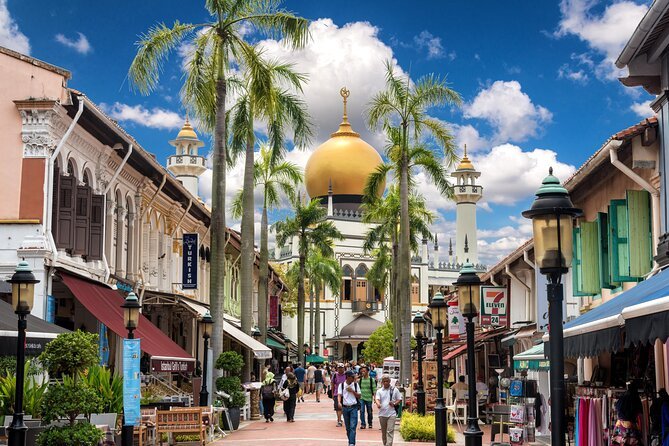 To taste Singapore's rich culture, visiting Little India and Arab Street is a must. Start your tour at Little India MRT station and go to the vibrant streets of Little India. You'll find colorful temples, spice shops, and sari stores here. Singapore's oldest Hindu temple, Sri Mariamman Temple, is a must-see.
Next, head to Arab Street, where various Textile shops sell beautiful fabrics worldwide. You can also try some delicious Middle Eastern food here. Stop by Mustafa Centre for all your shopping needs before ending your tour at Haji Lane, a street known for its trendy boutiques and cafes.
Explore Chinatown, Kampong Glam, and the Marina Bay area.
There is no better place to experience Singapore's melting pot of cultures than Chinatown, Kampong Glam, and Marina Bay. Chinatown is home to various Chinese temples, while Kampong Glam is the heart of Singapore's Muslim community. The Marina Bay area has some of Singapore's best hotels, restaurants, and bars.
First-time visitors to Singapore should make time to explore these three vibrant areas of the city. Chinatown is a great place to start, as it offers a glimpse into traditional Chinese culture. Chinatown Heritage Centre and the Buddha Tooth Relic Temple are worth visiting. For a taste of traditional Muslim culture, head to Kampong Glam, where you can visit the Sultan Mosque and browse the many shops selling traditional textiles and spices. And finally, no trip to Singapore would be complete without spending time in the Marina Bay area. This modern district has some of the city's best hotels, restaurants, and nightlife options.
Dine in the Best Restaurants Around Singapore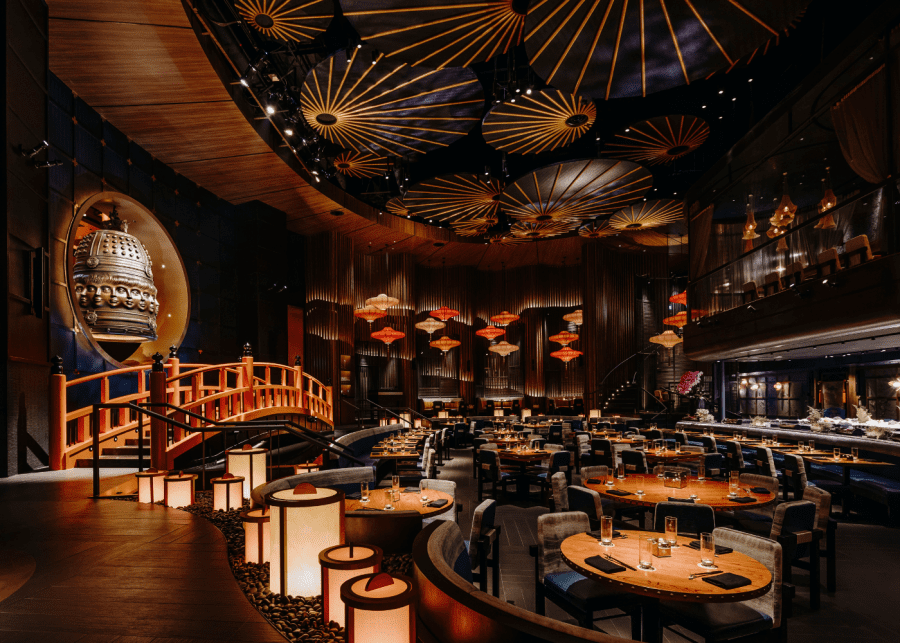 When it comes to dining, Singapore does not disappoint. From Michelin-starred restaurants to hawker stalls serving local favorites, there is something for everyone. For a truly unforgettable experience, dine at one of the city's iconic rooftop restaurants, enjoying stunning skyline views while savoring delicious cuisine.
There are many stunning things to see and do in Singapore, but these are just a few. Try Singapore's national chicken rice dish at most hawker centers.
You will find a restaurant in Singapore to suit every budget and preference, so come hungry and ready to explore this vibrant city!
Enjoy the Views at Henderson Waves Bridge
It is 36m high and 274m long, making it one of Singapore's most unique. You'll get stunning views of the city skyline and forest reserve from the top. Traditional Chinese folded fans inspire the undulating design, and it's illuminated at night with LED lights that change color.
Ride Singapore
Suppose you want a detailed description of Singapore's tourist attractions:
Singapore's clean and efficient public transportation makes it easy to travel around the city. The Mass Rapid Transit (MRT) system can reach almost anywhere on the island, and taxis and ride-sharing services are also available. If you're feeling adventurous, take a bicycle or Segway and explore independently!
Some of the top must-see attractions in Singapore include the Marina Bay Sands resort, Gardens by the Bay, Sentosa Island, Universal Studios Singapore, and the Singapore Zoo. Marina Bay Sands is an iconic landmark of Singapore with its three 55-story hotel towers connected by a sky bridge featuring an infinity pool with stunning views of the city skyline. This large nature park features beautiful gardens, vertical gardens, and the world's largest glass greenhouse, the Flower Dome. Sentosa Island is a popular resort destination with beaches, hotels, restaurants, amusement parks, and more. Universal Studios Singapore is a movie-themed amusement park with rides, shows, and other entertainment based on popular films. There are over 2,800 animals from over 300 species at the Singapore Zoo, one of the best zoos in Asia.
Conclusion
Singapore has many wonders and attractions and offers much to explore for first-time visitors. The city's iconic buildings and monuments, as well as its world-famous food and nightlife, will create lasting memories for you. Whatever you choose to do in this vibrant city, these top 10 activities should be at the top of your list.
Tell Us
What You Think
0
Like
0
Love
0
Haha
0
Wow
0
Sad
0
Angry