Nestled in the heart of the Himalayas, Manali is a paradise for nature lovers and adventure enthusiasts alike. Known for its snow-capped mountains, gushing rivers, and awe-inspiring landscapes, this enchanting hill station is a must-visit destination for anyone looking to escape the hustle and bustle of city life. From breathtaking waterfalls to serene monasteries, we've curated a list of the Top 10 Places To Visit In Manali that you can't miss on your next visit to Manali. Discover some of the best Places To Visit In Manali.
Places To Visit in Manali
Manali, a charming hill station in the Kullu district of Himachal Pradesh. Known for its stunning natural beauty and serene surroundings, it offers various activities and experiences to travellers from all walks of life. A popular tourist destination, Manali attracts visitors year-round with its pleasant weather and scenic landscapes.
Relax in nature or participate in adventure sports like paragliding, skiing, or trekking; there's something for everyone here. In addition to its natural beauty, Manali's rich cultural heritage can be observed through its temples and monasteries. The town is home to several famous temples such as Hadimba Temple, dedicated to Hidimba Devi – wife of Bhima from Mahabharata; Manu Temple, named after the sage who wrote Manusmriti; Vashisht Temple, known for hot water springs believed to have medicinal properties.
Manali offers a unique blend of adventure and culture, making it an ideal destination for those seeking an escape from everyday life. Located 13,050 feet above sea level,
Rohtang Pass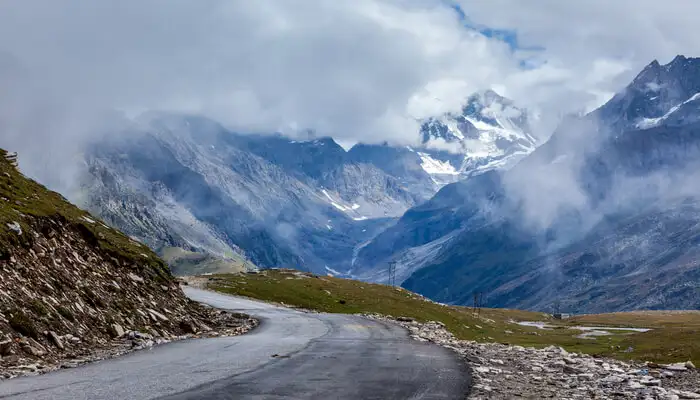 Rohtang Pass connects the Kullu Valley with the Lahaul and Spiti Valleys, making it a must-visit destination for those who love adventure and scenic beauty. The word "Rohtang" translates to "a pile of corpses," which refers to the dangerous nature of this pass. The journey to Rohtang Pass is as beautiful as the destination itself.
As you climb up towards the pass from Manali, you will come across breathtaking views of snow-capped peaks, lush green valleys, and gushing rivers. However, due to its high altitude location, visitors should acclimatize themselves before heading up. At Rohtang Pass, visitors can indulge in various activities, such as skiing and snowboarding during the winter or trekking during the summer.
Additionally, there are several food stalls where one can enjoy local delicacies while enjoying the stunning views. Overall, Rohtang Pass is not just another mountain pass; it's a place that offers unforgettable experiences amidst natural beauty, making it one of the best Places To Visit In Manali.
Solang Valley
Nestled in the lush green valley of Manali, Solang Valley is a picturesque destination that offers stunning views of snow-capped mountains and serene landscapes. It's an ideal spot for adventure enthusiasts who want to try skiing, paragliding or zorbing. Solang Valley is located about 13 km from Manali town and can be reached via a scenic drive through the hills.
The valley is surrounded by dense pine forests that add to its natural beauty. Visitors can enjoy numerous activities like quad biking, horse riding and cable car rides here. One of the top attractions of Solang Valley is its ski slopes which offer great opportunities for beginners and advanced skiers. During winter, this place becomes a winter sports hub, with people flocking from all over India to indulge in skiing and snowboarding.
Besides adventure activities, visitors can also take leisurely walks along the banks of the Beas River that flows near Solang Valley. The valley has several food stalls serving local delicacies like momos, thukpa and maggie noodles. If you're looking for some adrenaline rush while enjoying nature's beauty, Solang Valley should be on your list as it is one of the best Places To Visit In Manali.
Beas River
It's no secret that Manali's one of the best Places To Visit In Manali is the Beas River. It is a majestic river that runs through the city, offering stunning views and plenty of adventure opportunities. Riding rafts on the Beas River is a great way to explore it. The rapids range from grade II to IV, so whether you are a novice or a seasoned rafter doesn't matter.
You may book a guided tour or rent equipment to explore independently. If you prefer something more relaxing, stroll along the banks of the Beas River. Several parks and gardens offer great picnic spots with beautiful water views. Fishing is another popular activity on the Beas River. You can try catching trout or mahseer in this pristine river while enjoying nature at its finest.
The source of this mighty river is believed to be Beas Kund. It's located high up in the mountains and requires a bit of hiking but offers breathtaking views. You must include the Beas River on your itinerary if you want an unforgettable experience in Manali!
Jogini Falls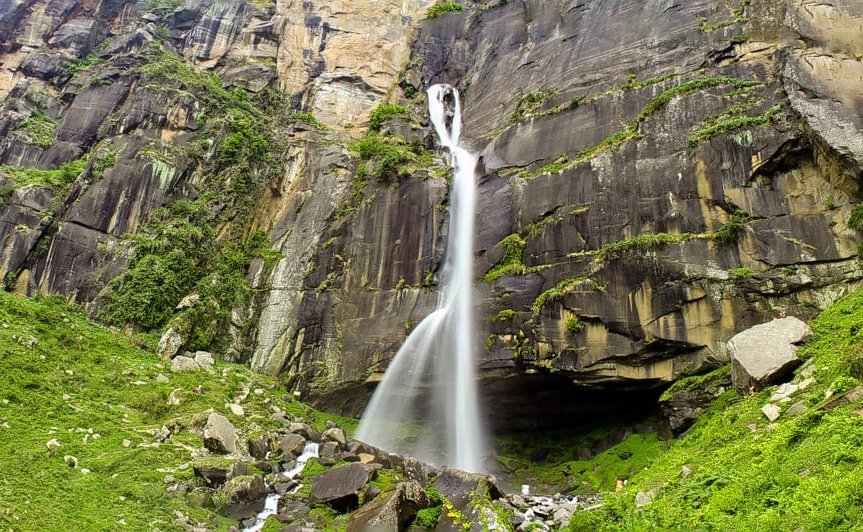 Jogini Falls is a stunning waterfall in nature's lap. Most popular Places To Visit In Manali. To reach Jogini Falls, take a short trek from Vashisht village, just 3 kilometres away from Manali. A breathtaking view of the surrounding mountains can be seen from the trail leading up to the falls, which passes through lush green forests. Cascading water can be heard before you see the falls, making it all more exciting!
Once you reach Jogini Falls, you will find yourself standing in front of a magnificent waterfall that drops down from over 100 feet high cliffs. The sight is awe-inspiring as water gushes down with immense force creating misty surroundings that are perfect for photography.
There are also small pools at Jogini Falls where visitors can dip or relax amidst nature's tranquillity. You can unwind here after exploring other Places To Visit In Manali. Jogini Falls provides an unforgettable experience and should be on your list if you visit Manali!
Manu Temple
As per Hindu mythology, mankind was created by the great sage Manu. The temple architecture reflects Indian and Tibetan styles, with wooden carvings adorning its exteriors. The interiors are decorated with beautiful murals depicting scenes from Hindu mythology.
One can feel a sense of peace and spirituality as they enter this ancient temple dedicated to Lord Brahma, Vishnu, and Maheshwara. In the temple, a brass idol depicts Rishi Manu seated atop a lion. Special poojas are performed here during festivals like Dussehra or Navratri, attracting thousands of devotees across India.
Visitors must dress modestly while visiting this holy place out of respect for local customs. Photography isn't allowed within the premises, but visitors can take pictures outside amidst lush green surroundings. It's an incredible spiritual experience that shouldn't be missed by those seeking inner peace amidst serene natural beauty!
Tibetan Monasteries
Manali is not only famous for its natural beauty, but it also holds significant cultural and religious importance. Tibetan Monasteries are Manali's top attractions reflecting this hill station's spiritual essence. The monasteries feature stunning architecture and peaceful surroundings, providing a sense of calmness to visitors.
The colourful prayer flags fluttering in the breeze add to their charm. These monasteries offer a great opportunity to learn about Buddhist culture and traditions. One such monastery is Gadhan Thekchhokling Gompa, located near Mall Road, which offers breathtaking views of snow-covered peaks. Another must-visit monastery is the Himalayan Nyingmapa Gompa, situated on a hilltop overlooking the Beas River.
Visitors can witness monks chanting mantras and performing other rituals during their visit. The souvenir shops within these monasteries sell handicrafts, including carpets, shawls, thangkas (Buddhist paintings), and prayer wheels that make tourist keepsakes. Visiting Tibetan Monasteries in Manali provides an immersive experience of Buddhist culture while offering peace and serenity amidst nature's beauty.
Nehru Kund
On the way to Manali, Nehru Kund is a natural spring named after Jawaharlal Nehru, India's first Prime Minister. The crystal clear water of this spring originates from the Bhrigu Lake and flows down through rocky terrain before finally emerging as Nehru Kund.
The sight of the bubbling water surrounded by towering mountains is truly mesmerizing and peaceful. Enjoy a cup of hot tea or coffee while admiring the serene surroundings. It's also a great spot for nature enthusiasts and photographers looking to capture some stunning shots amidst nature's bounty.
Apart from its scenic beauty, Nehru Kund also holds historical significance due to its association with India's first Prime Minister. Many tourists stop by here not just for photography but also because it has an interesting story behind it. If you're planning a trip to Manali, don't miss out on visiting Nehru Kund for an enriching experience that will leave you rejuvenated!
Rahala Falls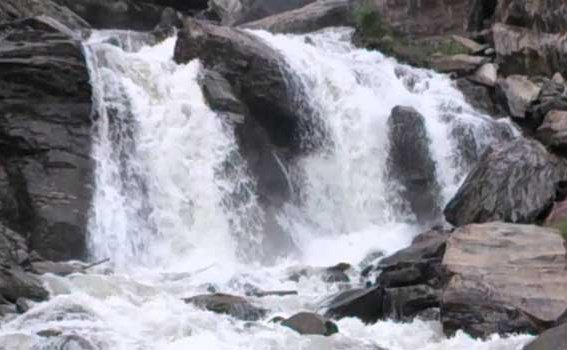 Rahala Falls is one of the most stunning waterfalls in Manali, located on the way to Rohtang Pass. A breathtaking view of the falls surrounded by towering mountains will captivate you. The cascading waters of Rahala Falls create a misty atmosphere that adds to its beauty.
The sound of gushing water and birds chirping creates a melody for your ears, making it an ideal spot for nature lovers. One can reach the waterfall after trekking for about half an hour through a rocky path. The walk might be tiring, but once you reach there, the sight of the waterfall will make every step worth it. During winters, Rahala Falls freeze into ice formations, adding another layer of beauty to this mesmerizing place.
It's undoubtedly one of the best Places To Visit In Manali where Mother Nature displays her charm at its best. So if you're looking for adventure combined with scenic beauty while exploring Manali, don't miss out on visiting Rahala Falls!
Great Himalayan National Park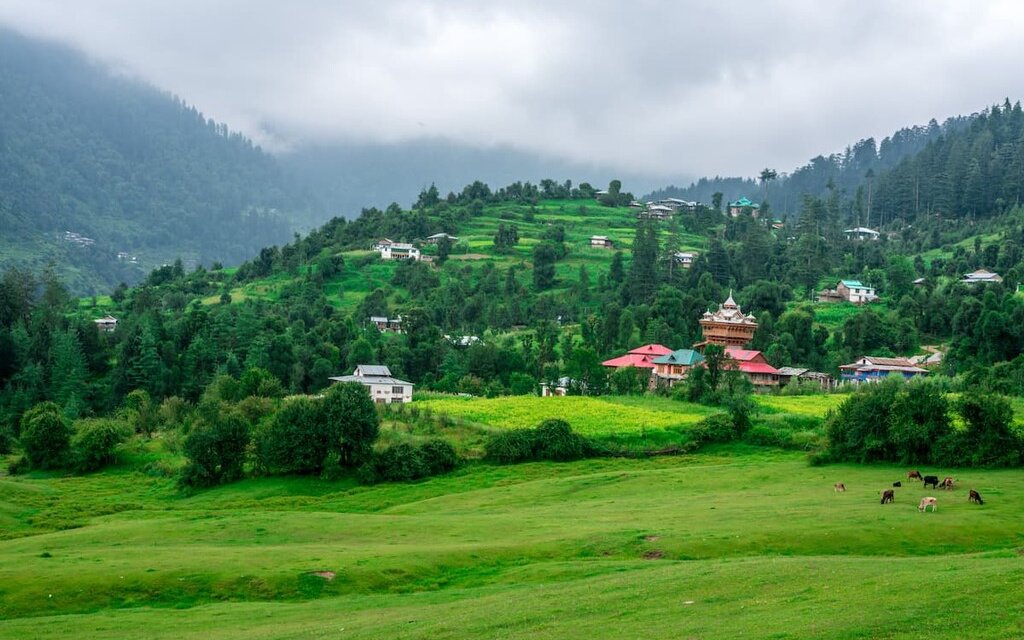 In summary, Manali is an incredible destination that offers a unique blend of adventure and serenity. With its breathtaking landscapes and rich cultural heritage, it's easy to see why it's one of the most popular destinations in India.
From the stunning Rohtang Pass to the tranquil Jogini Falls, many Places To Visit In Manali cater to every kind of traveller. The town also boasts several beautiful temples and monasteries that offer glimpses into local traditions and beliefs.
For nature lovers, the Great Himalayan National Park is a must-see. Whether you're interested in trekking or birdwatching, this park is home to some of India's most diverse flora and fauna. Prepare for an unforgettable journey in Manali by packing your bags and booking your tickets now!
Tell Us
What You Think
0
Like
0
Love
0
Haha
0
Wow
0
Sad
0
Angry