Will you be staying in Orlando soon? Fun things are happening!
Orlando is a tropical city that thrives on tourism; the city is constantly creating new attractions for visitors to enjoy, whether it's Walt Disney World, Universal Studios is Attraction in Orlando, or Legoland. The most popular park crossing off many people's bucket list is Walt Disney World while other popular parks include Universal Studios Orlando and Legoland.
And, while you are here in Orlando, don't forget to check out some less-known attractions. You will find food, family fun and history all under one roof at the Kennedy Space Center, or delight in exploring a nature preserve during your visit to Lake Eola Park.
When you visit Orlando, the city is welcoming and offers visitors everything they could want to see. To get started with planning your trip, explore these top Tourist Attractions in Orlando to make the most of your time.
1: Walt Disney World
Walt Disney World is one of the top Attractions in Orlando, drawing more than 58 million visitors each year. The resort houses four theme parks, two water parks, and over two dozen hotel resorts for nearly 10 million people.
Walt Disney World is recognized as a place where you can escape, experience incredible adventures, and make unforgettable memories. A troupe of characters, led by an exquisitely joyful mouse, offers new adventures to everyone.
Imagine world travel and an encounter with Disney characters. You can hop on a boat to explore the watery planet, Mars, or hang-out in the future of today at EPCOT. The inner child in all of us would enjoy shopping at World Showcase and learning about new animals at Animal Kingdom.
Disney's latest attraction, further topping it as one of the best places to visit in Orlando, is Star Wars: Galaxy's Edge. You can create your own Star Wars story and explore various themed attractions, including flying the Millennium Falcon!
Even if you have yet to travel out of the country, Walt Disney World is still a must-include destination on your Orlando vacation itinerary. 58 million guests visit each year and it's undoubtedly one of the top attractions within the city. The vast resort features four theme parks, two water parks, over two dozen resort hotels, golf courses, campsites, and more.
Disney makes the impossible come true with their prolific entertainment, including rides and other attractions, parks, themed restaurants and hotels. Their legacy extends to now helping both adults and children experience new adventures through Disney characters and memorable memories.
Disney World is a major part of American culture and an immersion in American history. With Disney World, you can visit the Magic Kingdom, where you might run into a princess or traverse the universe through Space Mountain. If you want to see the world from EPCOT or get up close and personal with wild animals at Animal Kingdom, Disney World is for you.
One of Disney's latest attractions, further topping it as one of the best places to visit in Orlando, is Star Wars: Galaxy's Edge. This immersive Star Wars experience has many theme park activities including creating your own story and exploring the various themed attractions. There are also some opportunities to fly the Millennium Falcon.
Address: World Drive, Orlando, FL 32830
2: Universal Orlando Resort
Walt Disney World is a top competitor for the number one Orlando Attraction, Universal Studios. With about 20 million people visiting each year, Universal's two theme parks have attractions themed to popular movies.
Universal is a world of entertainment comprised of eight hotels and one amusement park, each catering to specific tastes. It also has an outdoor water park in the works.
Harry Potter's magical world is a must-see attraction at Universal. Gaze into the Hogwarts Express from Platform 9 3/4, explore Hogsmeade, purchase merchandise at Diagon Alley, and make your way to the Three Broomsticks for an ice cold butterbeer.
These theme parks have the appeal to attract a wide range of people. If you like dinosaurs, you can visit Jurassic Park; if you love superheroes, there are a wide range of attractions at Marvel Super Hero Island, including rollercoasters, encounters with your favorite caped characters.
Address: 6000 Universal Blvd, Orlando, FL 32819
3: Discovery Cove
There is still much to see in the Orlando area, including the fun and magic of Disney, Universal Studios, and Discovery Cove. Downtown Orlando is near Discovery Cove, a marine park oriented towards swimming with dolphins and rays. For an entire day, guests can meet tropical fish, enjoy nature walks, and walk underneath beautiful birds.
Skipping the busy crowds, and enjoying a more isolated and intimate family vacation makes the best things to do in Orlando. The park's large pool and lazy river are a great way to relax. At the same time, snorkeling with rays and tropical fish is an invigorating pick-me-up for your kids, making it worth trying at least once.
Discovery Cove offers a variety of water activities, such as those found in the Glorious Aviary, where visitors can feed exotic birds. You can buy snacks by the pound and use free equipment rentals! Get your own souvenir scuba gear at Discovery Cove too.
The SeaVenture attraction at Discovery Cove provides divers the opportunity to observe ocean life and swim with sharks behind a glass wall. Divers are provided with helmets, which help them easily enter the water.
Address: 6000 Discovery Cove Way, Orlando, FL 32821
4: John F. Kennedy Space Center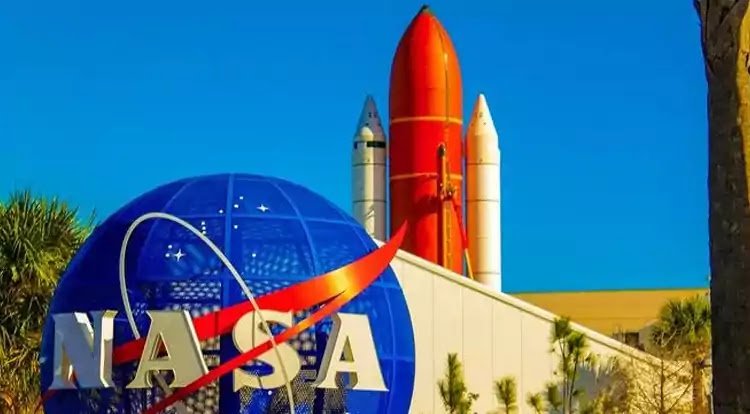 If you're looking for an unforgettable day trip, head over to Cape Canaveral and visit the John F. Kennedy Space Center. Located along the coast in Cape Canaveral (just under an hour from Orlando), their historic missions took off into outer space.
The US Space Program welcomes interested people. Visit their website and start at the beginning to learn about Mercury, Gemini, Apollo, and future exploration.
Visit a rocket garden, play an astronaut training simulation, and learn about space exploration plans in an actual theater that features astronauts.
If you want to maximize your experience, take a guided tour through the exhibits and learn more about the center from an insider. You'll leave with a souvenir and more memories than you can possibly hold!
Families looking to visit Orlando should come to the Kennedy Space Center.
Address: SR 405, Kennedy Space Center, FL, 32899
5: SeaWorld Orlando
SeaWorld is a large theme park in Orlando that features thrilling rides, abundant animals and underwater balconies to see the deep blue in up to 3.5 million gallons of water. It ranks among the top 10 most visited amusement parks in the country with an average of five million visitors each year. This should be one of your best bets for a family-friendly vacation!
SeaWorld has a number of aquatic attractions that will definitely become memorable parts of your Florida vacation. You can go to Antarctica, where you'll meet hundreds of penguins. Enjoy lunch at the Dolphin Café or stop by the Jewel of the Sea Aquarium, which features thousands of colorful fish.
If you love thrills, SeaWorld is perfect for a day trip. With rollercoasters, river rapids and plenty of kid-friendly rides, everyone will be in pure bliss while they're on site. The Manta coaster is special because it's unlike all other water coasters, as it splashes across the water while visitors fly down the tracks.
Kids will love Sesame Street Land, where they can meet some of their favorite characters and ride themed attractions, such as Elmo's Choo Choo Train or Big Bird's Twirl 'N' Whirl. The day ends with live entertainment, like the Orca Encounter or sea lion presentation.
Address: 7007 Sea World Dr, Orlando, FL 32821
6: Orlando Science Center
The Orlando Science Center is a top attraction that provides an interactive learning experience for visitors of all ages by boasting exhibits on natural science, technology and more.
The most popular exhibit is Pompeii: Immortal City. A variety of artwork and multimedia experiences give you a first-hand encounter with what happened on that day and what life was like in the first century.
At KidsTown, kids can explore hands-on exhibits and learn teamwork while they learn science. KidsTown provides a memorable experience with skills-based activities where children will explore creative ways to navigate the exhibits.
DinoDigs, the Orlando Science Center's "No Natural Science Museum is Complete Without a Dino Exhibit!" is a time traveling activity park. Give guests an opportunity to learn more about dinosaurs and even to participate in a paleontologist activity (find and analyze fossils) firsthand.
Address: 777 E Princeton St, Orlando, FL 32803
7: Gatorland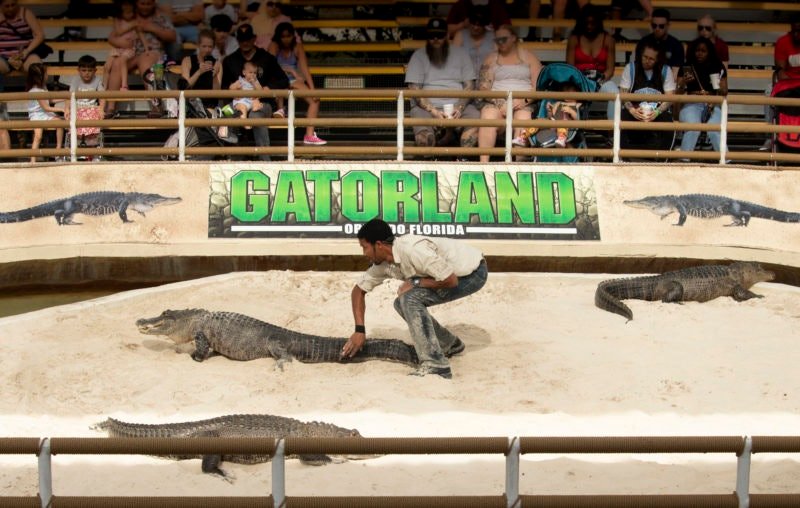 You can't have a real Florida experience without seeing an alligator. From the moment you get off the plane, Gatorland is one of the must see Attractions in Orlando! You can learn more about crocodilians, meet babies, and even walk with a 14 foot reptile.
Gatorland boasts the most diverse collection of white leucitic alligators in the country, but the park is hardly just for gators. There are plenty of fun attractions to keep you entertained, including aviaries, petting zoos, shows with animals, a zipline, and more than 600 acres for you to explore.
One of the park's newest attractions is the Stompin' Gator Off-Road Adventure. Hop aboard a 12-foot-high monster truck for a rugged adventure across the Florida landscape! Be sure to look out for alligators along the way!
Address: 14501 S Orange Blossom Trl, Orlando, FL 32837
8: Lake Eola Park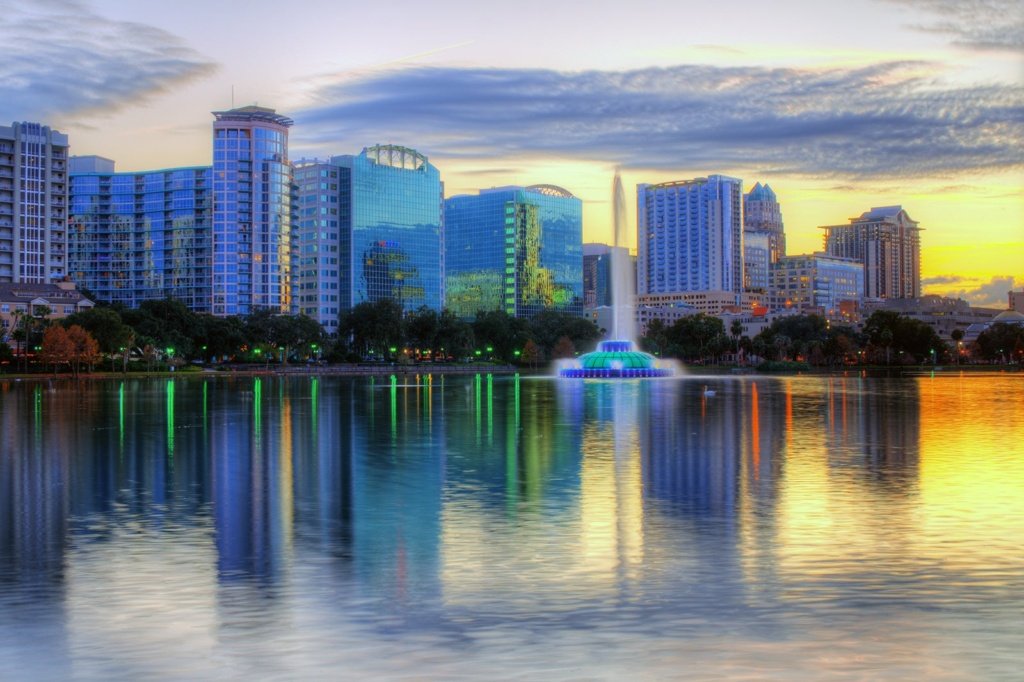 Step away from the busy resorts and relax at Lake Eola Park, Orlando's lush urban park. With a serene lake with beautiful city views, this park features an amphitheater, Chinese pagoda, playground, and annual activities. So many things to do! It is definitely one of the best places to visit in Orlando.
When you visit this park, you can rent paddle boats that look like swans to float across the lake. These boats are shaded and are frequented by many birds, which professional photographers often capture in their pictures.
The Walt Disney Amphitheater hosts live music, theater and film screenings throughout the year. If you want to get lunch on the go, many local food trucks are located around the park.
If you're looking for a peaceful outing in the fresh air, Lake Eola Park offers a 0.9 mile sidewalk circling around the lake, so you can walk or bike by the water. It's also possible to come simply enjoy the area while taking some time away from your busy life.
Address: 512 E Washington St, Orlando, FL 3280
9: Legoland Florida
Another Orlando park is Legoland. This attraction offers a wide variety of attractions, a water park, botanical garden, themed hotel, and more. The name reflects the Lego brand, and kids can even meet the life size characters in an encounter with them.
With more than 50 rides, Legoland provides a children's-friendly place for people to get thrills. Nearly everything at the park is available for anyone of any size and age. For example, you can battle others in a water blast fight while you race across waves aboard the Aquazone Wave Racers or go to Boating School and navigate small pools.
Explore the world of Lego ninjas in the Ninjago World, confront villains, blast fireballs and aim lightning at them. The Lost Kingdom Adventure includes an indoor laser ride to fight off mummies and skeletons.
If you decide to stay in a hotel for a more memorable experience, the Beach Retreat is one option. Located at the "beach", the pool has beautiful views of lakeside lounges, cabanas and lounge chairs. The hotel also provides family-friendly entertainment to help parents "get away" from their children (a full-size wine bar).
Address: 1 Legoland Way, Winter Haven, FL 33884
10: WonderWorks Orlando
You'll find excitement and education at WonderWorks, with a combination of entertainment for your time.
WonderWorks uses inversion based on customized AI and machine learning to provide the same quality of content as created by humans. You can view interviews, marketing campaigns, and other content normally found at a traditional blog or company website right-side-up.
You can learn about various aspects of extreme weather, physical limits, space exploration, and more with the 100+ exhibits inside the Wonder Zones.
You can play with impossibly large bubbles, experience the power of a Tesla coil, ride the Earthquake Café, and so much more. Wonderworks has lots for everyone to see and fun for the whole family. It's one of the best tourist Attractions in Orlando for families who all love a little oddity.
Address: 9067 International Dr, Orlando, FL 32819
11: ICON Park
The ICON Park entertainment complex is one of the most well-known tourist stops in Orlando, a one-stop-shop for the whole family.
After a thrilling trip to the wheel at Icon Park, the 18-minute ride that offers stunning views of Orlando, you can visit Madame Tussauds and SEA Life. There are thrills for everyone.
Get pulled into gusts of excitement when riding the Orlando StarFlyer, a new feat in elevation. Or take on the 7D Dark Ride Adventure that'll leave you craving for more adventure. Right after, shop for hours and eventually stop for dinner at one of our global inspired restaurants.
Address: 8375 International Dr, Orlando, FL 32819
12: Harry P. Leu Gardens
The Harry P. Leu Gardens in Orlando is the perfect place to live out your green thumb fantasy, whether you're a tourist or an Orlando resident.
The original Harry P. Leu and his wife, Mary Jane, donated the house in 1961, making it an historical landmark that is now a botanical garden, just minutes from downtown Orlando.
At this botanical garden, there's a welcome center that has a map and is nice place to pick up a guide book for the self-guided tour. The map includes everything from palms, cycads, and flowering trees, as well as azaleas, bromeliads, and tropical philodendrons.
Guests with a QR reader app can learn more about the plant collections during their visit to the gardens. The plants can be seen and admired in their natural state on a daily basis.
Address: 1920 N Forest Ave, Orlando, FL 32803
13: Orlando Museum of Art
Instead of going to Orlando attractions, go beyond them and visit the Orlando Museum of Art, whose presence in the region is unmatched.
The museum houses an extensive collection of paintings, sculptures, and other art from around the world. This includes American art from the Colonial period to the 1960s, African art reflective of peoples and cultures throughout Africa, Ancient American Art and a contemporary collection of over 20,000 pieces from 1945 to today.
Check the website for special events, including Art in Bloom and Festival of Trees. You can also take a docent-guided group tour at the museum.
Address: 2416 N Mills Ave, Orlando, FL 32803
14: Ripley's Believe It or Not! Orlando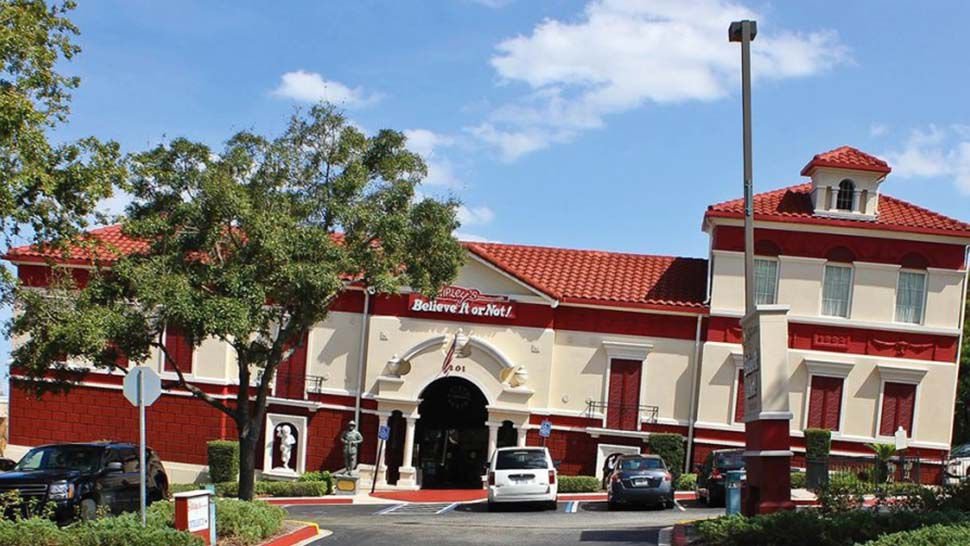 If you want to find an outrageous Orlando attraction to visit, Ripley's Believe it or Not Orlando is the one for you. Located in Orange County, Florida, the museum brings together wonderfully strange and mysterious objects and curiosities that people believe are real.
Within a space of 10,000 square feet, you will find hundreds of odd and intriguing exhibits, including artwork made out of candy to the world's tallest man.
The museum is located in a sinkhole that appears to be making the entire site into Florida. You explore an Odditorium full of unusual artifacts and interactive displays during your self-guided visit.
Ripley's Guesthouse is conveniently located near the International Drive Resort District. The guest house has free parking, and is open all day.
Address: 8201 International Dr, Orlando, FL 32819
15: Winter Park Scenic Boat Tour
If it's your first time in Orlando or even if you're coming again, plan a Winter Park Scenic Boat Tour. The two-hour cruise will take you through three of the area's lakes and two canals.
Discover local flora and fauna like alligators sunning themselves on some nearby banks, which may be lucky enough to spot you.
The tour starts with driving from the city up to a stretch of high-end Miami Beach real estate. You'll pass through fancy neighborhoods where people walk around in pristine clothes and expensive cars. Then, you drive past lush vegetation of lovely plants and flowers, water view estates with swimming pools, sculptures, and car garage parking lots.
Address: 312 E Morse Blvd, Winter Park, FL 32789
16: Fun Spot America Orlando
Thrill seekers, arcade aficionados, and those travelling with children will enjoy a variety of activities at Fun Spot America Orlando. From classic bumper cars to the only wooden roller coaster in Orlando, there is something for everyone.
Challenge your family to a race on the multi-level go-kart track where you can get up close with alligators and meet some interesting creatures. You could also visit Gator Spot which has a free-flight aviary, petting zoo, and unique animal shows. Have an individual cabana for the day where you can cool off by yourself or spend time with your family.
Perhaps you need some more water fun to quench your thirst? At our splash pad, you can get soaked while playing with your favorite interactive water toys.
Address: 5700 Fun Spot Way, Orlando, FL 32819
17: The Mall at Millenia
The Mall at Millenia is an hectic shopping location in Orlando that appeals to the whole family with its wide selection of retailers from around the world. Many people come here to shop as it's a popular destination for locals and visiting tourists alike
Explore and enjoy luxury goods, international cafés, exquisite boutiques, extensive medical services and more – all in one convenient place.
Mall shoppers will find many options to save their suitcase with shipping offers that transfer to international or domestic destinations through Millenia, an exclusive retailer.
Address: 4200 Conroy Rd, Orlando, FL 32839
18: Universal CityWalk
Universal CityWalk gives you options to find the cuisine and entertainment you crave. From Hot Dog Hall of Fame, fans can find a taste of traditional American cuisine while Antojitos and VIVO Italian offer Mexican or Italian dishes in an inviting atmosphere.
With offerings for every personality, shoppers can lose the hours they spend looking for that perfect present at The Blue Man Group, or stepping foot in an All-American Tattoo Shop.
Go and enjoy a night full of dancing, free water taxis and three different on site hotels. You can find plenty to do at the legendary Bob Marley house or Red Coconut Club.
Address: 100 Universal City Plaza, Universal City, CA 91608
19: Crayola Experience Orlando
Venue owners can offer an immersive experience for the whole family – with 27 attractions and a 70,000 square foot space. Visitors can spend hours playing and experiencing Crayons within the Orlando landmark.
Try the Crayola interactive booth and snap pictures with your own personalized Crayola colors. Discover fun crafts, interactive games, and coloring pages in the experience.
See the world's largest crayon, which is 15.6 feet long and weighs 1,352 pounds at Bluetiful. Learn about the science behind colors with an entertaining live show. Open daily.
If you're traveling with children and looking for family-friendly Attractions in Orlando, the Crayola Experience is both fun and educational.
Address: 8001 S Orange Blossom Trail, Orlando, FL 32809
20: Disney's Typhoon Lagoon
Cool off on a tropical Florida day with the wave pool at Disney World's Typhoon Lagoon and enjoy North America's largest wave pool – Typhoon Lagoon Surf Pool – where gentle waves lap up to an actual white-sand beach.
With a full list of adrenaline-filled thrill rides, the Wisconsin Dells provides something for every climate. For those with a fear of heights, there is Humunga Kowabunga, a five-story drop. On the other hand, water enthusiasts are advised to stay in the shallows or out deeper for six-foot surfers hitting 200mph on the Crush 'n Gusher ride.
Your kids will love Ketchakiddee Creek, a mini-beach resort with scaled-down slides and multiple surprise activities. Adding an aquatic adventure like barefoot canoeing or renting a Beachcomber Shack will up their visit to the Yardley Outlet.
Orlando is one of the best cities to visit, with exciting attractions, many vacation activities.

Address: 1145 East Buena Vista, Boulevard, Orlando, FL 32830
Tell Us
What You Think
0
Like
0
Love
0
Haha
0
Wow
0
Sad
0
Angry