1. Miami Beach
Located on a barrier island and connected to the mainland by a series of bridges, Miami Beach is a mix of quiet neighborhoods, lively entertainment-focused areas, and long stretches of soft-sand beaches. The southernmost part of the island is historic and action-packed area known as South Beach.
One of the best attractions in Miami Beach is the Art Deco Historic District, with its pastel buildings from the 1930s and early 1940s showcasing a classic neon sign. This neighborhood is expensive and heavily visited by tourists, featuring many beach front hotels, restaurants, shops, and plenty of sunbathing opportunities.
Ocean Drive is a road in this city and it is located along the oceanfront, between 15th and 5th Street. In year 2020, the street was closed for pedestrian traffic but in year 2022 Ocean Drive was reopened to one-way vehicular traffic from 15th Street to 5th Street.
Collins Avenue is a major street in Miami Beach, running parallel to Ocean Drive and State Road A1A. It connects different neighborhoods in the city.
2. Art Deco Historic District
Even if you are not the type who enjoys the beach, there is no denying that the Art Deco Historic District of Miami Beach is worth a visit. This architectural style became popular in the 1930s and 40s due to its fashionable and modern appearance.
The unique buildings were built following the devastating hurricane in 1926. Most of them are hotels and restaurants that have been beautifully restored. In some of the main streets, awnings from these buildings provide shade for outdoor dining areas. Ocean Drive and Collins Avenue are two of the main streets through the area.
If you are interested in staying in one of these historic gems, many Art Deco buildings still function as hotels and offer a lot more character than modern hotels. Some good options are the luxury Delano South Beach or National Hotel Miami Beach, or the more moderately priced hotel breakwater South Beach.
3. South Beach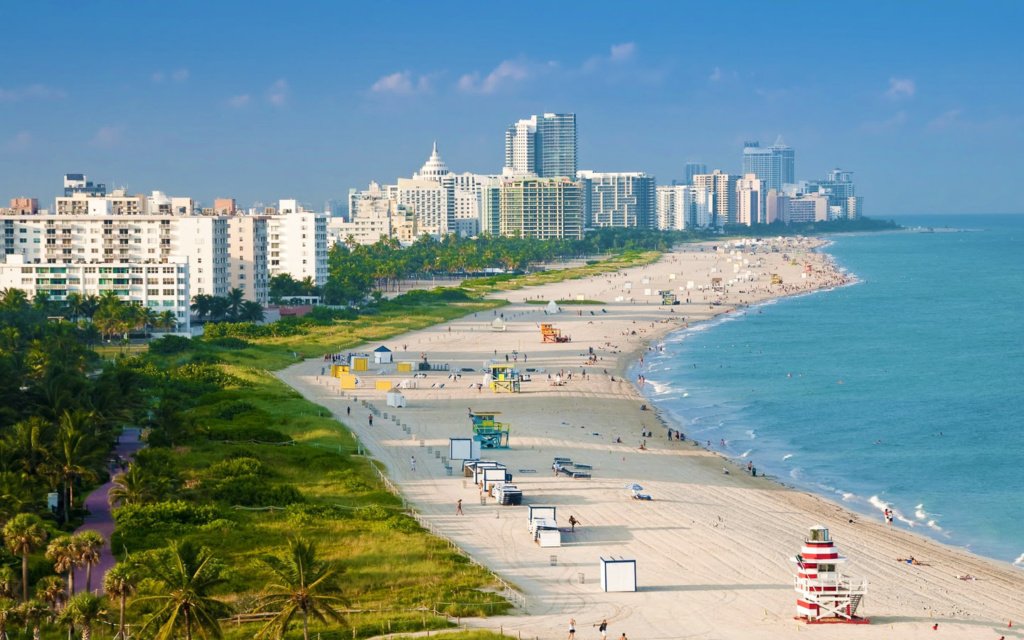 Located at the southern end of Miami Beach, the always-packed neighborhood of South Beach is what many people have in mind when they plan a beach vacation to Miami. The wide section of beach that fronts the ocean along Ocean Drive is one of the big attractions. Often full of people in summer, this is by far the most popular beach in Miami and one of the Top 100 beaches in Florida.
This is a place to pose for Instagram, but also a place to go for relaxing activities like swimming. The coast has seen a significant rise in popularity in recent years due to its abundance of luxury hotels and restaurants.
Many festivals and events happen in South Beach, including a beach to walk around and explore in the day, but also come alive at night with quality dining and lively entertainment.
4. Vizcaya Museum and Gardens
This national historic landmark was the luxurious winter home of 20th-century industrialist, James Deering. Built in 1916, the mansion has 34 rooms arranged around a central courtyard.
The project needed 1,100 workers and craftsmen to complete, many of which had to be imported from Europe to ensure authenticity in design. Vizcaya took more than 1,000 human hands and a lot of European immigrants to complete.
This Italian Renaissance-style villa has an impressive collection of furniture and decorative arts from the 15th to 19th centuries.
A breakwater at the base of the steps into Biscayne Bay is an ornately carved barge. The grounds and gardens contain beautiful Italian and French fountains, pools, and sculptures.
Address: 3251 South Miami Avenue, Miami, Florida
5. Everglades National Park
With all four seasons, long, dense vegetation, river-like terrain, and a wildlife habitat, Everglades National Park is a wonder of Florida's natural features. Visitors can travel to the park in only around thirty minutes from Miami.
Within the park is a Visitors Center on foot and near-walking areas where you can view animals and English Garden. One of the most popular trails in the park is Anhinga Trail. This trail leaves from Royal Palm Visitor's Center and is 1 mile long, but allows visitors to see alligators and other animals. This trail is wheelchair accessible, non-strenuous, and short.
One of the most enjoyable ways to experience the Everglades is on an airboat tour. These high-speed boats take visitors out into the marshes and streams, seeing alligators and other wildlife. The Miami Everglades Airboat Adventure tour includes transport from your hotel to the park, a live alligator show at the Everglades Alligator Farm, and transport back to your hotel.
6. Bayside Marketplace
Bayside Marketplace is a large outdoor-style mall with more than 120 specialty and tourist shops, numerous cafes and restaurants, and daily live entertainment. Visitors will find some well-known chain stores, as well as many unique, one-of-a-kind places. Bayside Marketplace draws locals as well as tourists.
As with many other former industrial parts of Miami, the mall is located near a waterfront which offers spectacular views and segues in to boat tours. There are also water taxis which can take you to the beaches of both Miami Beach and downtown hotels.
The brand new attraction has risen at Bayside Market: the Skyviews Miami Observation Wheel. This giant Ferris wheel has 42 climate-controlled passenger gondolas. You'll see spectacular views of Biscayne Bay and Miami while riding this 15-minute ride.
Address: 401 Biscayne Blvd, Miami, Florida
7. Little Havana and Calle Ocho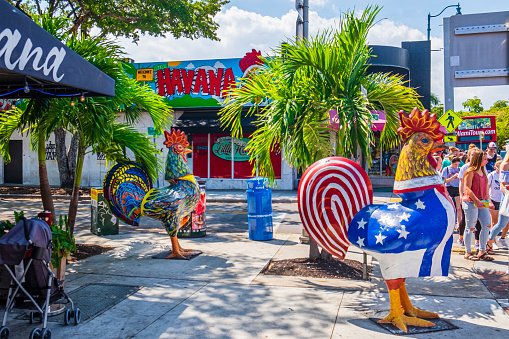 For Miami's Cuban cultural scene, it is not typically known for its abundance of tourist attractions. In many ways, the streets are lined with restaurants, specialty food shops and Latin music. There are also open public spaces that are used as a socializing space by locals as well.
Murals display important Cuban figures and scenes of the daily life. Along Calle Ocho runs the main street in Little Havana, packed with activity and people-watching opportunities abound. Or perhaps a surprising venue for a visit is a barber shop for your haircut or an establishment selling Cuban cuisine.
With many cultural backgrounds, the Calle Ocho Festival is a celebration of Cuban culture and holds the second largest in the world. In recent years it has expanded to include Latin American culture, providing an opportunity to enjoy food, music and cuisine from this region.
8. Bayfront Park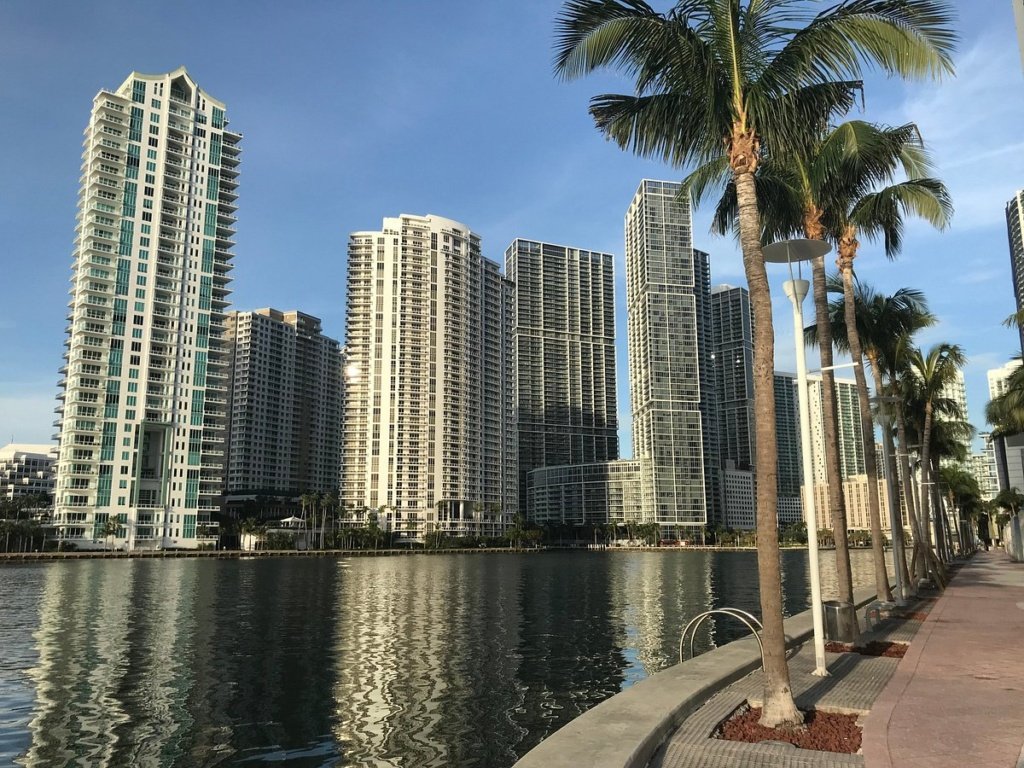 Bayfront Park, across Biscayne Boulevard, is a 32-acre green space which includes the Bayside Marketplace. It has a variety of interesting monuments and it's one of the unique features is the Pepper Fountain that can be controlled by an electronic key.
A tourist destination, Challenger Memorial is a historical monument honoring the crew of the Challenger spacecraft. Home to the world-famous Imax theater and children's playground, it is well known for its paved paths for those who want to exercise and run.
Bayfront Marketplace extends to the waterfront, and FPL Solar Amphitheater is immediately past it. Nearby attractions of note include the Freedom Tower, the FTX Arena, and Maurice A. Ferré Park.
Address: 301 North Biscayne Blvd, Miami, Florida
9. Perez Art Museum
The Perez Art Museum, known locally as the PAMM, occupies a prime section of Miami's waterfront and is surrounded by architectural design by Herzog & de Mueron. Inside, artwork from 20th and 21st centuries can be found housed in this plush museum.
PAMM, Miami's permanent modern and contemporary art museum, has been collecting and exhibiting art since 1992. In addition to its permanent collection, PAMM also hosts temporary art exhibitions. The building is luxurious inside with radiant light and incredible views out over Biscayne Bay, helping inspire you to appreciate the amazing artwork. Primarily displayed in the first and second floors, temporary exhibitions take place mainly on the second floor.
The PAMM has a well-regarded on-site restaurant named Verde. Settle in at a table either inside or outside on the expansive patio and enjoy a light lunch while you soak up the fantastic views out over the water.
Save a little on parking by adding in the visit to the Phillip and Patricia Museum of Science just next door.
Address: 1103 Biscayne Blvd, Miami, Florida
10. Miami Seaquarium
The Miami Seaquarium is a great place to visit with your family for an afternoon of education and entertainment. It is home to many different types of marine animals including killer whales, dolphins, seals and penguins.
Salty the Sealion still performs brine shrimp act at The Seaquarium. The killer whale and dolphin shows are currently suspended due to technical issues, but don't worry – Salty is still performing! Animal encounters are available for an additional fee, including three options for interacting with dolphins, one with penguins, and the opportunity to swim with seals.
The Seaquarium has a diverse range of animal encounters and exhibits for the education of visitors. It also has an area which talks about conservation efforts for marine life, as well as discussions on weather, climate change, and living in an urban environment.
Note that a $10 fee is charged for parking in addition to the cost of entry to the Seaquarium.
Address: 4400 Rickenbacker Causeway, Miami, Florida
11. Phillip and Patricia Frost Museum of Science
If you are indoors and are bored on a rainy day, there is plenty to do at the Phillip and Patricia Frost Museum of Science. Perfect for all ages, the museum features a variety of things to interest both children and adults.
The museum is divided into four exhibit areas: the aquarium relating to ocean-based themes, the planetarium exploring solar system topics, the North and West wings showcasing other non-permanent exhibits, and finally permanent exhibits offered.
The displays at the aquarium are interactive and fun, and the viewing areas in the aquarium are exceptional.
Address: 1101 Biscayne Boulevard, Miami, Florida
12. Fairchild Tropical Botanical Gardens
Miami is a green city. Lush tropical vegetation grows in Miami with abandon, nourished by the frequent rain, warm temperatures, and sunny days. One of the best places to see the wonderful show that Mother Nature puts on is at the Fairchild Tropical Botanical Gardens. The original founders of this organization were passionate volunteers who established it in 1938. Today, it is run by some dedicated staff and volunteers and has become a first class operation.
The grounds cover 83 acres and you can also take a 45 minute tram tour to get your bearings. The tours provide a great overview of the gardens and places for those who might not be interested in plants, but are still fascinated by them. The 27 exhibits will keep even the most casual visitor entertained.
The southwest of the gardens is the best area to visit, with attractions such as viewpoints, and rain showers and rainforest. Most of the attractions are along this area- it's best reached by walking straight towards the tram stop from the main entrance, and turning right. Look down at the pathway to see leaves imprinted in cement. You'll find interesting viewpoints along your journey as well- be sure to take a stroll through them.
Moving beyond the rainforest area are the Clinton Family Conservatory and the Wings of the Tropics. Enter into a building and find yourself in a wonderland filled with colorful butterflies and tropical flowers. Have your camera ready to snap one of the stunning blue morpho butterfly that you see.
The Galleries at Crystal Bridges have 11 sculptures in the Gardens, including two by Glass Artists Dale Chihuly. A great spot to sit down for a light lunch is the Glasshouse Café, with their tables spread between the greenery.
Unless you've ventured further afield, you may find yourself walking back past one of the more unusual plant displays in the gardens: the Lougheed Spiny Forest of Madagascar. Large trees with spines definitely discourage any touching! Nearby is a giant baobab tree dating from the mid 1930s, planted by the founder, David Fairchild.
Address: 10901 Old Cutler Road, Miami, Florida
13. Bill Baggs Cape Florida State Park
Miami is fortunate in the fact that Bill Baggs decided in the 1960s to preserve Miami Bay before it was developed so that it could continue playing as one of Florida's most beautiful state parks. One of the main attractions is its 1.25-mile-long soft-sand beach providing amazing views out over the Atlantic Ocean.
There are 2 access points. You should park at access #6 or #7 based on what you'd like to do. If you just want to visit the beach, park near the entrance gate… If you'd like to visit the beach and can't walk far, park near the entrance gate then proceed right up next to the lighthouse.
At this specific park, you have a chance at seeing birds. This trail will guide you to where migratory birds are most likely to be seen.
Address: 1200 South Crandon Blvd, Key Biscayne, Florida
14. Hobie Beach
Miami Beach, Florida is a place that can be expensive. Roads, restaurant prices, and park admission fees add to the cost of living there. If you want a bite on the beach for a good price, try Hobie Beach Park.
Located on the Rickenbacker Causeway, it is one of the more accessible beaches in the area. It is also a dog-friendly beach with its soft white sand and gentle waves (if any).
While the Hobie Beach is can be found at two locations, you come to the bay by crossing a causeway and enter near the docks for sailing and windsurfing. The bay here is narrow, rocky and where the majority of people go for swimming.
15. Zoo Miami
Zoo Miami houses more than 3,000 wild animals and is the first modern zoo in America. Animals in this Zoo are grouped with other species and kept in settings similar to the natural habitat for each type of animal.
One of the most enjoyable experiences at the zoo is feeding giraffes. Kids will be amazed as these gentle giants reach down with their long necks to target some snacks. Now you can see just how skilled these animals are at seeking out food.
The only zoo in the continental United States located in a subtropical climate and home to more than 1,000 species of trees and plants. The grounds are also home to a large collection of orchids.
There are many entertainment options for children. If they are bored with the animals, they can visit the water-themed play area and enjoy some fun playing.
Address: 1 Zoo Blvd, 12400 SW 152nd Street, Miami, Florida
16. Deering Estate at Cutler
This former home of Charles Deering provides protection for rare pine forests and hardwood rockland, as well as salt marshes, mangroves, and coastal dune islands.
Listed on the National Register Of Historic Places, Deering Estate at Cutler is home to a Cottage Hotel and buildings dating from 1896 to 1922. It also includes an American Indian Burial Ground dating from around 1500
Charles Deering is an art collector, who along with his brother James, has amassed a number of works by Old Masters. Other than himself, Deering has also acted as an artist and some of his pieces can be found on display here at The Artist Village. This village is an important cultural center that has become a site to showcase art, arts programs and more.
Address: 16701 SW 72nd Avenue, Miami, Florida
17. Wynwood Walls Street Art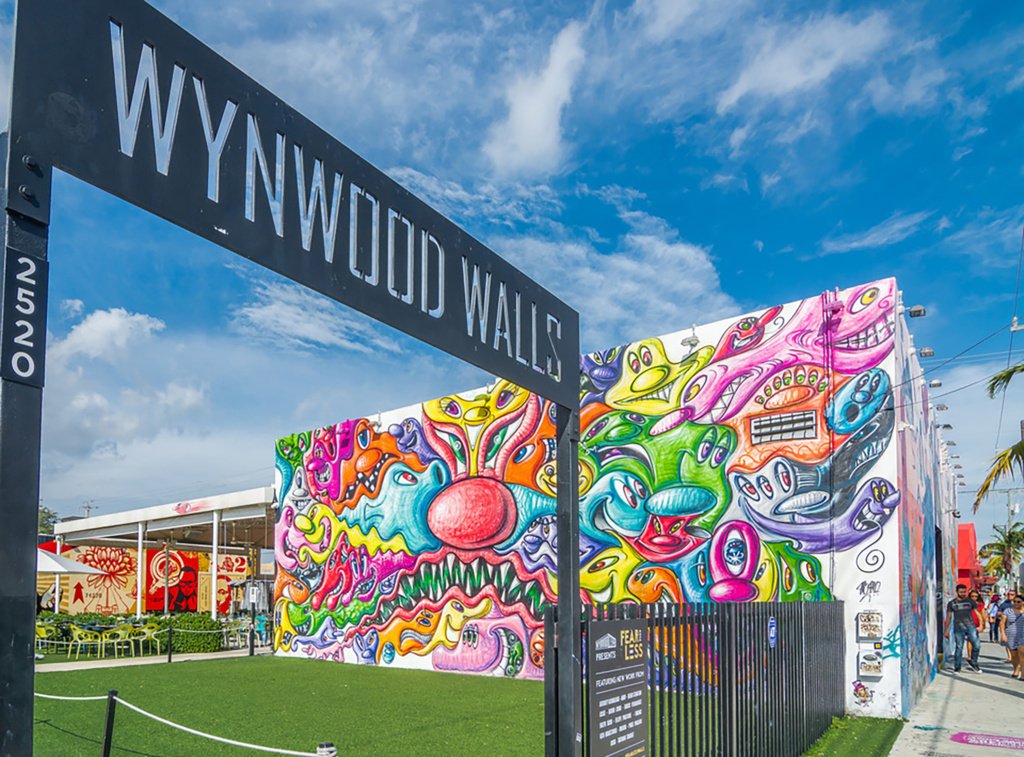 In the warehouse district of Wynwood in Miami, the once monochromatic exterior walls have been transformed into dazzling pieces of art. The Wynwood Walls, plastered in graffiti or street art, brought new life to this area.
The district was established by Tony Goldman in 2009 and has seen tremendous growth. More than 80,000 square feet of wall space have been graced with paintings as unique to this art form.
Art collectors and writers, walk around a colorful neighborhood full of street murals. For more insight, sign up for a tour online or join a guided visit that includes free admission to the museum.
18. Miami Children's Museum
Fun for all ages, the Miami Children's Museum has a colorful and well-designed space with more than 56,000 square feet. With interactive exhibits, they offer education and entertainment.
Groups of people can interact and be a participant in an interactive area while they are explores Miami's arts, cultural, and community exhibits. Due to the environment being set at the Port of Miami, one could explore a cruise ship and swim in the port.
Address: 980 Macarthur Causeway, Miami, Florida
19. Key Biscayne and Crandon Park
Key Biscayne, just south of Miami, is a beautiful community with scenic beaches and parks. There are also great spots to swim in Crandon Park's offshore reef, allowing for great recreational swimming.
At the park, you will find amenities for families and a Nature Center. There is ample parking and good facilities, chair rentals available, and lifeguards on duty.
On windy days, you may see kiteboarders riding across the waves, tugged by their colorful balloons.
20. Basketball Games at FTX Arena
The American Airlines Arena is home to the Miami Heat. It hosts over 19,000 people for concerts and other special events for stars like Beyonce and U2.
The structure, opened in 1999, has been awarded the LEED Gold Certification for being an energy efficient building. This arena stands out prominently on Biscayne Bay in downtown Miami.
Address: 601 Biscayne Boulevard, Miami, Florida
21. Venetian Pool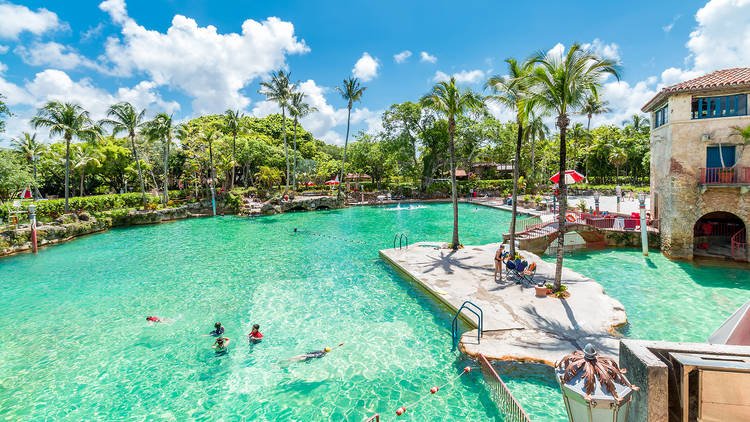 If you want a break from the beach or to cool off, head over to Coral Gables city in Miami. You will find this pool just south of the city, where water feeds two 20ft x 50ft seasonal pools and crystal clear spring water can be found in them.
Coral Gables features a geodesic paradise surrounded by wood, water, and glass that is like an Italian-style architectural wonderland for the kids. This resort for fun is plentiful with bridges, towers, sculpted abstractions, and hanging gardens.
The pool is open from the start of February through until the end of November each year. Ample free parking is available across the street in the public lot.
Address: 2702 de Soto Boulevard, Coral Gables, Florida
22. Coral Castle
Amazingly, Edward Leedskalnin completed the Coral Castle in 28 years of carving limestone before he even turned 20. The incredible result is concealed behind large walls, and was built with his own home-made tools. He left many people wondering how he achieved his detailed and intricate stone sculptures, as well as the cleverly designed crypt that hides an ingenious lift system with tons of hidden secrets.
Today, you can tour the property and see the most famous structure, a giant stone gate, which opens effortlessly with the touch of a finger, and sculptures that include stone tables and chairs, unique figures, and other. They also have items such as carvings that include stone tables and chairs.
Address: 28655 South Dixie Highway, Miami, Florida
23. Freedom Tower
One of the tallest buildings on Biscayne Boulevard, Freedom Tower was designed as a "wedding cake" style skyscraper. It is one of the earliest skyscrapers of its kind in the southeastern United States and since 1925, it has served as the headquarters for The Miami Daily News.
The name refers to its function as the processing center for hundreds of thousand refugees. Today, it serves as a tribute to Cuban immigration and is used in part as an art museum.
Address: 600 North Biscayne Boulevard, Miami, Florida
Tell Us
What You Think
0
Like
0
Love
0
Haha
0
Wow
0
Sad
0
Angry